Sooner or later the site had to crack under the strain and publish something that was actually true. 
The World Cup starts today, and with neither Scotland nor Ireland taking part, its fair to say most of us don't really care what happens. Apart from having a chuckle when England make an arse of it, there's very little to get excited about. 
But perhaps it isn't always their fault. It certainly wasn't when Glenn hoddle was in charge back in 1998….as Carl Junglebhoy explains….
With time running out before the World Cup Finals in Russia provides a convenient excuse for half the male population of the world to do even less around the house, speak to family members in even fewer grunts, and try out a new beer & crisps diet, whilst exercising (ahem) sole rights to the remote and a strict 4 week regime of interval training on the sofa,  now might be a timely moment to recall that time when TIME magazine – or more accurately a free TIME Sports watch premium – played a part in knocking England out of the 1998 World Cup in France. (OK, OK – I'll stop with the time name checks).
Listen. You've every right to be sceptical.
Who could possibly believe this could be anything other than total fantasy?
Then again, who would've thunk that some months before, England coach & born-again Christian – Glenn Hoddle – would leave his wife & 3 young children to move in with a faith-healer and later employ her as a team consultant to the England squad?
Sometimes, fact is stranger than fiction and, in the case of Mr. Hoddle, the fact is, he was a bit strange.

The story started one Friday morning when I took a call from our TIME marketing director in London, asking if I could do him a favour: He'd been watching a World Cup preview on BBC TV showing England in training, when he spotted something that almost made him fall off the sofa – "I swear to you. Either I'm going totally mad, or Glenn Hoddle was wearing a TIME Sports watch – Is there any way you could you have a look and see if you can find out if he has a TIME subscription?"
A scan of the TIME subscriber file revealed that there were only 5 records in England with the name "Hoddle", but only 1 of those had the initial "G". The address was quite posh, very near Ascot racecourse. As Hoddle was known to be a fan of the gee-gees, it did seem to fit (& newspaper articles confirmed he did live in Ascot). The subscriber contract was archived off out system some years ago. However, as Hoddle no longer lives at the address in question, I see no harm in risking the wrath of the GDPR gods – or privacy laws, by sharing the following extract from our system as evidence. (particularly as I'll be made redundant in a few months due to takeover of Time Inc by Meredith)
( Editors note, this is missing at the moment as we feel its unfair to publish Mr Hoddles address. and not because i can't get the bloody thing to copy and paste at all )
Further checks revealed that, not only had Mr. Hoddle ordered a TIME magazine subscription only once – for 1 year in 1997 – but –  Yes- you've guessed it – was sent a TIME Sports watch as a free gift! Well, you could've knocked me down with a proverbial feather! Particularly as a closer look showed that he didn't actually pay for the subscription, so he got the watch and few months delivery of the magazine totally free, before it was stopped for non-payment!
This particular fact was the cause of no end of hilarity when I reported back to our London office to confirm the details. – The idea that a rich ex-footballer and (then) current national coach, who could've easily have afforded to cover every inch of both arms and legs in expensive Rolexes or Patek Phillipes, was wearing a FREE Plastic TIME Sports watch, almost beggars belief.
What a Cheapskate! We also laughed at the thought that, if the England manager was wearing a free plastic watch, one dreads to think what the Scotland manager was wearing (Note: '98 was the last time Scotland qualified for a major tournament)
The following pic shows Glenn Hoddle during preparations for France '98 sporting (ahem!) that very TIME Sports watch!
(Note: "Green Flag" were official England sponsors in the lead up to France '98).
Anyway, now that I've established the evidence, let me tell you the rest of the story……
Following my return phone call to London, our Marketing Director shared the information about Glenn Hoddle's TIME subscription and Sports Watch with other parts of the company – notably one board member an England (& Man Utd fan) and previous #1 at TIME Europe, who by then was very high up the corporate ladder in New York. By the time I arrived at work after the weekend, emails on the subject had been bouncing around TIME offices all over the world, even reaching as far as the TIME correspondent covering the World Cup in France, where it was suggested that Hoddle's interest in TIME might provide some leverage in getting a much-sought-after interview with the coach.
During that weekend and over the next few days, every bit of footage of the England team was scanned feverishly by those in the email loop, and every sighting of this now iconic TIME Sports Watch greeted with howls of amusement – not to mention lots of "What if….. ?" jokes (fill in your own scenario).
Here's another piece of photographic evidence:
Now, let me explain something that is critical to the context of this story. The fact is, that TIME Sports watch was quite possibly THE most unreliable, shoddiest premium in the history of the magazine – and that's really saying something considering the amount of cheap plastic tat that has been forced on unsuspecting subscribers over the years. Vast numbers of them were returned by dissatisfied customers as "broken", "defect", "doesn't work", or simply "rubbish", followed by large numbers of replacements returned by angry customers, followed by sizeable numbers of returns of replacements of the replacement by customers now apoplectic with raging fury.
The fact that Hoddle had been using his free watch since at least as far back as early '97 and was still using it +/-18 months later * was a cause of concern as well as hilarity – What if it chose a critical moment in front of a live global audience to cement its place in history by breaking down in full view of cameras, with suitable close ups of Hoddle's wrist and the TIME logo visible to all?  Well, there's some evidence to suggest that something close to such a catastrophic event might have happened but escaped everyone's notice…
* The photo below shows Paul Gascoigne and Glenn Hoddle (with the "even more famous than Gazza" TIME Sports Watch). – The fact that Gazza did not make the England squad in '98, suggests this could have been taken anytime between Jan 1997 and May 1998 when he made his last appearance, but also confirms that Hoddle was also fond of using it well before the World Cup finals!
Now. Let me take you back to England's first match in Group G of that World Cup against Tunisia, on 15th June 1998.
In the 1st half hour Tunisia dominated, but, despite creating very few chances, England scored with a goal from Shearer just before half-time to lead 1-0. During the half-time interval and into the start of the 2nd half, all the pundits & commentators (+ millions of armchair coaches) were calling for Hoddle to take off the largely ineffectual Teddy Sheringham and replace him with another attacker, with the view that another goal would clinch the game.
Commentators were confidently predicting a substitution around the 60 minute mark and became increasingly frustrated at the lack of attacking options and the fact that Tunisia were still a danger. In the 63rd minute, Tunisian substitute Beya fired a fierce warning shot over the crossbar.
During this period Hoddle was seen repeatedly looking at his watch, but as the clocked ticked by… 70 minutes … 75 minutes … 80 minutes – there was still no substitution and that slender 1 goal lead remained vulnerable. – Finally, after 85 minutes, with only 5 minutes left, Hoddle brought on Michael Owen for Sheringham and late attacking pressure finally paid off with a 2nd goal in the 89th minute.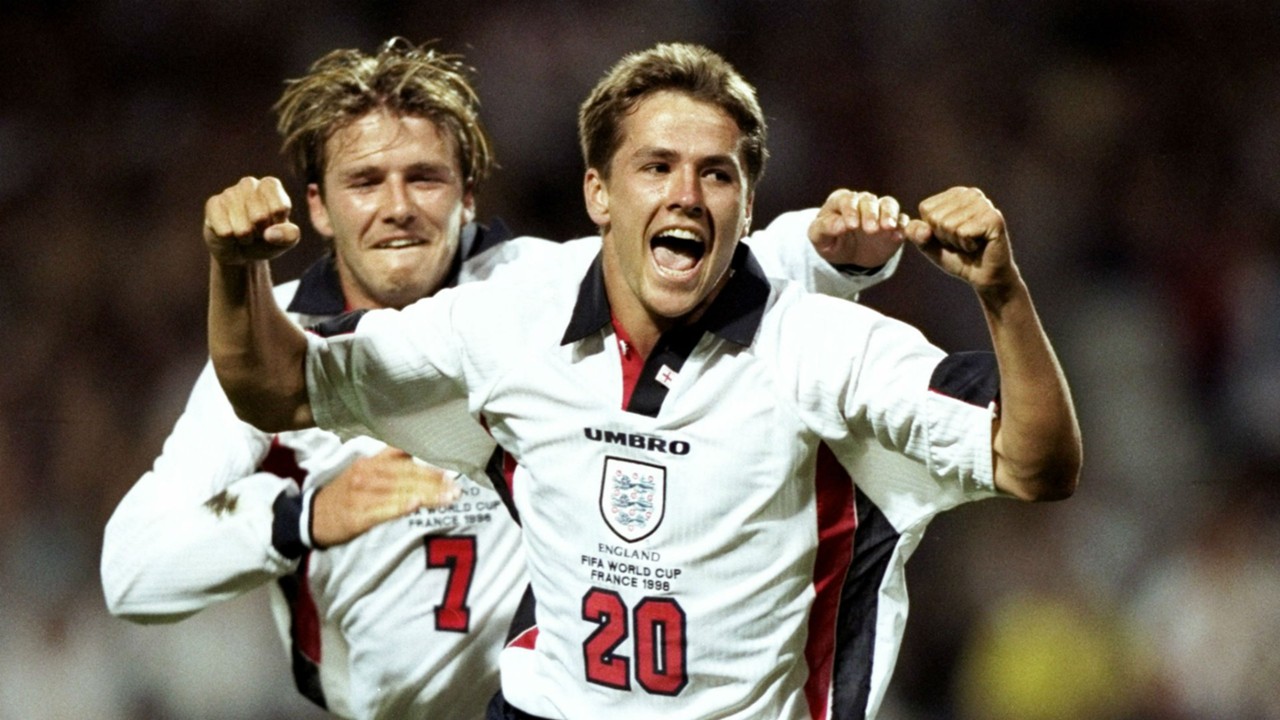 Post-match analysis concluded that Hoddle should have brought on Owen much earlier and there was general puzzlement as to why he left it so late. Instead of giving him half an hour, or at least 20/25 minutes to impact the game, he got only 5. However, those of us who knew about Hoddle's choice of timing equipment drew our own conclusions.
Intense discussion about the timing of attack-minded substitutions continued again in the lead up to and during England's next match against Romania on 22 June, and this time it may have proved critical. Romania scored just after the break in the 46th minute. With England trailing, it was expected that Hoddle would immediately respond with one or more attacking subs, but for reasons known only to himself (& TIME staff) he waited another 26 minutes – way too long in the eyes of pundits & commentators – before bringing on Owen with only 18 minutes left. Owen then rewarded him with a goal in the 81st minute.
However, Hoddle's caution and failure to intervene earlier proved critical when Romania scored a late winner in the 90th minute. Pundits again concluded that waiting far too long to act when they went a goal behind was a critical factor in that defeat. Some of us thought that perhaps something other than Hoddle may have been a factor. Later events conspired to mean that if England had managed even a draw in that match, they would have finished top of their group and had a relatively easy opponent in the last 16.
In England's last group match, they needed a win against Columbia to guarantee finishing 2nd in the group and set up a match against Group H winners (with 3 wins out of 3) and one of the tournament favourites – England nemesis Argentina. This time, the fact that Owen was in the starting 11 and England scored 2 goals in the first half hour (the only goals of the game) may have masked the fact that – once again – Hoddle took longer than he perhaps needed to bring on his substitutes – With a comfortable 2 goal cushion, did he really need to wait so long and bring on 3 substitutes with only 17, 11, & 7 minutes to go, respectively, to make an impact?  –  In a tournament, resting key players early on can be factor when you get through to the knock out stages.
By the time England faced Argentina on 30 June, TV coverage suggests that Hoddle had ..  erm ..  pocketed the TIME sports watch – perhaps by then it had lived up to it's reputation, or, following an interview with the TIME correspondent the embarrassment of publically relying on a free plastic watch had finally hit home? However, by then – the damage had already been done. This time neither the Hand of God, nor the wrist of Hoddle, played a major part.  With the score at 2-2 at half time and England down to 10 men following Beckham's sending off, Hoddle couldn't really be faulted for his substitutions (Southgate for Le Saux on 71 & Merson for Scholes on 78, ) and they eventually lost in a dramatic penalty shoot-out.

However, questions have to be asked. IF Hoddle had gotten the timing of his substitutions right in that fatal group stage defeat to Romania they very possibly would have won the match and perhaps even gone on to the quarter finals or further. Was that down to Hoddle, fate, time, or that infamous TIME Sport Watch? Perhaps we'll never know, but I know which one my money's on.
The fact that not only did Hoddle rely on a piece of notoriously unreliable plastic crap, but failed to pay for it, or his TIME subscription, surely sealed his fate??