Celtic Diary Sunday May 27: Cranking Up The Rumour Mill
The silly season may have started yesterday, but with little to write about this morning for the mainstream media, they've cranked their imaginations into overdrive.
Joe Allen to Celtic ? Sorry, we've only just gone and had a new roof and ordered some new lights. If you'd told us before…
Might be worth keeping an eye on a couple of names from Tottenham though, Reo Griffiths, a 17 year old striker, and Georges N'Koudnou, a winger who has lost his way. which is never a good thing for a winger.
And don't completely write off the chances of a return for Patrick Roberts. With Joe Hart in tow.
And who is this Jack Wilshere guy ?
Bizarrely, the media appear to have been stung by accusations that they have been a little over enthusiastic in promoting a "Summer of Stars " arriving at Ibrox, and have now turned their attention to Celtic, presumably in the hope that Tic fans will get all upset when they realise no one wants to come to play in the backwater league up here in the frozen north -a line which hasn't entirely been abandoned by the SPFL as the tagline for the new TV deal.
Not as upset as Steven Gerrard was last night, right enough, when he was caught on camera reading a text message from Dave King which simply said
"Sorry mate, I can't. Fucking skint. "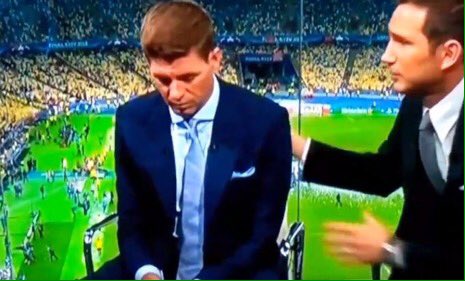 You have to feel for Gerrard.
His summer of stars so far consists of a guy from Burnley, a guy from Hull and the possibility of someone who can;t get into the Brighton team.
Look, don't worry Stevie. you'll be fine. you'll love it at Ibrox, you're going to be one of the people..
Still, Hugh Burns, the RangersTV commentator and former player (not the medical condition ) claims the players that are there already are good enough, a misconception of such enormity that hasn't been seen at Ibrox since Burns himself was deemed to be good enough.
For Gerrard, there will, however, be a little bit of the Liverpool he loves at Ibrox..especially when things start to go wrong…
During last nights Champions League final, the Liverpool stopper Karius didn't stop a couple that he should have apparently, and their wonderful fans have already forgiven him.
Mind you, that throw…
I didn't see the game, I'm a bit of a Casualty fan. Sure, its not as funny as it used to be but it still brightens up my Saturday evenings.
Well, I needed cheering up. Down here in Stoke on Trent there's now conclusive proof that the council are indeed pissing all over us.
We have a problem with pot holes of late, and there's one in particular just along the road from me that is causing concern.
Anyhoo, back at the ranch, and the decision to cut the away ticket allocation at Ibrox, should Celtic have to go there next season has prompted an idea or two as to how to deal with it.
Celtic should pay for the 800 tickets and fans will donate the equivalent amount to Celtic Foundation and just leave that empty space as a reminder to them why we were founded.
Not bad, or we could just not go.
By not taking up the tickets , which will no doubt be hiked to around £75 , there would be a noticable gap in their finances. Not that we ever see any evidence of their finances.
Not that they need the money…
The belief is strong in that one…and this one…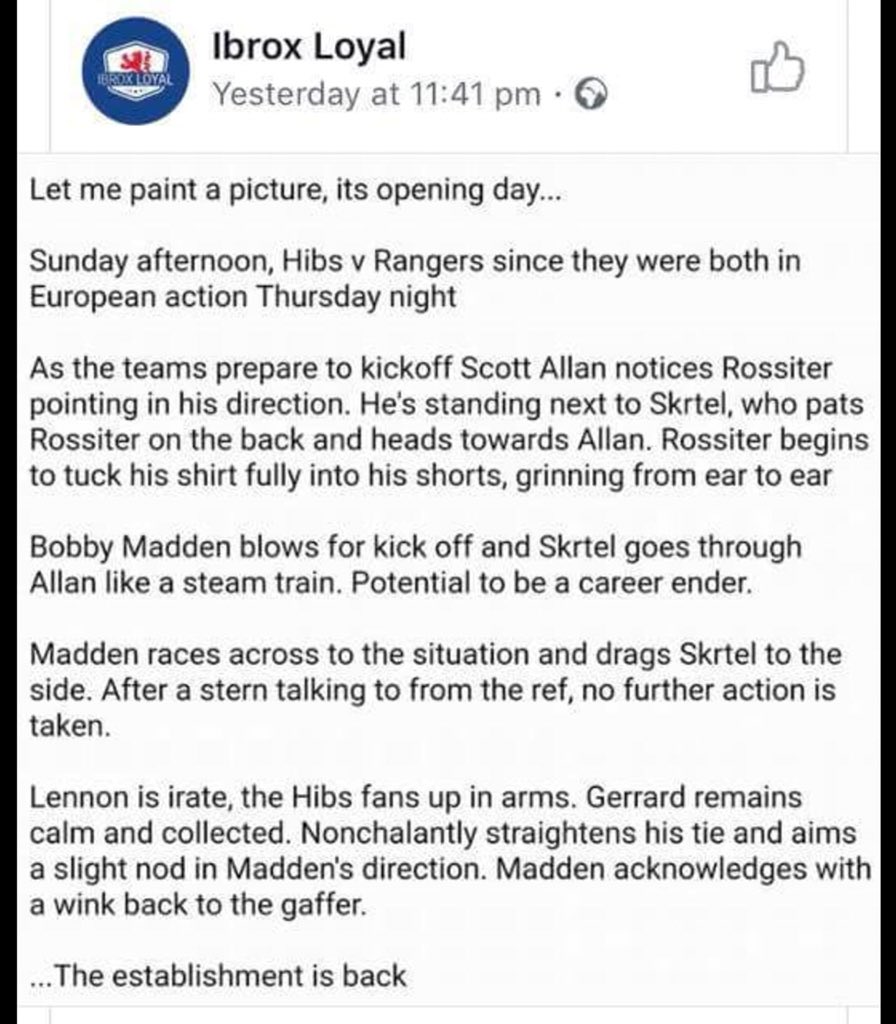 More to be pitied than scorned.
Over in the USA, there's a media campaign designed to alleviate some of the blame from the population who were stupid enough to vote for fuckwitted Donald Trump, who proved that anyone can buy a presidency.
The idea is to absolve them of any guilt or blame by hinting at Russian interference, which makes everyone happy, especially arms dealers and right wing fruit bats.
Just an idea , but couldn't the media in Scotland blame the SFA and get the poor gullibillies off the hook, and that way they get a nice new club and the rest of us get a nice new SFA ? 
By the way, I'm want a season book for free, and i want corporate hospitality for me and  all my pals at every home and away game.
Or else I publish this…
Anyone remember Eyal Berkovic ? Decent wee player, came up from West Ham ?
Of course, Berkovic forgets to mention, along with Wright and Barnes, that they were shite and acted like they couldn't give a fuck, and to tell us we're racist…well, we have our own directors to tell us that.
Now, I'm no conspiracy theorist, but there was a wee bit of grief given to Nir Biton the other day, with one Celtic supporter pretty much blaming him for all the atrocities carried out in the Palestine.
Biton felt he had to reply.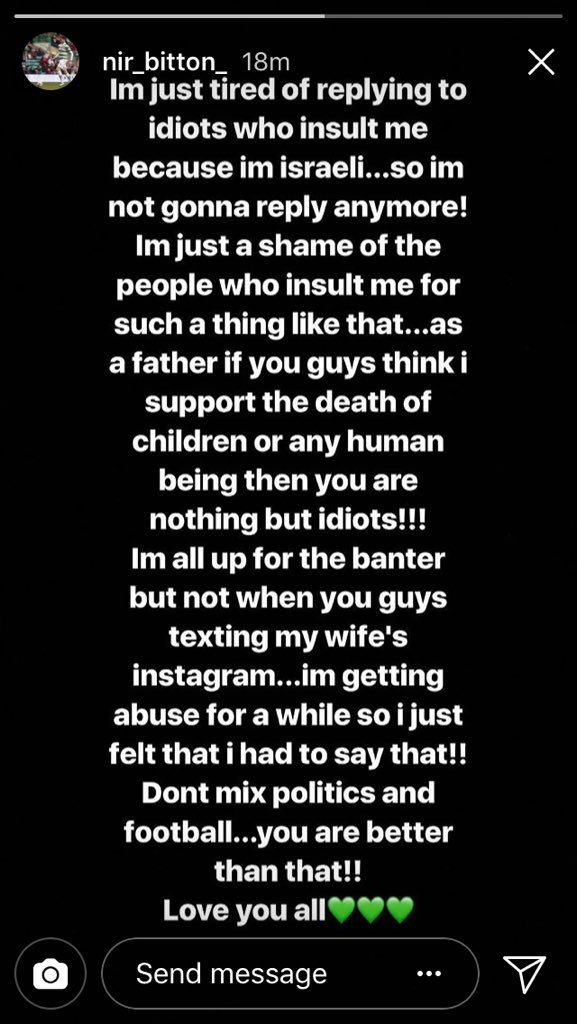 Sometimes I despair.
Nir Biton may have been in the IDF, he had no choice. military service is compulsory over there, and he may also have had his own views about what was going on over there, instilled in him from when he was very young.
I would venture to suggest that the young man who served in his countries army is a completely different fellow from the one who plays for Celtic, and perhaps the supporter who initially decided to have a go at Biton might want to take a wee bit of time and think things through as well.
If Celtic is indeed a club for all, then there can be no exceptions.
Yesterday we showed this..