Celtic Diary Wednesday May 16: Res 12 : Charges Brought, But Where's The Report ?
The Compliance Officer has decided that there is a case to answer, and as a result, Rangers-or it could be "rangers ", he hasn't specified-will be charged with cheating.
The most accurate report -and thats a relative statement- comes from STV.
Rangers have been charged by the Scottish FA with breaking the governing body's rules over a tax bill subsequent to being awarded a licence to play in European football in the 2011/12 season.
The governing body has brought two charges against the Ibrox club, relating to their reporting of the 'Wee Tax Case' in paperwork submitted to Hampden.
In September 2017, the Scottish FA instructed its compliance officer to investigate the circumstances surrounding Rangers UEFA licence application in 2011 and its own decision to grant the club permission to play in Europe.
Nine months later, after reviewing documentation from the time and evidence given during the Craig Whyte trial, the Hampden official has decided that Rangers have a case to answer over the "monitoring period".
UEFA rules state clubs applying to play in Europe should have "no payables overdue" to tax authorities, but do allow applications to progress if amounts are in dispute.
Rangers said at the time of their application in 2011 they had no overdue payables but that they were in dispute with HMRC over their liability from a Discounted Option Scheme, known as "the Wee Tax Case", which was in use from 2000 to 2002.
However, in court testimony given during the Craig Whyte trial, Rangers and Murray Group directors stated the club knew the tax bill was overdue in November 2010, months before their UEFA licence application. 
Following the court case, the Scottish FA took legal advice from a QC before referring the matter to their compliance officer to investigate whether the governing body had acted correctly when processing the licence application.
That has resulted in two separate charges, due to the change in the governing body's own disciplinary rules from Articles of Association to a Judicial Panel Protocol.
The first charge relates to failing to comply with "the articles and any statutes, regulations, directives, codes, decisions and international match calendar promulgated by the board or by a standing committee, committee or sub-committee thereof, or by FIFA or UEFA or by the Court of Arbitration for Sport".
The second alleges that Rangers did not follow rules that: "All members shall:- (a) observe the principles of loyalty, integrity and sportsmanship in accordance with the rules of fair play; (b) be subject to and comply with the articles and any statutes, regulations, directives, codes, decisions and international match calendar promulgated by the board, the Professional Game Board, the Non-Professional Game Board, the Judicial Panel Protocol, a committee or sub-committee, FIFA, UEFA or the Court of Arbitration for Sport; (f) behave towards the Scottish FA and other members with the utmost good faith."
Sanctions for the second rule breach range from a £1,000 fine up to "£5,000,000 and/or ejection from the Scottish Cup and/or exclusion from the Scottish Cup and/or any player registration restrictions and/or suspension and/or termination of membership and/or any sanction or disposal not expressly provided above". 
A response from Rangers is due by May 22, with a principal hearing date set for June 26.
Regardless of the outcome, UEFA are unlikely to take any action over the matter, having a five-year limit on dealing with historic cases.
Today's charges also raise the question over whether the Scottish FA will approve the appointment of director Alastair Johnston.
Rangers director Alastair Johnston has been serving as a member of the club's board since June 2017 but has yet to be approved as a "fit and proper person" by the Scottish FA.
Johnston was Rangers chairman at the time of the 2011 licence application and the Scottish FA board had parked a decision on his fit and proper status until it had clarity on the events surrounding that process. 
Effectively, Rangers-or "rangers " – or perhaps even both, are being charged with something where they have already admitted guilt, in a court of law. although its important to remember this SFA charge is not a law issue, merely a sort of committee meeting to sort out bad behaviour.
Even the SFA cabal would have found it tricky to drop a case where the accused has screamed "we did it " when everyone was listening.
Which makes the statement from Ibrox even more bewildering than the usual guff to be released from there…
THE Rangers Football Club ("the Club") was informed today by the Scottish FA  ("SFA") that, after an eight-and-a-half month investigation, the SFA will not be proceeding with a Notice of Complaint in respect of the submission made by the Club to the SFA at the end of March 2011 with regard to the issue of the Club's UEFA licence for the following Season. 
The club, not the company.
The Club is unsurprised that it has now finally been accepted by the SFA that the accusations made against the Club were groundless. The Club questions whether the time, cost and expense of this investigation was justified and was a good use of the SFA's limited resources. 
What does the company think ? Will they be releasing a statement later ?
Disappointingly, and presumably rather than accept that the investigation was a waste of all parties' time and resources, the Club has been served with a new revised Notice of Complaint relating to the monitoring period subsequent to the grant of the UEFA licence. This new Notice of Complaint neglects to properly capture the provisions of prior agreements made between the Club and the SFA. 
Now those would be an interesting read…
The Club will fiercely resist this reconstructed Notice of Complaint. Unfortunately, monies that should be available to Scottish youth and grassroots football will be diverted into another rehearsal of seven-year-old debates on the rights and wrongs of events that the SFA should have prevented at a time when doing so would have served a useful purpose. 
Similar to when monies raised through taxation of players earnings could have been used to build schools, hospitals and filling in potholes.
Curiously, the club are accusing the SFA of not preventing the club from cheating, a defence which most lawyers would advise against.
Thats like Harold Shipman blaming the BMA for not stepping in when he  murdered a few hundred of his patients.
It seems that Scottish Football is, once again, being directed by individuals intent on harming the Scottish game, Rangers Football Club and its supporters by pursuing a course that has no sensible purpose or reasonable prospect of success. 
When they say it has no reasonable prospect of success, presunmably they have forgotten that they've already admitted the offence.
In the same way they forgot a lot of things over the last few years…
The general response over on the enlightened Follow follow forum is to "name these bastards ".
Happy to help.
David Murray, Alastair Johnston, Campbell Ogilvie, Andrew Dickson, Stewart Regan, Paul Murray, Dave King…all of whom were on the Ibrox board or at the SFA during the period of the offence.
Not a single one of them has as yet been called to account for the damage done to Scottish football by their actions.
go get 'em guys…
But there is more to come. This is only the beginning, and all the Compliance Officer has done, as any prosecution counsel would do, is select the charges that will stick, charges which already have a confession.
What matters now is what else was in that report, and when it will be made public.
It is unacceptable for Celtic, or any other club, not to release details to shareholders and supporters.
It's taken seven years to get this far, and before we all start leaping around predicting a change for good in the way the game is run, with the introduction of honesty and transparency at Hampden, we need honesty and transparency now, and so far we've had neither.
The charges were unavoidable, the guilty had admitted their guilt.
Publicly.
Sure, its a start, but thats all it is.
A start.
And you'll be pleased to know we don;t have to worry about time bars..

For all their crimes though, perhaps this report, from the BBC shows us exactly what kind of people we are dealing with, and the lengths they will go to to avoid accepting any sort of responsibility for their own actions..
A former youth footballer who says he was sexually abused by a Rangers coach has been told by the club he should pursue his complaint with liquidators.
The man claims he was abused within the Ibrox stadium by Gordon Neely who was head of youth development in the 1980s.
But the alleged victim has been told by lawyers for Rangers that the duty of care is not with the current owners.
They said that when the abuse took place Rangers were owned by a different company which was now in liquidation.
The man, who is in his 40s, was offered help in accessing counselling services, but no apology was made in correspondence from the club's lawyers.
We should have left them to rot when they went under.
Back at the ranch, and Scott Brown has been a little forthright about Graeme Shinnie, the latest player to literally try to kick him out of the game…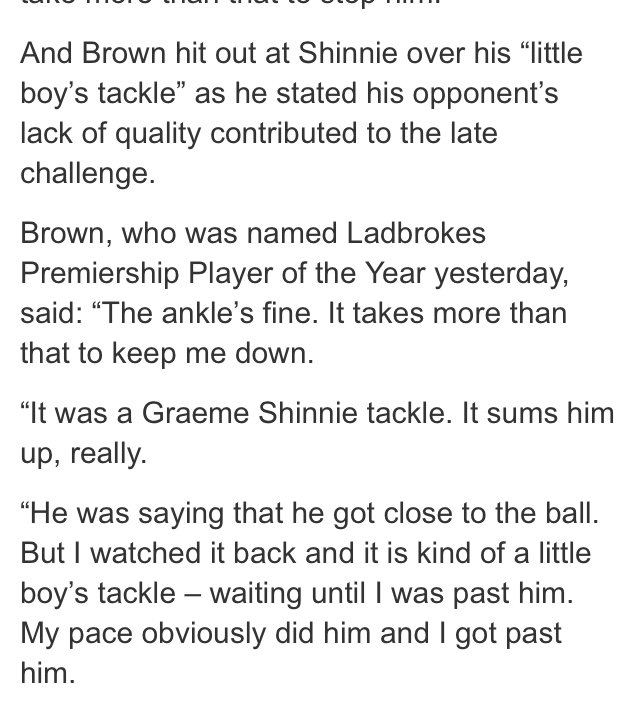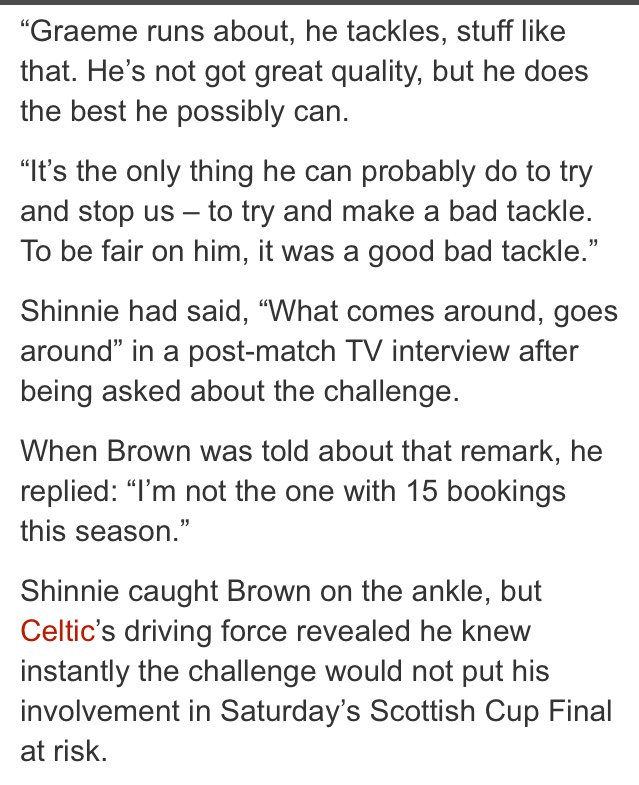 Hardly inaccurate, but its not going to endear him to his fellow professionals, and perhaps it would be wise to hurry along the move for John McGinn.
Patrick Roberts, as we know, is going back south. Probably to Leicester or West Ham. We wish him well, and although the lad can play a bit, he found out this season that the competition for his place in the side is a little stronger than he had perhaps hoped, and not being able to get a game for Celtic in the Scottish league isn't going to do his career down south any good at all.
Peeling a hidden onion, he said;
"It's been great, I've loved my time here. Everyone knows I love the club and I'm just grateful to get the opportunity to play here and I'm thankful to every fan out their for their support."
Jock Stein once said if he could take a wee bit of Charlie Nicholas's cheek and give it to Paul McStay, McStay would have been a world class player.
Well, I've arranged for a fitness transplant between these two. which would have a similar effect…
We had a debate on the bus on Sunday, and that was prompted by me saying I'd rather have had McCourt in the side rather than Rogic, as both had similar attributes and fitness levels.
I was in the minority, preferring the Derry Pele, but its interesting to see how Rogic is accommodated whereas McCourt was sent away.
Maybe it was all about attitude, or resale value.
Wonder how much we got for this guy when he skipped across the city …
No doubt the move comes as a surprise to Griffiths as well.
The Edinburgh News reports..
A glitch on the Rangers website has suggested that new manager Steven Gerrard has been busy in the transfer window – signing players from the club's rivals. John Souttar, Leigh Griffiths and John McGinn are just some of the players with profiles as the Hearts, Hibs and Celtic squads have found their way onto the Ibrox club's website.
Looks like their media and PR team are suffering from overwork, and perhaps too much time away from the real world.
Although they could be having a wee in house competition to see who can come away with the biggest pile of doggy do for their fans consumption, which in itself presents a wonderful image, although they have a ways to go to match the statement covered at the top of the page.
Meanwhile, the Evening times has outed itself, showing its true , er , colour…
Dennistoun Flute band who celebrated 45th anniversary lose hall and instruments in East End fire
We know exactly what these bands stand for, and what they encourage during their marches.. and the Times has sealed its fate with this…
A Go Fund Me page has been set up online to help them buy instruments and well-wishers have donated over £600 so far. 
You can donate to the page here https://www.gofundme.com/ 
I've not included it, obviously, but they have given the address for a funding appeal which promotes anti catholic and anti irish sentiments.
Tomorrow, they'l be doing a feature on a KKK member who lost his job, a former Auchwitz guard  who needs a wheelchair, and a Conservative party member who has been forced to live next door to a single parent family.
Do not buy this paper.
Ever.
Then again, its not just the papers…
A Scottish college has sparked outrage after cancelling a religious celebration on campus just two days before it was due to take place.
City of Glasgow College last week revoked its decision to allow its own Catholic Chaplain to hold an Ascension Thursday mass for members of staff and students.
The college has a prayer room that can be used by all religions and has previously allowed its Catholic Chaplain to hold religious services on the campus.
The mass, originally scheduled for May 10, had been approved by the college's Equality, Diversity and Inclusion (EDI) department almost a week before it was due to go ahead.
But those planning on attending the mass were left outraged after an email from the EDI on May 8 announced that an appropriate policy was not in place at the institution in order for them to allow the service to go ahead.
Scotland, the best wee country in the world.
Yesterday, we showed you this picture,
Today…