Celtic Diary Friday May 11: Building For Next Season Begins
As we predicted last week, the transfer business is getting done early again. well, not so much a prediction as a statement of the obvious. Rodgers and his team always do it this way.
Scott Bain proved that you can fall out with your boss and land a better job when he signed a four year deal at Celtic, a move which will please everyone as he has shown he can handle the job, even if its fair to say there is room for improvement.
He said:
"I'm delighted. It's more than I obviously expected when I first came in. I'm over the moon.
"I don't think it could have gone any better. It's funny, there are a lot of little things that went my way to get to Celtic on loan and then to play the game against Rangers, which sent me on my way to this four-year-deal. It's been great and I've loved every minute of it.
"There are no small games and there are no easy games here. Everyone ups their game to play Celtic and you need to be on it 100 per cent of the time, in games and training.
"I've settled in well with all the boys in the changing room and they've made it really easy for me.
"It's a great changing room to be in and a great club to be at." 
And Neil McCann has just lost an asset for nothing.
Next up is Oddsone Edouard, who re-iterated his desire to stay in Glasgow.
From L'Equipe magazine; ( It's French, it means The Equipe. )
"I am happy at the club, with the team, the coach. He has given me a lot of confidence. The aim is to stay here. For me, this would be the best option.
"It's a top club with a top coach. He will help me with my development. It would be a pride for me to wear the Es­poirs (France U21) jersey next season. I want to show what I am worth." 
I think we can safely say he's dropping a hint here, but will Rodgers pick it up ?
Will Edoaurd be in the hoops next season ?
"A very, very good chance, hopefully . He wants to be here. It will be a case of hopefully getting an agreement with Paris Saint-Germain." 
Nothing gets past our manager.
Although I'm still certain John McGinn will arrive as well, one of europes sleeping giants is in the hunt for the Hibernian midfielder..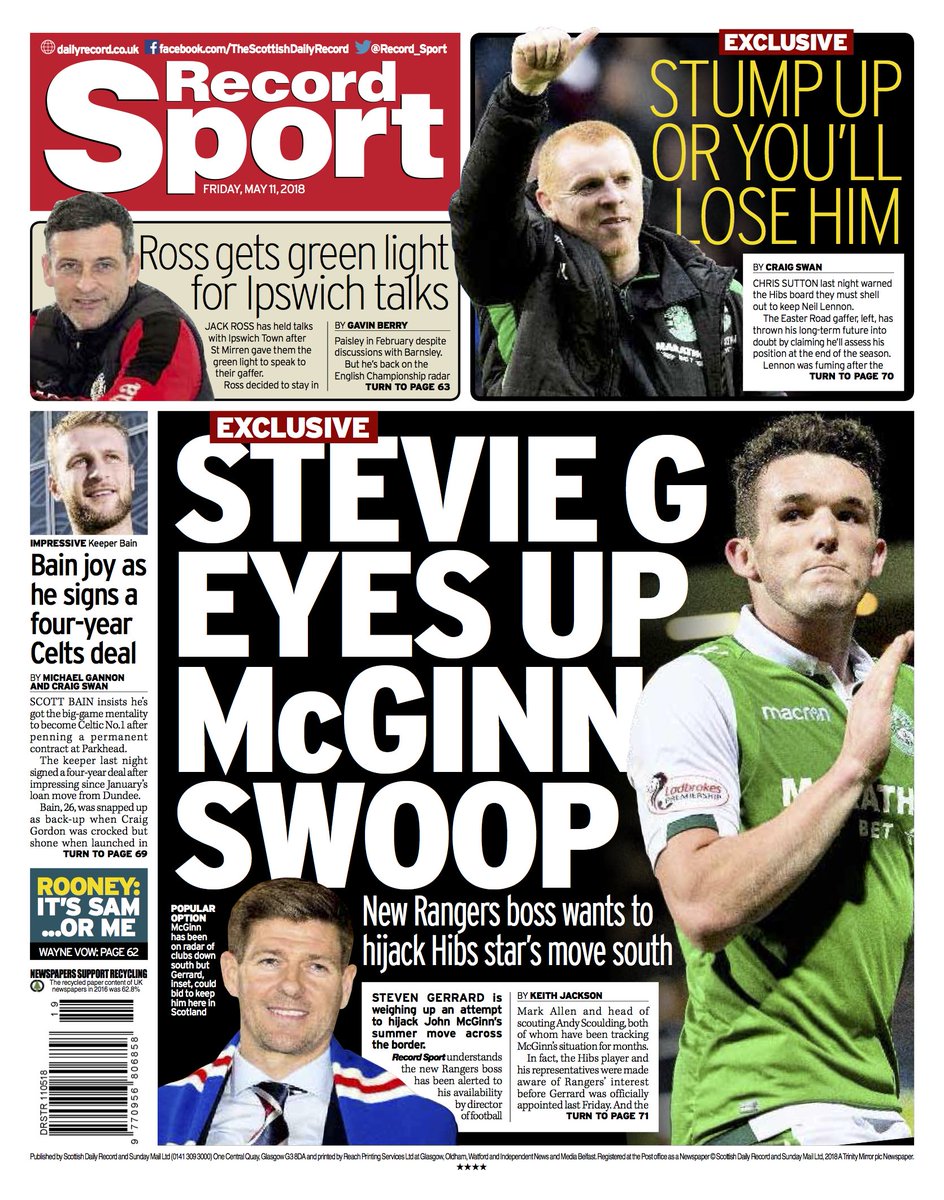 Sleeping giants..like these two, I suppose, and they aren't fooling anyone either..
My own headstone will be like this ..and it applies to that lot as well.
But if you look at the bigger picture, Hibernian face "rangers " at the weekend, and could still leap over them in the table, so just to be on the safe side, the press have targeted their top man and claimed "rangers 2 are after him, a movie which we have all seen several times before.
McGinn won't go there, and "rangers" can't afford him.
Mind you, I was disturbed to learn that the Gerrard led revolution at Ibrox , funded by an enormous £6m share issue/soft loan/ bank job isn't been taken seriously at Celtic Park.
As Harry Brady predicted on twitter, the club are spending £4m on some new lights and other trimmings, which sounds like nice work if you can get it.
The papers , just two days later, claimed a scoop….
But thats what they do.
They also claimed a victory over the internet bampots when it was announced that "rangers " had been granted a licence to play in europe next season.
The word on the street was that UEFA had sent back a few notes asking for clarification on a few issues, and as expected , the SFA said there were no problems.
SFA grant Rangers UEFA licence after days of fevered online speculation
The SFA have today revealed the list of Scottish clubs that have been awarded a licence to play in Europe.
Scotland will have one representative in the Champions League – Celtic – and three in the Europa League.
Currently, they are Aberdeen, Rangers and Hibs, although Motherwell will take the spot from the fourth-placed side in the Premiership should they win the Scottish Cup.
There has been fevered speculation online as to whether the SFA would grant Rangers a UEFAlicence.
So-called experts cast this in doubt due to the finances of the Ibrox club. 
The Record calling someone a "so called expert ". You can lay me down to die right now. I've seen it all.
The speculation was further fuelled by Dave King's comments during his media briefing at the start of the week. 
King had waffled for a bit and then, in a grandiose statement which defies belief , claimed;
So basically I am funding it until such time as the other funds come into play, which is fine." 
Which to my mind will be the assurance he has given the SFA, who still have a soft spot for any Ibrox entity, and which they in turn have accepted.
Whats important here is not that the SFA have granted them a licence-which technically is not within their powers-but that they are aware that this time their attempts at shennanigans are being watched, which means they cannot get away with what they got away with before. 
And as far as I'm concerned, thats a case of job done.
We'll deal with the fact that we have to do that at all when the new SFA man takes over.
Neil Lennons rant after the Hearts game, by the way, means he won;t be coming back any time soon. His fiery personality was one of the reasons he was asked to leave the last time, and he's just shown everyone he hasn't grown up yet.
But he's still got plenty of time to change that, as , of course, the current manager isn't going anywhere just yet.
Irony still seems to be the word of the week..
Yeah, he's right. We should listen to his tales of state aid, corruption and anything else he could think of to lay at the doors of Celtic Park.
He's the only guy I can honestly say will never be Knob of the Week, as he's on a completely different level.
Thast right…its Friday, and that means its time to announce the winner of the hotly contested Etims
Knob of the Week 
award.
In a week where several high quality candidates played a blinder, h owever, one man stood head and shoulders above everyone else.
And you get the feeling he might come to dominate the award in the coming weeks….
Especially as someone told me this was him, which of course I don't believe.
I'm sure he wasn't a freemason
Yesterday, we had this..