Faithful Through and Through: Tonights Foodbank Collection
There is a collection tonight at the game for the foodbanks in Glasgow and the West.
Organiser Tara Maguire , working in partnership with the Celtic FC foundation, took time out to thank everyone for helping with their contributions, and to explain that Glasgow NE foodbank is, in fact,  more than just a foodbank…
Once again we are calling on the tremendous fans of Celtic Football Club to support six services assisting those across Glasgow and the West.
"Our numbers continue to grow, and from April 2017 to April 2018, with the support of these regular collections at Celtic Park, we have assisted 4,186 men, women and children with emergency food provision – 2,988 adults and 1,198 children.
"Please help us so we can continue to support those in crisis in the coming months. A list of items is included, but we are over the moon with any donation at all. One tin makes up a parcel for someone who is experiencing food poverty."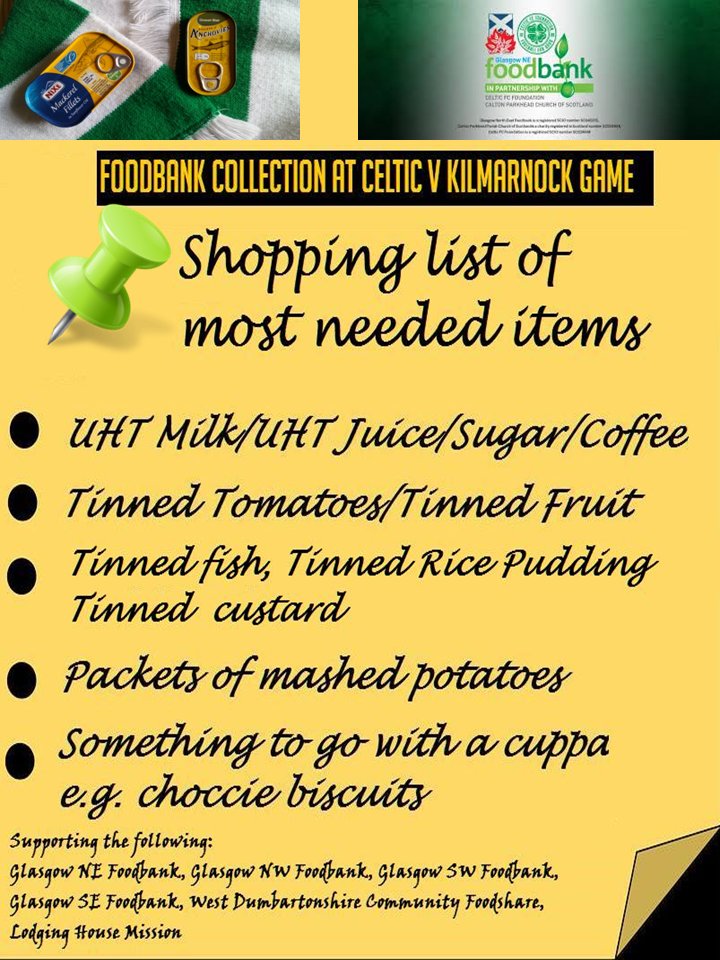 There will be three drop-off stations: The Clover on Celtic Way (main collection) and the West and East drop off areas along Janefield Street.
Please note that this is not a cash collection.
Celtic fans started these collections 5 years ago.
Your support has exceeded any expectations.
Thank you.
There's something a bit special about the Celtic support, something in the fundamental make up.
That understanding of what its like to be swimming against the tide, but also a desire to if not change it, then certainly help to alleviate the pressure.
I was helped as a client  by a foodbank, supported as a volunteer in a foodbank and I now manage six of them.
Sadly, more and more people are turning to foodbanks as a part of their day to day life. there's little sign the problem is going to go away.
There have always been emergency food services but the increasing need for foodbanks is an absolute disgrace. I've no idea what the answer is, but while we are needed, we will keep doing our thing.
We truly believe here that we can revive hope and restore dignity by continuing to be more than a foodbank.
The food is the main purpose of our work, of course.
But we also support our clients in being able to offer other services, vital services that for various reasons they feel they cannot access any other way.
Financial advice, fuel & energy advice, Samaritans, haircuts, victim support, offering volunteers community achievement awards to reflect their dedication.
We live it every day.
We have six centres, eight weekly distributions, 95% of food given is donated and we're staffed by volunteers.
We're doing what we can while those who can affect change pretend we don't exist
We exist in a real world for real people with very real problems, not of their own making.
And we exist because of your help.
For which I cannot thank you enough.
Help where you can, with what you can.
We can then give that help to where it is most needed, and will be most appreciated.
With your help, with your contributions, we can help more people in more ways.
Tonight, on your way to the game, stop off, help how you can by referring to the list above.
And once again, thank you.
Tara.