Celtic Diary Thursday May 3: Brace Yourself, Something May Happen
Deep down, we knew it would one day.
And it seems the manager is breaking it to us gently..
"Moussa is a fantastic player and the reasons why he has come here have borne fruit," "We wouldn't want to lose him, but you have to think he's a big talent and something may happen in the summer.
"We try and have the next one lined up. Odsonne is a top talent. If you look at him, we brought him in for a reason. He has developed and grown over the season." 
We knew thats why he was here, really, if we are honest with ourselves.
Significantly, this time, money raised by the sale of a top player is being re-invested. Which might go some way to softening the blow.
Rodgers , thankfully, isn't resting on his laurels. He's often spoken of being at the beginning of his plan, andit seems there are no signs he's about to let anything tamper with his vision.
"Look, the bad times are just around the corner.
"So, no, I can't really sit back and enjoy this. I had this last season, you know. We won the treble against Aberdeen and then three days into my break, I had this fear of complacency.
"It's a fear I always have.
"We produced a document on the traps we must not fall into to ensure we succeed over the longer term. So, you can't enjoy it too much.
"When you are gone, when you are out of it, you can look back and all the nice moments can become clearer for you.
"But not right now." 
Fair enough.
Allowing some of the players a wee break in Tenerife is part of that.
It means they can come back refreshed for the Sup final, which is the only game of real significance between now and the qualifiers in July.
Roma's exit from the UCL last night means that unless Chelsea at least win two and draw one of their last three games, with Liverpool losing both of theirs, Celtic will be seeded all the way through the qualifiers, which makes it a little easier, and for that we must be thankful.
It means the seedings at present for the tournament are all but settled, and as i don;t want to get ahead of ourselves, we can look forward to a  game against one of this lot..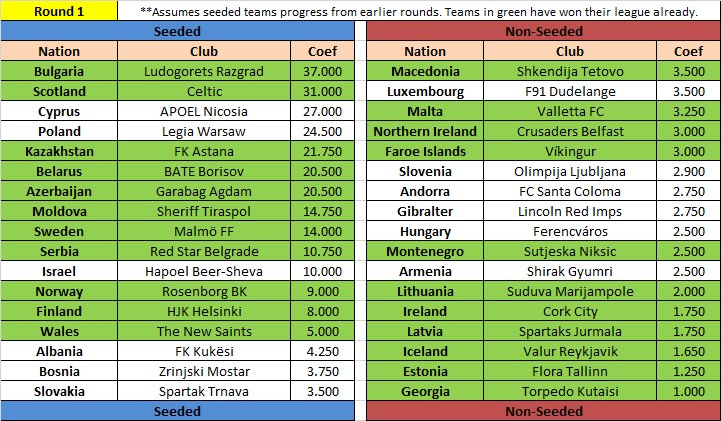 It's regionalised at this stage, so expect a trip to the old country again. Or at least one we tend to go to at this stage.
It's apparent to all that Rodgers is planning ahead, and Matthew Lindsay in the Herald would do well to note that.
That would prevent him making an arse of himself when he leads with headlines like this..
Celtic can hold onto Brendan Rodgers this summer – by breaking their £6m transfer record on Odsonne Edouard"
The implication is no Edourd, no Rodgers, which is not the case. It would have been easier, and more sensible to take the line that Celtic will have funds available to replace any key player who leaves, but that, as we know, isn;t what the SMSM want to tell us.
There is money available whether we sell or not. As the diary has already told you.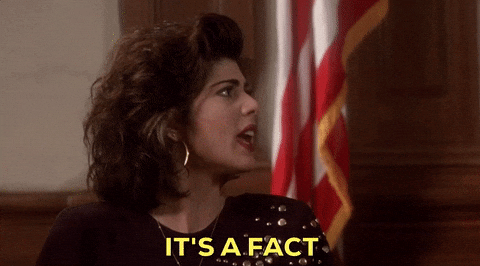 Congratulations go to those behind the campaign to have free womens sanitary products at Celtic Park.
Its not about providing them for those who cannot afford them, its about making a statement that these products should be free to anyone who needs them, and Celtic have done us all proud by being at the forefront of a wider campaign and making a statement.
Which leads us to a funny, but tasteless tweet…
There will be free sanitary towels at Celtic Park in women's toilets. We will be donating the used ones to Ibrox since they cunts love being upto their knees in fenian blood so much. 
Apologies to those of you having something to eat at this point.
Daley Blind, son of Ajax legend Danny, has been told he can leave Manchester united. Just saying, like…
It's back to business on Sunday for Celtic, and the trip to Tynecastle should see starts for Patrick roberts and Scott Sinclair, whilst Oddsone Edouard will keep his place simply because he keeps scoring.
Revenge is in the air for the Hoops, who lost that unbeaten run up there-it seems so long ago, so put your money on at least a consecutive five goals for the good guys.
Hearts have mentally switched off for the season, as their defeats to and performances against Aberdeen and "rangers " have shown.
We understand the players have been shown a training video to help them understand what has to be done…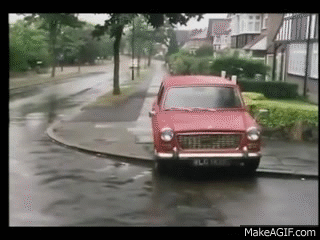 Meanwhile, the lights are still on over at Ibrox, but it doesn't look like anyone is home.
Two directors decided they would rather keep their shoulders nice and warm thank you , and they resigned yesterday.
Barry Scott , who is based in the far east, has more to fear from any cold shoulder sanction imposed on Dave king than most. The penalties in Hong Kong are a little more severe.
Full rules here…
developments-in-financial-regulation-in-hong-kong
As for Paul Murray, he's done his best, and we'd like to recognise that by sending him a gift, a little something to show him our appreciation for making our days a little bit brighter.
I put a lot of thought into this, and went out and got him something he's always wanted, something he has a real need for..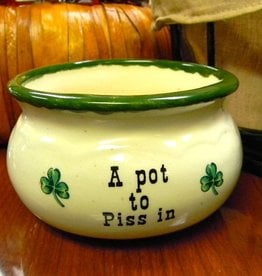 Its even got wee shamrocks on it to remind him where it came from.
Now whilst the events of the last few days at ibrox can be described in this picture.. tweeted by CarlJunglebhoy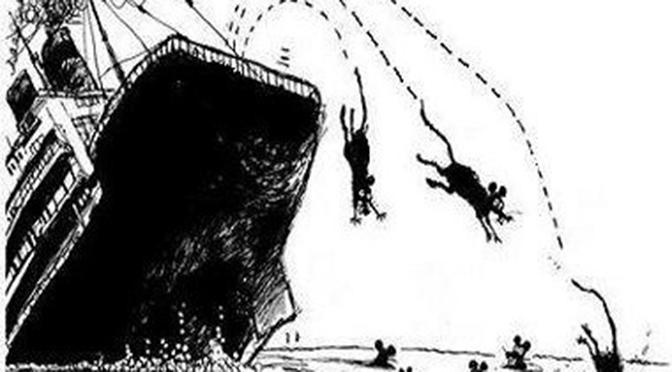 As usual, the SMSM have got their heads up their collective arses, their fingers in their ears and their eyes fully closed- they're putting a team into the world gymnastic championships- and its merely Dave clearing the decks-as we saw in the picture, for new investment..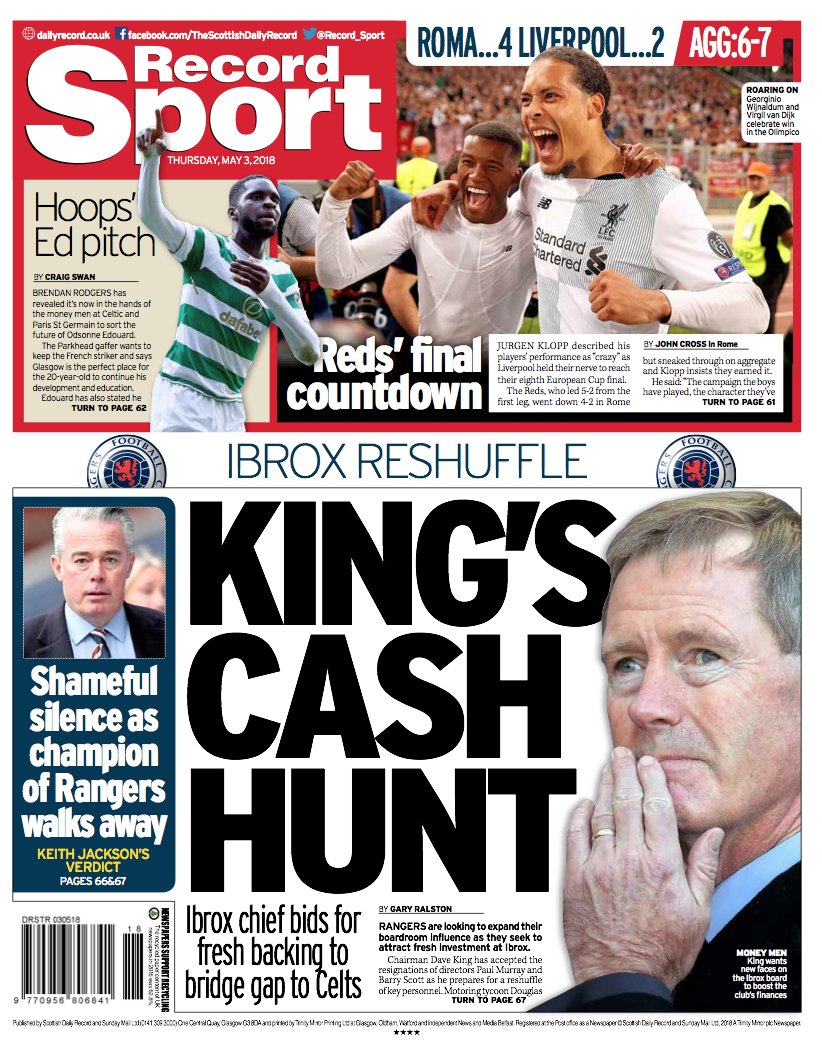 As usual, there's no sing of him putting any of his own money in, as has been the norm at ibrox ever since David Murray took over.
Initial investigations into any alleged chicanery at the club had stalled due to , well, stalling tactics, but happily there's more than Police Scotland interested in the dealings of those already tainted years.
The web has been spun internationally, and whilst there's safety in them there lodges, they won't keep the more enthusiastic out…
There is talk of Chinese investment, there's talk that Bill Ng, (remember him? ) is keen again, well, not again, he saw the books last time and broke the sound barrier as he left the building.
Chinese investment makes sense.
Why spend £11m on one player when you can buy the club for that ?
Although it will take a little more than that just to bring the accounts-should they ever publish any-back into the black. Soft loans, secured loans, running costs…
For the poor, beleagured "rangers " support, Gary Ralston dutifully took orders from his master and once again ignored reality..
Rangers are looking to expand their boardroom influence as they seek to attract fresh investment at Ibrox.
Chairman Dave King has accepted the resignations of directors Paul Murray and Barry Scott as he prepares for a reshuffle of key personnel. Motoring tycoon Douglas Park was recently appointed vice-chairman
in a move that allied him even more closely with Johannesburg-based King.
They are now looking to appoint at least two new non-executive directors, not necessarily Rangersfans, with a view to opening the door to fresh investment at the club.
No announcement is imminent but King and his board are working behind the scenes to bring in high-calibre candidates to help compete with the financial dominance of Celtic.
King, who has also spoken of his desire for a female presence at the club, has promised Steven Gerrard a significant transfer budget if he agrees to take over.
Talks with the Liverpool icon are ongoing but despite reports a deal has not been concluded and discussions will continue later this week.
Ah, Gerrard.
After their seven in a row, we come to  Gerrard..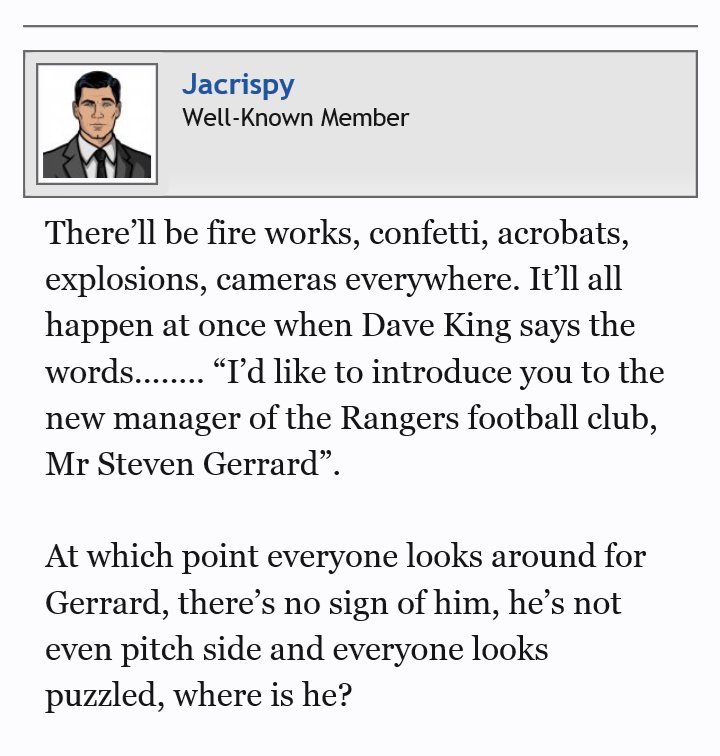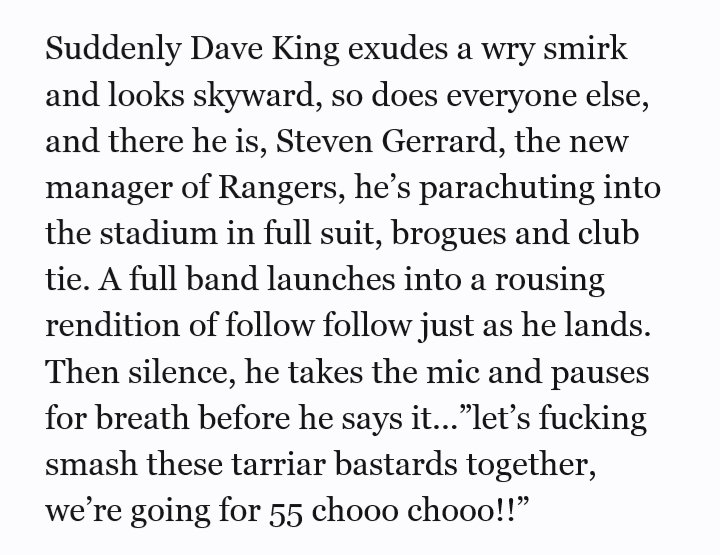 There comes a point where hopes and dreams cross the border into simple refusal to accept reality.
Like standing by a dead dog in the road hoping it'll somehow get up and run. ( Springsteen )
There will be no Gerrard.
There will be no investment.
And there'll be no armageddon either.
This time, they won't get away with it.
A number of grown up journalists are in possession of the facts. Some weren't around when the first club died, and some were, and they think they have a career to save.
Those who ignore it this time will be quietly given features to do for the advertising supplements, after all, they've done a considerable apprenticeship over the last few years.
In fact, everything will  be just fine and dandy..remember  that summer I was talking about..
Yesterday, we had this to contemplate..
Today..