Celtic will play the penultimate pre split game tonight against Dundee in Glasgow, and three points will move the club closer to title Seven Of Ten.
Scott Bain can't play against his parent club, but Craig Gordon is back in training and could well start.
Manager Rodgers explained..
"We are just going to check with Craig to make sure everything is okay, but he's been back in training and if he declares himself fit and ready, then he will play. He's come back earlier than what we thought.
"Scott was great in the games he played in, but he's not able to play so we're looking to replace him. Craig's been brilliant in his rehab. It was a sore one he took but he's come back and worked very hard and he's back ahead of schedule, which is great news." 
Thats what competition for places does..
Bain might be around a while longer, which is bad news for Dorus des Vries, who never looked more than five minutes away from a disaster..
"He's definitely someone we want to keep here long-term," 
"He's at a good age. He's still got a lot of development and importantly he understands what we are trying to do here. Hopefully, his representatives and the club can organise a deal for him to be here.
"He's shown all the attributes in his short time here. It was fast-tracked with that game against Rangers but you really get to see the personality of the player as well as his goalkeeping qualities. He's been able to show that." 
Bad news for this guy , then..
There was more good news when the gaffer explained that Keiran Tierney will return to training on Thursday, and that was compounded when Leigh Griffiths proclaimed he was all better as well.
He's been to see a specialist about his recurring calf problems.
"The specialist identified straight away where it was coming from and how we can rectify that.
"It is all to do with my hips. My hips, the muscle tissue, were so blocked that my calves and my hamstrings were doing double the workload. 
Here he demonstrates where it hurts..
"I wasn't getting the full range of my movement. That is why my calves were going either side.
"Hopefully now that has been released and the muscles are flowing again, I will be back sharper with more movement." 
What he really wants though, is to get his first century of goals out of the way..
"I have hopefully got 10 games to go to reach that goal mark.
"If I get a good run in the team I'll have time to hit that before the end of the season.
"Being fully fit, you don't want to miss out on games.
"Three of us are vying for one position. At times we have gone two up front but mostly it's one.
"I'm selfish. I'm a striker. I want to score goals and be in the team but it's up to the manager to pick the team and whoever gets the starting slot will be deserving of it.
"It is an exciting part of the season to be involved in. The semi-final against Rangers is going to be massive for us but we need to win our next two league games before that to put us in good stead for the title." 
Maybe we're about to see his second spell as top dog begin…
Scott Brown posted an old picture of himself with Shunsuke Nakamura from a few years ago, and I'll be I'm the only one to spot something..
Look at the size of the "slightly  built"  Japanese playmaker compared to the all action midlfielder who has a physical edge to his game..
Stereotypes are endemic in the media, and weren't we told Naka wouldn't cope in Scotland ?
Anyway, as Celtic push towards a seemingly inevitable seventh crown, perhaps its time to look at what lies ahead in the UCL, which begins on either July 10 or 11 for the club, and is followed by eight straight midweek games, should results go our way..
Here's how its set up this year, thanks to Moravcik 67 on twitter..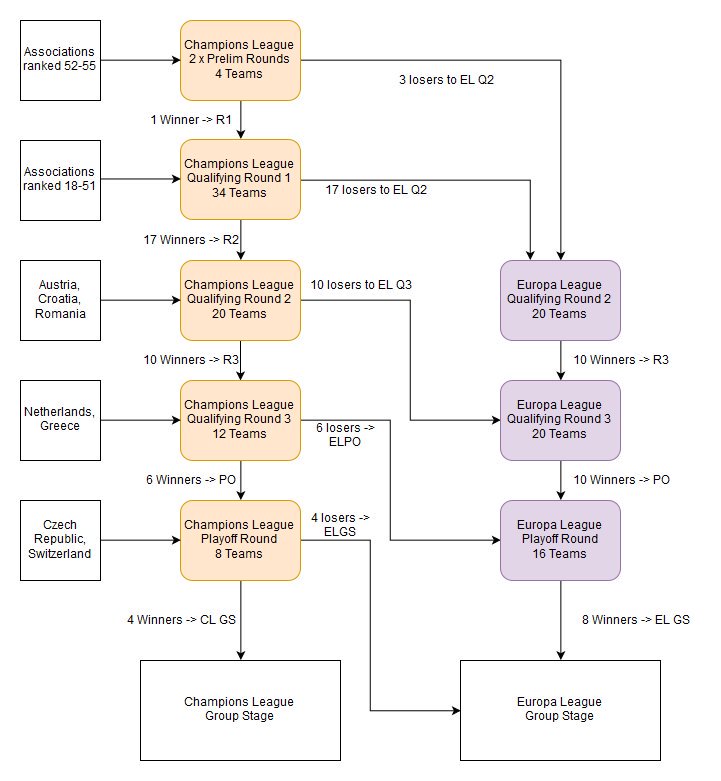 A bit of a ball ache, but there its at least more than likely Celtic will be seeded for all four games.
To save space, I've presumed that the hoops will win the first three ties, and this is how the play off round shapes up should all the other "favourites " do the same..

Although that is by no means a guarantee, there's some tasty outfits in the previous non seeded teams.
However, pot 3 is still a possibility,and moravcik 67 explains why..
15. As for the group stage, to avoid Pot 4 we'd need 8 teams to be ranked below us. Current standings show Lokomotiv Moscow, Leipzig, Inter, Spartak Moscow, Brugge & Galatasaray in position to qualify, but also below us. We'd need just 2 more teams ranked below us for Pot 3. 
16. But if the EL winner also qualifies automatically for the CL group stage, the 3rd place French team moves into the group stage without qualifying. That would be Marseille on current standings. Also ranked below us. That's 7 of 8 required. We'd be right on the edge of Pot 3. 
Still a ballache, but there is a chance of relief.
And at least we still have something to look forward to.
With Aberdeen and Hibernian winning last night, "rangers " have slipped behind the dons and are now just one point ahead of Hibs, which makes for an interesting run in.
There is the possibility that Celtic could host "rangers " after the split with a possibility of clinching the title against our newest rivals.
The SPFL may well have a conundrum on their hands.
League chiefs currently have Rangers' trip to Parkhead pencilled in for the first weekend of action post-split.
But those plans could go up in smoke should Aberdeen drop points at Hearts on Saturday.
Should the Dons slip up at Tynecastle and Celtic win their fixtures with Dundee and Hamilton the Hoops would be able to clinch the title on the provisional date for the final Old Firm derby of the season. 
However, the staunch Ibrox support could be the difference when these battles begin..
Still, there's always next year..

 It doesn't matter how many times they get hit on the head, they really have to be admired for ignoring the pain and believing it will go away.
More to be pitied than scorned.
Yesterdays picture was this one..