Those of us who thought the lack of competitve action would have hindered Zenit St Petersburg may well have cause to think again.
Their sports science chief-yeah, I know, even the fact they have one is depressing- Ivan Karmina let on as to what they've been doing during their break..
"We have been working on this since December. We scheduled all of our programme for this match. We calculated everything because it's an important game.
"After the talks with Mancini and the players, we felt this was the best way to go. Now our guys are perfectly ready for the games against Celtic." 
Some people take things far too seriously.
By comparison, Celtic, whose defensive problems are legion, have bought a guy in from Germany who is both injured and ineligible, a young lad from Dundee who will take time to adjust to communicating in English,  and let the experienced international defender Erik Sviatchenko out on loan.
Perhaps its a little unfair on Jack Hendry that he might be asked to play a part at a level he's only ever seen on television before. Chris Davies, the number two at Celtic has no doubts in the lad..
"We've got confidence in Jack that he can play – that's why we signed him. He can play at this level.
"Of course the more games he plays at European level, the more he will develop.
"But we have a lot of faith in what he can do and we'll see what that means for the team selection." 
Clearly a lot of planning has gone into this game by Celtic, as Hendry was only signed on the last day of the deadline.
Davies went on to confirm this when he spoke of the intense coaching that has been going on, notably with the defence, who have been warned that whatever it is they've fallen out over, it would be nice of they could start talking to one another again.
"The manager has been reinforcing to them the concentration aspect. It's really important at this level. When you are facing teams like Zenit it can be about that mental fatigue. 
You need to concentrate, be switched on and alive, for every single moment of the game.
"That's going to be very important on Thursday to ensure we are defensively solid.
"Domestically we are used to having a lot of the ball, then you come in to Europe and you are not the team with most of the ball. 
It's something you look at in training and try to help the players. The manager has been reinforcing to the player the important of defensive organisation, concentrating on being hard to beat.
"We know we have threats going the other way." 
There's never usually one thing, it can be a combination of factors. It might be there's an individual lapse. It can happen in football, it's about making sure you learn from it and don't make the same mistakes again.
"Sometimes it's the opposition showing that bit of qualify finishing off the chances they wouldn't normally.
"As a team it's about closing down the spaces quickly. These are the things we are looking to address to make sure we are defensively sound." 
Actually, its quite simple. If the players switch on, and press the ball like they used to do, with each man putting in a shift, we'll be alright.
The most important job on the night will be that of the captain, Scott Brown, who will need to cajoule, bully and cuddle his team mates.
Davies also pointed out that Celtic are at home, a relief to anyone who has already booked the train….
"The crowd are fantastic and as we have said before there is no better place to play than Celtic Park in Europe. The atmosphere they generate is incredible.
"It's up to us that it inspires us and it intimidates our opponent." 
Celtic have won two out of their last nine games at home. It doesn't help that the other team seems to relish the atmosphere more than our players do.
However, the game doesn't kick off until five past eight, and those extra twenty minutes in the pub can do wonders for vocal lubrication.
On one particular evening, in the corresponding fixture back in the day, Celtic faced Valencia at Celtic Park after a 1-0 defeat away.
That night, Celtic would crash out of the tournament on penalties, against a side who were possibly the most organised, disciplined and skillful that I've ever seen from the stands.
Yeah, I know its the Record, and I've included it to make note of the player assessments. Valencia were outstanding that night, as I've said, but then again, what does that rag know about football ?
But the noise, and the avalanche of alcoholic fumes and noise sweeping onto the pitch from the stands certainly helped.
The Walk On as extra time began.
We might decry the quality of player these days, but perhaps whats missing is that quality of support…
Now, if you think all thats going to make it tough for Celtic, it gets even tougher…
Zenit might be training at the world class Auchenhowie complex…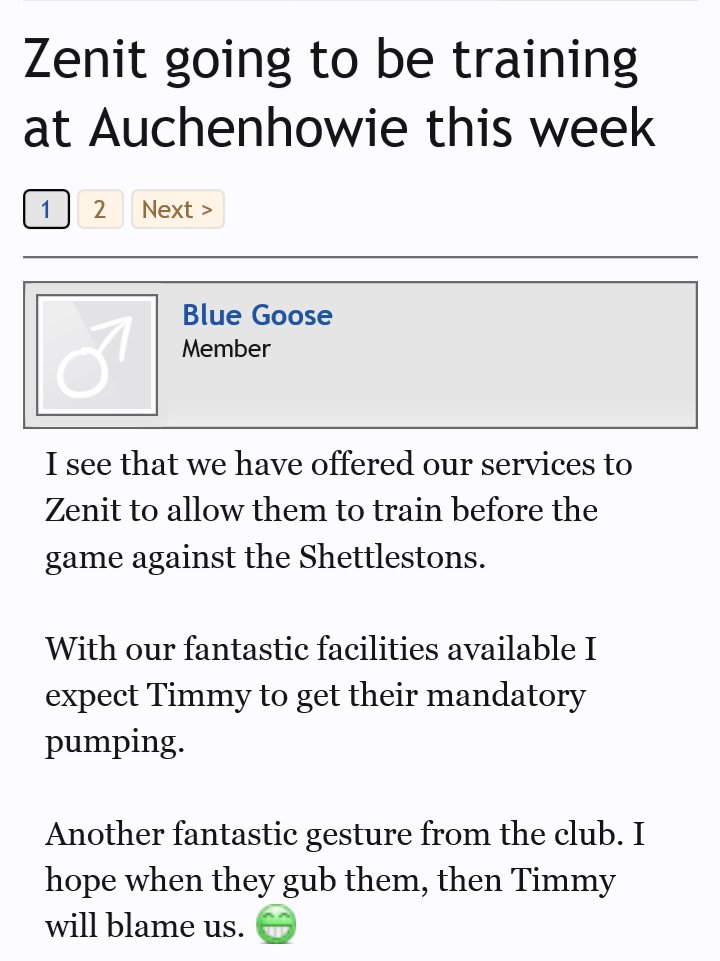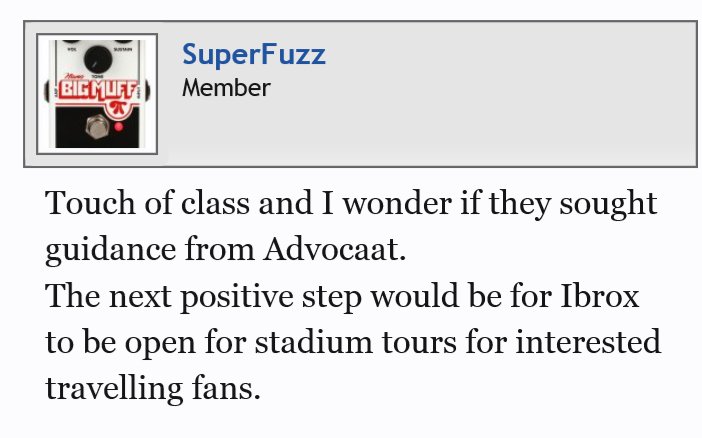 Er, thats brilliant. when i went to Munich last year to see Bayern the highlight of my trip would have been a stadium tour at 1860 munich.
No wonder the spivs take it in turns to bend them over the table.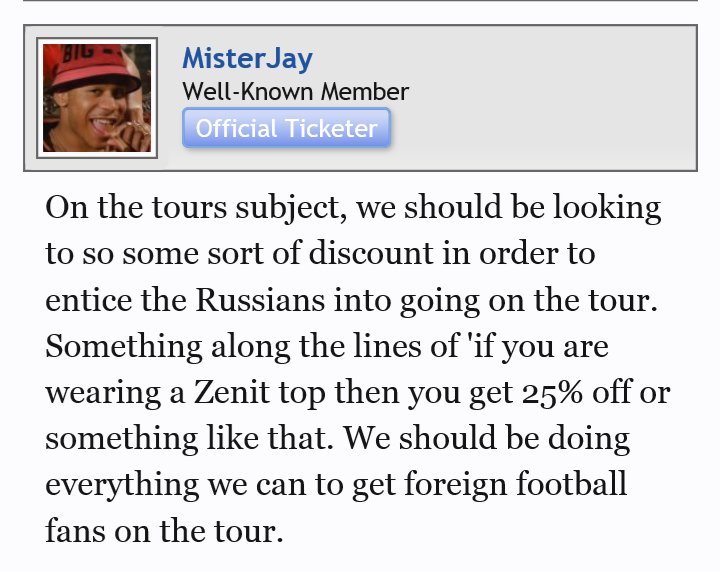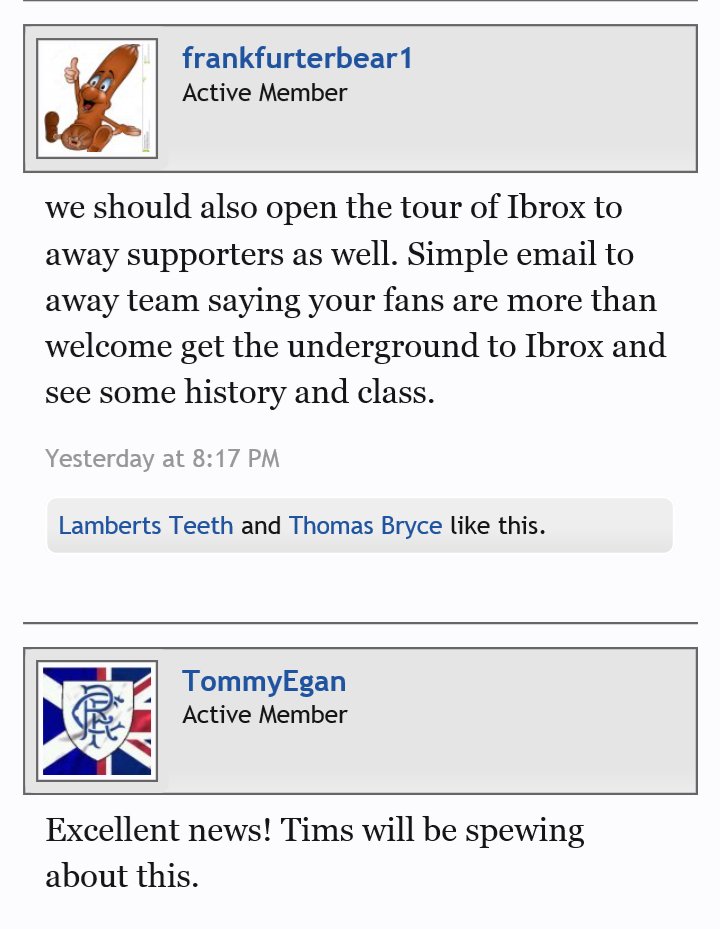 Of course.
I can hear it splashing off the pan as you read this…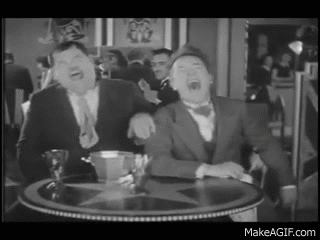 Speaking of that lot…
Six years ago today, a great moment in history.
but, from the ashes they did rise, or at least told everyone they did, and perhaps they have learned, as a campaign is underway to prevent their new club from going the same way…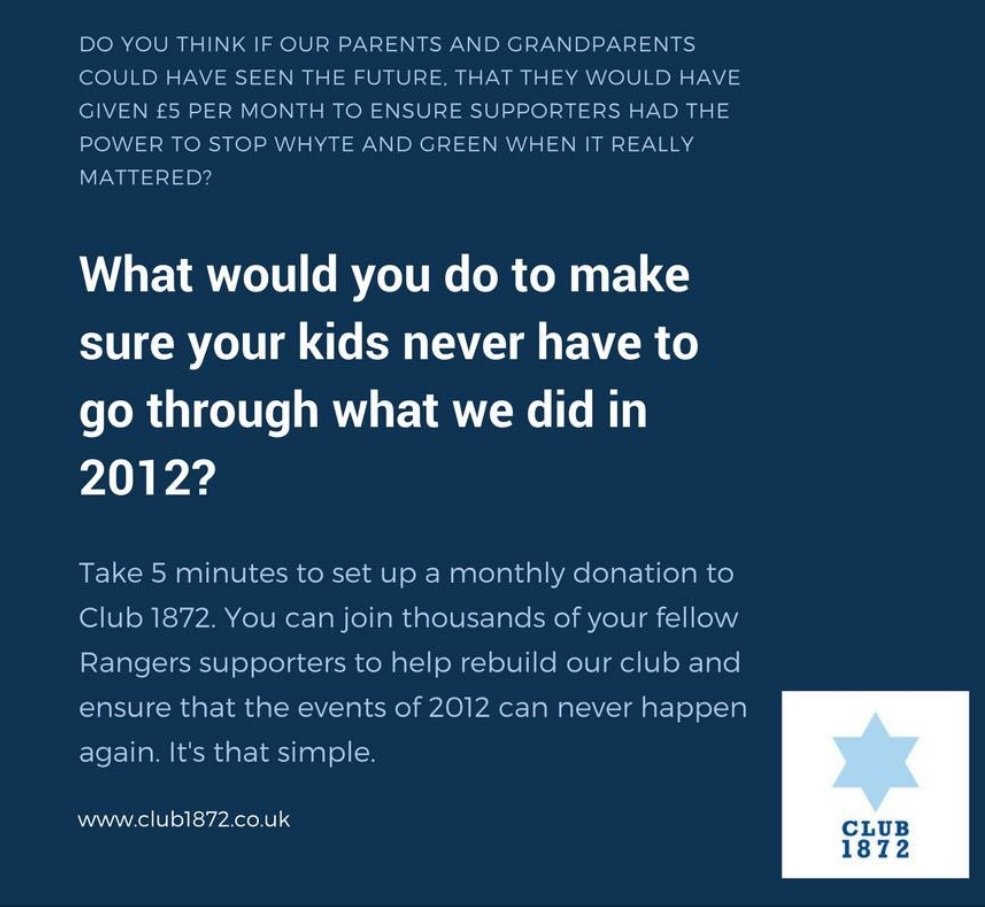 Or, you could take five pounds and simply wind down the window and let it flutter along the highway, because at least then theres a chance an honest man will put it to some good use.
Who can we trust these days ?
Future Jeremy Kyle show guest Prince Harry and his fiancee turned up in Edinburgh yesterday, greeted apparently by thousands and thousands of pavement licking cap doffing knee scrapers.
Are we sure about that ?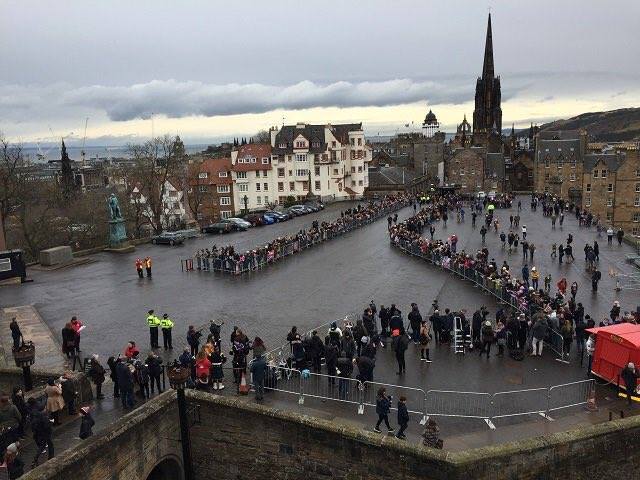 I mention this because I'm led to believe they will be getting married soon, and its on cup final day.
There's a visible problem with homelessness in Windsor , the town adopted by his German ancestors when they had to hurriedly change their name to show who's side they were on when Queen Victoria's kids started poking each others eyes out over who had the bushiest beard, a row which led to millions of young men being sent to the trenches of France for four years.
Apparently, the council down there are concerned  the presence of so many scroungers and cheats in the town could be deemed offensive, but there's little they can do as they are family and are on the guest list.
However, wouldn't it be nice if all of us English based fans who couldn;t get to the game found a pub in Windsor where we can watch the game and pay our respects to young Harry, who has had a tough time and deserves a great day ?
It'll take his mind off the traditional Who's The Daddy ? scuffle scheduled for the car park outside the reception when James Hewitt turns up pissed.
Yesterdays picture…