Stewart Regan has resigned as the CEO of the Scottish Football Association.
The news broke earlier today to a round of applause from everyone with an interest in Scottish football. Though not those that run it, obviously.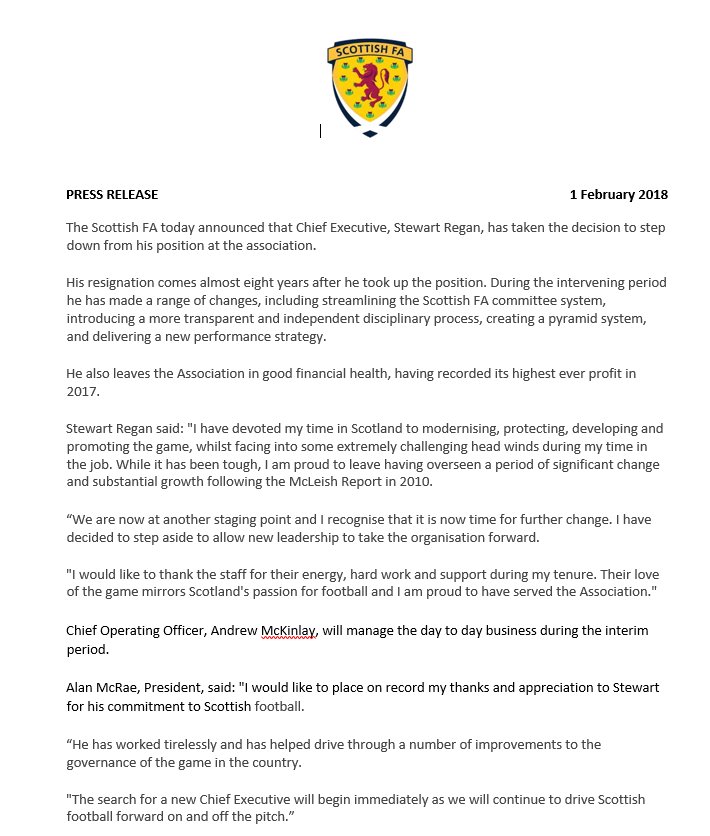 We thought we would look back on his near eight years in charge with a tribute to all the good things he has done for the game, but we couldn't think of any.
What he could do, to perhaps change our perception of the way he did his job is to maybe allow us to have a glimpse into the secret world of the SFA.
How decisions are made, who makes them, that sort of thing.
Maybe he could give us the full lowdown on what really went on during , for example, the granting of a licence to play in Europe for a club that has an overdue payable.
Or perhaps he could enlighten us as to how referees are really chosen, and why Vincent Lunny felt he was told to drop a case against one who had been found to be telling an untruth.
what about the Five Way Agreement, and the accusations that lower league clubs were pressurised into accepting the promotion of a new club to higher division ?
What about letting us know who is responsible for the poor revenue raised by the television deals that have been struck over the years, or the lack of major outside investment in the game.
Does he have more answers now he's not being worked by his puppetmasters ?
Until we know a little more about his tenure, and the goings on behind closed doors, then any golden handshake, and they do like their handshakes at Hampden, should be withheld.
But I'm sure he will want to clear his name and show us that he really did care about Scottish football, and perhaps help to apportion the blame onto who is really responsible for the mess the game is in, because of he doesn't, we'll have to assume its him.
And what about those on the SFA board ?
They are now in the front line for any criticism aimed at the authority, and the first thing they must address is if they feel , that as a part of Regan's crew, they have done enough to stay in a job.
One of them will likely be chosen to take his place.
The most important thing now is that the clubs rally against this.
A change of face is not enough, its a change of the SFA that is needed.
With Regan gone, those who remain will be considering their positions, as this could be a major breach of the walls that surround and protect them.
We cannot expect the media to join in any demands for change, so the Scottish football fan must pressure their clubs into making sure that the changes to come are for the good of the game, and not for those who are in power at the moment.
After all, as CarlJungleBhoy tweeted, there's a patern emerging..
Blatter: 30 May 15 – "I've nothing to fear"
Platini: 15 Feb 16 – "I fear nothing"
Regan: 1 Jun 16 – "nothing to fear"
Be afraid… #Res12
The clean up has begun, lets make sure we leave the place spotless.
Thanks to Only4togo on twitter, we can play Regan out with a song..