Celtic Diary Tuesday January 15: A Cunning Plan-Boycott William Hill
Celtic are back in action this weekend, as the Scottish cup kicks off for the big teams, and, of course , "rangers ".
Brechin city are the visitors, and they must be given credit for supporting their team, almost en masse, from the Angus town…
Well, I say town, but technically it's a city, as it has a cathedral.
Which is why they are called Brechin City.
Their other claim to fame is as the answer no one can get when the task is to name the football teams with parts of the body in their name-Liverpool, Hearts, Scunthorpe etc.
And its the home of the famous hedge… the only ground in British senior football to boast such a feature..
It's what cup football is all about, and the natives aren't going to miss their chance to travel to glasgow for the big game.. from the BBC..
Brechin City chairman Ken Ferguson says Saturday's Scottish Cup meeting away to Celtic can offer the Glebe Park side "some relief".
City are 16 points adrift at the bottom of the Scottish Championship after 21 games.
More than 1,000 Brechin fans are expected at Celtic Park.
"When the draw was made, everybody was extremely happy to see that come out," Ferguson told BBC Radio Scotland's Sportsound.
"We've obviously waited a long time to get a big game, shall we say, from the Scottish Cup.
"The cup's going to bring some relief from the challenges that we're facing in the Championship.
There's only about six and a half thousand who live there… that is a tremendous achievement to get the locals to travel to a football game.
Fair do's to my local team Brechin City, apparently taking 1200 to Celtic Park on Saturday, only restricted view tickets left yesterday, from a town of 6500 folk, that's some turnout, the youths football taking 5 buses alone, kids paid for by their teams



If only we had a governing body who knew how to capitalise on such enthusiasm, or a media that shines its light on the good things in the game.
Which made me think..because the present incumbents at Hampden, even though this is technically their own showpiece tournament are more worried that at this difficult time of the year for clubs finances, the basket of assets from Ibrox were somehow handed an away tie, just when they needed a few quid.
Fair play to Fraserburgh, their opponents, for keeping the tie in the highlands. Rumours that "rangers " players will have to pay their own bus fares, or perhaps even car share to get to the game are as unfounded as the scurrilous tittle tattle that they had to pay for their own flights to Florida, as the club are apparently "in between travel agents "-that is, barred from one for non payment and desperately trying to find another who doesn't want any money up front.
Or, indeed, at all.
But thats what the cup is all about. The wee teams getting their day in the spotlight.
Celtic v Brechin, Fraserburgh v "rangers " . By the way, if you are unfamiliar with one of those teams, they were formed out of a basket of assets purchased by a venture capitalist who sold them to a convicted tax fraudster after Rangers were liquidated.
Which brings me to my cunning plan.
you see, it would be unfair to spoil the romance of the  Cup for teams such as Brechin and their support, for whom , wothout being patronising, these kind of days are special.
With the SFA facing allegations of corruption and collusion, there have been calls for a boycott of the Scottish cup, in order to attract attention to the current crisis facing our game, and despite the fact its not in the papers, it is a crisis, a crisis of confidence.
No, a boycott could be self harming, and the only way to make these people sit up and take notice-the governing body, that is, is to hit them in the pocket.
The Scottish Cup is sponsored by William Hill, a chain of bookmakers. The gambling industry is fiercely competitive, and a huge chunk of its income is from football betting, although with Joey Barton and Ian Black now banned, that income may have taken a hit.
Everyone likes a wee flutter on the game, a couple of quid here, a few bob there, and thats how we can begin the fight against the SFA.
When you place your bet this weekend, on any cup game, do it with another bookmaker.
Don;t boycott the football, and don't go without your bet.
Just don't do it with William Hill.
If you can spread this idea around a bit, either on other forums or on social media, then it might just grow enough wings to send a shot across the bows of the company, and in turn they will put pressure on  the SFA to start to play fair, and without favour.
After all, if a bookmaker is willing to tie his name to that shower, can we really trust them to play fair, especially as the SFA are known to give a helping hand to one club in particular ?
Bookmakers are the next in the governments sights to be blocked from advertising, which is a crisis for both bookies and the advertising industry, and until some whizz kid politician hits on the idea of re-introducing the ten pence in the pound betting tax and giving it to the NHS, they will be on shaky ground, as the market is somewhat sautrated at the moment.
We, as supporters, need to let them know who is in charge, and boycotting Hills this weekend is the first step.
Away from all that, and back to the ranch, Stuart Armstrong will not be leaving this month, as he has undergone a "surprise hernia operation ", which presumably meant he turned up at the doctors with toothache.
He might be back in time for the Zenit game in February, but it's unlikely. It does, however, explain why he hasn't been in tip top form of late.
Yet again, we see a long term lay off for a key player, and this , in turn, raises questions about the standard of medical care at the club. I cannot remember so many long term injuries as there have been over the last couple of years, and perhaps a review of the medical department is in order..
Erik Sviatchenko is going on loan to Midtjylland in Denmark, after it became clear he isn;t going to get a shot in the first team while Brendan rodgers is here. There's no other reason for his lack of appearances other than rodgers just doesn't rate him, which is a shame. Sviatchenko did look like he could play a bit, but he's been eclipsed by the other centre halfs at the club, and a couple of midfielders as well, so its better he moves on, and the first team football should raise his profile and any fee that Celtic receive.
We wish him well.
The move for Sviatchenko has highlighted yet again the underlying bias in the Scottish media..
Have a look at how the Danish international was described by the Record as they announced his move..
Celtic outcast Erik Sviatchenko set to join former club FC Midtjylland on loan deal
The Danish defender is poised to return to his homeland on a six-month deal after falling out of favour at Parkhead. 
An "outcast " who is returning home …
Now consider the latest try before you buy -or confess you can't buy because you haven't got any money -over at Ibrox..
Rangers seal deal for Jason Cummings as striker signs on loan
Cummings joins Rangers on loan until the end of the season as Graeme Murty continues to strengthen his squad. 
He follows Declan John, Sean Goss and Jamie Murphy in making the switch to Glasgow with more set to follow.
The Ibrox are closing in on Scotland international Russell Martin and have made moves for Kilmarnock and Hamilton duo Jordan Jones and Greg Docherty.
Er, with an "outcast " who is returning home ? To join all those other outcasts ?
Draw your own conclusion, perhaps with a little bit of help from Cummings's father..
david cummings Retweeted Rangers Football Club
At certain times in our life we are all proud of our children tonight tops them all I can assure you

#goingfor55 
Who's going to tell him ?
Of course, Cummings is a blue chip signing for them, sort of, relatively speaking its like when your mate lends you his new car so you can impress some lass for a while, before he moans at you when you send it back all dirty, used and not quite performing as well as it used to.
And as he is a blue chip signing, they are milking it…

RT for your chance to win a ball signed by @Jasoncummings35. We'll choose a winner at random at 10:30am tomorrow, good luck!
 I'm sure this will go down well. Cummings has been noticed by the hordes in the past… fortunatley, they are a fickle bunch, given to spontaneous declarations of adoration at a moments notice.
It's why so many spivs have fleeced them over the years.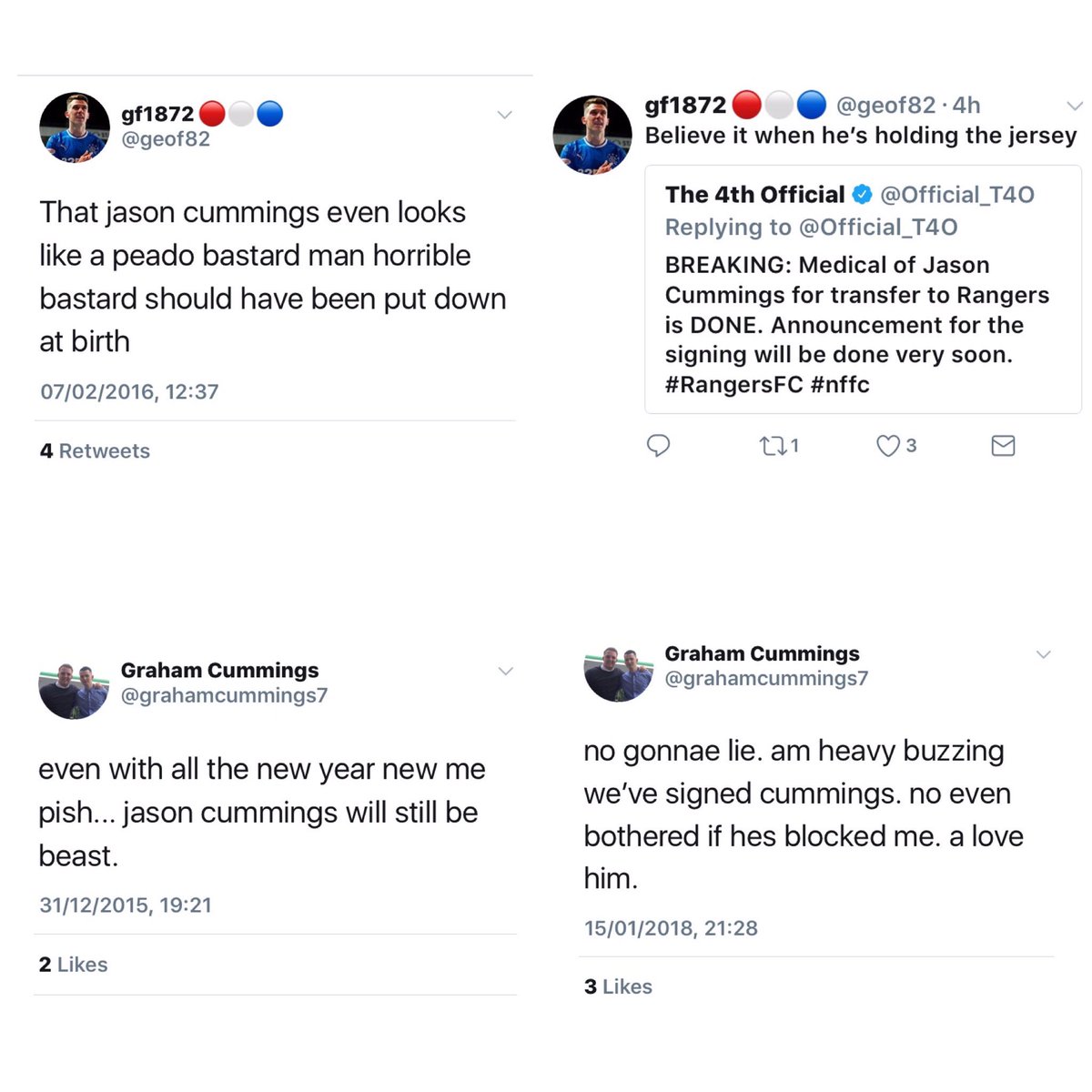 Of course, Greg Docherty ( Hamilton ) and Jordan Jones ( Kilmarnock ) are not outcasts, and therefore "rangers " will be asked to pay for them, which, in turn, places any move in considerable doubt.
But hey, they did ask, and its only those provincial clubs who are standing in the way of the dream move for the two youngsters, by holding out for what they think the players are worth.
Kris Boyd, in the Record, somehow got this past the sports editor…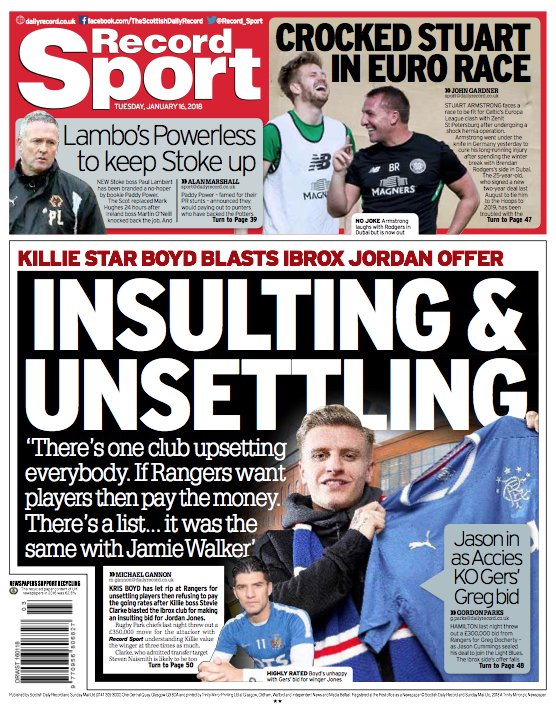 Fair play to him for pointing out what we already knew, and good luck to him in whatever career he follows after the Record mutually resign him.
Oh, and they didn't win the International super cup either, they came second. which is still an achievement as some of those kids they were up against were quite enthusiastic.
The support, of course, were gracious in defeat…
Incidentally, the loans for Goss, Murphy , Cummings and possibly russel Martin and "I'll play for nothing"  Naismith mean that they may well now have reached their quota..
Though that snippet from the rules is open to interpretation, but not by me. I've read it three times and haven't the faintest idea what it means.
Yesterdays picture…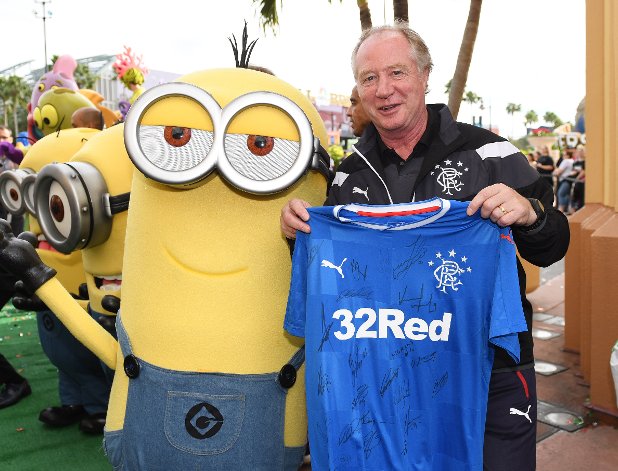 High standard of replies again, but I likes this one…
 Don't forget…
Gamble responsibly, but not with William Hill.
It's long since stopped being fun.