That's the fun , frivolity and laughter over for another year, though with Eastenders and Mrs Browns boys the BBC put a stop to all that around about eight o'clock last night.
Its back to work for Brendan and his bhoys with a lunchtime game against Dundee, who normally give us-but nobody else-a tricky game.
On current form, it should be a comfortable away win..
Celtic have won 75%, drawn 20% and lost 5% of their last 20 away games.
Celtic have scored in 90% of their last 20 away games.
Celtic have kept a clean sheet in 10 of their last 20 away games, going on to win 9 and draw 1 of these matches. 
Dundee have won 35%, drawn 20% and lost 45% of their last 20 home games.
Dundee have scored in 65% of their last 20 home games.
Dundee have kept a clean sheet in 3 of their last 20 home games, going on to win 2 and draw 1 of these matches. 
But these holiday fixtures have a habit of throwing up daft results.
After careful analysis of form, statistics and which players will have the bigger hangovers, I'm going 2-0 to Celtic. As long as Kristoffer Ajer is playing. If he isn't, it'll be 2-1.
Though listening to the manager, that may be subject to revision..
"It's been a really good year,"
"But there are things we can build on and improve on. Thankfully, we have a group of players who have bought into that. They have the hunger. We never let then have a lazy day, the mentality is engrained in them. They have to fight, work and improve.
"We are in here at Celtic Park on Christmas Day. You have to work. It's not rocket science. You could easily let them go home, but you have to earn your money. There is a price to pay. If you want success and to be consistent, then you must work. That is why we trained at 5.30pm on Christmas Day. It's a privileged life, but you have to make sacrifices." 
He also spoke about Moussa Dembele, the subject of a fictitious story yesterday which claimed Celtic had accepted an £18m bid from Brighton, which was rapidly dismissed by whoever at Celtic dismisses these sort of things.
"Moussa worked really hard against Aberdeen, but that is what he's asked to do, " 
"It doesn't worry me about how many goals the strikers get, it's no use to me if I've got one who scores 50 goals and the rest of the team doesn't function. I said that when I first came in.
"If you play in this team, you have to be able to press from the front, you must be able to read the game defensively. Once you do that then you'll get an opportunity to play. If you don't there will be someone else getting that opportunity.
"I have three good strikers who understand that now and I think you young Edouard coming in has open up the eyes of Moussa and Leigh even more. Like I say, it's about the team and the three guys know that.
"A striker will always want goals and game. But, for me, it doesn't matter. We have built a team here to score from every area on the field, but there is a demand on that central striker.
"Modern day football is not just about just standing there and scoring goals; you've got to participate. But the players know that. There is no change from when we first came in." 
He doesn't seem worried about anything, although it does appear that Moussa may be on the move this winter.
It shouldn't come as much of a surprise if he does go. Oddsone Edouard is in on loan with a first dibs option.
And frankly, although Rodgers is happy with his contribution, the brutal reality is that he hasn't adapted and dealt with that crucial second season, so it probably makes sense to cash in on him now, especially as its nearly time for his next injury.
Though one observer, presumably the guy who used to do the accounts at Rangers, offered food for thought…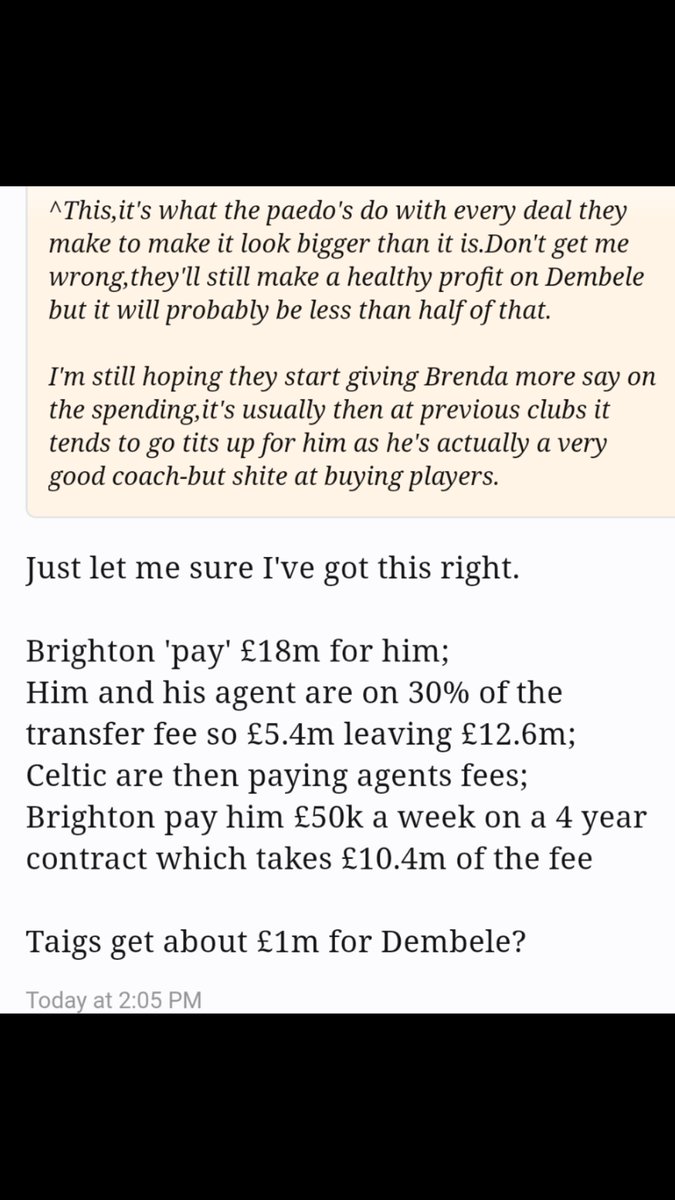 No doubt the van Dijk windfall will be even less…
One might think that over at Sky sports, who broke the story yesterday, one fellow is a little, er, obsessed..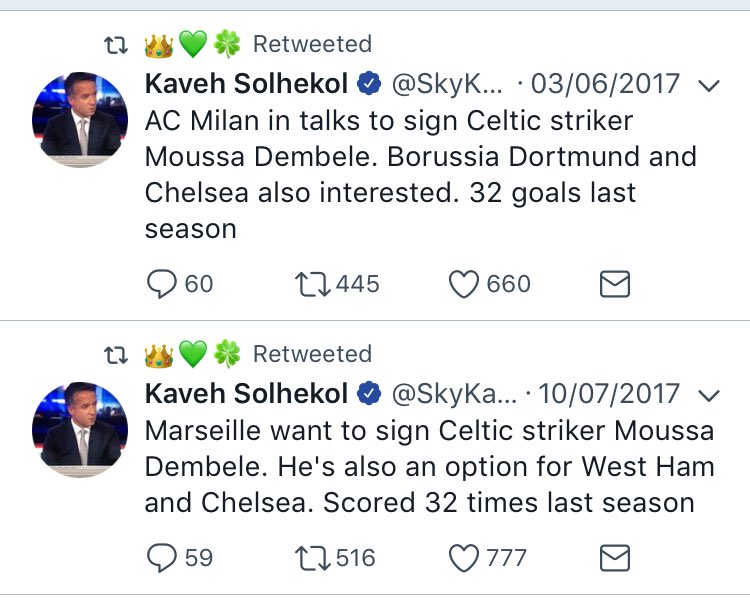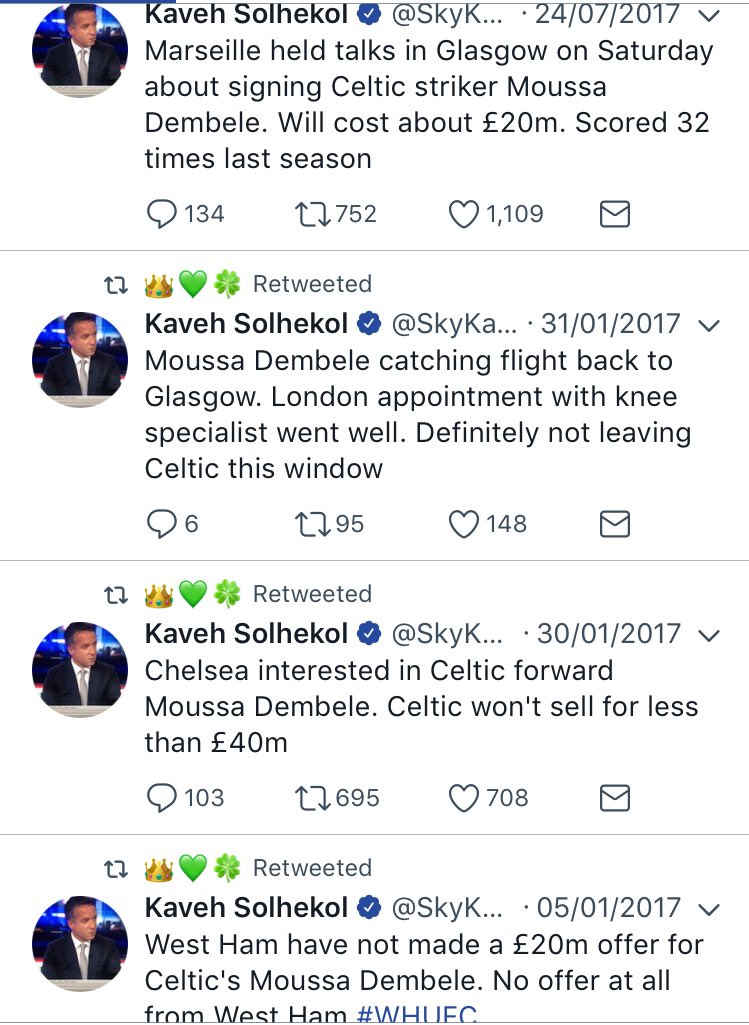 Another on the way out is Erik Sviatchenko, with the Record claiming Celtic will "rake in " £1.5m for the Danish international, the wording of which suggesting we're lucky to get anything for him, although in reality they have no idea what he'll go for.
Theres anpother name thrown into the mix as a possible replacement for the three defensive amigos, though it would probably help if you understood Turkish.
Dusko Tosic, a Serbian at Beiktas is on the move, but is wanted by English clubs and so it may not happen.
Mind you, althopugh we perhaps don;t have a great deal of faith in the defenders, one of them is making a name for himself..
UEFA.com picks out a team of young players who have broken through in the UEFA Champions League this calendar year.
In order to narrow the field, we set the following criteria: i) aged 24 or under; ii) UEFA Champions League debut in 2017 or only limited prior experience and made a major leap this year. This is what we came up with: 
Defender: Kieran Tierney (Celtic), 20
At 20, Tierney has already played over 100 matches for Celtic and captained Scotland. Rated the best British-born left-back of his generation, the youngster's assist for Leigh Griffiths' goal in the 3-0 win at Anderlecht was Tierney at his swashbuckling best. 
To see the somewhat esteemed company he's in, go to UEFA.com .
Caption competition from yesterday..