Celtic Diary Thursday November 30: 66…But Only Just
The tiresome but effective tactics employed by Motherwell last night almost ended Celtic's unbeaten domestic run.
When it comes to European away games, it wouldn't do Celtic any harm to adapt a similar style, but without the kicking, pushing and whinging.
The strength, the organisation and the committment was admirable, but frankly Motherwell aren;t good enough players to avoid the nastier side of defending.
As a result, they conceded the only penalty awarded to Celtic in the league this season, taking their tally to half of all Celtic spot kicks this season. Given the previous reluctance to award penalties by referees, that says more than anyone would care to admit.
Mikael Lustigs fine finish had given Motherwell the lead with just twelve minutes to go, but Celtic didn't panic and got their reward when a neat little one two, a trip and a push, sent Calum MacGregor to the ground and referee Willie Collum pointed immediately to the spot.
Having looked at the incident, it was a penalty, and a nifty execution of the old self defence move where you trip and push someone for extra momentum.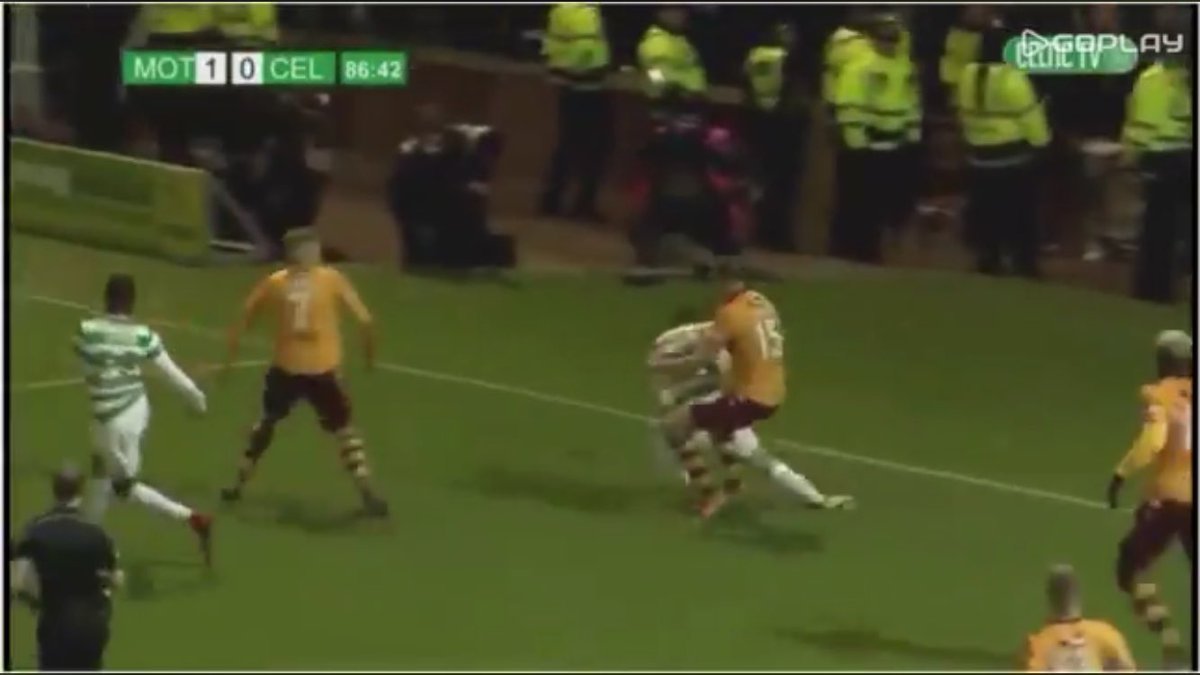 Of course, Motherwell had their moan about it…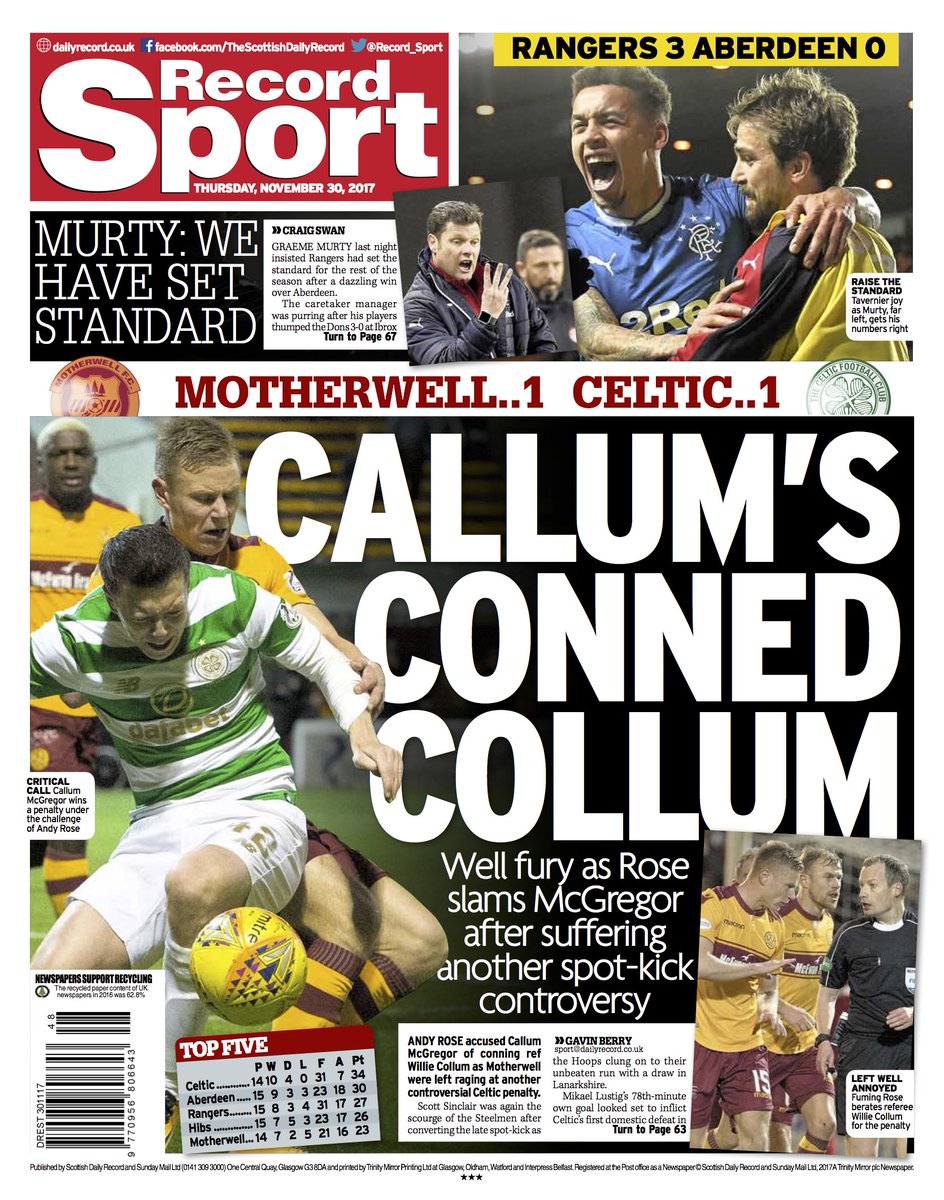 "Another controversial penalty "? .
Do paramedics have to attend the scene for it to be a stonewaller ?
Michael Stewart, who used to play for Hearts, I think, tweeted..
Have just seen the penalty in the Motherwell v Celtic game….
OMG


What a horrific decision! Motherwell will be absolutely raging 
 If I was the Motherwell manager, I would be raging.
Not at the decision, but at the defender who committed the offence when MacGregor was actually running away from goal.
Stupid and unnecessary …but what do I know ?
Celtic boss Brendan Rodgers did his best to hide a grin..
"They have been angry with a lot since Sunday, they seem to be angry with everything,"
 "Again, their keeper made a great save, we should have finished it, the ball rebounds out, the player makes an attempt to get the ball, Callum steps in front, gets his body there and he knocks him over.
"And of you look at the referees decision, he is in the perfect position to give it so yes, I thought it was a penalty.
"Of course when you are the opposition, you probably think it's not.
"The team showed their spirit, we know we can score and we should have been more clinical.
"I am really proud of the team tonight." 
Scott Sinclair, in particular , showed reason to be proud of him.
Having suffered the usual racist abuse that is becoming sickeningly commonplace in the best wee country in the world, he would have really enjoyed his goal..
Not as much as me, but probably not that far off.
Anyway, the result means that the run is now 66 undefeated, and next up, at Celtic Park on Saturday, are…
Motherwell.
This time, however, the Lanrkshire side will be showing signs of fatigue, along with that deep rooted sense of injustice that comes as part of the psyche of the less technically gifted player at a small club.
A couple of sendings off and a five, six or seven goal victory to the Celts, which will destroy Motherwells confidence and see the beginning of a run that will see them finsih in the bottom six.
Anyone see the game last night ?
It was only available on Celtic TV…so we've put together a highlights package for those who wish to have a look..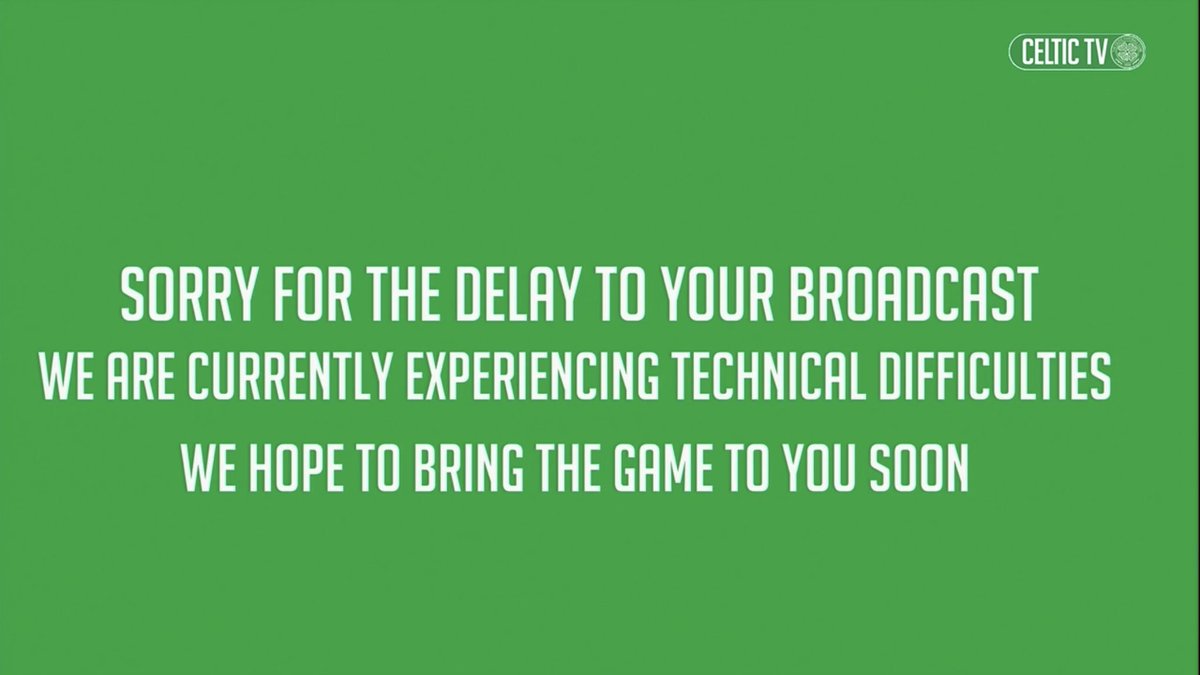 The production comapny behind what is now becoming an embarrassment are Sports Media, of Livingston.
I've had a look at their website, and its a pisser.
Creative Solutions to improve your online business!
Er, yup.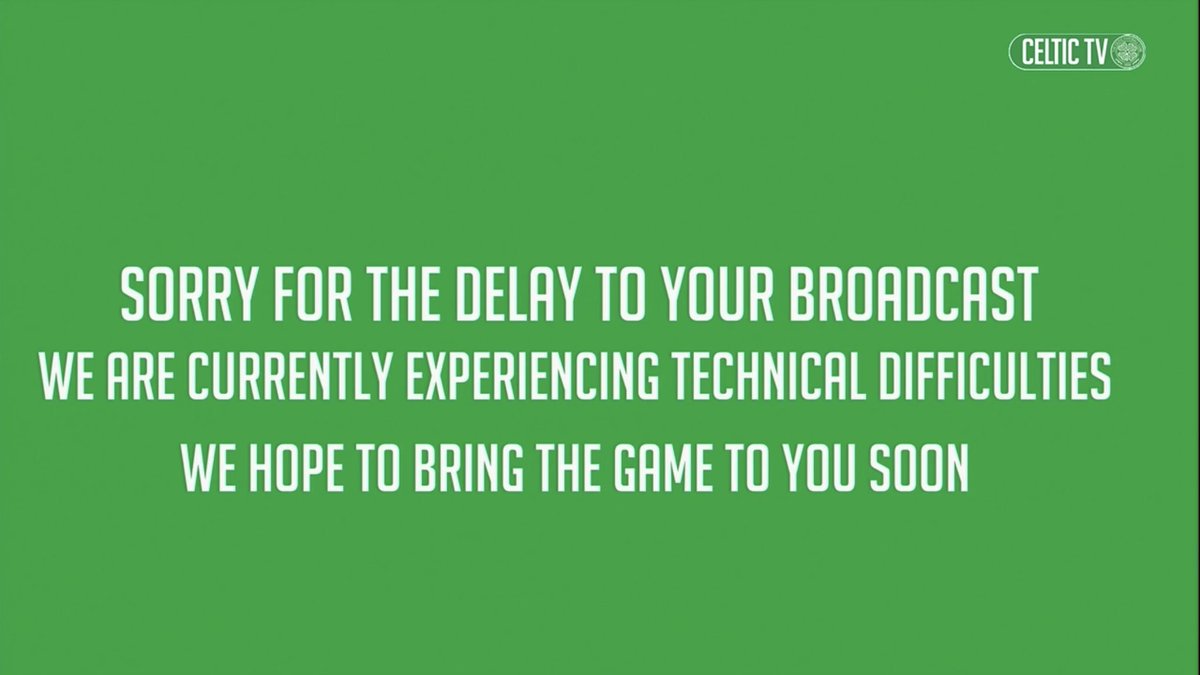 Welcome to SportsMediaGB
We are a web and media development company in the heart of Scotland. We specialise in live video delivery, video on demand, network solutions, social media and website construction. We aim to provide an all round to solution to match our client's requirements. 
If you have any questions or would like to know more please contact us on 01506 200 349. 
Maybe you could ring them and ask them exactly what they mean by "specialise ".
Where Celtic are concerned, they boast..
Celtic FC
Celtic FC have chosen SportsMedia to provide both online website and video hosting powered by Videobloc (our Video Platform CMS) and our Secure Cloud Network Infrastructure. 
So secure, in fact, that nobody can actually see it.
Many moons ago, I asked Peter Lawwell about putting Celtic TV back on the Sky platform, where it would sit along with other club channels, and be more accessible. The cost, he claimed, at around £1m , was prohibitive.
The difference, though, would be that supporters would get what they pay for, which is a picture and some sound.
To do things cheaply is often to have to do things twice.
The service provided by Celtic TV is unacceptable, the work of amateurs, and its time to change it.
There is a massive market out there for all things Celtic, particularly content which is not interpreted by the mainstream media, and its clear that a massive opportunity to connect with the support is being missed.
So, with no Celtic TV stream to either steal or pay for, it was down to the mainstream media to provide information.
Incredibly, BBC Scotland, who are banned for Ibrox due to one of those rare instances when they criticised their pals. chose to cover the "rangers " Aberdeen game, by watching it on a Sky TV feed in their studio.
Perhaps the result, aided by man of the match Andrew Dallas, had them all excited. "rangers " won 3-0, an astonishing outcome, but then you remember that McInnes is high on the Ibrox clubs wanted list, presumably because he fits the criteria of being incapable to field a winning team at Ibrox.
When you've finished ringing Sports Media, you might want to have a pop at the BBC.
I think the number is 0141 666 1690.
( don't ring it, I'd hate to think that some wee old woman gets a lot of phone calls from angry tims. )
While I'm having a moan, did you see this ?
Its the new Champions League ball.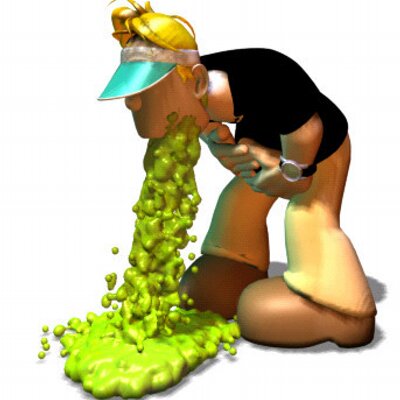 then there's this..
Football fans face disruption as UEFA announce plans for 6pm kick-offs in Champions League from 2018
Champions League fixtures currently kick-off at 19.45 (GMT) 
Matches from 2018 will have two separate start times of 18.00 and 20.00 (GMT)
UEFA believe the move will allow fans more opportunities to watch matches
That would be the fans who watch on television, of course. Not the ones who make their way along the highways , byways and airways of Europe to actually attend the game and provide the spectacle that is so popular.
Nah, the official UEFa line is "fuck them ".
Leek Town are looking more and more attractive as the weks go by.
Tomorrow night they've got a question and answer session with Chris Sutton, which I and a few others from the Lennon CSC will be attending.
I'll be asking how much their season books are.
Football is football at places like that, and not ruined by greed and malice like the "professional " game.
And if I recall correctly, there's a cheap bar ..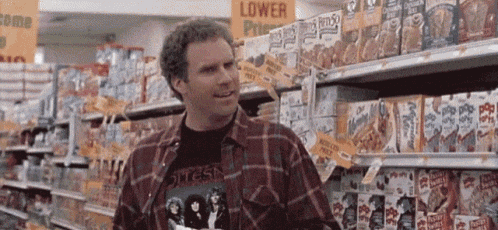 Yesterday, we showed you this..