Well, todays the day.
Months of planning, scouting, interviewing and subtle seduction come to a head with the transfer window being replaced at midnight with a set of steel security shutters.
Look, at least I'm trying to use different metaphors.
We've heard several stories, been given several hints and have dutifully made a few up ourselves to help a struggling mainstream media, and so should today be any different ?
Regular readers will remember a suggestion a week or so ago that Jason Denaayer would complement a fit Dedryck Boyata at the back. Yesterday, the media announced that he had snubbed the club to return to Turkey.
This is known as a Celtic Story in the media. You can spot them quite easily as they contain words such as "snubbed ", "rejected " and " refused ".
Truth is, Celtic did enquire about the Belgian, but Manchester City had other plans for him, which, of course, involved Turkey. They never spoke to the player, which made it tricky for him to even consider the move, let alone refuse, snub or reject it.
Just remember , no matter what you hear today, try to be objective, question the source and above all remember that sometimes its merely how the reporter sees it.
Things can be portrayed differently, often inaccurately, especially where there is money or publicity involved.
Look at this Ghanaian poster for the movie Mrs Doubtfire, the one where Robin Williams played an English nanny with an Edinburghish accent.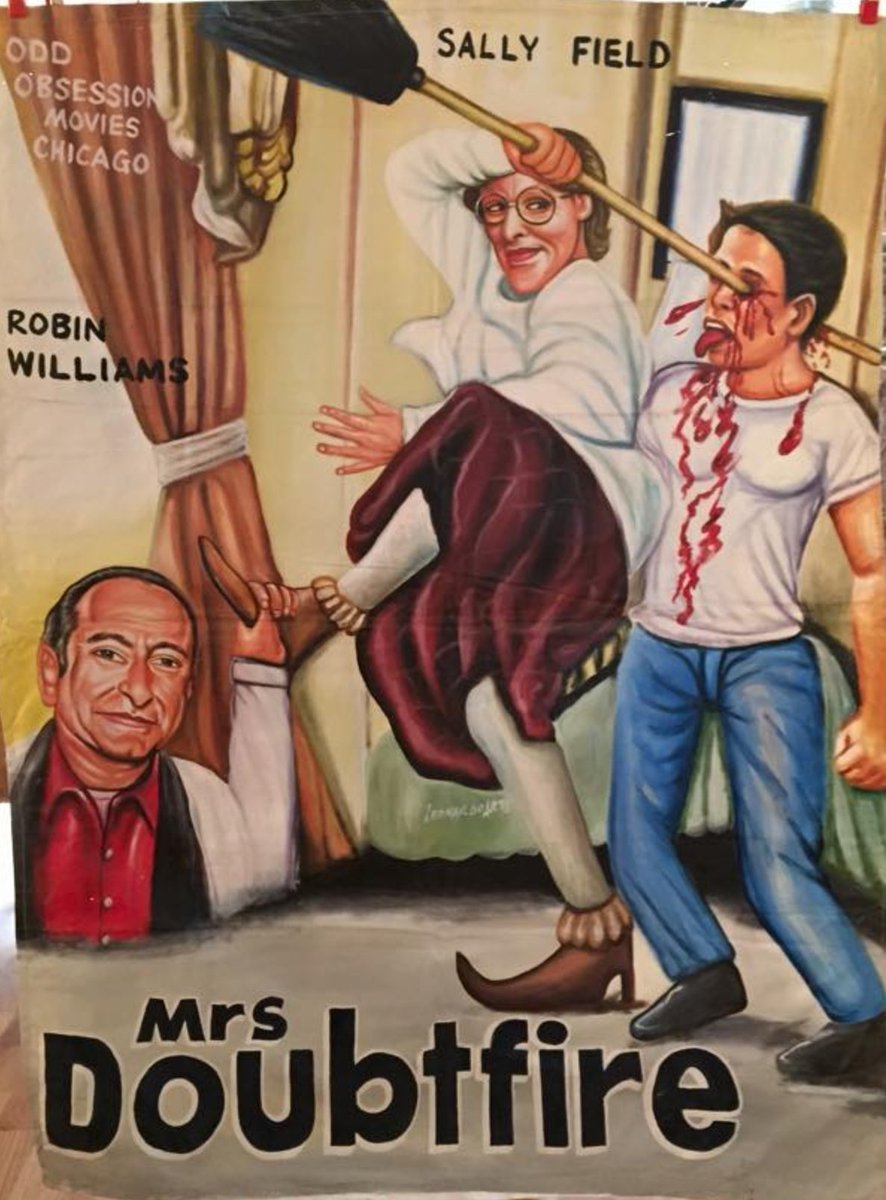 The cover does not quite represent the content, as is often the case with our media.
Back at the ranch, and one who did fall for the old seduction routine is occasional fruitbat Oddsone Edouard…
His instagram gave us a clue as to his plans for the day..
This is a loan deal, but there is an option to buy.
The player may have slipped off track after attracting attention during his exploits for the French under aged teams, and maybe he feels that Moussa Dembele and Olivier Ntcham are now his role models, and that can't be a bad thing.
Anyone else coming in ?
Well, the general feeling is that we need a centre half, although if we don;t get who we want, then Jozo Simunovic and Erik Svaitchenko won't be going anywhere, although the Bosnian has been looking at his What to do in Burnley pamphlet and is losing interest in that particular move.
After all, he's probably not ready to be put out to pasture yet, and may wait for the traditional Southampton escape, so favoured by previous mercenaries.
However, there is talk of a surprising and morale boosting arrival, but its probably bollocks.
If we don't get some new faces in, and sometimes its better not to spend money for the sake of spending it, then no doubt some supporters will accuse the club of penny pinching.
Charlie Saiz, in yesterdays replies, pointed out that quite a few quid has been spent….
Net cash in the Bank as of 31st Dec 2016 was £18.642 m (£7.7m 2015)
Since then we have signed the following 5 players
Kouassi
Hayes
Benyu
Ntcham
Roberts
And sold the following
GMS
Janko
Izaguirre
Renegotiated Contracts for
Brendan Rodgers
Gordon
Armstrong
Forrest 
Add to that the new pitch, the upgrade at Lennoxtown and presumably a fair chunk in bonus payments to players for winning the treble, and it becomes apparent that money in goes elsewhere other than on new players.
Oh, did I just mix up todays diary with my application for the Celtic View editors job ?
Over on twitter, Barcabhoy pointed out some of these  facts in more detail…
1 Ntcham cost a minimum £4.75M with potential add ons of £2M 
2 Hayes , Benyu & Roberts cost fees of £3.5 M
3 Agents have to be paid in all cases. Circa £800K
4 New hybrid pitch £2M
5 Lennoxtown £4M
This doesn't mean that money isn't available, but after disasters such as Boerrigter, Pukki, Miku and a dozen others, care needs to be taken with where its spent.
Another name thrown into the mix is Aiden Flint of Bristol City, who has been grabbing the headlines down in the south west with some excellent performances at that level,  though the lady next to him could easily score forty goals a season up here.
No matter how it ends up today, we'll still have more to smile about than most…
Poor Jimmy.
If it isn't bad enough that his club has earmarked money for a chapel within Ibrox for the new players, so they can do sunday morning matches straight after mass, he's heard they're about to sign player called Declan.
Which legendary photoshopper Cartuja saw coming when the scout delivered his report..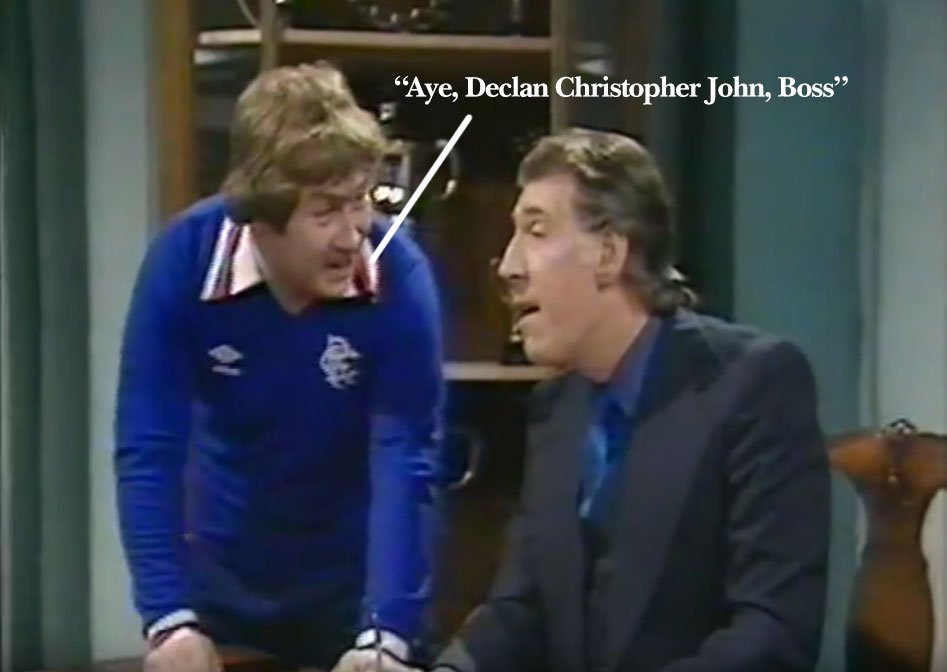 By the way, don't mention this, they are trying to keep it quiet..
No. Fiddling about with other peoples money has never been the Rangers way, has it ?
Enough about them.
As funny as it is.
The big issue today is whether or not we can secure a centre half or two to strengthen the back line. Many supporters are going into various levels of seizures at the thought of our current central defence facing up to the fire power of Paris St Germain and Bayern Munich.
Oddly enough, every team they face has doubts about their central defence facing up to the Neymars and Lewandowskis. And the rest of them.
World class forwards demand world class defenders, and we aren't going to get them for obvious reasons.
What we will have to depend on is heart, effort and team spirit.
Although there has been reassuring contact from someone who's been in front of world class firepower before, and coped well enough with it..
We've had the first good news of the day….
Defender Grant Hanley has joined Norwich City from Newcastle United on a four-year deal!


Mark Shiels on twitter has a plan for champions League nights, and if it works it could be spectacular…
Before we go, a wee compare and contrast from transfer deadline day today, with one from a few years ago..
Nothing really changes, except, of course there wasn;t a transfer deadline day back then, but thats what it wold have looked like.
Probably.
Yesterdays picture…
and its a winner for the banter brigade…
Explain this…