Celtic Diary Saturday July 15: Bonfires, Bottles and Bigots in Belfast
Well, that was a bundle of laughs.
Linfield 0, Celtic 2.
The game had been moved to Friday so that UEFA observers wouldn't see the effigies of Celtic players and other club memorabilia being burned on big bonfires as part of the north's Culture Week.
Where they wouldn;t see banners using words that haven't been used since this lot operated their ethnic cleansing policy
Of course, there's no connection..
Instead, we got to play the game at 1700 hours, although it seemed to have started earlier, at 1690.
I missed most of it due to dentists, work and traffic, but saw enough of it to make me sort of glad I'd missed it.
It was as we expected.
Players were showered with missiles, and the police had to form a barricade to keep the hordes at bay.
And predictably , it was all down to that young scamp Leigh Griffiths.
Griffiths was booked on the 65 minute mark when he showed his reluctance to take a corner kick while the Linfield fans were engaged in a spot of tidying up around their seats.
He found himself on the end of a rain of coins. Then a glass bottle came bouncing along towards him.
Then he showed it to the referee who promptly booked him, presumably in an attempt to get a top job with the SFA, as he's aware there will be a few vacancies soon. He obviously hasn't checked why there are going to be vacancies.
Five minutes before, the impish Griffiths appeared to taunt the Linfield fans by making an offensive gesture..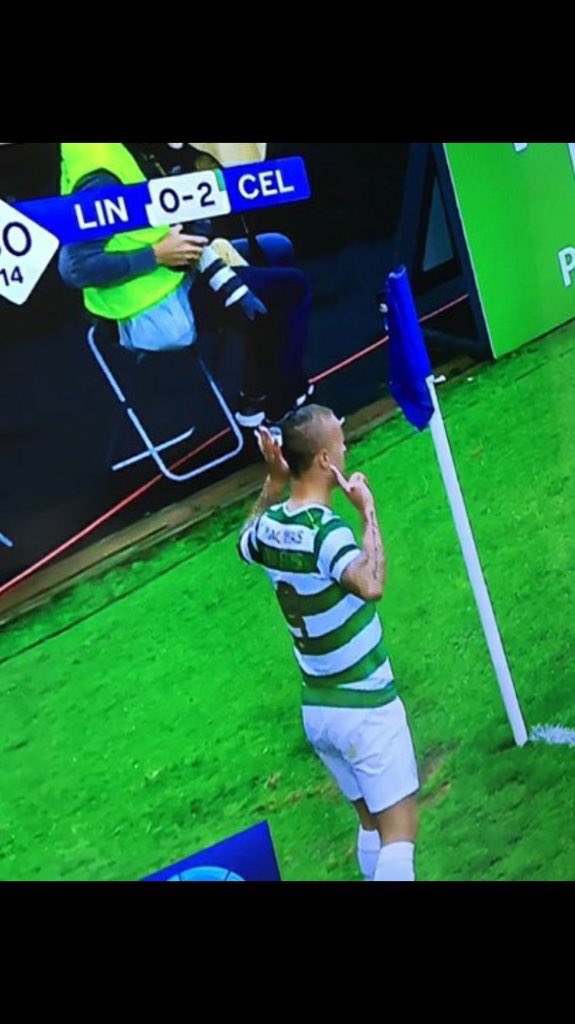 Not sure how thats offensive to Linfield, and even if they took it as a reference to their cousins across the water, I'm not sure which 5-1 he was referring to. There were a couple.
Five minutes later, and Griffiths was over there again..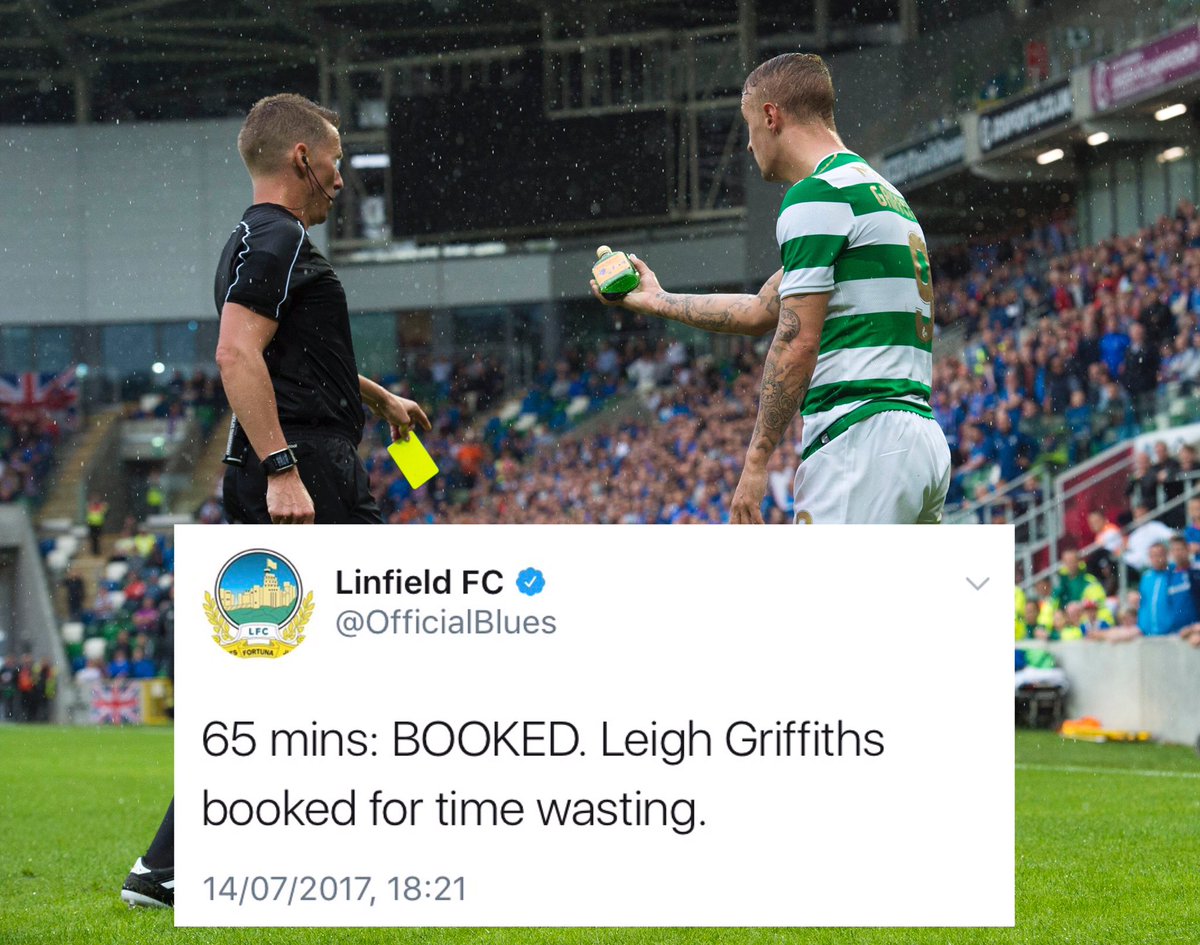 Quite right, the time for drinking is after the game, on the way home..
Then he went and tied a scarf around the goals , as is his wont after a great result..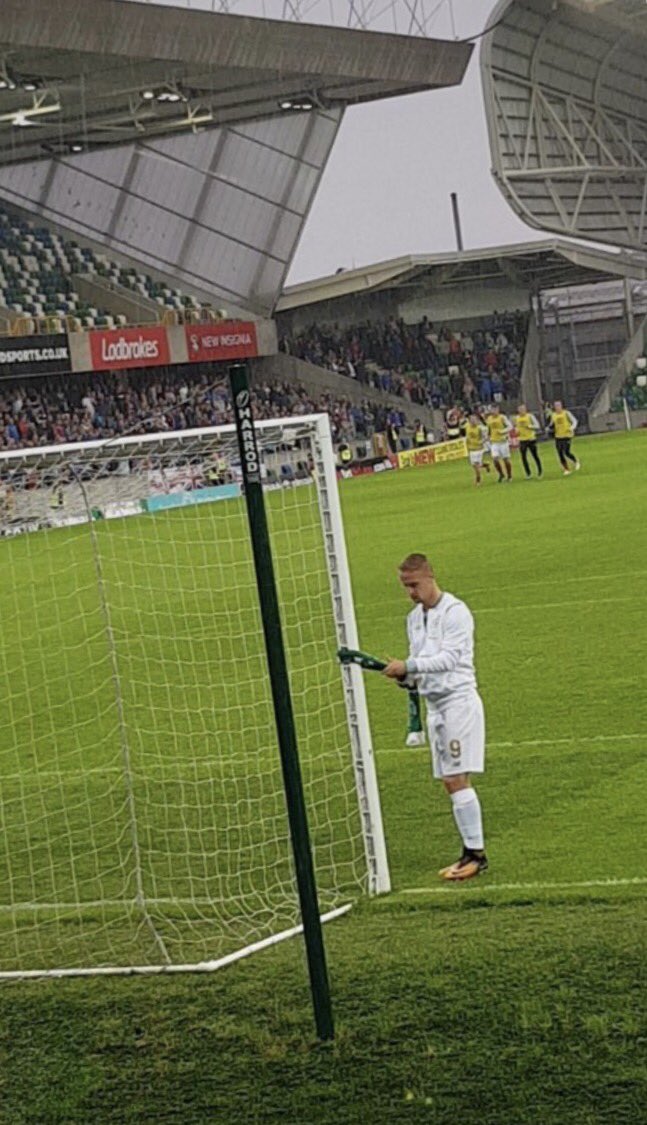 Which was seen by some to lead to this situation…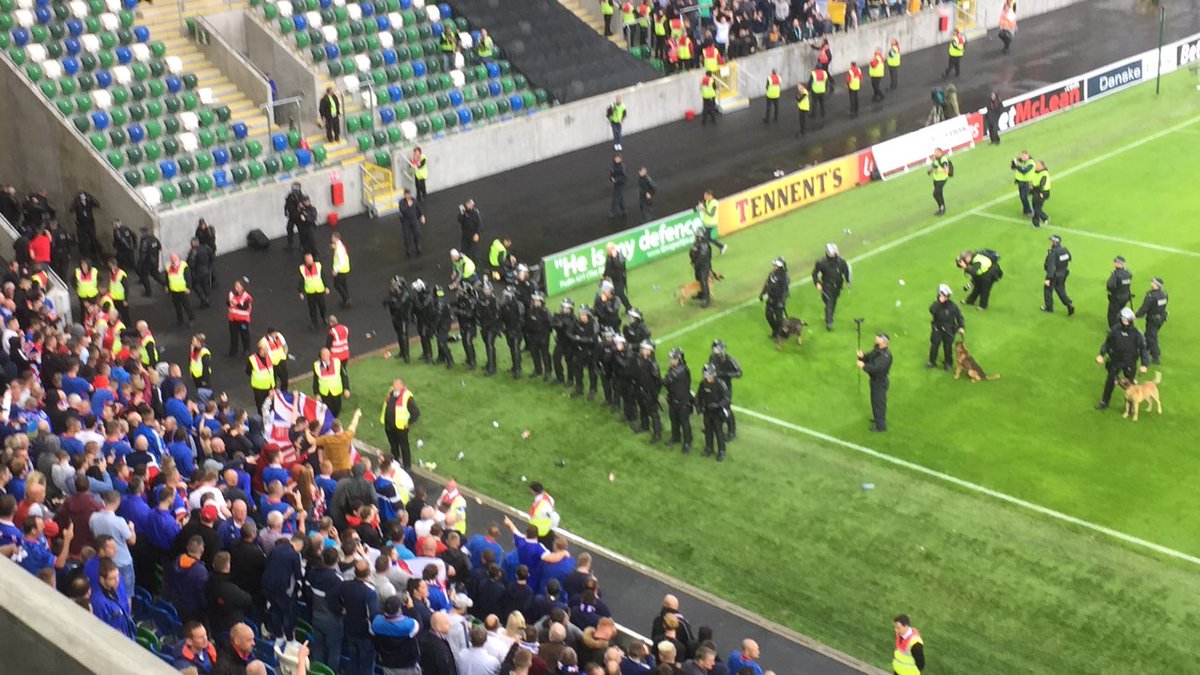 Familiar ? Remember Manchester ?
Riot police, dogs, barricades.
Whatever could the connection be ?
Sadly, Celtic captain Scott Brown admitted the players were used to it.
"I didn't get hit but I found a pound coin – so I came away making a profit!
"These things happen. We've been to Ibrox and Tynecastle and it's like that all of the time. It's part and parcel of football."
It shouldn't be.
And if you think about it, when was the last time you saw a bottle being lobbed onto the pitch ?
The Irish independent captured a couple of incidents on video..
Linfield manager David Healy, already upset that any money the club makes from this tie is already being sealed up and sent to UEFA, predictably didn't see a thing, and then praised his fans for being no different from anyone elses.
Which was later edited for public consumption..
"I don't think it was always going to happen.
"I think a lot of people in the media were making a big deal out of it.
"Linfield as a club have made giant strides over the years to try to cut that shouting and abuse out but you get that in Old Firm games, you get that in Manchester derbies, you are always going to get a ferocious red hot atmosphere.
"Our fans back us, back the players and me through thick and thin and hopefully they continue to do that throughout the season." 
Lets see, his club moved the game to Friday to avoid the anti catholic marching festival, to prevent UEFA from associating the great big bonfires filled with Celtic related items, and he didn't
think it was always going to happen. 
No, I suppose he sits slack jawed in surprise every night as the sun disappears below the horizon as well, turning to his mate and exclaiming
"Well, fuck me, It's done it again. "
There was a fan on the pitch at the end..
Linfield will face UEFA punishment, which could mean fines and being forced to play behind closed doors.
Know what would really hurt them ?
Make them play their next game in the 21st century.
Next Wednesday is the return, and judgung by the tiredness evident in the Linfield players towards the end of the game, five days won't be enough for them to recover, and they were never going to win by three clear goals anyway.
Last word on the game-at least until UEFA ban Griffiths for drinking on the pitch-goes to the manager, who remained, as ever, diplomatic..
"I didn't see what it was but if that is the case then there's always a worry,"
"I didn't see or haven't heard anything as yet. I could only see what I saw from the dug-out. It was maybe a bottle of some sort but whether it is a coin, a bottle or whatever it shouldn't happen.
"The players should have a safe environment on the field and you want the passion from the stands to stay in there.
"You sometimes get these scenes not only here but throughout the country and it's obviously not something we want to see.
"The game was in good spirit in the main and ideally it's not what you want to see. I thought it was strange to see him getting booked for it.
"The talk is more on the football and for us the score line is ok. It could have been better but it gives us an advantage for the second leg." 
"It was better than the first game last year,"
 "We got the job done. It's still early in pre-season so match sharpness and being clinical will come. On what was always going to be a difficult occasion the players dealt with it reasonably well.
"Roy Carroll was outstanding and made some brilliant saves. It could have been five or six on another day. We came here to do a job and to win 2-0 is nice. We now look forward to Lyon and the game next week."
Oh yeah, Celtic play Lyon today.
I'll check the fixture list to see who we've got Sunday, Monday and Tuesday.
The predictascore competition saw me eliminated at the first hurdle, though after being two up early on there was a possibility of seven, for a while at least.
Through to the final round are..