Celtic Diary Tuesday July 4: Hate Parades: A New Scottish Tourist Industry ?
The opponents for Celtic's second round qualifier will be determined tonight when Linfield and La Fiorata clash in San Marino. The Northern Irish side hold a one goal lead over their hosts, and are favourites to book a trip to Glasgow.
There are signs of nerves in their dressing room, though.
"you can't get carried away by what might happen. We have to win our first round tie before thinking about the second. La Fiorata will think they have a chance so we must be on our game" 
That was aging goalkeeper Roy Carroll, who clearly isn;t thinking about the possibility of facing Celtic at all.
Linfield should overcome their opponents tonight, but it would be funny if they didn't.
Meanwhile, Stuart Armstrong is still the focus of media specualtion over a move south, but there isn;t any new information to be had, so the Evening Times threw a curve ball to keep the bad news flowing with this sensational scoop..
Ex-head teacher of school linked to Celtic fined for season ticket fraud
The club really should vet anyone with "links " to the club. This includes staff, aupporters and those who watch on the telly when there's nothing else on.
A FORMER head teacher of a school affiliated with Celtic FC was fined after fraudulently obtaining more than £1,000 for season tickets.
Anthony Russell was sentenced at Glasgow Sheriff Court for using public funds to buy two season tickets for Celtic games for the 2012/13 season and four season tickets for the 2013/14 season.
The values paid by Glasgow City Council were £264 and £775 respectively – coming to a total of £1,039.
But it was not until February 2015 that an internal audit in to the learning centre revealed the misuse of public funds to buy tickets for the stadium's main stand.
It found that some of the tickets bought using the funds were under two of the 57-year-old's sons names.
Russell, of Belmont Drive, Giffnock, was the principal teacher of the Glasgow Celtic Football Club Learning Centre at the time when the purchases were made. 
As part of the programme pupils are given the opportunity to attend home matches accompanied by an adult or guardian.
A total of 26 match day tickets were given free of charge to the learning centre and 22 season tickets were bought by the council from Celtic at a subsidised rate.
The court heard that Russell had paid back the amount in full.
He also resigned from his job.
Russell admitted that between August 1 2012 and May 31 2014 at Celtic Football Club Learning Centre, Kerrydale Street, and City Chambers, George Square, he obtained £1,039 by fraud from his employer, Glasgow City Council, by pretending that the season tickets for Celtic games were for the school when in fact they were for his personal use. 
Ah, well, you take the chance, you get caught, you pay the price.
The council have also taken a chance by allowing the Orange Order to continue their tradition of Irish bainting , with thousands of marchers singing their folk songs in the streets of glasgow last weekend.
However, the Famine Song, an anti Irish ditty set to the tune of an old Beach Boys number, which claims those from the emerald isle should now go home as the famine is over, was outlawed by the courts, and cannot be sung publicly.
Unless you happen to be on a council approved and police monitored march, that is.
but it wasn;t meant to offend anyone…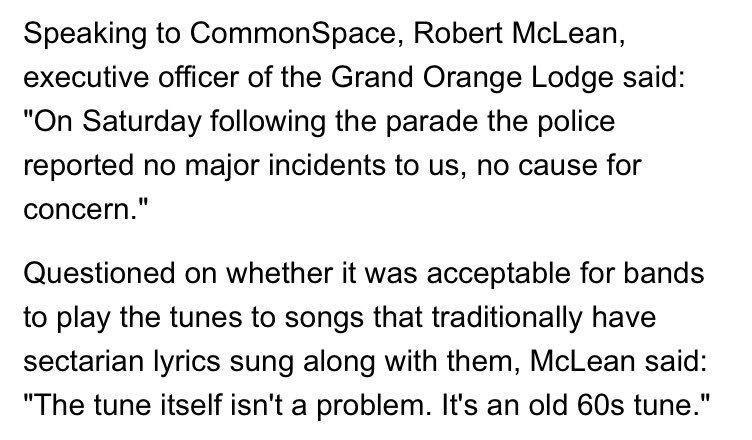 No, its the words.
Would the marchers, who sung this song outside a catholic church, have parked themselves outside a synagigue and reminded those inside that the holocaust was finished , and it was time to pack their bags ?
Or maybe marched through Brixton or Boardsley Green in Birmingham announcing the end of slavery and the departure of flights for the Carribean ?
Unlikely, as it would simply not be allowed.
But in Scotland its a tradition to be openly racist, and whilst the police were keeping an eye on things, for many it appears that their work is also their hobby.
What other explanantion can their be for them standing idly by whilst the law is repeatedly broken ?
Its time for decent citizens to demand an end to this shameless parade, otherwise all the doo lallies around the world will choose Scotland to parade their hatred.
Actually, scratch that last line. If someone at Visit Scotland reads it, they'll suggest it at their next meeting.
Back at the ranch, and the side are getting ready for their next match.
Its a 5 o'clock kick off against Slavia Prague.
( You'll notice that all "rangers"  games these days kick off at "PM " and not "o'clock " . The latter sounding a "bit feniany " )
Back in April, a link between the two clubs was commemorated..
Visitors to Prague's main Olšanské cemetery were treated to a somewhat strange sight last Saturday as Glasgow Celtic and Prague Slavia football fans congregated at one specific grave to the tune of a mournful bagpipe. They were paying homage to a Scotsman, Johnny Madden, a legend for both clubs who coached Slavia Prague for 25 years from just after the start of the 20th century to its third decade and took them to the top in Czech and European football. 
Have a listen to this, from Radio Prague..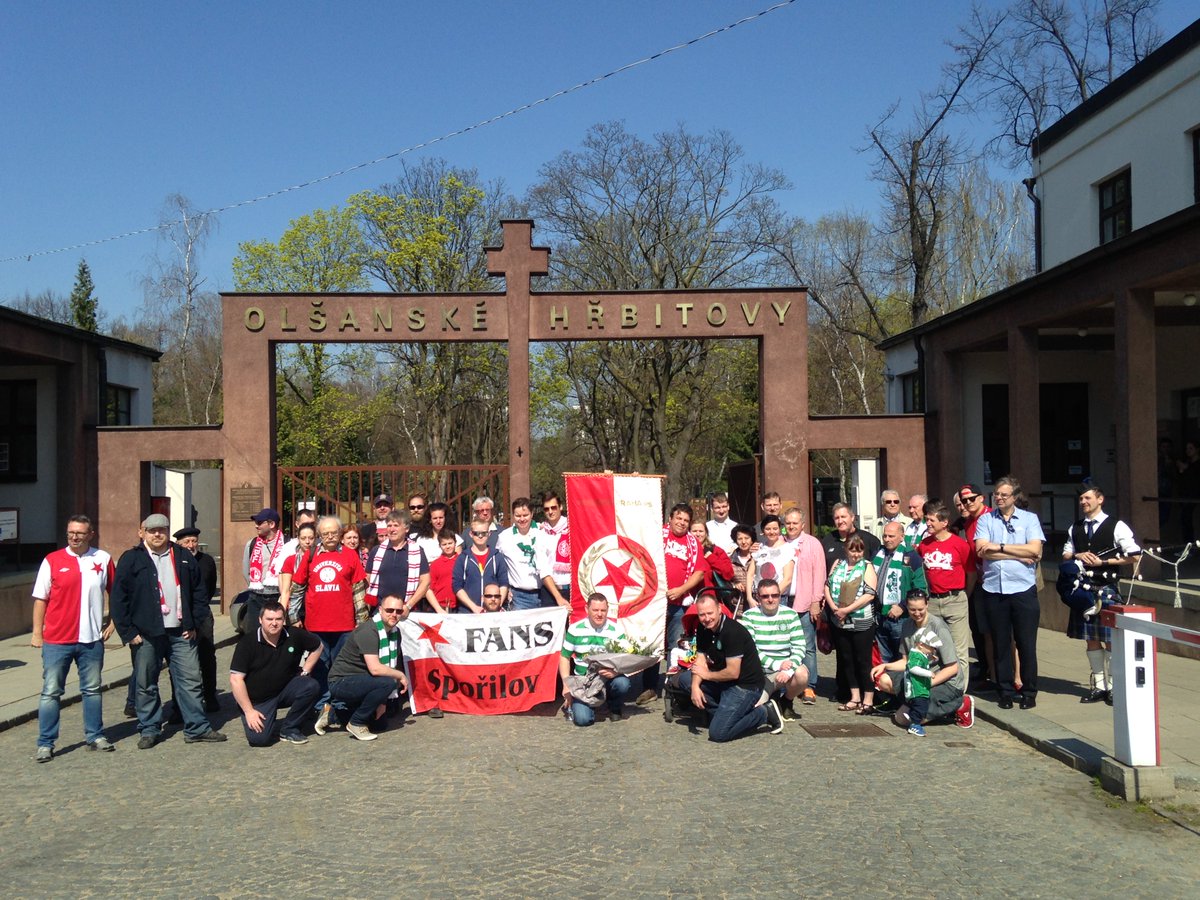 Read about the man here..
Its great that the two clubs will honour his memory tonight, and maybe this will become a theme for later friendlies, and strengthen friendships between Celtic and other clubs. I've even thought of a name for this kind of game..
Friendly.
Scott Brown has been talking to the media about his gaffer. Which will probably have his gaffer cringing a bit..
"You never know as a player or a manager what is going to happen down the line,"
"Real Madrid could come in for the gaffer over the next six months, you never know.
"You could probably understand teams would want him, the way we've been playing. Especially with what we did last year in winning the treble. You'd expect that, but for now he is signed up, and lucky enough for us we're going to get four more years with him, hopefully." 
On an unrelated note, a pint of beer in Prague is roughly £1.10.
"But he has signed up, he's happy here and he's enjoying it. He's enjoying living in Bearsden and he's enjoying his life. He's the manager at a top-quality club."
"As soon as people start talking about people leaving clubs in the [English] Premier League his name (Rodgers) gets mentioned," "I don't think two or three years ago we'd have been able to touch anybody like that.
"But due to his name, and what he's done in the game, he's got a chance of bringing top quality players to the club and that's what he wants to do. He wants to maintain the level that we set last year but also push us on.
"It's been a good year last season. We have an early start with the Champions League. It is always going to be hard going back in as you saw in the game the other day. But hopefully this season is going to be just as good." 
Then someone shouted "Haw, Broony, get them in you tight fisted bastard " , and we were spared the rest of his thoughts.
The Europa league has a game or two tonight, with newcomers "rangers?" in Luxembourg defending a single goal lead over Progres.
They should see it through, they've been battling progress over there for decades, and seem to be winning.
Their manager, Pedro Caixinha seems to have picked up a nasty strain of the Rangersitis virus-medical men look away.  know an itis isn't a virus, but they don't- with his latest ramblings..
about the boot ban…
"It's an internal issue. We don't normally comment on what type of boots people wear.
"All clubs need to have their own culture. We have our culture, history and traditions and we just need to keep it and defend it. 
"All the details count. If you want to have that vision and mission, they count even more. 
"If that vision and mission reaches the standards we hope, you are looking to be present in Europe all the time.
"At all the clubs I've worked for we established called a code of conduct.
"So those are the rules, these are our philosophy and they are equal for everyone. Are we convinced about it? Yes, so those are our rules and we need to follow the rules.
"It's a normal procedure on a group's dynamic." 
He might want to get out about and investigate the traditions and culture at that club…
He could compare and contrast them to the culture and tradition he was brought up in.
The Supreme court will give its finally final verdict on the EBT scandal tomorrow. Although the judgement may already be with the lawyers of both sides, penalties for leakage are severe, but of anyone wants to hang around BDO's lawyers offices and chaeck if there's a lot of screaming and swearing going on, we may have advance indication of the news.
Something to think about if they are to be proven as cheats…
Yesterday we had..