Celtic Diary Friday June 30: Etims Source Proves Correct
Not wishing to blow ones own trumpet, but have a look at this from the diary of May 9….
Our own stained source tells us to keep an eye on this guy…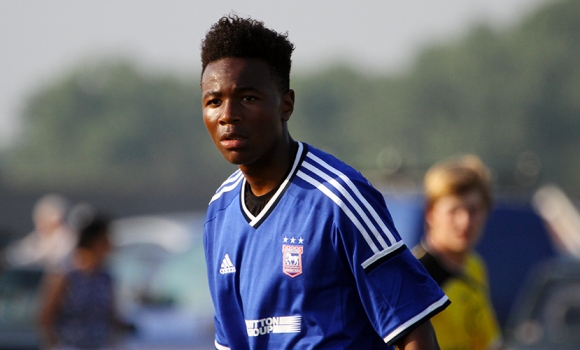 He's Kundai Benyu, a nineteen year old, available for a development fee this summer as he is leaving Ipswich.
He's spent this season on loan at non League Aldershot, and is being watched by a number of clubs, all of whom seem to be willing to pay a few quid for him.
Haarlem blue, who writes for Ipswich independent website, had a look at him recently..
"He looks very comfortable on the ball with most passes short and accurate and mainly looking to move forward. Good vision and definitely has an eye for the killer pass. He takes all of the set pieces for the Shots, freekicks and corners, and always wants to be involved. "
Watch this space, especially if Bojan Krkic starts sulking again. 
We will now pause for a moment to congratulate our man in the know, and consider the serious ramifications of having to pay for his beer the next time we see him..
Well, whenever the scattergun approach of the mainstream media gets one right, they harp on about it for months, so we feel perfectly entitled to have our moment in the sun.
Kundai Benyu, harshly described as sounding like a Japanese bendy bus by our own philosopher El Cormaco, is an excellent acquisition, though one for the future rather than one who is expected to walk straight into the first team.
Manager Brendan Rodgers still has his eye on one more signing, one that will cost a bob or two, before the qualifiers begin, and that means the deal should be done within the next week.
On Benyu, the manager said-according to the Sun;
"It will give us great power and strength as well as quality." 
Hang on, thats not what he said at all. Thats an older quote about another transfer target.
So lets see what Benyu told the official site..
'I'm absolutely delighted to be joining Celtic,'
'It's a massive honour to sign for the Scottish champions and one of the world's truly great clubs.
'It's also a great opportunity for me to continue to develop as a footballer under Brendan Rodgers.
'I'm looking forward to meeting up with my new Celtic team-mates. I know there' s a lot of hard work ahead of me but I am ready for this, I'm looking forward to the challenge and I can't wait to get started.' 
 The manager has told me just to relax and enjoy my time here, but has warned me not to let my mates talk to drunks in the pub, as that bastard at the Diary can pick up more than  Jodrell fucking Bank. 
He has signed a four year deal, and Ipswich will receive a bit of compensation.
There were reportedly several other clubs on his tail, and it must be regarded as a neat piece of business for the club.
Adam Virgo, who couldn't quite reach the level of being a neat piece of business for Celtic, said this, on Twitter;
Amazing move for Kundai Benyu signing for @celticfc what a great move for him. Take it from me your joining an amazing club best of luck    
Whilst someone who has watched Benyu added;
Celtic fans, you have got one hell of a player on your hands! With @OfficialShots he was the best player I've seen for many many years! 
If only he was Mexican, or had spent time in the Portuguese reserve league, then our own media would be singing his praises and saluting the work that went into the deal…
There's still a bit of work to be done to secure the services of midfield lynchpin stuart armstrong, although the gaffer is confident the deal will be done. armstrong himself is desperate to get his capital letters back, and should sign soon.
Rodgers elaborated;
"I wanted to put it on the backburner towards the end of last season,"
 "I didn't want any distractions and there was a period of time when it wasn't resolved.
"We put the contract talks on hold. He's had the Scotland game and a holiday, so I'm sure they will resume over the course of the season.
"It's just negotiation. Stuart's at that point in his career. He had a brilliant season, he came on great strides last season.
"Contracts are always about length of time, or finances, but I am pretty confident the club and the agent will come to an agreement.
"He's happy here in this environment and he knows he is improving and developing. So let's wait and see. He's someone I'm keen to keep. 
"The last thing he (Armstrong) needed to worry about was contract talks. We wanted to put that to one side. I'm sure that will be resolved over the course of the season
"He's now an international player so let's wait and see. He's someone we want to keep.
"Naturally, I hope he (Armstrong), gets his deal here, and he is very happy. In his own mind he's been through a tough couple of years, but now he has found a level of consistency and form and he naturally wants to continue like that." 
Another who has yet to re-sign is defender Kolo, Kolo Toure, but for the big man its more a case of does he want to be a coach, or does he want to carry on playing..
Rodgers again;
"It's a tough one,"  "Kolo is still in that mindset where he is asking: 'Do I want to play?' He's now 35. He was fantastic for us last year, but his contract has run out. But he is someone I would like to have a role for.
"Obviously, the playing role diminishes for him. He just needs time to see where he's at, in terms of playing, or whether he falls into the coaching role more.
"It's something that he and I have spoken about over the course of the season. I think that sometimes what happens is that players who have been at that level, and have that experience, they sometimes just get pushed to the side a little bit.
"But guys like that are very, very important, not just for changing rooms, but for clubs. Players like that retain the values of a club and they understand the levels expected and the pressures, and they can help in that perspective.
With another player set to join before the start of the UCL campaign, things look a little better on all fronts at the club.
Someone is going though, the u20 coach Jim McGuinness…he's away to China this summer to work with a guy called Roger Schmidt;
"It's a fantastic opportunity," told McGuinness to the Irish Times about the move.
"It's a level up for me and a great honour to be asked. Roger is a really prestigious European coach and just to be part of his management team is a great privilege. I also feel that it's great timing in terms of taking the next step forward in my own coaching career.
"In terms of Celtic, every decision that was made was with their knowledge. Dermot Desmond, in particular, was implicit in any decision made. And I'd like to think that the umbilical cord won't be cut. Everyone in the club has been hugely supportive and hopefully I will return there someday as a better coach." 
From where I'm sitting, this is the manager tightening his ring of steel around him.
John Kennedy next ?
Elsewhere, the issue of new and old clubs resurfaced last night as UEFA upset fans of "rangers " , who made their European debut last night, something confirmed by UEFA when they published the badges of competition participants..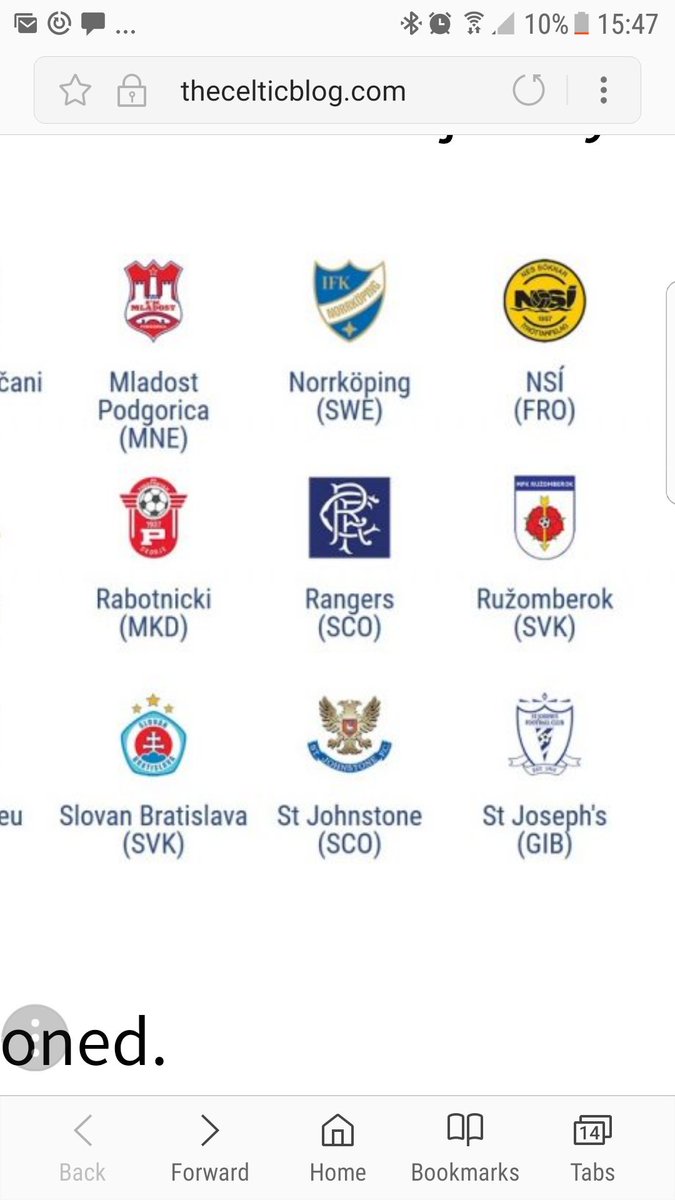 New badge, new club ?
However, there was more kerfuffle when Grant Russell, of STV, pointed out how Danny Wilson was desrcibed on the Ibrox squad
One for Rangers old/new club debaters. UEFA have Danny Wilson as eligible for Europa Lge as he was trained "by his current club" 2006-2010.
He went on to show a document which proved this, and by definition , proved that UEFA still view the basket of assets as the same Rangers who graced the continent over many years..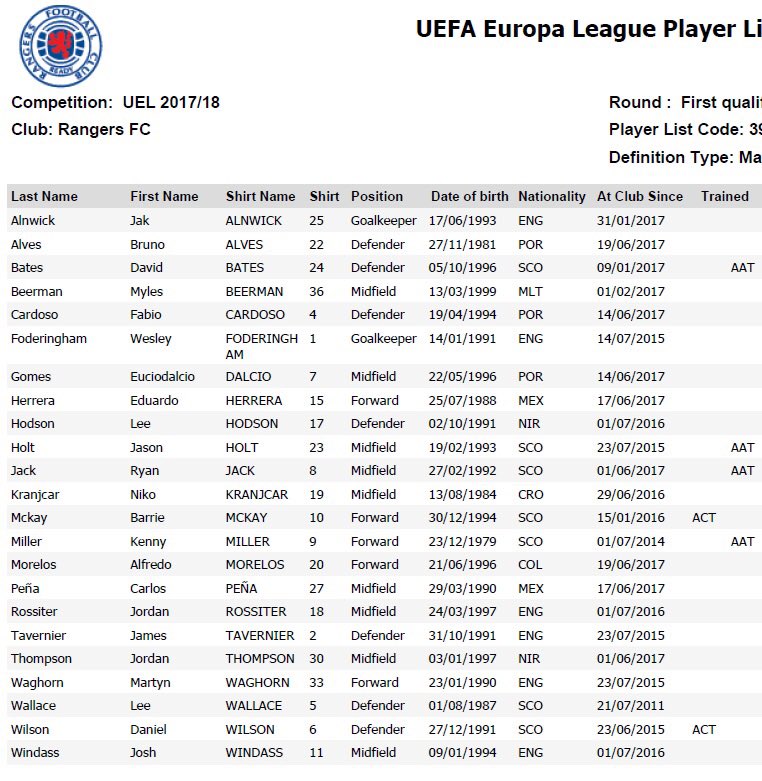 However, this isn't quite what it seems… but then again, nothing ever is from the illustrious STV hack…regular readers will remember his novel and refreshing interpretation of the Traverso letter…
Wilson was then withdrawn from the squad, interestingly enough, as Grant appears to have drawn the Ibrox clubs attention to a little bit of an anomoly that could have meant they had incorrectly registered a player, something UEFA are a little tougher on than the SFA.
Significantly, this shows that the SFA took the word of the Ibrox club on their paperwork for the licence application, and didn't check the facts, something which we feel may also apply to the accounts, making the chat between Dave King and Stewart Regan a few weeks back around "general matters " seem ever more sinister…
As for UEFA, could their reluctance to investigate the SFA be down to the fact that it would show their rules to be a little lax on licensing, to the point of ineffectiveness ?
Therefore rendering their competitions a little less honest.
Surely they would want to avoid the attention FIFA is getting about their financial matters, and to do this they have to start tightening up on teams who should not be allowed to enter due to not meeting the criteria ?
If Grant wants to look into something, how about he finds out which of The Rangers International Football Club or The Rangers Football club has the UEFA licence, detailed in article 45 below..
for those who give a toss, "rangers " secured a 1-0 win over the side who finished fourth in the Luxembourg leagie last season, in front of nearly 50,000 fans who turned up to see the new signings make their mark on the club.
It was old hand Kenny Miller, the ex Celt,  who scored the goal, and none of Pedro's Pillagers proved anybody wrong about their pedigree.
Fans weren't impressed..
He means "first defeat in our entire European history ", of course.
Aberdeen , meanwhile, continued to strengthen their side with another ex Celt returning to Scotland, Sean Maloney.
Hearts swooped for Kyle Lafferty, the lump of wood who remembered being called a lump of wood by Neil Lennon, which may have swayed him over to the maroon side of Edinburgh when he had to choose.
St. johnstone, too, played in the Europa last night, falling 2-1 at home to a side from Lithuania.
Surely the SPFL can bring in an earlier start to the season to help our clubs avoid these nightmare games ?
How about ending the season before in March, and starting up again in May ?
Then we get summer and winter football, which should please everybody, and there would be a whole set of tv slots to fill. after all, its not Scotland will need players for any finals tournament any time soon, and the other nations who play through the summer don't seem to suffer.
It's Friday, and that means we have to sift through the examples of actions or words to determine this weeks Etims
Knob of the Week
After calling his squad the best in Scotland a few weeks before bringing in eight new players, Pedro Caixinha appeared a little confused with the expectations of supporters in the aftermath of a slender 1-0 win over Progres Neidercorn…
"I'm not a guy that can make miracles in three weeks," 
Then maybe he should have stuck with the "best squad in Scotland "…
Pedro, not for the first time, and almost certainly not for the last….you are this weeks
Knob of the Week 
Er, Pedro, its supposed to be No Surrender
Yesterday , we showed you this picture…
and I have to admit, though the "banter " on here can be a little over the top, this did make me chuckle..
today…