They're a little more transparent, our media, than say the SFA, or the SPFL.
Todays Daily Record makes the case for Bobby Madden to be handed the Scottish cup final, which is probably Aberdeens best chance of securing the trophy.
Former referee Charlie Richmond, himself not the best of the bunch, gives his reasons..
Bobby missed a chunk of the season through illness.
He is what I would call a common sense referee.
Bobby has played junior football and he knows what a foul and when to give them and that is the most important thing. He does not flash the cards.
Bobby knows how to manage the game as a referee always.
When the big decisions come he is usually on top of the situation and he never guesses the outcome. 
Thats because he makes his mind up before the incident…
We can relate that to the penalty decision in the recent 1-1 draw between Celtic and Rangers at Parkhead.
Could he see it? Could he not?
I felt at the time he got it right by pure luck and chance.
Bobby couldn't give the decision because he was in the wrong position and therefore couldn't see it clearly enough.
I will give Bobby a confidence booster by saying that his displays have merited a call up for the UEFA under 21 European Championships in Poland this summer.
I don't want to second guess anybody here but I think Bobby has a great shout for the Scottish Cup final between Celtic and Aberdeen at Hampden on May 27.
Bobby has been the best and most consistent official this season. 
Richmond also gives his opinion on a couple of other candidates, and we have the original drafts..
Kevin Clancy
No chance. Kevin is a fenian name 
Nick Walsh
Celtic supporters have never heard of him so they can;t moan about him until after the game. Maybe give him a flag and tell him to run the line 
And that, my friends are the top three referees according to Charlie Richmond.
And people ask why many of us feel that a wholesale clearout of the SFA is needed. Including the diddy who is in charge of referee development, John Fleming.
Aberdeens next three games are all in Glasgow, and this too, may have a bearing on how they perform in the final. They will have to adapt to the constraints of a modern, livestock free city, and may suffer a form of culture shock as they find themselves surrounded by the trappings of modern life.
The climate is several degrees warmer, average rainfall this time of year is down to single figures, and , significantly, none of the roads are blocked with cows, sheep or homeless former oil workers.
Niall McGinn says Glasgow doesn't scare him, but he might just be trying to put on a brave face.
"It was a very strange start against Celtic. I don't think our forward players had touched the ball and we were 3-0 down.
"It's something we have to learn from and it was a very frustrating one at Pittodrie as well when we lost to Rangers. 
"You could see on that day we were the better side and created more chances again. One thing we need to get out of our game is that, when we concede one goal, we can't be losing two and three very quickly.
"We need to get on the training ground and work hard defensively, same with attacking.
"We know we'll be in those situations again when we are under the cosh and we are going to have to defend at the right times, just like we'll need to take our chances when they come along."
They do seem to fall apart very quickly after conceding.
Brendan Rodgers gave  interview to BT sports which was aired yesterday, about two hours before I remembered it was on, and anyway, the mother in law was watching James Bond so that was fecking that.
You can see the full interview here….
I'll watch it while I'm having my breakfast, when I'm finished putting this tripe together.
There was a hint about rodgers plans for the future, in a chat he had with someone from the sun newspaper, presumably before he knew the fellow was from the Sun..
"One day in my life I'd like to be an international manager.
"The ability to work with a group of players and go to a major championships would be amazing.
"I'm Northern Irish and very proud of that. But I've worked in England all my life virtually. I've worked in Wales and in Scotland.
"It's an experience I want to have. If I'm going to be coaching for another 20-odd years then at some point I'd be open to the possibility of going to a World Cup or European Championships." 
That rules out the Scotland job.
England it is then, but hopefully not for a while. I really hope I'm long gone when that day comes, as he'd probably win them another world cup, and that would eradicate anything he did with Celtic.
Unless I moved to New Zealand, or the moon.
They still harp on about 1966, and how they had saved Europe in 39-45, despite knowing  that the Russians did most of the fighting, the Americans paid most of the bills and by picking a fight with those two the Germans had overstretched their resources.
This , of course, is entirely different from Celtic fans harping on about 1967, and even the BBC has relented and acknowledged that Celtic's 67 European cup win was a great achievement..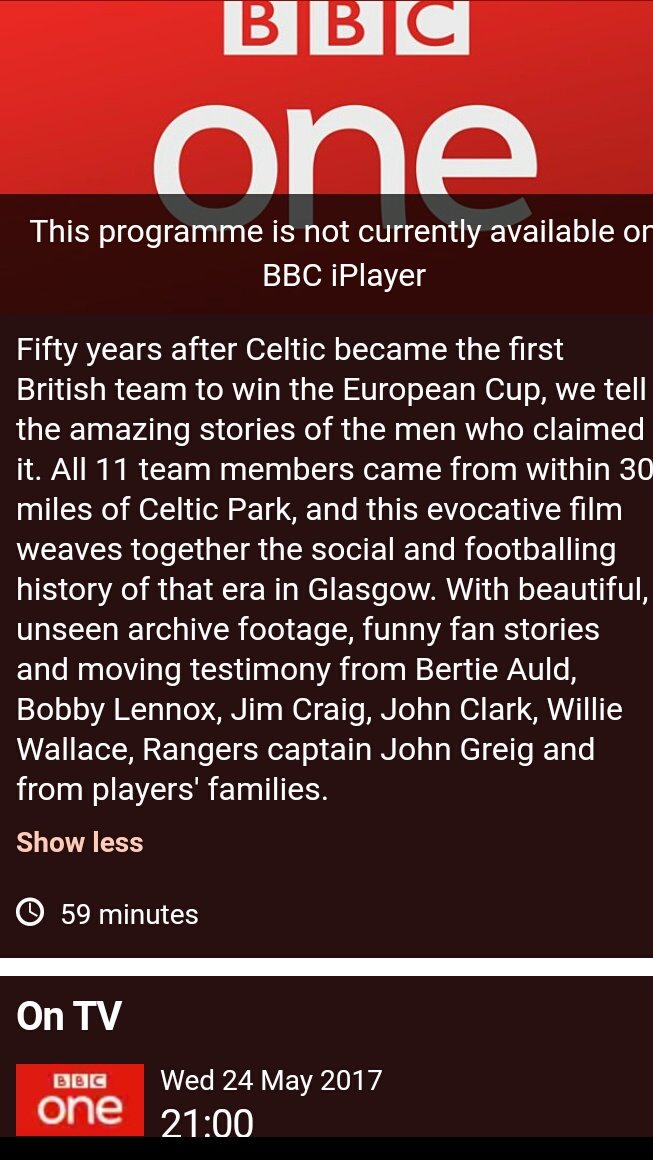 I'm still waiting for the programme that acknowledges the influence that particular side had on successive generations of football teams, such as the great Dutch sides and even the pragmatic Germans, as apart from Englands home win in 66, which doesn't count,European football had been dominated by the big three latinos Spain, Portugal and Italy.
It was only after Stein's Celtic showed they were not invincible, other sides from Germany, the Netherlands and even England, although again at Wembley, took heart from seeing a side play the Celtic way and used that as a model for their success.
As Celtic supporters, sometimes our own green tinted glasses cannot see beyond that afternoon in Lisbon, and there's nothing wrong with that, but its undeniable the influence that team had on continental football.
Right, lets see who the papers are trying to flog today…
The Daily Star…
Celtic ready to sell star man to Premier League heavyweight
CELTIC are ready to offload Moussa Dembele to a Premier League club, according to reports.
Mostly their reports, to be fair, but reports nonetheless..though, strangely, here they blame the Sun.
The Sun claim the Hoops striker is on the cusp of a move back to England after dazzling in the Scottish top flight.
The 20-year-old has impressed north of the border since switching from Fulham last summer. 
He's bagged 32 goals in 46 games for the Hoops this term.
The news that Dembele could be on the move looks certain to interest England's elite clubs.
Starsport understands Everton, Arsenal, Liverpool and Manchester United have been regularly watching the Frenchman in recent weeks.
"understands "…thats the key word here.
Them theres Star sister paper the Express , quoted on Ninety Minutes Online
West Bromwich Albion are locked in a battle to sign highly rated Celtic midfielder Stuart Armstrong this summer and are open to paying £8 million for the impressive Bhoys star, according to The Express.
The report states that the Baggies want summer recruits and sent scouts to watch the 25-year-old on Friday night as the Glasgow side beat Aberdeen 3-1 at Pittodrie. 
Then there's the Sun…
TALK OF THE TOON
Newcastle United are eyeing up a sensational swoop for Celtic star Jozo Simunovic
Rafa Benitez is keen on bringing the defender to St James' Park and is also keeping an eye on Hibs loanee Efe Ambrose ahead of the summer 
Not to be outdone, the bold Pedro Caixinha, invigorated by a particularly excellent mass yesterday, moved to strengthen his side..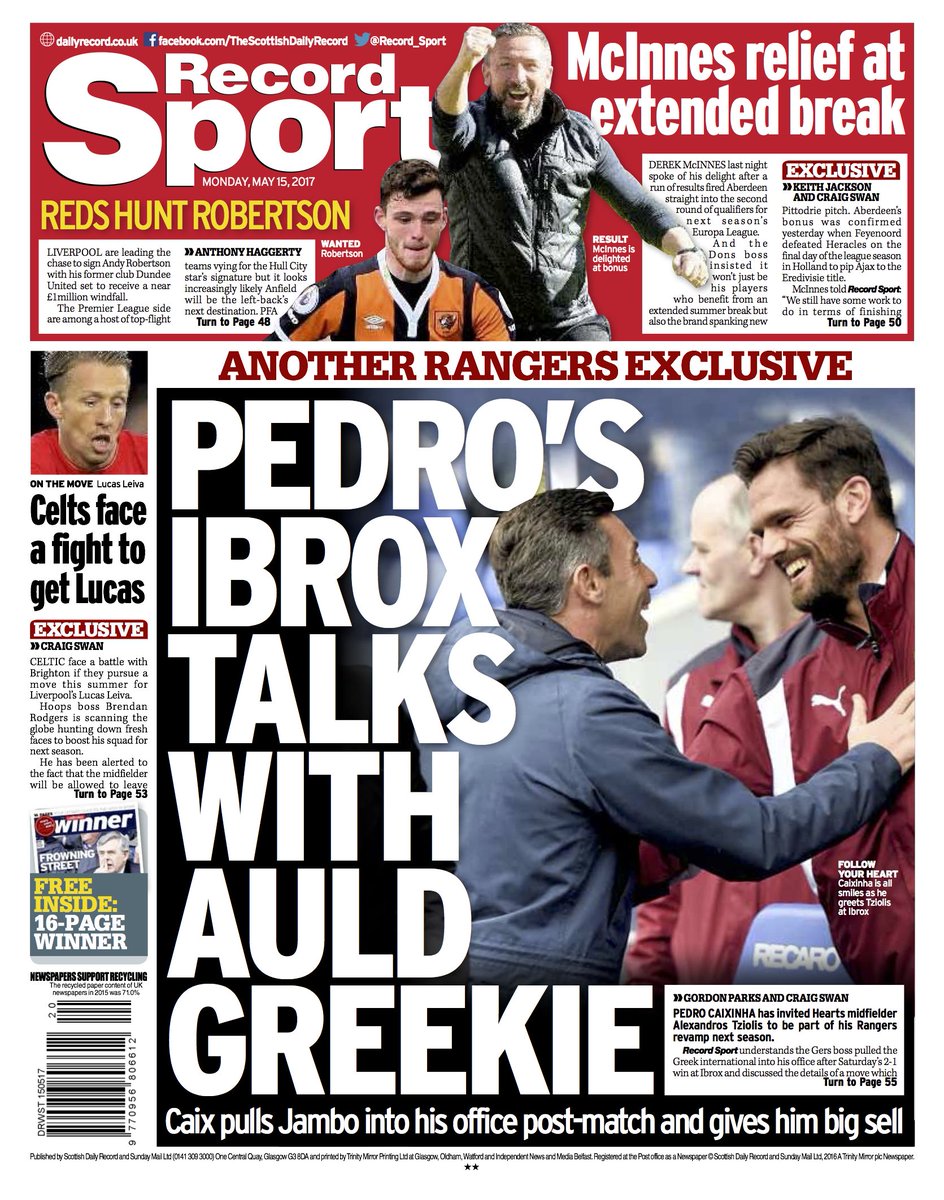 Even the paper sounds like it's sighing a little with the line "Another Rangers Exclusive " . They need to look closer to home as their scouts-if they have any who don't work in the mainstream media , have made an arse of this one…
Rangers' bid to sign Ghana defender Rashid Sumaila have hit a serious snag…he's actually under contract for another three years at his club in Kuwait.
The Ibrox club's manager Pedro Caixinha admitted last week that he was monitoring 24-year-old Sumalia, who he had on loan at his former club in Qatar, Al-Gharafa.
Reports indicated that Rangers would be able to get him on a free transfer because his contract at parent club – Kuwait's Qadsia SC has expired. 
I wonder who gave them those  reports…
Well, if the first team is struggling, their development team looks set to replace them in full.
Instead of competing, if thats not too strong a word, in Scotlands under 20 league, the club has asked for permission-not surprisingly its been granted- to withdraw from the Development league to seek out stronger opponents to further develop what was already the best youth set up at Ibrox in twenty or thirty years..
Rangers pull out of next season's SPFL development league to challenge Europe's top clubs
The Ibrox side have been given permission to withdraw for a year to take on the likes of Manchester City, Manchester United, Benfica and Sporting Lisbon. 
Like Celtic do, in the Premier International cup competition, except that they'll be playing friendlies, if those teams Celtic will be facing have got time to play friendlies.
No friendlies have been arranged yet, and there's no suggestion that the new Ibrox club are having difficulty in securing the finance to fund a youth team..
Except this…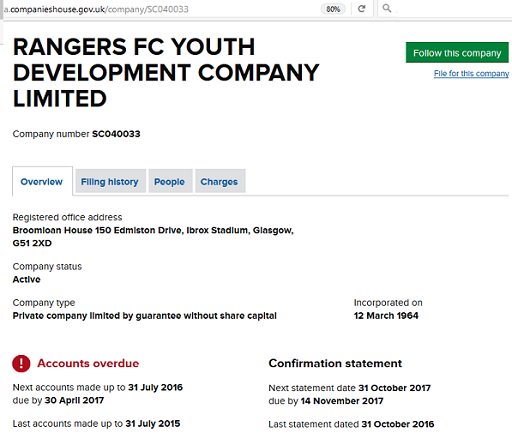 Of course, the media were quick to praise this modern, forward thinking move by the Ibrox club, largely to keep anyone from checking companies house for any clues that might suggest the new club is going the way of the old one…
Rangers have the right idea – our entire youth set-up is completely rubbish – Parks
Thats Gordon Parks, not a reference to public parks, who would have got the blame had Auchenhowie been sold already.
As for development squads, there are over forty ex Celtic kids making a living from the game at the moment..
Gary Holt, a coach at Norwich, backed the idea..
"It's a great idea, thinking outside the box by trying something different. Rangers are looking to progress the development of their youth players and they will relish the lessons on offer as long as they are willing to accept they will get a few humpings along the way. As that's what will happen.
"It needs to be used a tool to test their players against players who are often better technical players. 
Er, they were getting that in Scotland,
We gave you this delightful picture yesterday..