Perhaps unsurprisingly, the racist gestures made toward Scott Sinclair have yet to inspire the SFA to issue a condemnation.
Also allowing the incident to pass without comment are our fearless media.
But there was this…from the Record..
Alec Cleland remembers Rangers' nine-in-a-row triumph two decades on
Sensing a squirrel to point at, the Evening Times went one further..
It gets worse. some people out there go that little bit further and can only be classed as "sectarian bigots " , as this cleverly written and informative piece, from Imperial Bears , claims..
As our recent articles have demonstrated, the SNP administration have created a haven for Catholic bigots to attack the PUL community with the knowledge that they will be treated leniently in our courts of law, if they even get that far!
Recently it was revealed that Hibs fan, and fervent nationalist, Dale Pryde, escaped a
prison term for attacking the Rangers captain, as well as a female fan. Pryde, who was full of cocaine at the time, admitted the charges. We also saw EU migrant, Daniel Cieslak, walk free from court after admitting raping a 12 year old girl! When you compare the punishment handed to the SNP core voters like Pryde & Cieslak to PUL community member, Scott Lamont, who was JAILED for 4 months for singing a song, it is clear that the justice system in Scotland is working to a clear agenda.
Hopefully their English counterparts are more competent and will treat religiously aggravated hate crimes as serious for all groups, rather than having differing sets of standards depending on their political needs. If they are, then etims.net could be a blogger down soon!
A million miles away from our recently exposed, university educated Tam Selleck, we are back to the bread and butter of knuckle dragging hateful bigots. A blogger, who goes by the name of Ralph Malph, is a regular contributor to the sectarian cesspit that is etims.net. We can reveal that Ralph Malph is actually the online alias of Richard McGinley (or Dick for short) from Stoke on Trent.
If you take a look at Dick's twitter account @richiestoke you can see he is obsessed with the sectarian term 'hun', and seems to have a 'thing' for sitting in a cell-like room with desecrated walls……just like his idols. 
Thats me and the dog just before the sleep out for the homeless at the Bet 365 stadium a few months ago. They gave me a desecrated cell of my own, it appears..
If anyone has any idea what yer man in the article is rambling on about, let me know. I can't figure it out.
I did wonder if it was worth commenting on, and thus giving the piece the oxygen of publicity, but as the writer no doubt lives in the bottom of a pond somewhere, the oxygen will probably cause a lung infection, so i decided to let you all have a look for yourselves, and to judge for yourselves exactly who the sectarian bigot is.
Nil By Mouth, the organisation set up to make vacuous comments about sectarian and racist incidents have also been remarkably quiet on the Sinclair abuse, but thats probably a bonus.
Then there was the lass on twitter who posted a picture of a younger lass next to a gorilla at the zoo, stating she had met Scott Sinclair.
Astonishing that someone would do that, even more astonishing that they would involve a child, and perhaps even more astonishing that she could work a camera.
Sinclair himself said;
Absolutely disgusted yet again, how can a person use a child to promote racism, it's beyond me." 
It's beyond all of us.
The Player of the Year also spoke about the incident at Ibrox..
"It was one of those things," "It seems it will always be around with a minority of people – it's always going to be there.
"For me there will always be people like that – I've got to carry on with my football and keep enjoying that.
"In football we want to kick it out because there's no need for it. If any player goes through it you have to keep your head down and keep going on but you want it kicked out.
"My team-mates have got right behind me. They didn't realise until after the game that it had happened – just like I did.
"It was great to get my team-mates support. That's the first time it has happened here, the first time in my career actually so I was quite taken aback by it. 
The fellow who made the gesture has appeared in court and admitted the offence.
None of the people who appeared in the "We Hate Catholics " video, which has been doing the rounds on social media, have been tracked down though. Although the story did make the Evening Times..
FOOTAGE which appears to show Rangers fans chanting an anti-Catholic song has appeared online following this weekend's match at Ibrox.
The video was uploaded after Celtic defeated their Old Firm rivals 5-1 on Saturday.
In the clip, fans appear to be heard singing: "We hate Catholics, everybody hates Roman Catholics."
The group of men are seen wearing Rangers tops in an unknown venue filled with Union Jack and Northern Irish flags.
They are then heard chanting: "Then you put your arms around and we stumble to the ground and we say we hate Catholics, everybody hates Roman Catholics."
The video has since been shared thousands of times since being posted on social media on Saturday. 
No condemnation. No appeals to identify and arrest them.
It'll get worse before it gets better…..
32Red are not sponsoring them next season.
Hard to believe anyone else will either.
Its not just the racism or sectarianism at Ibrox that raises a few concerns.
Stewards and police were negligent when Scott Brown faced a pitch invader during the game, they were ineffective as coins, batteries and a pool ball were thrown onto the pitch, and perhaps even more worryingly, the media and both clubs have remained silent on the issue.
A few weeks ago the concern was that a player would be injured by a reckless tackle due to lassez faire refereeing.
This time, referee John Beaton was quickest on the scene to protect Scott Brown, but thats not his job.
There's a real worry that a player-or member of staff-will be injured the next time Celtic visit Ibrox, and the club and the authorities must demand an explanation for what happened and assurances that everything possible will be done to avoid a repeat.
There's a feeling that something is about to hit the fan in Scottish football, a story that has been bubbling under is about to break.
Maybe then we can start the clean up.
The caption pic from Monday featured Tommy Gemmell with a less powerful weapon than either of his feet.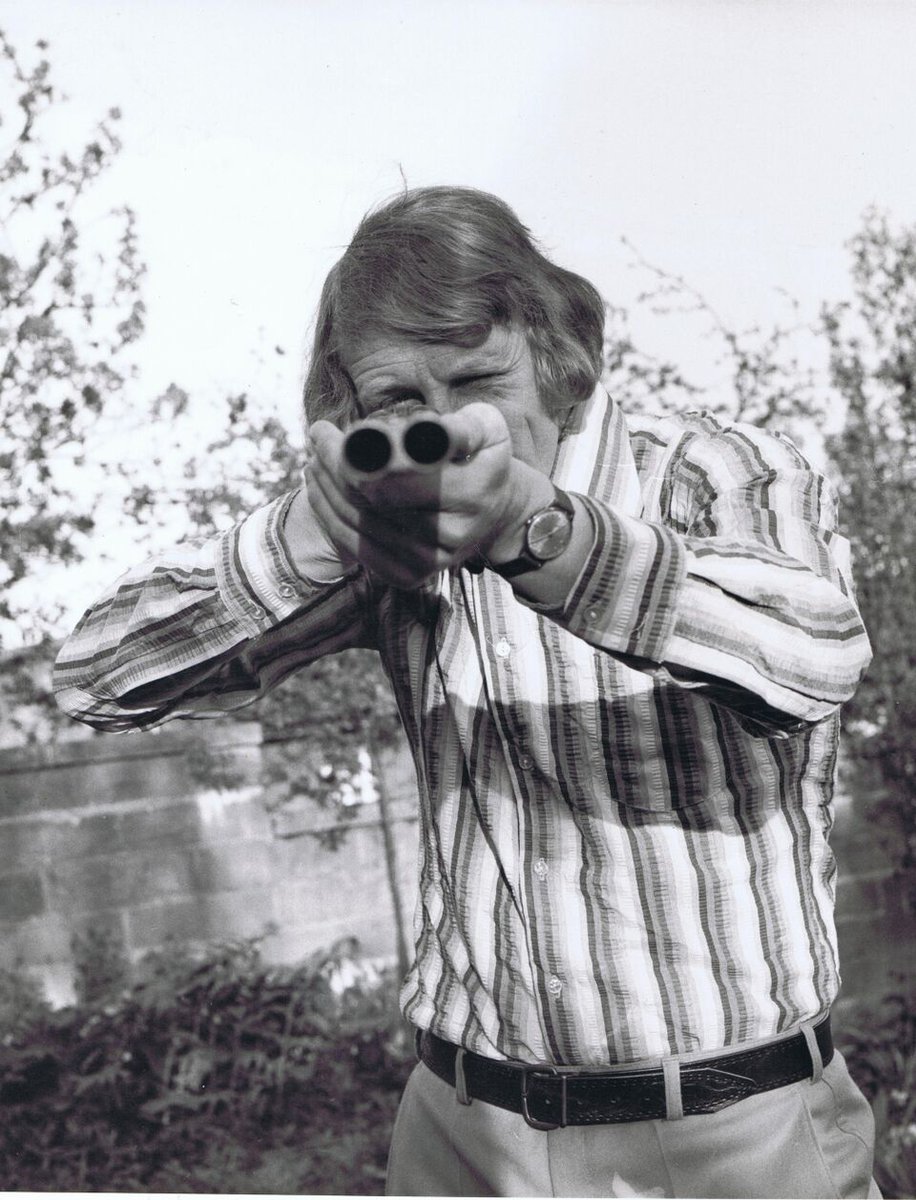 Today, we have this one..