Celtic Diary Saturday March 11: Goodbye and Hello
We paid our last respects to Tommy Gemmell yesterday.
Some of us were at the funeral, some of us were at the ground to see the cortege leave, and some of us watched it on a live stream whilst heading up the motorway to work.
No matter where we were, our thoughts were , and remain with, his family and friends.
Thanks again for the memories , big man.
The Glasgow derby awaits tomorrow, and it appears Sky Tv , who will be covering the game at lunchtime, have already given us a subliminal prediction..
Celtic go into the game on the back of an unbeaten domestic run that has lasted longer than most "rangers " managers, whilst the pretenders from the other side of the city are in a little bit of disarray again.
There will be some of you who are a little nervous ahead of this game, those of you who believe "anything can happen in these games ", but really, thats a lot of nonsense.
Celtic have only played "rangers " twice in the league, winning both times. There have been two cup games, one win and one defeat on penalties due to a massive tactical error from the then Celtic coach Ronny Whatsisname.
There is no record of "anything happening " in the games between the sides that can be classed as unusual.
Its also worth noting that the old Rangers, now in liquidation, would never have signed the calibre of player operating out of Ibrox these days.
Leaving the same club legal argument aside, it sure as hell isn;t the same club in practical terms.
The search for a new manager confirms this.
Pedro Caixinha must be having second thoughts by now. all he has to do is read up on his new job, and the reaction of the support to his appointment, and he will get straight back on a plane within minutes of his arrival in Glasgow.
In all seriousness, his "Celtic brothers " video has meant he's getting more good wishes from Celtic fans than "rangers " supporters.
It would be poor form should the Celtic support show him some sort of solidarity during tomorrows match.
The story so far is that "rangers " have paid 400 thousand euros to free the Portuguese man of war-they like their military terminology, even though its actually a jellyfish of some sort- from the remaining few weeks of his contract.
They paid it yesterday to the Qataris although the Islamic nation has Friday as their holy day, and so the banks would have been closed.
And they paid it in euro's, which is neither the currency of Scotland or Qatar.
Or South Africa, come to think of it, where the principal investor of "rangers" hides and resides.
Caixinha "missed his plane " yesterday, due to paperwork….he was wiping his bottom after a prolonged evacuation brought on when he read through the Ibrox page on the company check website….but the scottish media swung into action to reassure the hordes that their new Messiah was on his way.
Pedro Caixinha will become Rangers manager this afternoon after the Ibrox club agreed a €400,000 compensation package with his Qatari club.
Record Sport understands the deal was struck within the past hour and it means Caixinha will be on a flight that arrives in Scotland tomorrow morning to begin his reign as Rangers' 16th boss.
It's also believed that the 46-year-old will bring two members of his backroom staff with him. 
Ah-the deal has been struck, an agreement made…no one has paid them yet…
Keith Jackson of the Record tweeted that the money had been paid, confirming that no money had been paid.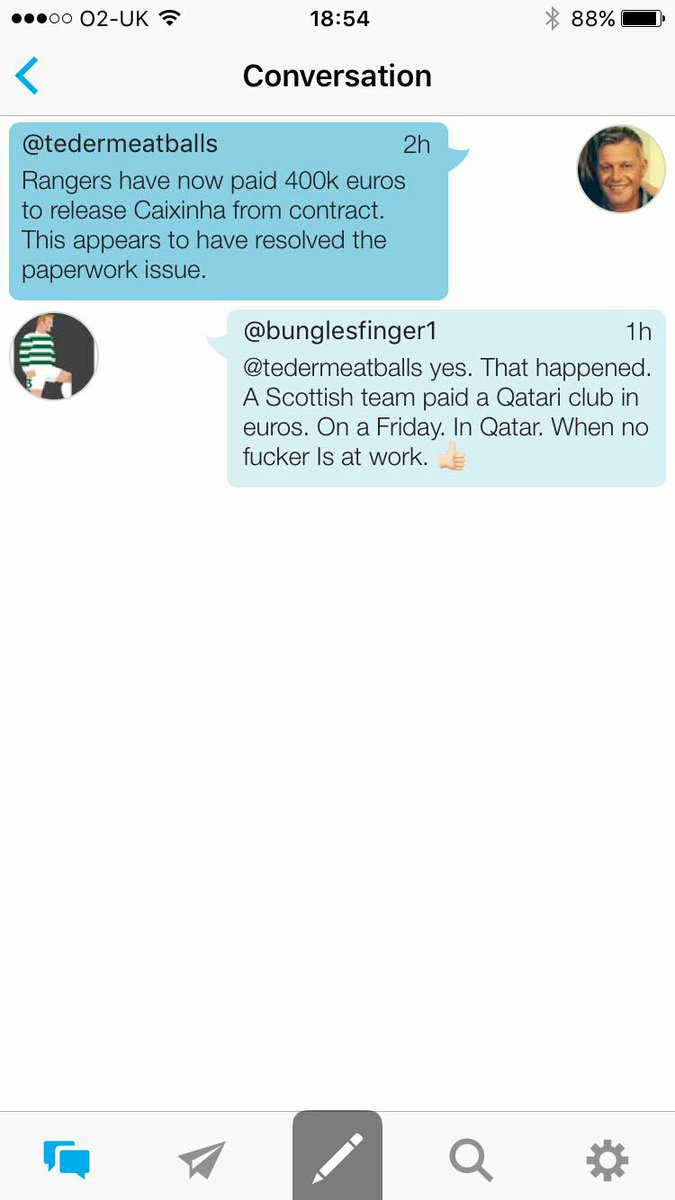 You have to feel for the guy, he has no idea what he's getting into. Caixinha, that is. Jackson knows full well what he's getting into after being fed a line or two before, yet he still falls for it.
Meanwhile, back at the ranch, Moussa Dembele will be watched by scouts from all over the world and a few other planets as well.
Football Insider, written by Dominic Toner, has a headline that claims the Frenchman is moving closer to the exit door, followed by text that doesn't say anything of the sort..
Celtic forward Moussa Dembele is set to be at the centre of attention on Sunday as scouts from top clubs are present to watch him against Rangers, according to a report.
The Sun claim that Chelsea, Manchester City, Arsenal, Liverpool and Paris Saint-Germain will all have representatives at the Old Firm clash to watch the 20-year-old.
It is understood that the elite clubs will scout £30million-rated Dembele and that PSG have not ruled out a move for the striker, despite letting him go as a youngster to Fulham.
The report details that Celtic's forward has become one of the most sought-after youngster in Europe and an exit could be edging closer as clubs get a closer look at him during the weekend's match.
Dembele has been in sensational form for the Bhoys this season and it's widely expected he will move on in the near future.
The Frenchman has scored 32 goals in just 44 appearances so far this campaign and has settled very quickly to life in Scotland.
He has become a crucial part of Brendan Rodgers' side and helped them remain unbeaten in the season up to now.
Its all just specualtion, but if he does want to move, and the money is right, then he'll move. I think we know that.
The player has his own thoughts , though..
'It feels good but I don't really follow the news,'  'I just focus on my season and at the end I will go on holiday and enjoy that. I don't really look at the rumours.' 
'It feels great because it means I am not doing bad, I think. I just have to keep going and training hard.
'Am I worth £40m? You tell me. I don't know. A price is a price. I can't tell you I'm worth £40m or £50m or £30m or £20m. I just concentrate on my game.'

And how will he do against "rangers " ?
'I hope it is going to be even more than three,'
 'For me, when I go on the pitch, I try to do my best to help the team get three points. If I can score it is great, if not it is good to help the team get three points.'
He doesn't look like or sound like your average twenty year old. This is a guy who wants to go places and knows how to get there. 
How long Glasgow is a part of that journey he will decide.
Which is fair enough.
As for tomorrows game, don't worry.
We'll even get a dodgy decision or two, its the semi final where it will all even out.
Yesterdays picture..