I blame the holidays. In fact, if it wasn;t for the dog laping on the bed and sticking her nose into my ear then i'd probably still be asleep. Lethargy has been the winner this Christmas. Mind you, as long as I don't fall asleep face down naked on the bed , thats a bonus. Especially with that dog about.
In line with the laziness of late December, there's only one real rumour to be floated, and thats the aival of Yaya toure to play alongside his brother Kolo for six months or so.
Should help the development squad.
Tonight Celtic are in action again, with Ross County the visitors in yet another home midweek night match designed to free up season books for new customers next year.
Leigh Griffiths and Tom Rogic are doubtful, Keiran tierney is still injured and Calum MacGregor is suspended, but the real question is will Rodgers rest his top men ahead of the top of the table clash with league surprise package "rangers " ?
He's not noted for sending out weakened sides, and with a three week break immediately after the game there's not really any reason to.
Craig Gordon, now back to something like the guy we signed to replace Fraser Forster, is about to be offered a new contract, which should add to the feelgood factor around the place. He's got the option of an extra year when the curent one runs out, but manager Brendan Rodgers has been fulsome in his praise..
"Craig is definitely one I want to keep. You see now a different goalkeeper to when I first came in. How sure, how calm he is and there is another clean sheet on Saturday.
"He still has a lot of games in him. He's 34 soon but he's a top goalkeeper who looks after his body, lives his life the right away, and the Edwin van der Sars of this world go onto 40. He has a good few years left.
"I think his past injures could put years onto the end of his career. There are not so many miles on the clock. He is really enjoying this way of working.
"He is contributing to the team and feels that, even when he doesn't have lot to do.
"He can see how the top goalkeepers in the world function. The way they play football, and he's been a real important player for us." 
Dorus des Vries must be kicking himself, if he could.
"Dorus came with an understanding of where we are at. He came in with an injury and then got injured in the Kilmarnock game – and Craig took the opportunity.
"The good thing about Craig is he wasn't a senior player who went away and sulked, he went away and wanted to be better and learn what I want from a keeper.
"Now, when I speak to managers after games, they all talk about how Gordon is so good, he's better than some of my centre-halves.
"That's a player who six months ago was getting rid of the ball. Now he's passing it. There is a difference.
"He's a footballer, not a goalkeeper. Players love growth. They want to get better. When we have the ball we have eleven players. When we don't have the ball we are all defenders. 
"Craig is a good guy as well. A really humble person. At his age he could easily have said 'that's it' but he wanted to take his game to another level. He has done against Manchester City and away in Monchengladbach. He's done it in big games." 
Christian Gamboa is another who is starting to settle, and he may well be on the opposite flank to Calvin miller tonight, as Rodgers may well give the youngster another run out.
Simunovic and Svaitchenko can go in the middle, and the defence is likely to be tested a wee bit more tonight than on Saturday due to the presence of county's Liam Boyce, who has 11 goals in sixteen games this season, which has gone largely unnoticed by the media, as he is called Liam and will never play for their team.
Someone called Liam ( Henderson ) could get a shot for Celtic tonight , maybe alongside Scott Brown and behind Stuart Armstrong, with James forrest and Scott Sinclair on the flanks , surrounding Moussa Dembele -or even the  forgotten Nadir ciftci, who has been told he can leave Celtic but might get a chance to remind other clubs what he can do.
Rodgers has been given nothing seen nothing but  respect-or is it fear-from the SMSM, and an interesting contrast in attitudes-from the support as well-between the Irishman and his Norwegian predeccessor came to the fire when Rodgers talked about getting the right food into players…
"I've had one player in here and I hope he sees the light, as he's big, big talent," said Rodgers. "A kid with massive talent, the talent to play Champions League football. And the agent wanted to know when he was getting a professional contract. The kid was fat. What? You want to know that? I'll tell you when.
A kid who had all the tools, all the talent, but was fat. Couldn't run. Couldn't last a game. Not eating right. Fish and chips all the time. And when the crunch came to it…
"So we organised a plan for him, to sort him out. If he wants to do it. But I don't worry about it. It doesn't break my heart because some other kid with less talent that commits to it, will make a player. The key thing is the boy's a talent but it is whether they want to devote their life to it."
"I haven't been up here long enough so I don't know the culture so well of junk food or whatever, but what I know is if you want to operate at the level of Champions League, be a world class player or the very best player you can be, you have to develop technically, tactically, socially, and in terms of your lifestyle.
"Nutrition is a serious business in football at the highest level, and some of our senior players have seen that. They have seen what it does to your performance. So you have to do it, and that's a choice. The culture, if it is that, then fine, but you can never be a top country, or have top players.
"It's about awareness. When they are young it's about letting them go free but you can influence it in their teenage years. It's education. And that's where it starts.
"The process doesn't start when they are 16. And apprenticeship for life starts earlier than that. It is drip fed in so there is an awareness. If you want to be lean, and fast and strong and all that it's a serious business." 
Which is exactly what Ronny deila was saying, but for him it drew comparisons with Paul le Guen, who noticed the same thing when he was in Glasgow, with now defunct Rangers.
It must be the way Rodgers tells them.
In fairness, how you tell somebody something is equally as important as what you tell them, so we may have spotted the difference, though it does help when the media are too scared to have a go at you.
Tonights referee is Nick Walsh, pictured here under the watchful eye of Bobby Madden..
He's new to the scene, with only eight games so far this term  in the Premier League, but he's managed a respectable 26 bookings. He's yet to send anyone off but there's time yet. Around eightish tonight, in fact, as he is given the job of rendering one or two Celts ineligible for Saturdays Glasgow derby.
That match will be refereed,in the loosest possible sense of the word, by old favourite Steven McLean, who will be delighted he can lend his Ibrox season book to a pal as he won't need it at the weekend.
You might remember McLean, who missed the handball that gave Inverness the stomach for fight in the cup semi final last year.
Is it possible he'll be under pressure to help the establishment club ?
Of course not. There's no need to put him under any pressure at all.
He'll do what he has to, or what he's allowed to get away with. Celtic need to address this before the game, and put him under pressure themselves, or at the very ;east point out that one mistake is acceptable as a mistake. Any more than that would, er, cast doubt on  the neutrality of the referee. "
Get the retaliation in first.
for those of you who are sick of it being referred to as the Old Firm game, its worth letting Celtic know how happy we are they haven't fallen into the trap, and may I remind you of the clubs official viewpoint..
There's no further news on the roof, and hopefully that will be the case on Sunday, but there are stories flying around that that bits fall off every day, its just that there's no one there to see them as the ground is only used once a week at best.
Some sections of the media are asking if Celtic's players can withstand the hostile atmosphere and noise of the "rangers " support, but not one has asked if the roof can…
They wonder aloud of the "invincibles " can be stopped, thats us, by the ay, and continue to haul out Ibrox players and ex-players who agree..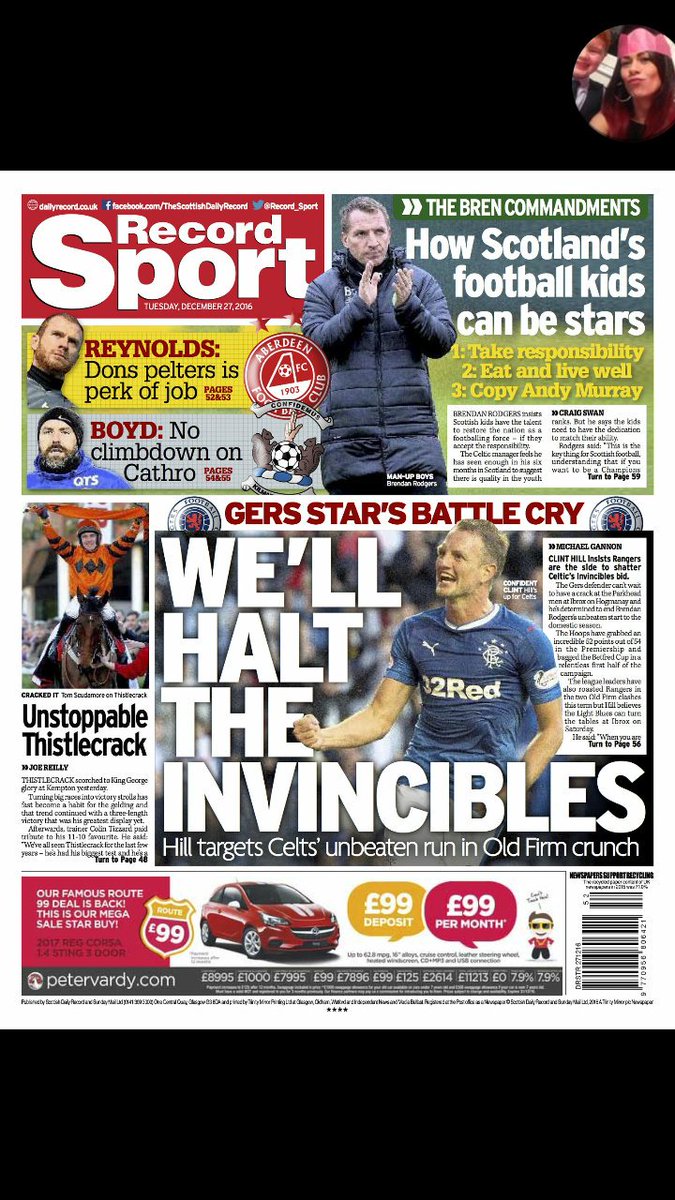 Hill, by the way, is looking to rejoin QPR, so this could be his farewell game, which could be just as well for him.
Fortunately, we're concentrating on tonights game, which is the way it should be.
The manager has even said he might wear the trousers we sent him…
( Legal disclaimer -he hasn't and we didn't )
Caption from Boxing Day…
This time of year, its the thought that counts, and this is a lovely thought..