Celtic Diary Sunday October 30: £40m Goal Machine? Yes He Is
Well, just in case any fans of Manchester Utd or Chelsea-or anyone else for that matter-are reading this, Moussa Dembele is the perfect striker and worth at least £40 million.
Right.
Have they gone?
Man United and Chelsea to battle for £40m goal machine: Both scouted him last week
MANCHESTER UNITED and Chelsea will go head-to-head with Real Madrid for Celtic hotshot Moussa Dembele, according to reports.
If there is any truth in this headline, and as its the Daily Star, then the forty million will be tricky to turn down. Especially as Peter Lawwell has already sent them Celtic's account number and sort code.
It can't be because he is scoring and playing well in Scotland, that doesn't explain it, it can only be for his two goals against Manchester City, who were deemed unstoppable until they came across Celtic.
Would you take the money ?
Without a doubt.
The Wayne rooney rumour doesn't seem so daft now, does it ?
Zinedine Zidane, this weeks manager at Real Madrid may hold all the aces here. He is apparently willing to allow the player to stay at Celtic on loan and continue his development. He is on record as saying;
"I have played with great strikers like Ronaldo, Henry and Raul, and you knew on the biggest occasions they would win you games. Dembele is already showing that.
"I understand the biggest clubs in Europe being linked with him and that will be his destination eventually. But he can still progress well at Celtic, who are in Europe."
As long as we tell him that the money, once the deal is completed, is non-refundable. then that would be the best option.
We tried to contact Peter Lawwell for this thoughts, but when his phone was answered all we got was some drunk singing the old Ken Dodd ditty "happiness".
Back at the ranch, and Celtic earned three points at Pittodrie with a 1-0 over Aberdeen.
It certainly wasn't an easy three points, even after Tom Rogic gave the hoops a first half lead by sublimely poking the ball to the right of the Dons keeper, Joe Lewis, where he couldn't reach it.
Several other chances were squandered, and yet again, the opposition keeper put in a fantastic shift, and to be fair to the Celtic front line, on more than one occasion he had to work hard.
One save, in the second half , from a curling Scott Sonclair shot was nothing short of magnificent, only equalled by an outstanding save from Craig Gordon, in the fifth minute of extra time when he pushed a late header over the bar to secure the points.
Gprdon has now made crucial saves in the ;ast minute of a couple of big games this season, showing that his concentration is back to the level required, and that might just be because pof the defenders in front of him now doing what they are supposed to.
After a difficult week, which included the two trips north and the League cup semi final, Celtic can be rightly pleased with the clean sheets, and its now some time since Gordon was beaten domestically.
If he keeps a clean sheet on Tuesday in Germany, then all is not lost in Europe and we might still be around after Christmas.
Elsewhere in the League, Hearts managed a point at Inverness, in a 3-3 draw, but St. Johnstone were surprisingly beaten by Partick 2-1 up in Perth.
As at the start of the season, when they opened against the leagues weaker sides,  "rangers " can take advantage of the top sides playing each other and remove some of the pressure from manager Mark Warburton, which they duly did by beating Kilmarnock 3-0 at Ibrox to claim the new clubs fifth win at the top level.
all of that leaves the table looking like this..
Updated 29/10/2016 at 18:25
 Its worth noting that the gap-there's that word again- between first and second is greater than the gap between second and twelfth, as I'm sure you will point out to any gullibilly who thinks that their troubles are over and they are ready to make a push for the title, their 55th in just four years.
Yesterdays win at aberdeen wasn't easy, and there was always the chance that the dons would get back into the game, so to be honest I find it difficult to understand why Scott Brown decided to have a lie down during the second half, presumably he's getting tired easily again just by mentioning he wants to play for Scotland again.
What really happened was a foul, and then a bit of argy bargy, which has been missing from our game of late, but no harm done as they say, and it did show a bit of spirit amongst the players as they rushed to their captains side.
during the stramash, a sleekit Adam rooney aimed a wee kick into Brown's side, and it all threatened to turn a nit urgent, as they say in London.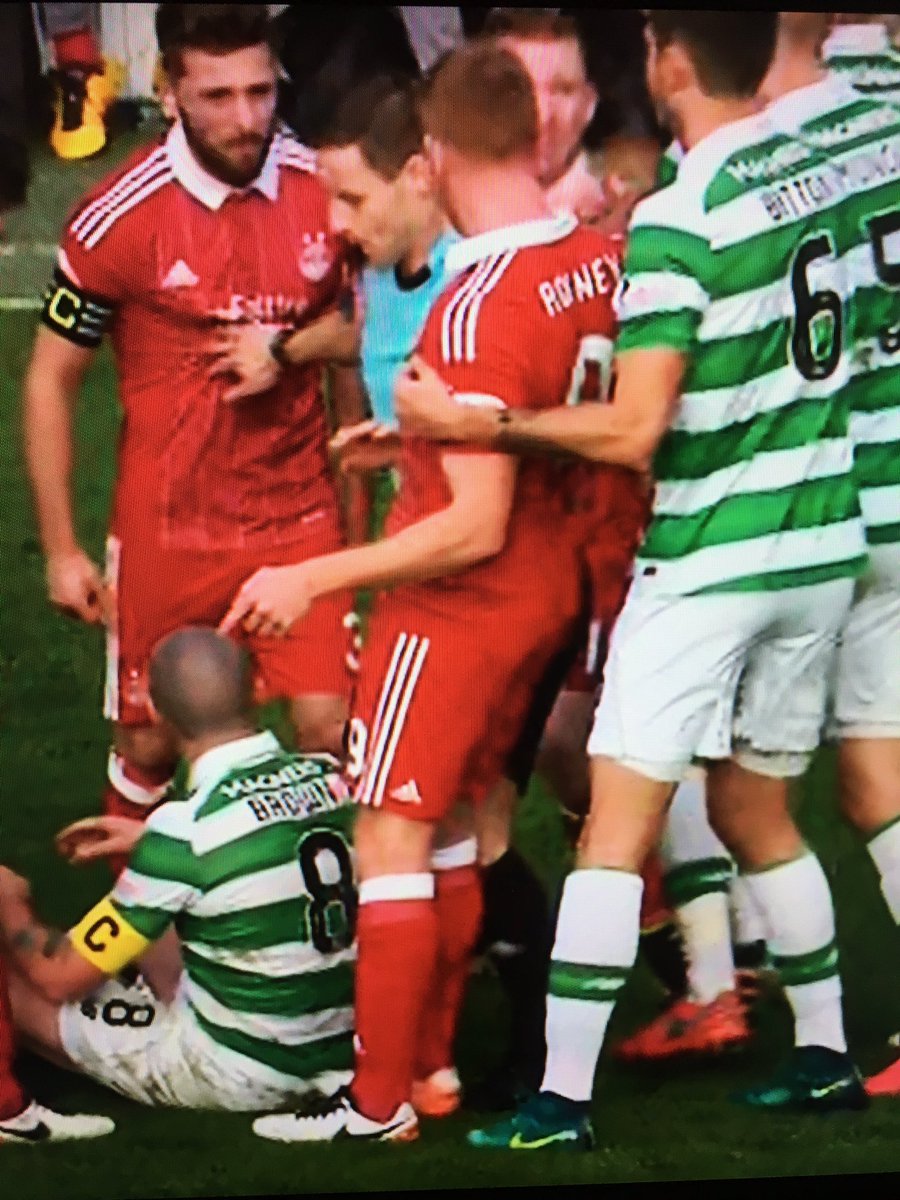 But thats football, and at least it gets the adrenaline going.
After the game, Brendan Rodgers admitted that it wasn't an easy ride…
"That was a great win, it was a tough game. I have said before that Derek has done a great job here. He has galvanised the club. Any game I listened to over many years as a young supporter on the radio or watched here at Aberdeen, it's always been a tough game and Celtic came here and lost twice last year.
"It was a brilliant win for us in many aspects. I said to the players a few weeks ago, you have to learn to win 1-0 as you are never always going to score four, five or six goals. But if you have that spirit and collective mentality to fight, it gives you a great chance in any game.
"The game should have been out of sight. That's the reality of it. We scored a very good goal and had two big chances in the half, and in the opening 15 minutes of the second half we created opportunities where we needed to be more clinical. Of course, when you don't score, it can become a wee bit hairy at the end.
"It was real a good game, a great atmosphere and the pitch was really nice and, of course, when you win, it's a great feeling.
"We have only been working together a short time," he continued. "If I assess it after 10 games, I have been really pleased with the progress of the squad. There is a great connection now within the club in terms of the supporters, the team – everyone is moving in the one direction and we are working very well.
"We still got a lot of evolution there with the club on and off the field, and there are still major improvements we can make as a club to keep pushing forward.
"What we showed today is that we can win every game of football. What I know with this group now is that they can have confidence they can out-play a team, they can out-pass a team, they can press a team and  if it's a fight they can stand up and be counted and be aggressive. That spirit is a great thing to have.
"We have come to some real tough places and won. This week tells you the story of the team. We won the League Cup semi-final 1-0, we had a tough game away at Dingwall where the squad was used and we won 4-0 and then we came to Pittodrie, which is always a tough game for any team and Celtic in particular, so to win here is a really good moment – but it's only 10 games."
It is only ten games, but only a fool would bet against Celtic winning a sixth consecutive title based on what we've seen so far.
Which I suppose includes most of their support
The manager also comlimented the defence, and inisted that he isn't surprised at how its turned out, because that was the plan all along…
"In the summer, I said it will get better and better," said the Hoops boss. "The more time we work together, the players understand the ideas. It's not just about opening up and playing, you have to defend.
"Fundamentally, this is a philosophy about pressing and defending – you have to defend the game. From that, you hope to get more of the ball than the opponent, create chances and score goals. The stability across the team is very good.
"It's allowing us to defend collectively but also allowing us to get the ball and create chances. I felt the two centre halves were outstanding – very good, competitive, strong and played when they good.
"Emilio Izaguirre came in this week, playing two games out of three, and it was a great performance by him. Mika (Lustig) is seven out of ten every week. Across the team, it was a great performance." 
There's something in what he says. this team can adapt and cope with whatever problems they come up against, maybe not quite so much in europe yet, but certainly domestically.
For instance, look how they dealt with the crisis caused by a broken tumble dryer.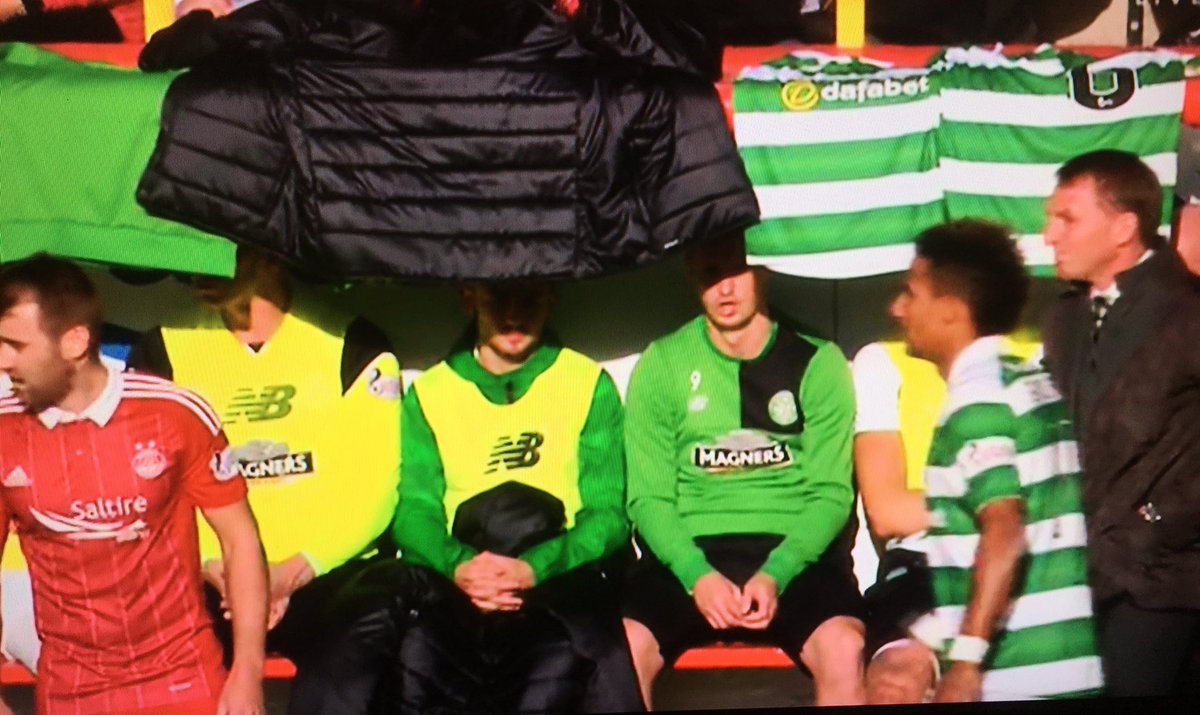 Versatility, thats the way forward.
Angus police were quite pleased with themselves yesterday, having confiscated sevral bottles and cans of beer, which with christmas on the horizon will be quite useful as they plan their parties, which were under threat due to government cutbacks.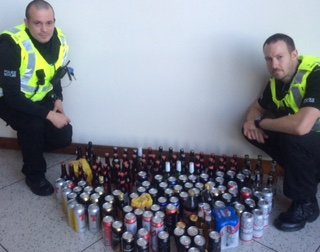 I'm not entirely sure what the law is, but if its that you cannot drink beer on buses, surely the fact that they were unopened means that no one was drinking them, and they have no right to take them away ?
Fair enough, take the ones that are opened, but the cargo ?
And as for tweeting about it…. well thats what happens when you lower the entrance requirements for the police.
I suppose he usually does traffic duties, standing in for any roundabouts that are broken.
Anyway, for career criminals in the north, when you plan your next big job, make sure you do it when the Celts are playing up there, as all the Peelers will be out on the road and ignoring serious crime.
More on Watergate, from the "rangers " financial report…
Why would the church be subsidising them ? This proves a link between the two, even if it isn;t made of plastic and buried around ten feet below the surface.
Needs looking into, and i'm sure our press are on the case even as we speak…
We hear that Mark Warburton has disappeared again, at least thats what i think journalist Graeme Spiers means by magical…
My column in The Times tomorrow: •'Magical Warbs' •Broony's big stand •Can Del do it? •The binning of Stern Vern
On a serious note, it looks like we'll be saying goodbye to Kris Commons in January, as the manager doesn't have him in his plans…
"I spoke to Kris in the first week I was here. 
He knew clearly what my plan was for the team going forward. He's a good guy, I like him. But it's been tough. I've brought in players who play in a different way to how he's played before.
"There's no doubting his qualities . He trains hard every day, he's doing his best to fight and work.
"But everyone in the squad has known where they stand since the first week I was in here.
"All I've ever said is, 'If you're not playing or you're not in the plans, just respect the work' and I've never had an issue with any of them.
Heres hoping he gets a run out to say cheerio.
He's earned that.
Its that time of year again where Ireland forward James MacLean gets abused for not wearing a poppy.
Thats up to him.
Really , it is.
Its what freedom is all about, the right to have your own view held in respect by others. Which is what those who fought believed they were fighting for.
Yesterdays picture,
was explained with this reply