Champions League action- proper Champions League, that is-returns to Celtic Park tonight after a lemgthy absence.
Manchester city, a side Celtic have never faced before in a competitive game, are the visitors, and surprisingly, there's very little talk of it being a "Battle of Britain ", probably due to the lack of English players who feature for the English club. Though strictly speaking, its only an English club because of where its based. Anything else these days is purely coincidental.
Celtic boss Brendan Rodgers, who told the Celtic Underground podcast he would be at Celtic for as long as the fans want him, hasn't named all of his team yet, but he has pointed out what the fans already knew, when he said that Craig Gordon would start the game, in place of the hapless Dorus De Vries. The knock on effect is that Pep Guardiola, his opposite number at the Etihad, will have to rethink his tactical approach, which had been to simply hit the ball at the goalie.
Rodgers not only said he'd play Gordon, but also admitted he'd made a mistake in dropping him so soon.
"Craig has done well for the club since he came in here and I'm sure he's looking forward to it." 
"The beauty of it is that Craig wants to improve and I believe he has done. He's a great fellow.
"Craig and I had a really good chat when I was going to make the change. I maybe made that change too early. Dorus was injured and he'd come back and maybe I pushed him in too early, to try to impose that way we want to work.
"So I take that responsibility.
"But the bottom line is that we have to win games and Craig and I looked at areas we think he can improve on.
"He has gone away with our goalkeeping coach, Stevie Woods, and when he has come into training, he has been absolutely brilliant, taking it all on board.
"It has given him a determination and, when you're fighting for your place, it allows you to perform better and focus.
"He has been first class." 
We can stop biting our fingernails now, at least until kick off. As long as Gordon plays to the best of his abilities, we have a shot at making this a memorable night.
However, just as he had done before the Bartcelona game, rodgers then went all starry eyed when he spoke of Manchester City's forwards..some people never learn…
"Aguero and Silva are world class.
"I always say that when you have a world class player they are hard to tie down because they will always find that bit of space.
"My experience of managing against Manchester City – and my teams have always done fairly well, particularly at home – shows that when you face these guys the world class players always find the gaps on the pitch.
"What you have to try and do is negate that as much as you can and negate their influence as much as possible.
"Raheem is back on track to be one of the world's top players.
"They are slightly different. The front three at Barcelona have been together a while and understand the movement patterns.
"Manchester City are in the process of working towards that. Where they have been devastating is on the counter-attack. The speed they can break at is phenomenal.
"Raheem's positioning has been great. Silva, if he plays in the central role, is a different threat and Aguero is Aguero.
"He can spin in behind in the box. They are all good players." 
And they're very good friends.
The manager then went on to talk positive about his own club, which probably upset a few listening hacks.
 "We know it is going to be a difficult night but we hope it is going to be a difficult night for them too.
"Celtic Park is traditionally a very hard place to come and play.
"You have 60,000 supporters here backing us and one thing for sure is we won't be as passive as we were in the last game.
"In the time I've been here, we've been aggressive with and without the ball.
"The only times we haven't was in Barcelona – which was understandable for some of the players as much better teams than us have struggled there – and in the first half at Inverness.
"Our game is based around aggression, the intensity with which we play.
"We know City are one of the leading teams in Europe but somehow you have to try and find a way.
"We want to win. It's not just about performing and learning but to be here and to put a fight on, to get a result – that's what it's about. 
"It's the passion of the crowd and the passion of the team and our players getting the
opportunity to play against a top side. That will help us.
"What makes this different is that it's at home. It's a different noise that comes out of here.
"There have been 24 games here at that level, of which Celtic have won 16 and lost only three.
"It's an incredible record which shows you the power of the stadium and what it gives to the team on the park.
It's not just about telling them to be calm, its about constantly reminding them. One example of this in action came from Barca's Carlos Puyol who spent more time telling his team mates to calm down than actually playing during a recent visit of the Catalan club to Celtic Park, and it worked, they won 3-1.
Do Manchester City have a player of such standing in their ranks ?
Vincent Kompany was with Anderlecht when they were overran during the O'Neill years, so he should know what to expect. but then again, he's out injured tonight, along with Fabian Delph and Kevin de Bruyne.
There's no one else of that mould in the squad, so as much as they will try to quieten the crowd with an early goal, Celtic will be out to unsettle them even further. Though to be fair, Guardiola is expecting that.
 I saw the game against Rangers here, how intensive it was. It was completely different to the way they played in Barcelona, which was more passive.
"Against Rangers it was so aggressive, high pressing, that is the game we are going to expect from them tomorrow night." 
Then he added;
It was a big surprise to see them against "rangers ". I thought they had died. It was in all the papers. 
Well, he would have, but even if he had, it wouldn't have made the papers, as National News And Information Minister James Traynor would have spiked it.
What did make the papers though, were a couple of stories that Traynor would have approved of.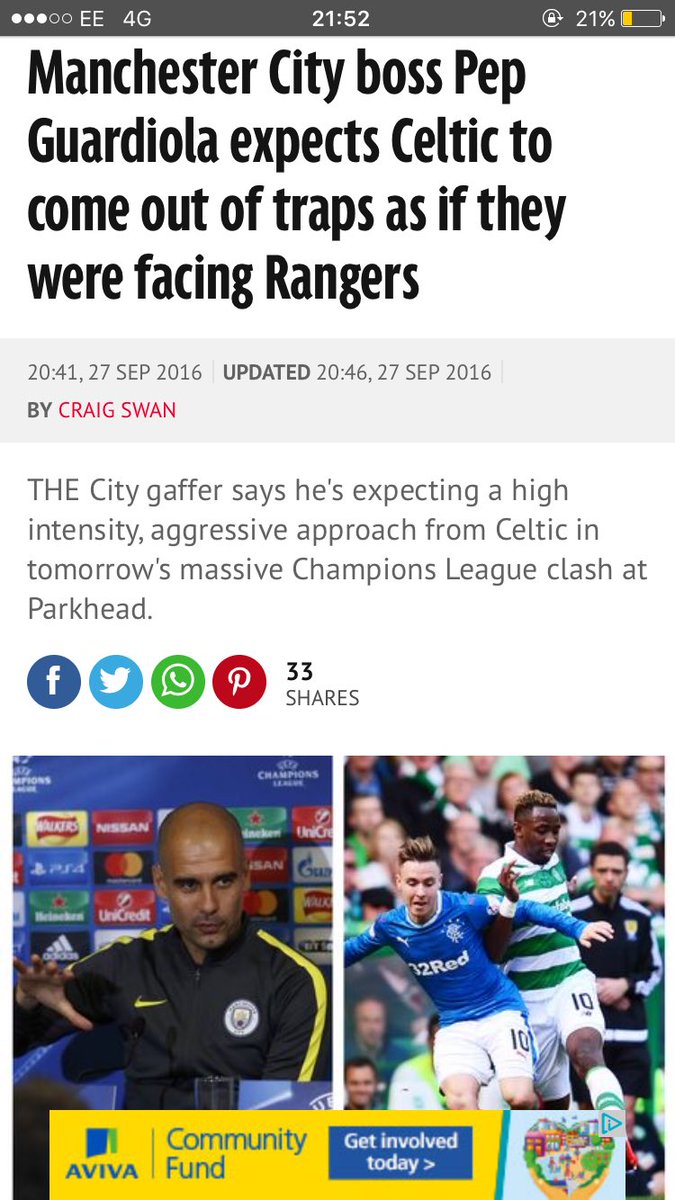 Thats not what he said, as you can see above. Its been twisted to imply that Celtic will treat Manchester City the same way they treat games against "rangers ", and that the greatest respect Celtic can pay Manchester City is to treat them as seriously as they treat "rangers ".
Which , of course,is bollocks, but it does keep "rangers " in the same breath as Celtic and Manchester City and continue the myth that they are not only relevant in Celtics eyes, but in European football as well.
Then there was this, published shortly after big Sam Allardyce was given the heave ho from the England job after some sterling work by undercover reporters who suspected that Allardyce was a bit dodgy. In exactly the same way as reporters in Scotland don;t do when they've been given evidence that there are one or two didgy chaps in Scottish football as well.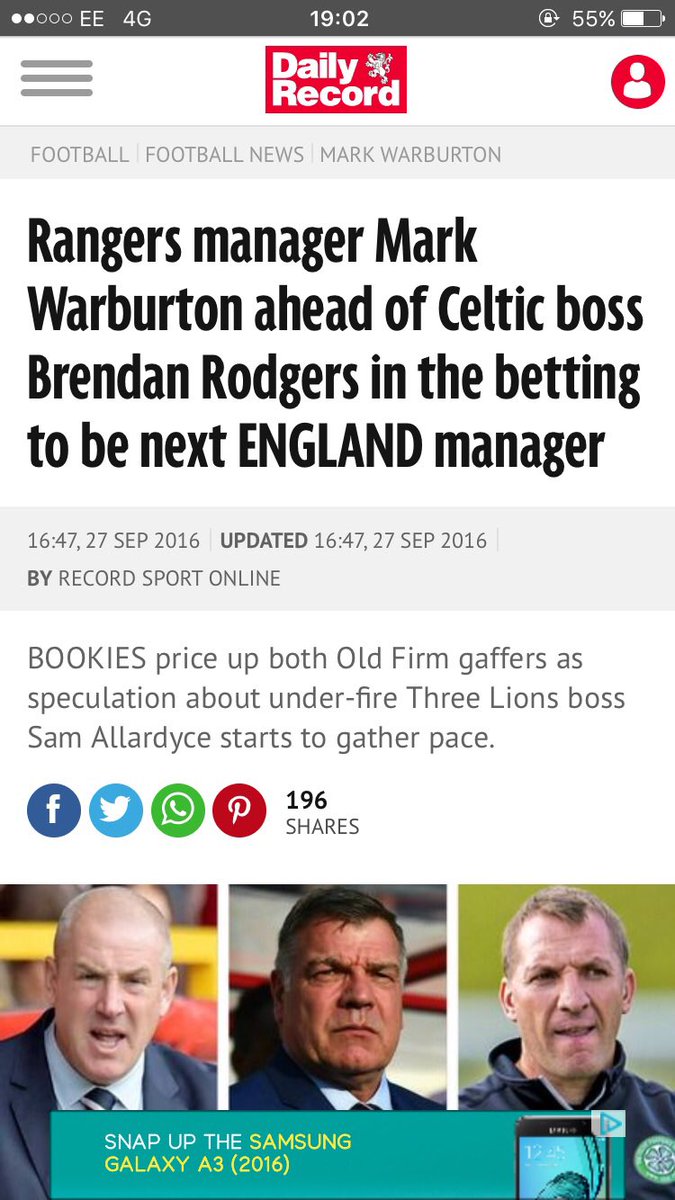 Coupled with last weeks news that "rangers " had beaten Celtic to a League cup semi final berth by twenty four hours, it shows that there is a remarkable, if unsurprising, lack of good news eminating from the good ship Ibrox, as it lurches toward another iceberg.
Sadly, its just another example of a fawning press who want to see their favourites on a par with Celtic, an idea copied by their support over at that legendary family pub, the Louden Tavern.
They are putting on pies and rolls for any Manchester City fan who wants to spend their day out in a "rangers " themed pub, where presumably you pay for your beer under the counter and there's no vat added on.
Mind you, it seems to be going well…with even the club getting in on it.
@ManCity Due to demand from fans we've added two additional Ibrox tours tomorrow – info here

http://rng.rs/2d0P16R 
You know, and I'm sure you feel the same way, if ever they get into the champions League, and Celtic offered visiting fans a tour of Celtic Park, I think I'd just lie down and die. The embarrassment would be too much.
Or, as Irish journalist and Celtic fan  Rachel Lynch quaintly put it…
" …I'd be fucking mortified "
Anyhoo, they are and will remain an embarrassment, no matter what the papers say.
Back to tonight, and with Gordon already sure to be in goal, then perhaps we should pick four defenders he's familiar with.
Lustig, Toure, Sviatchenko and Tierney.
In the middle, and this is where the game will be won, I'd have Forrest, Brown, Biton, Armstrong  and Sinclair.
Leigh Griffiths can resume up front, or even Dembele can carry on. but both should be used at some point, perhaps even together. Patrick Roberts can cover whichever winger gets tired forst, as can Rogic and MacGregor for any tired midfielders.
Defenders such as Izaguirre and Simunovic will be on call should they be needed, and lets just hope we don;t need a substitute keeper.
Prediction.
Yes.
We can do that.
a single goal victory for the hoops.
Yes.
We can do that.
But only if we believe we can.
C'mon the Hoops.
Yesterdays picture…
and we just can't get the image of James Traynor sending a friend off to the coast out of our minds…