Last night I spent an hour or so in the company of quality Street kid and former player and manager of Celtic Lou Macari, who these days  not only puts his name to a shelter for the homeless in Stoke on Trent, but is actively involved in making it work.
Using a council building that was once a place to pay parking fines, he, and his support staff, have done an incredible job in putting together a safe place for those who have fallen on hard times to put themselves back together and start afresh.
A couple of weeks ago this website received a couple of hudred quid, and ran a competetion to find a winner. Devoy 45 won, and suggested the money be put to good use, and having read an article about the work being done at the Macari Centre, it seemed the obvious choice, and the suggestion was taken up by Devoy, and so last night I went along to hand over the money.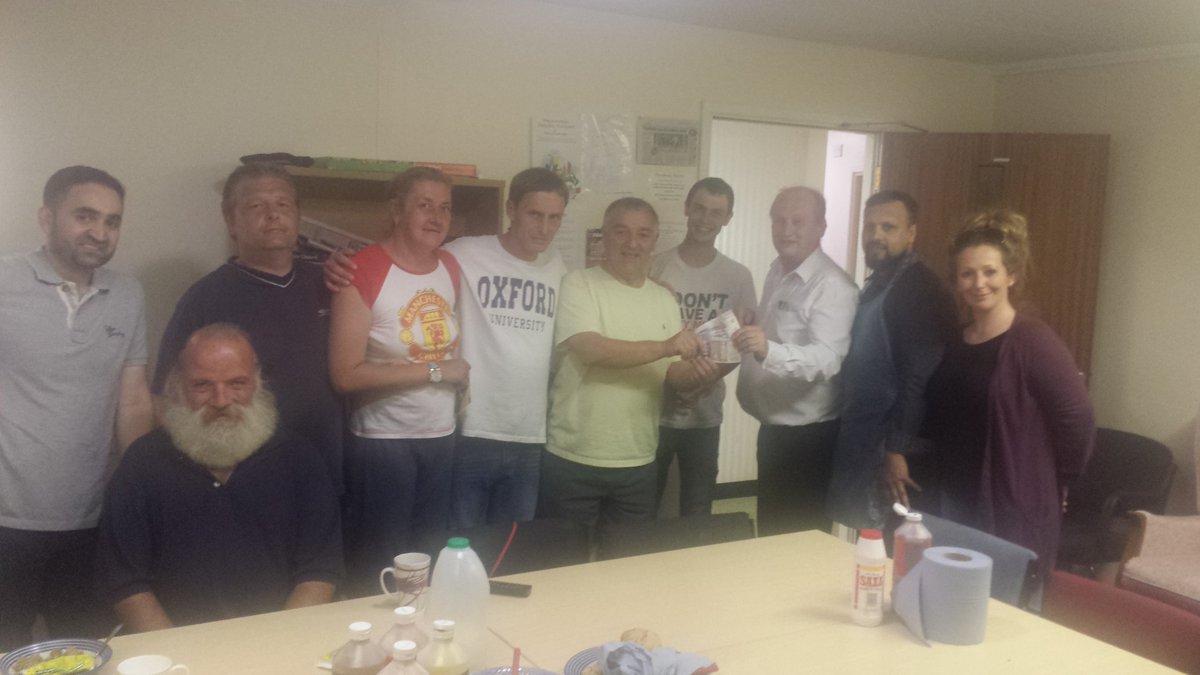 Lou and his staff would like to thank everyone involved, and the funds are much appreciated.
As the council in Stoke, and a few agencies are unwilling or unable to meet the homeless crisis head on-some refuse to take people in unless they are in receipt of benefits, which you could argue is taking advantage of others misfortune, Lou and his staff have undertaken a non judgmental stance, and every night there are twenty beds available for those who have nowhere else to go.
More interesting for me, and worthy also of praise, is how the staff deal with their guests. The simple act of referring to them as guests is important as it makes them feel a little bit more human, and it has much less of a stigma attached.
The guests are dealt with by people who live in the real world, and not by those who read about it in college, as part of some made up qualification in social studies.
These are real people dealing with people who have real problems, which to my mind is the only way to confront the problem.
As with foodbanks, it can take a lot for a fellow to ask for help, and the Centre deserves praise for recognising that. All too often, agencies, whether publicly or privately funded, forget that the guests are often merely down on their luck, and whilst there are some who would abuse the facility, they are in the minority. And not in the shelter.
The Centre is up against it though, the council having refused permission for more beds-the building could easily accomodate a few more, on the grounds that there is a risk of "infection…(and ) a lack of ventilation " and other issues, which shows the fundamental difference between those who get on with the job of helping people and those who are actually paid to do it.
They are also up against it due to a lack of funding, but the battling style that Macari employed during his playing days has not diminished, and he continues to fight for his cause. They have received on a paltry amount from the authorities, who give me the impression that they would rather the whole thing went away.
After all, its kind of showing that they are not doing their job, and accepting their own responsibilities to the citizens they are apparently their to represent.
The centre were delighted to receive the donation, and again, on their behalf, thanks to all involved.
I'll be keeping in touch with them, doing what I can to help out, and although there is  no way at present for anyone to make direct donations, I'll let you know as soon as there is.
Meanwhile, back at the ranch, Celtic look to overcome the traumatic experience of the trip to the Nou Camp by vowing to actually take part in the match against Inverness up in the frozen north this weekend.
As ever, the fixtures computer has a long trip planned for the hoops, which for some reason they think might affect the teams performance. They do it every year, and still haven't realised that the sides record after European games is far from poor.
After letting the support down with their half arsed second half efforts, there is a feeling that the players owe us one, and in reality, they do. but they can do that against Manchester City in a couple of weeks, who won convincingly in their delayed opener last night, scoring four without reply against Borussia Moenchengladbach, whose own support were silent throughout the game.
Nothing to do with how their team performed, its just a nightmare for them to come up with any songs refelcting their love for a team with more letters than than the Resolution 12 guys.
Oh, funny you should mention the Resolution 12 guys ( we didn't -Ed )
A wee bit of movement we hear, is in the pipeline. I'll let you know when we do, and don't worry. I haven't forgotten about the follow up to the last article, I just thought the game against "rangers " could do without any more possibilities for the gullibillies to have a moan.
Which reminds me.
Can anyone explain the background to this banner ?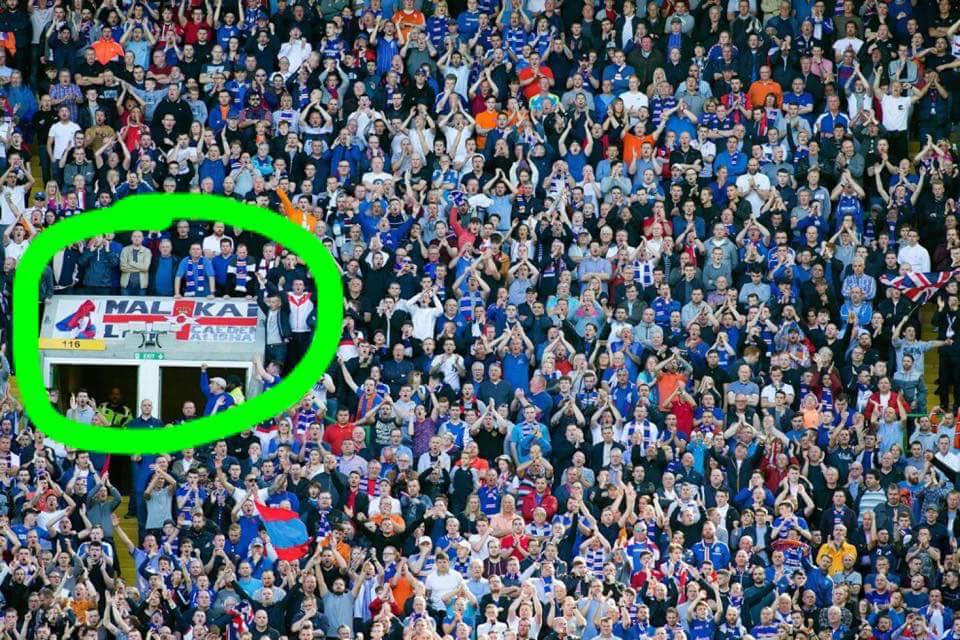 It was on display during the recent visit by those delightful chaps in blue to Celtic Park, and MALKAI, the logo clearly visible to antone who doesn't work in the Scottish media, apparently stands for  " Make A Living Killing All Irish "
Surely not, or the press would have been all over it.
After all, with the "rangers " board complaing about how their lovable but sensitive support were upset at the "bigotry and hatred " shown towards them by celtic fans in the ground, it would be terribly embarrassing for them if their own little flowers were just as full of hatred and bigotry as those they are accusing.
Actually, you can chuck in racism as well, because if you substituted " Blacks ", "Jews " or "Asians " in there, then you have would have grounds for serious and possibly permanent punishment.
Surely there are questions to be asked ? so how about one of our esteemed journalists asking them ?
Or maybe an MSP ?
Or do we have to go to UEFA again, and get them to have a look at the clusterfuck currently trading as Rangers International Football Club. At least, thats what I think they call themselves.
A few other names spring to kind…
But hey, this is Glasgow, and what are the Irish for if not to allow the natives a sense of superiority ? Dignified superiority of course…
Never mind, the nights are fair drawing in, and we keep hearing that they don;t have the money to keep the lights on for much longer, and soon it will be time to condemn them to eternal darkness again.
Which is usually good for a laugh.
Incidentally, manager Mark Warburton, currently under a wee bit of pressure after his big name signings failed to live up to the "Shype " ( copyright Desi Mond, Etims ), had this to say.
well, it's only right.
After all, we have seen the support acting like Rangers fans…they've made the switch over, so why can't the players ?
Enough of them.
Celtic will pick themselves up this weekend, and go back to playing the way they can. Here's hoping thats what we do in the remaining five games of the tournament.
We won't play that badly again, and the rocket inserted into some bottoms by captain Scott Brown will have had its effect.
Two wins, home to Man city and borussia, couple with a draw in one of the other games should see Celtic extend their European run after Christmas.
It ain't over till the fat lady sings, and she hasn;t even arrived at the theatre yet.
I've kind of neglected the caption compettion over the lat few days, so we'll start anew again today, and I'd like you to have a look at this… which appeared on twitter , posted by Aberdeen changed, who claim its the "rangers " PR department blaming everyone else..
But is it ?
By the way, if anyone says its me doing the Diary, you're barred. for heavens sake, I would never wear a blue shirt.