Celtic Diary Tuesday August 23: Here We Go Again
The tension racked up another notch, that little bit of irritability when one of the kids asks for a lift to work suddenly becomes a full scale rant about them "learning to fucking drive themselves one day ".
I'd be on my anti depressants by now if the wife hadn't left me because of my addiction to them. I didn't need them after she went.
Its that time again, Champion s League qualifier, play off round, and don;t you wish Celtic could go into every away game three goals in front ?
Instead of, like on Saturday, taking forty five minutes to get there ?
We're almost there, and not only do most of us think we'll get there-Efe Ambrose isn't in the squad- we are starting to feel optimistic if not confident about how we'll get on when we get there.
Keep an eye on other results as well, as there is an outside chance of a pot three placing if a few other teams get knocked out. For pot two, a couple of games would require both teams to get eliminated, so thats probably unlikely.
The media, by and large, are hinting that Celtic need the qualification because they need the money, and no doubt theres one or two articles ready to go along the lines of "hoops must sell " just in case things go tits up.
Manager Brendan Rodgers, rightly, insists its not about the money. The support would agree. Theres hardly likely to be many internet forums carrying a thread along the lines of "Where were you when the money went into the clubs account? " as its not really a JFK moment.
Rodgers said;
"This is about prestige. The money is irrelevant.
"Of course, the bonus for the club, the bonus for all clubs, is the financial package you can get in the Champions League and everything which comes with it.
"For myself and the players it is about operating at the highest level you can.
"It was the same when I went to Liverpool, they hadn't been in the Champions League for five-odd seasons and, when I went in there, the club was eighth in the league and had got close to winning the league once in 20 years.
"I signed a three year deal and my primary objective was to get the club to the Champions League and we did it in two years.
"Then we went on a wonderful journey of football and intensity and it was great, so I have been brought in here to get to the Champions League and, if I can do it in three months, I'll be happy. 
Not as happy as some of us, one would venture. but then again, I'm not sure. He's an emotional chap.
Look at his reaction here to a Leigh Griffiths goal, scored during a kick about on the car park while they were waiting for the bus after training.
Or when he heard that some pundits were predicting a serious challenge from the south side of the city…
You do get the feeling that he's not concentrating on the financial aspects of tonights game, though.
"I was aware of that [Celtic's need] anyway. It wasn't something that was nailed to me.
 "There are big rewards. The differences in this game between winning and losing are very marginal.
The consequences are massive, but you can't afford to think if the consequences or you wouldn't do it.
"I remember going into one of my earliest games, the play-off final which was deemed the £100 million game between Swansea and Reading.
"That is a life-changing game. As a coach, if you get through, you get to the Premier League, your career takes off, the players become in a much better position financially, so these types of games are important.
"I stood and spoke to Brian McDermott [Reading boss] for a while about his feelings, because I felt for him, it could have been myself. 
"Yeah you know the occasion, you know it's a big game.
"But there are various times in your life and career as a football coach and a manager that games come upon you that mean so much.
"I think everyone recognises that because of the hardship of the last few years, it's been three years since the club's been in the Champions League and for everyone it means a lot.
"But if you think too much on the emotive side you would drive yourself mad.
"You just have to focus on the process of winning and getting through.
"That's all I've ever done. When we lost the first game of qualification I said just said: Stay calm.
"It's about staying calm and getting through, and it's the same thing now."  
Its not about money, its about being in with the big boys, and being in there on merit.
A disciplined and professional approach is all thats required tonight, similar to the Qarabag game last season, or the Astana one a few weeks ago.
Scott Brown has warned against complacency, something which crept into the last couple of performances, and having been disappointed in the last couple of seasons, the players know what it feels like to lose, and hopefully how to avoid doing so.
Brown said;
'You never know what can happen in football.
'We need to focus on ourselves more than anything and if we do our job properly we will see what happens.
'We are looking forward to it. It was a great game at Celtic Park, the first half was exceptional.
'The previous two seasons we may have been happy with 3-2 but went on and scored a couple more.
'We showed we are a great attacking team and we are defending well as a team.' 
Everyone seems calm , everyone seems focused, but there is one thing that worries me, and it always does on these occasions. you see, I won;t feel truly confident until i see the players on the park wearing the green and white shirts that say "we are Celtic " .
Not only to the opposition, but to the players themselves.
When we refer to them as "playing for the jersey " its the green and white one we mean, and as Bertie Auld would say, pulling on that shirt has an effect on a man.
Pulling on the black one, or heaven forbid, that pink monstrosity, isn't the same.
Who will wear the hoops in this game ?
 Well not Criag Gordon, He's got his own hi viz top, so that Israeli players can see where he is and aim the ball towards him. Not quite sure how that helps us, but when you consider the black outfield tops, which are difficult to spot, and the pink one, which makes it difficult to be taken seriously, then we shouldn't be surprised, I suppose.
Football people didn't design those shirts, and thats why we should stick to the hoops tonight.
( Fucks sake, move on. Let it go-Ed)
Gordon, Lustig, Toure, O'Connell, Tierney, Brown, Biton, McGregor, Forrest, Griffiths, Sinclair.
Rogic and Janko to make way for Lustig and MacGregor.
You may disagree, as is your right, but I just feel that MacGregor offers more versatility, and can move the ball about quicker than Rogic, who whilst the better offensive option, tends to get caught in possession a bit, which we could do without.
Patrick Roberts and Erik Sviatchenko are pushing for a place in the team, but lets stick with what we know for now.
Prediction ?
Well, probably not 7-0, but a win isn't out of the question, and probably likely, so i'll go 2-1 as I feel we're likely to score, as are they, but a second for us would mean they have to score six, and that would put their heads down so far they'll be able to look up their bottoms.
something that given this menu from Be'er Shebam posted on twitter by Ronnie Esplin, probably isn;t something you'd want to do. In fact, its best to avoid all bottoms if this is what people eat over there…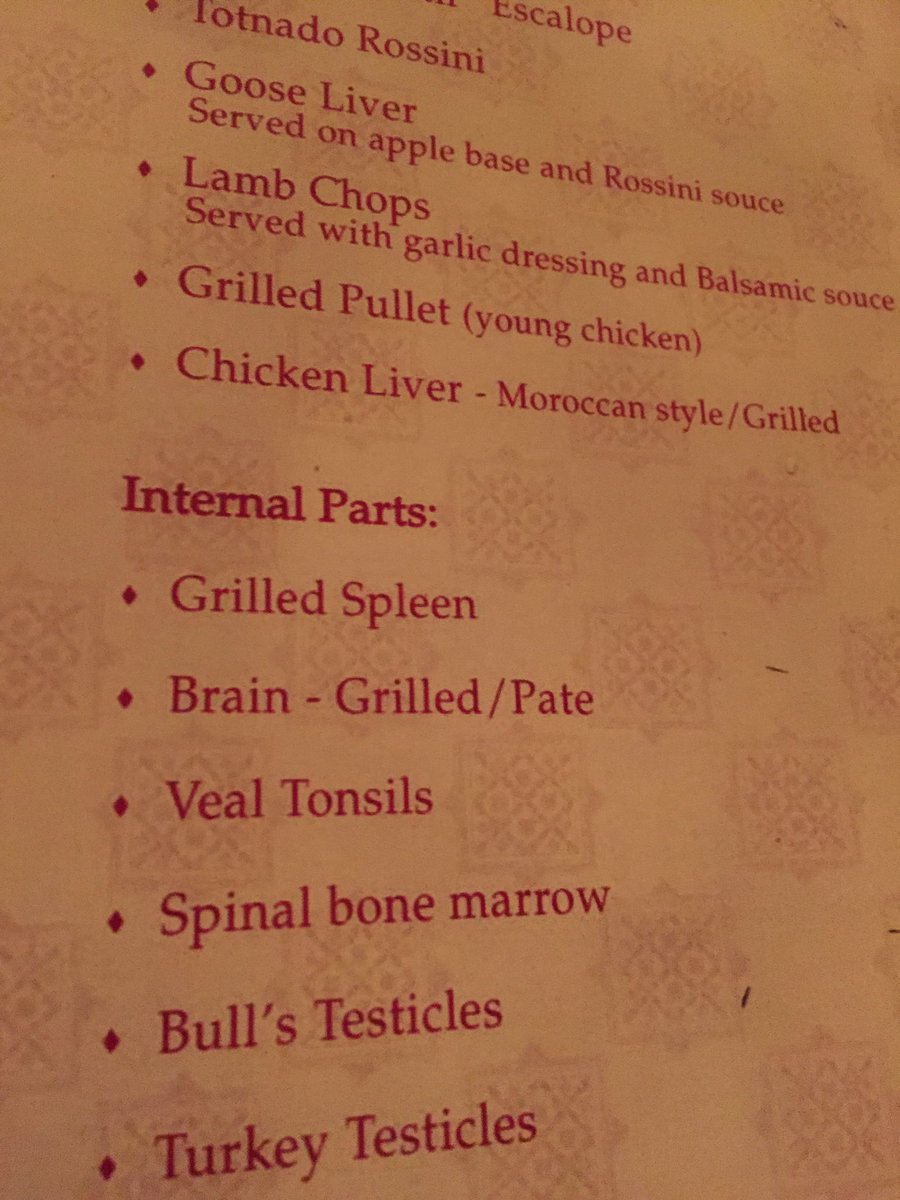 BT Sports 2 are showing the game, and kick off is at 19:45, which is unfortunate for those of us with clocks that only go up to twelve.
On a side note, and this is genuine, I have a chap working with me who asked me to tell him what the time was on his old fashioned watch as he didn't know, being used to a digital display. I kid you not.
Meanwhile, it seems that over in Israel, the support are enjoying themselves, and the locals are pleased to see them.
In #telaviva & had nothing but great comments about #Celtic from all the folk we've met, some good people here not all government supporters
There have been fears that the Celtic support would have faced repercussions on the back of the Palestinian flag protest during the first leg, but so far, so good, and fingers are remaining crossed that it stays that way.
The idea of raising money to match any UEFA fine and then to donate it to Palestinian charities has taken off.
In a big way.
The money raised, at the time of typing, is in excess of £75,000, a tremendous achievement and more notable as its not just Celtic supporters.
As previous Diaries and articles outlined, the protest was not something i was initially in favour of, due to possible UEFA sanctions, but as I later concluded, there's no wrong time to protest, and its certainly hit the spot .
So much so that political cartoonist Carlos Latuff has given us what may become an iconic image..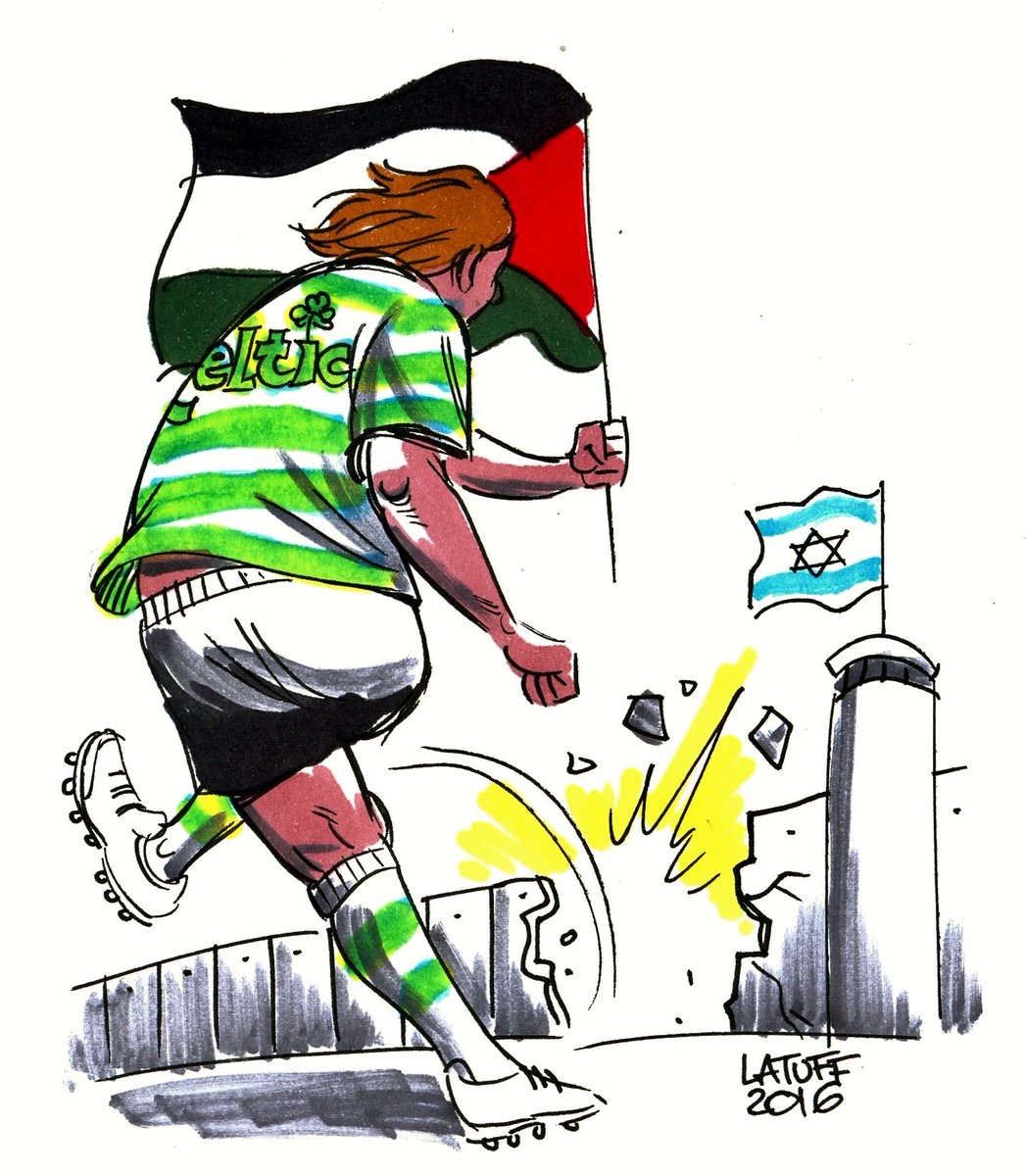 Response worldwide has been fantastic, like the banner from Genoa fans here..
 and has certainly put pressure on Israel, and possibly even UEFA, who will feel very silly should they hammer Celtic for the display of support.
But we'll wait and see.
And now, some nonsense to help you relax, and to take your mind off tonights game.
Gossip-okay…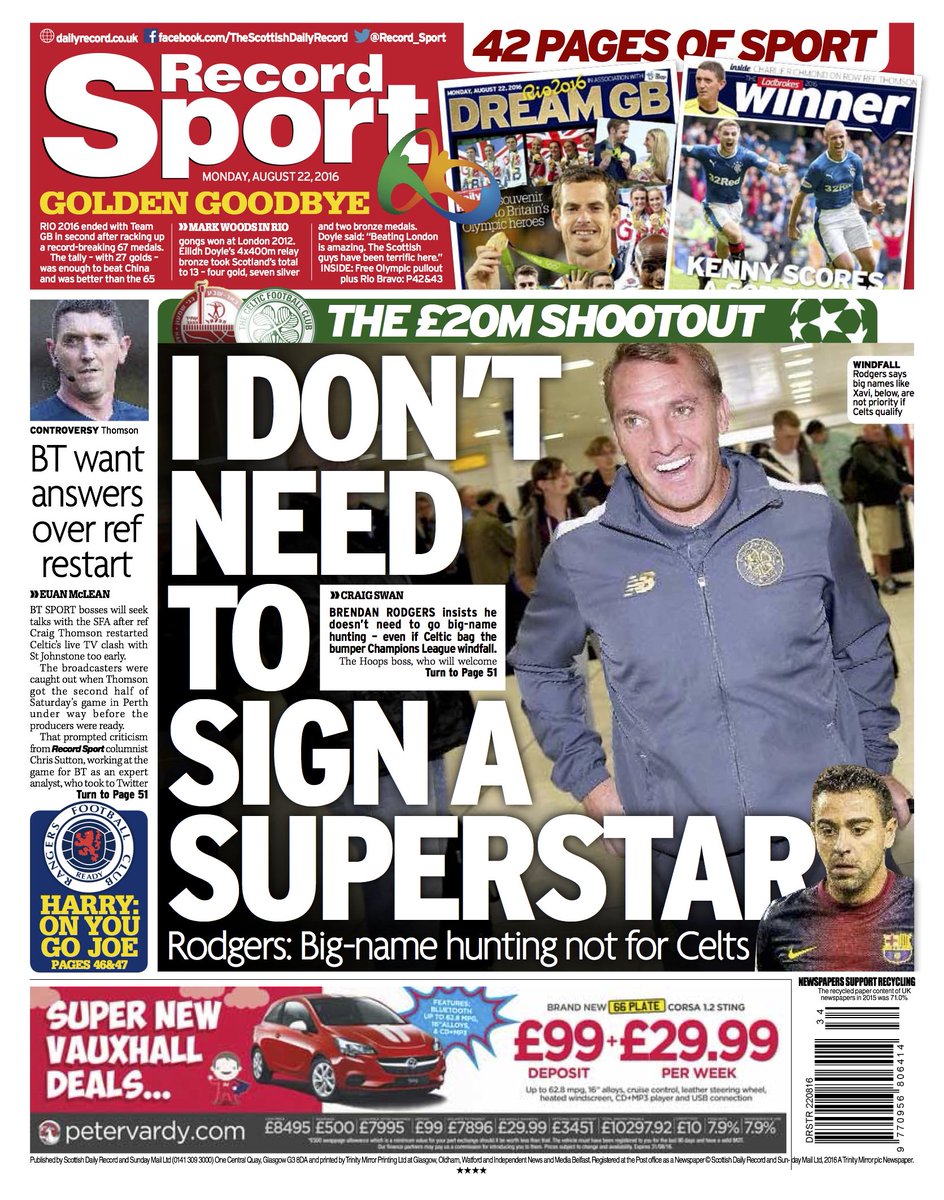 No, he doesn't. We've already got our last signing of the window on the plane, at least if you believe the gossip.
And the flow of letters arriving on the managers desk, sometimes at the rate of two or three a day…
"Pleez pleez sign my pal Patrick. I promise I'll be good.
        Keiran          "
 Make of that what you will…..
Not everyone has been having a wonderful summer though….
I have no idea if this is true, and I'm not really bothered if it is. It is funny though.
Now, what of this tale about police interference in the dressing room at football games where there is the potential for violence off the field. Allegations that Police Scotland have told Hearts and Celtic to take it easy against inferior local opposition have begun to surface, and the incident that concerns us surrounds the 2-0 Cup game at Hampden , where free flowing Celtic suddenly became can't be arsed Celtic, allegedly at the behest of the police who it appears had received information that the "rangers " support " would invade the pitch as soon as it went to 3-0
It would explain a lot, not least why I'm putting a few quid on a repeat scoreline on September 10, or 11, or whenever the first league meeting takes place.
Especially when you take into account the reactive and not proactive style suddenly adopted by Celtic last year during another Cup game with the club formerly known as Rangers, now trading as "rangers ".
In fact, if we all put money on 2-0 , it will be seen as an irregular betting pattern, and investigations will have to take place….
A bit like these rumours we're hearing that it was the SFAs Stewart Regan who leaked the UEFA letter to the public , as a shot across the bows of "rangers ", who have begun their moves to get him out of his job, to try and put there own man in.
All a bit fanciful, maybe.
If "rangers " suddenly tow the line on the Bowden report into cup final violence, and decide not to have a meeting to oan about it, then maybe it will point to Regan being involved in the leak.
Of course, if "rangers " come out swinging and demand that meeting, and Regans removal as a consequence, then perhaps it will point to, er, Regan being involved in the leak…as he will have upset them further.
Thats if it was him, which is looking more likely the more I consider the argument.
Usain Bolt might need to consider hirng a new PR guy, as this headline suggests that even our own guy at Celtic couldn't damage his public image more…
Speaking of headlines, how about this desperate plea from the Herald, which actually, according to latest statistics, gets less readers than we do.
But then again, we don't talk shite. Well, not as often as we used to.
Hapoel Be'er Sheva haven't given up hope of a comeback
which would wreck Celtic's Champions League dreams
Apparently the editor thought
Come on Hapoel, fuck these fenian bastards
was perhaps a little over the top.
On to the caption competition, something else  forgot yesterday , and what could possibly be going on here ?