Having got the International champions cup out of the way with a 2-0 defeat to Inter milan, who probably took it more seriously than Brendan Rodgers did, Celtic can now begin to prepare in earnest for the big one on Wednesday.
By the way, if you go to the game, pick up a copy of Not The View.
I hear it might turn out to be a bit of a collectors edition.
The ICC has finishged, and Celtic finished a credible tenth out of ten , which means next year things can only get better.
I haven't included our stats in that table, but you've probably realised they're not as good as anyone elses. I could work for Level 5, you know.
Even Leicester.
After the game on Saturday, Brendan Rodgers ignored the table and told us what he thinks the squad got from the exercise..
 "I was really pleased with the way we played against a top side with real good quality. I needed to be fair to these guys here because a lot of them needed the 90 minutes.
"The competitive games have come upon us very quickly in pre-season, so we have had to reduce some of the time with some of the guys that played last night because we have been playing in competition.
"It's important I got see them against a really good team and I felt tonight was a really good exercise for us and you saw how accomplished they were in a lot of the game.
"We got young players getting a great experience against really good players and we will take something away from it."  
Yes, we took around £2.6m away from it. Just a couple of hundred thousand less than we took from winning the SPL.
Any criticism of this tournament or Celtics involvment  falls flat when that figure, multiplied by three , is mentioned.
For all the whinging, there's not a club in Scotland who would have turned down this sort of money.
Goalkeeper Dorus de Vries has finally joined the club from Nottingham forest, which should give Craig Gordon a bit of competition. Rodgers rates him, and he's been right so far with his signings, so perhaps we've got a bargain.
Whether or not he takes over as number one is irrelevant, what matters is if he is capable of providing a serious challenge for the shirt, and that we have two keepers who can play at the top level without causung supporters to sit on the toilet whilst watching the game.
Rodgers speaks highly of de Vries…
"For me, for how we play, I need to have a goalkeeper that can distribute the ball and pass it and Dorus is as good as I've seen in that in all my travels.
"He's a real fit guy, he's 35, but look at guys like Van der Saar who played right through 'till 40 and has some of his best years were in that final part of their career.
"Dorus I know well enough to know he looks after his body and he will come in and get how I work. He's been nursing a slight knock he took last week so we're just assessing that.
"He's with the medical team and I expect him to join the goalkeepers today or Monday and we will see his availability from then." 
It's clear focus is pn Wednrsday's game however, and hopefully there will be no distractions either before or during the match. you now which distractions I'm referring to.
Rodgers continued, without mentioning them.
"You want to win and our home game is going to be really important for us, whether it was the first or the second leg. We area a team that wants to win and a team that plays offensively and aggressively in defence.
"Ideally, the situation would be that they take a lead and as big a lead as they possibly can to the second leg. As you can see, as each game goes by, offensively and defensively, we are getting better and better.
We will hopefully have 60,000 there creating and incredible atmosphere and we will pour everything into the game into getting a positive result to take into the following week's game. It will be a tough game.
"I watched them a number of times now and they are very robust and hard to break down and we will need to be patient in the game. If we can get a victory to take into the second leg then of course we will be happy.
"We will be ready. This is a team we have been working on our mentality and our football is getting better every day. As much as it will be a difficult game for us, I'm sure it will be a really difficult game for them so we will look forward to it." 
Theres often the feeling that having the home game first in this kind of tie puts a club at a disadvantage, another of those urban myths it appears, according to this report;
Having the Second Leg At Home –
Advantage in the UEFA Champions League Knockout Phase?
Manuel J. A. Eugster∗ , Jan Gertheiss∗† & Sebastian Kaiser∗ Department of Statistics, Ludwig-Maximilians-Universität Munich, Germany.
3
Summary and Discussion
In soccer knockout ties with first and second leg the team which is playing at home in the return match is generally seen as advantaged. For checking this we analyzed matches of the UEFA Champions League. The UEFA Champions League is usually seen as the most important competition for football club teams in the world (or at least in Europe), and hence a natural reference. Our analysis showed that there is no statistical evidence for the common belief that the chance of winning is higher if a team is playing away in the first leg and having the second leg at home. For players, however, there may also be other reasons for hoping that the return match will be at home. In the case of winning, for example, they can celebrate together with all the fans at their home stadium.  
The full report can be found here, and its interesting, if a little complicated, reading.
Report on The Advantage of playing the second leg at home.
Yeah, you skipped to the summary as well, didn't you ?
With that in mind, we can get on with the job.
The signing of de Vries is not the last move into the market for the club, as manager Rodgers explains. Without naming who it is, or even what position he plays in, the gaffer let everyone know what his plans are without using the words "Shweinsteiger " or " Central midfielder "
"If we could get one more player in that would be the ideal. If we do that we'd have had an incredible market in terms of what we've been able to bring in – the club couldn't have done any more. They have given me great support.
"In all fairness when I took the job I said I would assess the team. The team was Scottish champions and I had to be fair to them and assess the players before I decided what I needed. You have to give huge credit to Peter Lawwell, the board and Dermot Desmond for backing me to get the players I wanted to get in. We have arrived at the point where there's still a lot of improvement to come but we have shown good signs that the team can play at the tempo and with the technique I want.
"We get to Wednesday in a really good position. It's the final step and it's a big step we need to take. We arrive at it with a bit of confidence. Hopefully we can win the game and take some sort of advantage to the second leg. I'm feeling good about it. I think we've done everything we possibly could. I don't think we could have done any more."  
All depends on what happens against the Israelis, I guess….
While Celtic were playing over in limerick at the weekend, the domeatic title chase continued without us. Newcomers "rangers " now lead the pack, ahead of St. Johnstone on goals scored. Aberdeen and Hearts drew 0-0 as the idea of all the strong clubs playing amongst each other to get people interested early on continues, which means both are in a league position that they won't be in for long.
The new club are delighted with their early start, and posted this on twitter, although it may be a parody account. you can't tell the difference these days..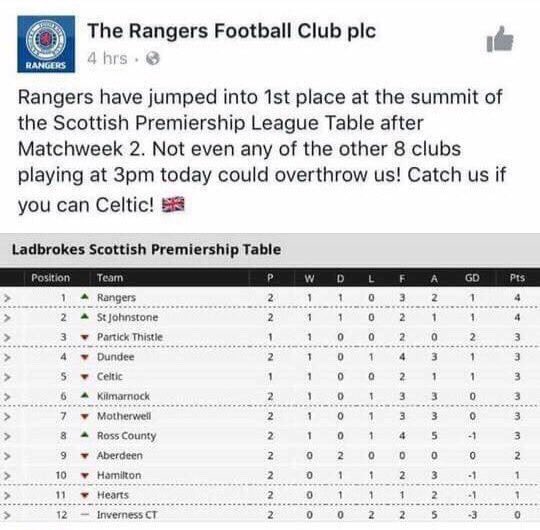 You'll have noticed on Etims that when we refer to the Ibrox side, we place them in quotation marks, to suggest there is doubt about their true identity, as suggested by Tom Campbell a few months back.
We're glad to see others have picked up on that, and also explain why its done…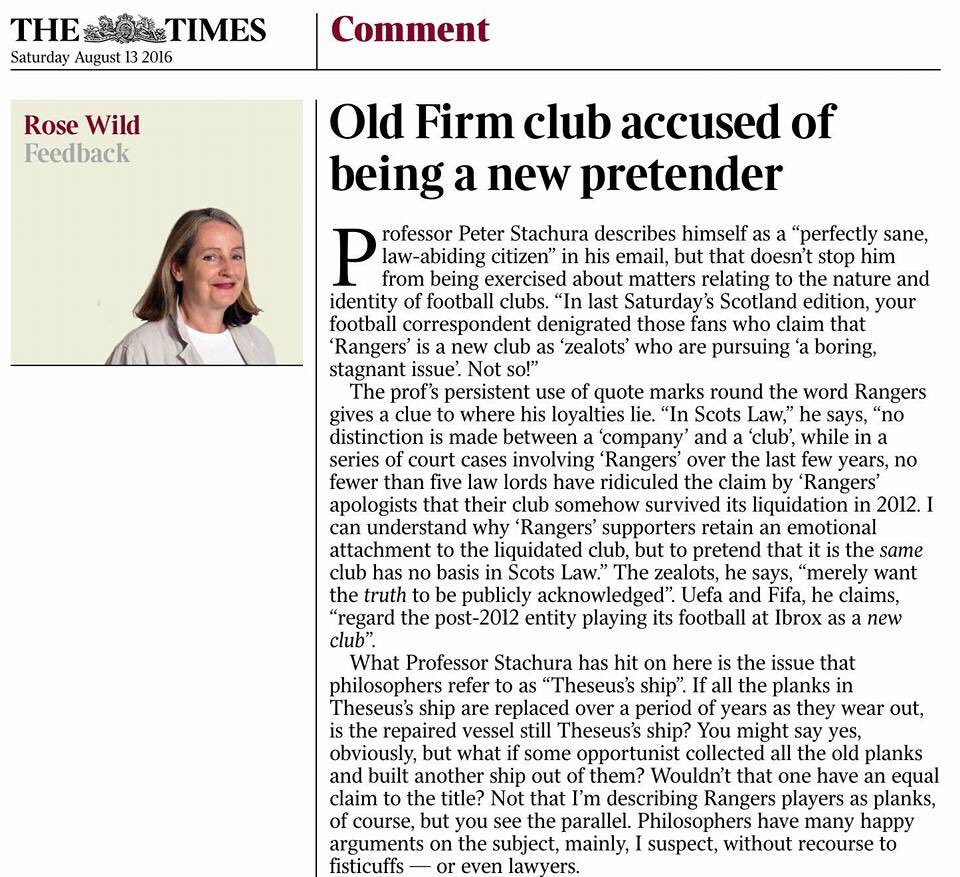 The truth can be stranger than fiction sometimes, such as this twotter revelation, which i haven't checked yet, about a possible family link between reknowned devil worshipper Alasdeir Crowley, and a man who quite possibly sold his soul to the entity with the bad rep, Mark Warburton…
 Bartin Main, on twitter, who spotted the link, wonders of by any chance they are related..
There are similarities, one spent an unnatural amount of time and energy absorbing himself into matters concerning the dark and mysterious world of the dead and enthusiastically took part in stage rituals, though its unclear whether the other had even been to Ibrox.
Whilst we're on the subject of all things dark and sinister, look how well Nacho Novo is doing in Ireland, and surely it cannot be long before he's noticed by the scouts at Ibrox and offered a new deal…
They love him over there, and he's even got his own stalker who follows him around, announcing his arrival with a glorious fanfare…
Over on Facebook, a social media site used generally for people to tell you things about their life that would have you running screaming to the other end of the bar should you actually have to listen to them say it live, a "group " known as Ibrox loyal have been forced to remove themselves from the building;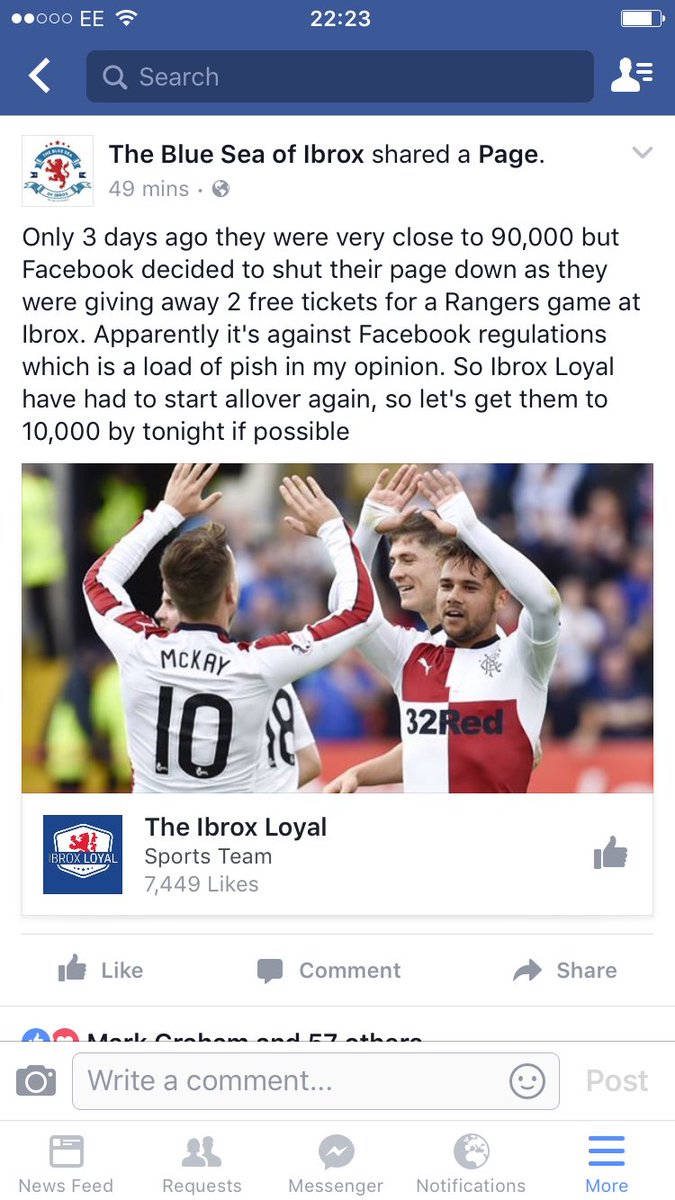 Believe it or not, as you can se aboive, they have regrouped and started out again as "THE Ibrox Loyal.."
Its monday, so its time for
Honest Mistake Of The Week, 
and the fact that Celtic weren't playing perhaps meant that there would be no outstanding contender this week.
Ah, but you'd be wrong if you thought that..
The man known as Scotlands top referee, Craig Thomson, made a terrible blunder when he took to the field to officiate at the game between Dundee and "rangers ", a game which the Ibrox side had to win to avoid the rumblings of a discontented support becoming louder, even at this early stage of the season.
Obligingly, Thomson made the schoolboy error of forgetting to take his red card out onto the pitch with him, meaning that no matter how hard Harry Forrester of "rangers "tried, he couldn't be sent off.
All Thomson could do was book him, despite several assualts on Dundee players, and so, the man expected to dominate the Honest Mistakes award is off the mark already, and I think we can say he's going to be a leading light in the Honest Mistakes section this year.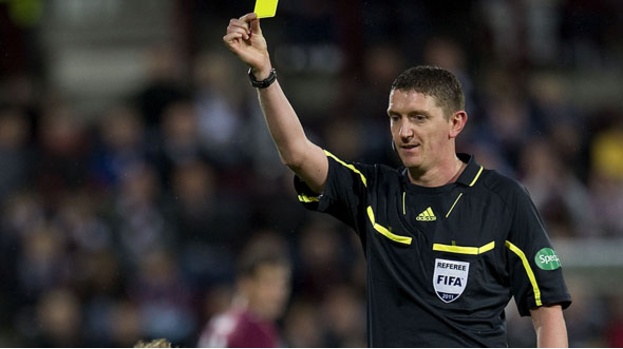 Well done, and I'm sure we'll be hearing more about him as the season progresses.
On Saturday, we posted this picture and asked for your thoughts..
and there were two that caught the eye.
One serious…
and the one that made me chuckle…
Now, today, again we have to put the words into the mouths of those in the picture… though this time you may recognise the guy in it…