One or two of you might think its a bit early to get carried away after last nights 5-0 drubbing of motherwell. You may indeed have a point, after all, Ronny Deila's Celtic took seven off them just a few weeks ago.
And I'm not entirely sure he didn't have a hand in lat nights triumph either…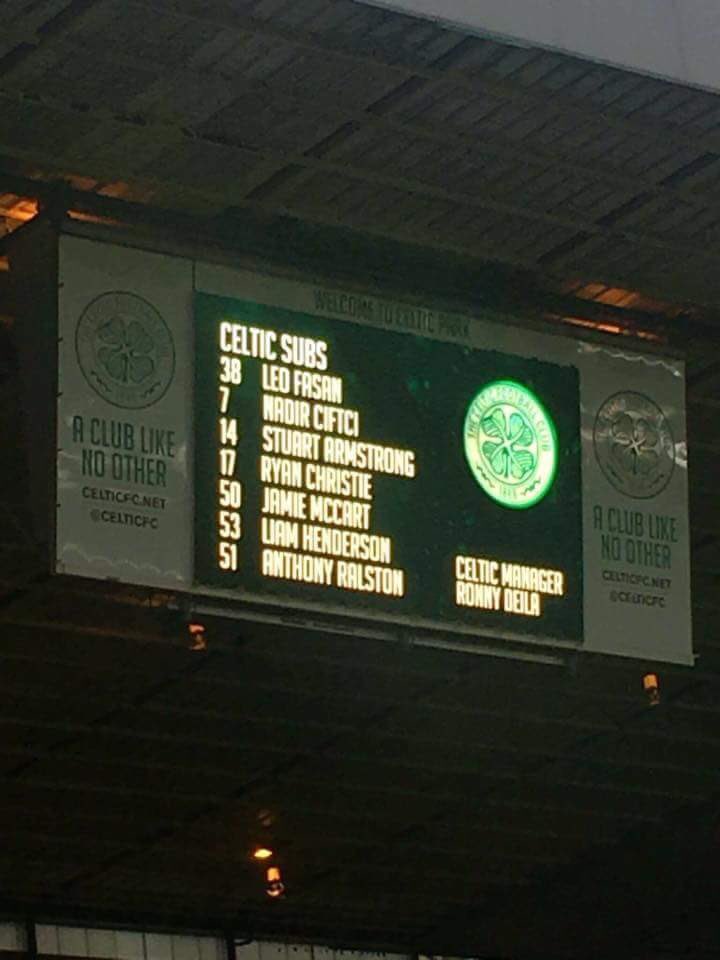 Someone, it seem,s is missing him…
Thing is, thats the whole point about getting carried away with anything, except maybe a new stretcher you're thinking of buying, is that you do it early.
There was plenty to get carried away with last night. Apart from the general euphoria , that is.
The fluidity of movement, the variety of passing and the willingness to take players on while in possession. All of that showed what Celtic are supposed to be about, probably for the first time in decades. The wide men, especially, simply drove towards the box, instead of hiding in one, and that is the most significant difference. Proactive , instead of reactive football.
And when the hoops weren't on the ball, they fought like tigers to get it back.
So, forgive me if i do get a little carried away. And shame on you if you don't.
Tom Rogic opened the scoring with a half volley on the turn after Calum MacGregor had cleverly chipped the ball over to him. Motherwell were playing the tried and tested nine men behind the ball system, which is how most teams approach a one off cup game. Presumably they were hoping that Celtic had an unregistered player or something , which looke to be their only possibility of progress once the game got underway.
Moussa Dembele caused a storm  after he was pushed off the ball, the refere awarded a spot kick,prompting BT commentator Stephen Craigan to draw parallels with the Jamie Walker incident on Sunday.
In the interests of fair play, we can examine both incidents..
Walkers penalty…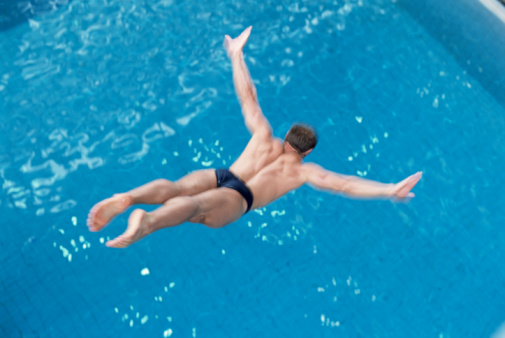 Demebele's penalty…
Yeah, not much between them.
After that Celtic continually swept towards the Motherwell goal, Rogic especially seemed to be particularly lively, possibly because he had signed his new deal, but also maybe because he had a free role, and was doing pretty much what he wanted to.
On more than one occasion, the Motherwell keeper saved his side, but he was really only delaying the inevitable, as further goals from Rogic, Dembele and a classic from Sinclair completed the rout.
Sinclairs was a thing of beauty, as with five motherwell defenders surrounding him, he checked, looked up and made the sweetest of finishes look remarkably easy.
Whatever it is Rodgers sees in him is becoming apparent to the rest of us.
Motherwell are not the greatestteam we'll play this seson, but the thing that impressed me most was the desire in Celtic. They never let up, never took the collective foot off the gas, and that alone is a major improvement on last year.
Again, theres no clear man of the match, with several candidates up for special mention. Rogic , Sinclair, the reborn and re-signed Forrest-(who'd have thought that would happen ?-except maybe diary readers), Brown, even Mikael Lustig looked far more in control and composed than of late.
Ominously, Celtic finished the game with six homegrown players on the field, Jamie McCart, Liam Henderson, Tony Ralston, Eoghan O'Connell , Calum MacGregor and James Forrest.
Our very own Quality Street Kids ?
Time will tell, but , and yeah, maybe a note of caution, because we have been here before, there is a real hope that we are on the verge of something memorable.
The reason for this is a little more than just the arrival of Brendan Rodgers. It's the arrival of a man who knows football, and is not afraid to stand up to Peter Lawwell to get what he wants.
Thats evident with the signing of Forrest, who was not wanted by Lawwell.
After the game, Rodgers played down the performance to an extent, but still managed to praise everyone involved. something which his predeccesor hardly ever did..
"I thought we were very good this evening. Our intensity and the speed in our game were excellent.
"It was always going to be a difficult game, especially early on. Motherwell set-up to try and block spaces, and that is what we expected, but we worked the ball really well side to side and looked to penetrate centrally.
"We got five goals and our intensity in the game could have got us more. I'm very pleased to have qualified for the next round and that was the idea going into the game. 
"Game on game we are getting better and you saw the introduction of the type of players I'm looking to bring here.
"Scotty Sinclair added a totally different dimension to the team. He can break lines, he runs without the ball and that encourages others to run without the ball and all of a sudden the dynamic of the team totally changes.
"Importantly for us, particularly in the second half, we were aggressive in our pressing in the game. That counter-pressing was very important. When we lost the ball, we were very quickly able to regain the ball back. If you can do that high up the pitch, you get more chances to score goals.
"As the game went on, we had a pleasing moment in the 88th minute when we still had the players running, pressing and being aggressive." 
And the two new/old boys, both of whom were outstanding ?
 "They are wonderful footballers but in order to play in this team and this way you need to press the game and you have to be able to work in the framework of the team.
"You looked at the level of both players this evening – James with his pressing in order to get the ball and then his quality with the ball, his movement without the ball, while Tom Rogic is a wonderful footballer.
"You forget he's an Australian international. He's had a lot of injuries and I really hope and pray that this season he can stay fit, physically, as when he does you can see his quality and finishes and his ability to link with good players. He was a great connection between our front three and midfield. Both those boys were excellent." 
Then he calmed it down a little..
 "We still have a way to go. We can still be better at times and I said that to the players afterwards.
"What is very pleasing is they are playing in big games yet they went into last Sunday's game, (Hearts) a big game, and showed that resilience.
"Tonight was a wonderful football demonstration but there was also a real aggression in our game in terms of our intensity to win the ball.
"We won't get carried away. It's still very early and If I can get one or two in before the window shuts I will be extremely happy and that will set us up for the rest of the season".  
He's not getting carried away. Hah. miserable bastard.
Well, that won't stop me. I can assure you of that.
The one or two he speaks of will be a goalkeeper, we need cover and competition for Craig Gordon, and probably some sort of defensive midfielder,  who will be at least seven feet tall with muscles on muscles.
Creativity and goalscoring doesn't seem to be a problem anymore.
Stefan Johansen to Fulham ? It seems they are getting ready to bid.
And don't be surprised if Nir Biton is on his way.
Which brings me to my next point.
A serious one.
Over the last couple of days, there has been an explosion of hatred and bigotry reported by one particular newspaper. One which has blocked me on twitter, because . I guess, of my honest views on the standard of its reporting.
And this has kind of made my point.
The day before yesterday, a lunatic bus driver made us aware of his views on bishop Daly, the man who waved the white handkerchief on Bloody sunday. Turns out this chap has it in for all creeds and colours except red, white and blue. Actually, not red in particluar, unless its the colour of blood which he is dreaming of being knee deep in.
Then we have a Celtic fan who reckons Bitons nationality and religion are reason enough not to have him at the club. Which actually goes against the ethos of the club he claims to support.
I'm guilty of hypocrisy to an extent here, because by mentioning these  two fuckwits, I'm doing what the Record has done and given them the publicity they crave.
Okay, sort of.
but is it wise and responsible reporting to give front page space to a hate rant a couple of weeks ahead of a visit to Israel by many Celtic fans ?
Can the paper be accused here of endangering life ?
Yes, they have a duty to report it, and of course it should not be swept under the carpet, but does one headcase on twitter justify such coverage ?
Especially as its coverage he seeks ?
A trip to Israel is not something I'd be undertaking, and in fact, if the club had any sort of moral fibre, perhaps some kind of protest would be in order here.
Back in 1969, Celtic drew Ferencvaros in the European Cup, but , due to a Soviet bloc invasion of Czechoslovakia, some western countries were protesting about having to play eastern clubs. Robert Kelly, the Celtic chairman, was one of the loudest protesters, and subsequently, the eastern sides withdrew from the competition, and the draw was done again, Celtic this time came up against St. Etienne fo France, who hadn't invaded anyone for years, at least anyone with guns, that is.
Some believe that Kelly's knighthood, a year later, was given as a reward for his anti communist stance, yet others remarked on his morals not quite stretching to an end to the tours of the USA, who were involved in Vietnam in an uncannily similar campaign to the Soviets in eastern Europe.
Sport and politics, eh ?
Undoubtedly, Celtic fans will take Palestinain flags to next weeks game with Beer Sheva, and undoubtedly , the club will be fined.
And nothing will change in the middle east.
The point is, if the support, or the club, wants to make a stand, then do it properly. Like this guy on the left..
Egyptian Hero Islam Mahmoud has withdrawn from the Olympics after he refused to compete an Israeli competitor
Though its unlikely any knighthoods will be handed out for doing so this time.
I'm not advocating a withdrawal, or even a boycott.
But there'd be no harm in letting the world know how we really feel, and not how some papers would portray it.
And more importantly, let everyone know that Biton is welcome at Celtic, as we are open to all.
No matter what  country or ideology  he was brought up in.
Back to the nonsense, and could Mark Warburton be casting his eyes at another Ibrox old boy, who has made a sensational comeback in Irish football ?
The new groundsman at Ibrox is happy with the new grass he's put down…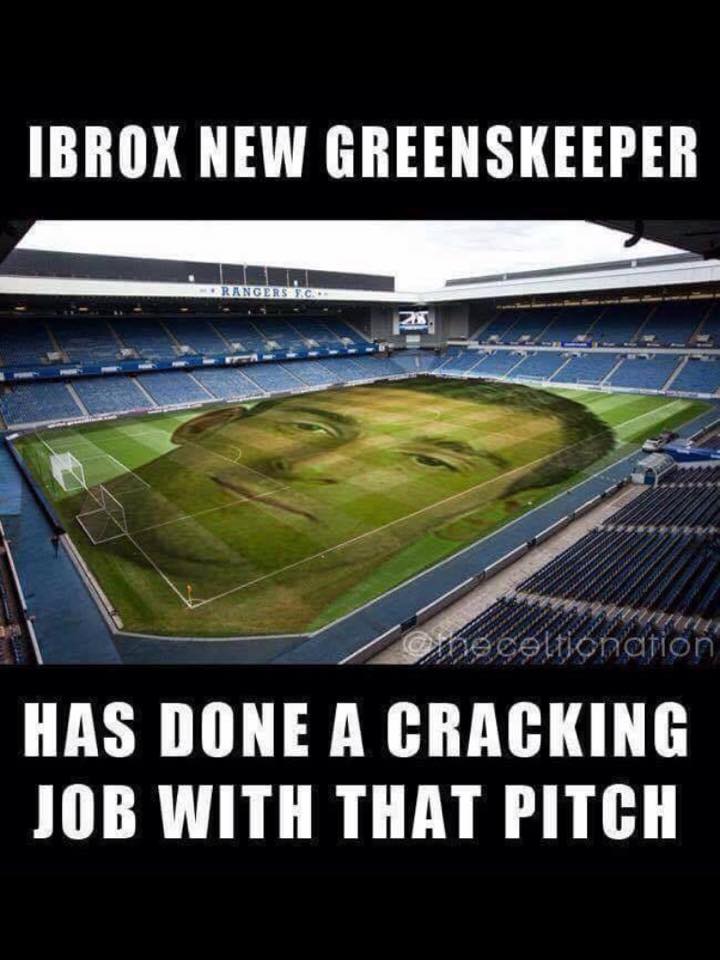 And there's concern that too many days are being taken off work while the Olympics are on…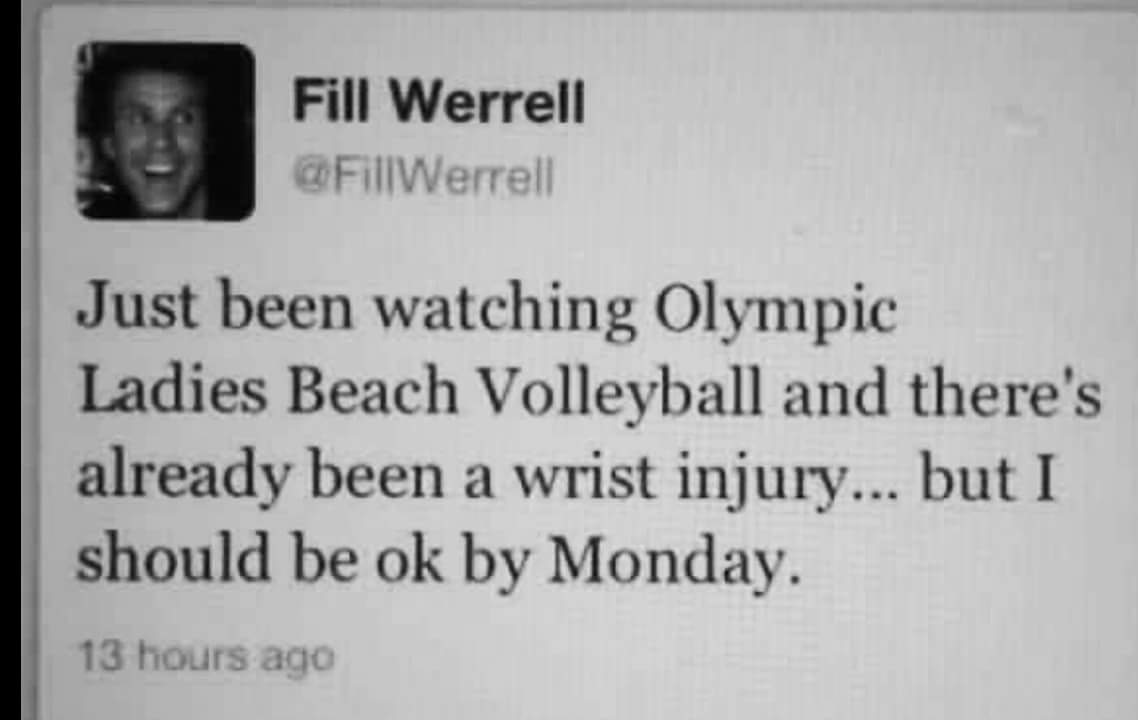 Caption competition now, and yesterday we saw this..
which was explained with this…