Perhaps, after all, manager ronny deila does have the last word in Celtic's signings. Or , at the very least, he's got it now.
Patrick Roberts, the Manchester City youngster who is presumably the result of a DNA experiment which combines Lionel Messi, Christian Ronaldo and Neymar, may not come on loan to Celtic after all.
Manchester City want the length of the deal to be around a week or so, with summertime being the absolute maximum, which completely defeats the object.
Why would  a club with serious ambitions of their own take a player on just to give him game time ? It only happens when they are desperate, skint, or both.
Especially if you have to give them game time-it would be almost as though another club was picking your team, even if you don't have to pay them anything.
You'll note that in this picture of Billy King, who stepped down a level to help out Second Rangers, where his championship winning experience at the lower level could be invaluable, was taken in front of a picture of Ibrox Stadium. One wonders if they own the image rights to the old ground, having hawked off everything else, or was it simply a bit too risky to be standing outside it in this windy weather.
You may have noticed a strong gale outside;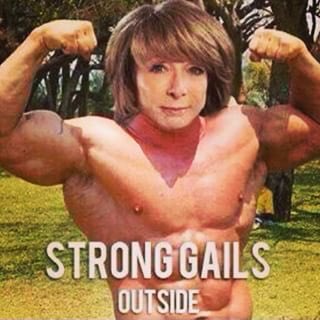 Anyhoo, oor ronny is having none of that pay as you go loan nonsense.
 "We will not take a player on loan to have him only until the summer. He would have to be something special. If it's going to be loans then it has to be longer than just to the summer.
"We have a relationship with Manchester City. It's a relationship that I have had for many years, since Stromsgodset.
"We trust each other in the way that we have developed players for them and if they can bring quality into our squad — like we did with Jason Denayer and John Guidetti — then it is positive for both of us.  
Agree to an extent on Denaayer, as not only did both clubs benefit for a year, it got us Deydrick Boyata on a permanent deal. alright, he hasn't hit the high scores yet, but given time, and a realisation that the Scottish league isn't a rest home, then he will come good.
But Guidetti, well, thats more of a reason not to go down this path anymore.
"But now we know if we're going do to things like that, we have to have an arrangement that is over the summer and for a much longer period.
"If that is not the case it will not happen, you have my word on that."
Finally, it appears the boss is going to stop the tail wagging the dog, and if he sticks to his word, or is allowed to, then things are gonna change around here, mister!
But not the capacity to say stupid things to the paper, it seems.
Deila went on to compare young left back Keiran Tierney with Martin Odegaard, who appears to have lost Ronny's phone number over Christmas.
"KT and Martin are very similar in terms of character Martin made his debut for us at just 14, and the day after he was in the headlines in every newspaper having played so well after coming on.
"But that day at 8am he was in the gym! Martin now plays for Real Madrid, but when he is home in Norway he is down on the same pitch he played on as a kid and has an extra hour or two every day.
"Martin always wants to learn and to get better and KT and him are examples for others to follow. Nothing comes for free."
If I was Tierney, I'd be asking the other players, and manager, to pick another nickname for me.
Defenders need to have a wee bit in them that intimidates forards, old timers will rememeber crowd singing Hay's gonnae get you, which was adapted to Bobo's gonnae get you.
Katies gonna get you doesn't have the same ring to it. Or does it ?
Mind you, she's looking better than when she was in that movie…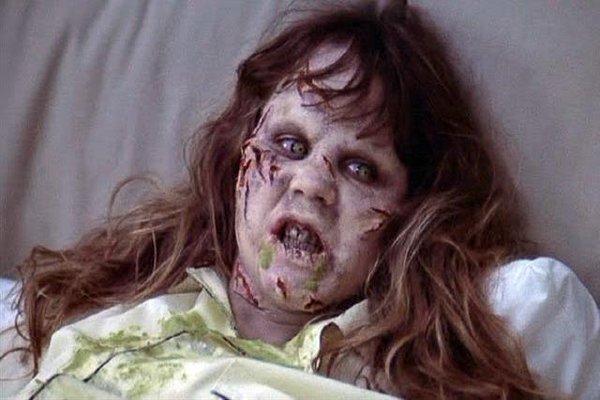 Though she can still spew bile with more than a little venom.
Speaking of movies, Efe Ambrose is already taking steps to make sure he's gainfully emplyed when his career winds down.
Instead of  talking nonsense about football, like so many other former players, he's taking his first steps into the world of cinema critic, and already Barry Norman is considering hiring him as a number two;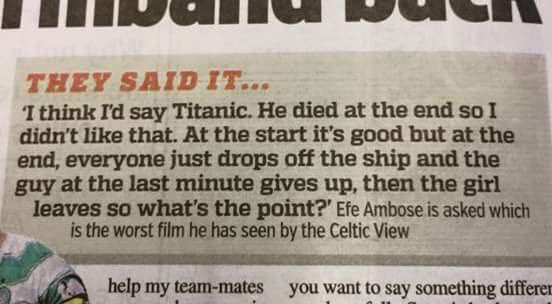 When that film came out, and I swear this is true, my young niece went to see it, and commented that is was okay, but the ending was a bit far fetched.
I told her that it was a true story, and the boat sank, She is still in denial, and now works for the Scottish Sports media.
She's in charge of the paper folding section, which deals with the response of a newspaper to criticism from Ibrox.
The Rumour mill is now into its final production stage, and there will be a viewong of the rushes, as they say in the film and tv world soon, so any transfer stories we have heard, which will be bollocks anyway, we'll leave till then.
Though Leigh Griffiths might yet have competition for the number nine shirt..
But the football world was stunned yesterday when Mark Warburton snapped up Billy king on loan, although he appeared to be to stunned to comment on his clubs latest swoop, as nowhere did a welcoming message fro  manager to player appear.
Looks like they are keeping to their word over there though;
RANGERS chairman Dave King has reportedly instructed Mark Warburton to run any potential signings past the Rangers board – but only if they are players capable of making the step up to Europe as well as the Scottish Premiership.
King confirmed that he had held talks with Warburton adding: "It is really not as much about winning the league this year, the identification of players in January would be based on our prospects for the year after.
"We would have to bring in players we thought were going to compete next season strongly in the Premier League and already looking towards Europe."

Thats from the Scotsman Rumour Mill, referring to an article in the Daily Mail back in Novemeber, showing that they are serious about taking on our own Rumour Mill in the credibility stakes…
Obviously, there is no sectarian or other reason behind the signing of Billy King. Even thinking about it on those lines is childish and peurile.
As it would be with their next target, who may be beyond their reach anyway as his club will demand a fee;
The Ibrox Evening Times were at it again, with one of those headline/story combinations that tend to appear on the more lowbrow message boards-or the Etims Diary, come to think of it …
Ex-Celtic footballer in court over "offensive and sectarian" comments
Wow ! Who could it possibly be ?
A Celtic ladies player was charged with allegedly posting a sectarian remark on her Facebook page after a Rangers fan reported the comment.
Megan McFadden, 19, allegedly wrote the "offensive and sectarian" comments on February 1, 2015 – on the day of an Old Firm game. 
Oh. Not actually an ex-Celtic player then.
Though, and i really shouldn't have, I did laugh at one part of the story;
Rangers fan and former ladies footballer herself Alison Clark-Dick, 22, told Glasgow Sheriff Court she reported a sectarian comment with the words "dirty orange inbred monkey b*******".
She said: "never seen anything as offensive" in her life before. 
However unacceptable it is, they are just words. Obviously this lass has never seen any pictures.
Miss Clark-Dick recalled being at the Rangers and Celtic game and checking her Facebook account when she saw the screenshot of the comment on a Rangers group on Facebook.
Procurator fiscal depute Lindsay Docherty asked what got her attention and the witness replied: "It was the content of the screenshot."
Miss Docherty asked: "What was it about the screenshot, the content of it that caught your attention?"
The witness said: "It was the nature of the words in the sentence on the screenshot that took me by surprise."
Miss Clark-Dick was asked what words she remembers seeing and said: "It was 'get into these dirty orange inbred monkey b*******."
Miss Docherty asked: "What did you take the word orange to mean?"
She replied: "Protestant."  
Presumably far more offensive than being called a dirty inbred monkey bastard.
Which reminds me, the Second Rangers fans arrested under the OBA for reccomending a colonoscopy to some police officers will not be charged, despite the camera suggested in their chant not being of a similar size used in regular bowel investigations.
Good.
Yesterdays picture featured the president of the Real Americans CSC listening to their latest colllection of rebel songs, including the track dedicated to their brothers in reservations, "The Men Behind The Wire Fence, " which means I won the caption competition.
So there.
Today, we have this for you to consider…