"Look, just make sure the new club gets the money they need for a couple of new players " , said an exasperated SFA official, tired of all the criticism that came their way after they forgot to ask Hamilton if they could use their ground for the upcoming East Kilbride -Celtic cup game.
"And get the Beeb to publicise it, they owe us one "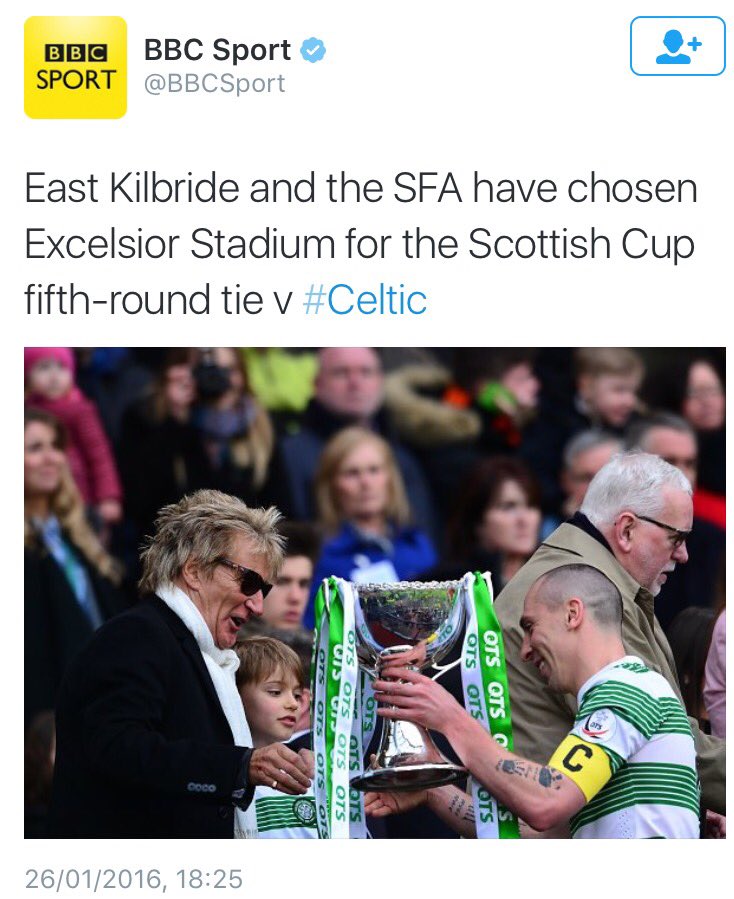 Thats the League Cup, which isn't being played for, held by Scott Brown, who won't be playing.
East Kilbride chairman Mark horner seemed quite pleased with the decision;
"We've been in talks with various stadiums all day and put forward the Excelsior as the best, nearest and most suitable stadium to host the game against Celtic and we are delighted the SFA have agreed.
"The stadium is modern, a great size and the surface is similar to K-Park, which Billy and the players are delighted about.
"The stadium also has great disabled access, which is another plus point as we are planning to take hundreds of children from East Kilbride with ASN (additional support needs) to the game.
"We are all really looking forward to what will be a great occasion for the club and the town." 
"Billy ", in this context, is the clubs manager, Billy Ogilvie , and not a reference to  anybody in any way connected with the SFA, whatever  Timmy thinks.
And thats good that hundreds of children from East Kilbride with additional support needs can get to go. Though one wonders why such a high percentage from the town are in need of such support.
The SFA chose the Excelsior in accordance with their rule that the next closest ground must hold the tie, if you don't count Hampden, presumably, which can't be used because another club might need it at a moments notice if their ground falls down or something.
Tired of the whole thing, the beaks released a statement;
"Following discussions with East Kilbride FC, the Scottish FA board have approved the Excelsior Stadium as the host venue for the William Hill Scottish Cup fifth-round match between East Kilbride and Celtic on Sunday, 7 February." 
Celtic released theirs, which was a little brusque;
THE SFA has tonight confirmed that Celtic's Scottish Cup fifth round tie against East Kilbride will take place at the Excelsior Stadium, Airdrie. The game on Sunday, February 7 has a 3pm kick-off. 
Though no doubt that will change again when we find out the fucking grass is being watered that day, or they've lost the keys to the car park.
The Hoops beat Stranraer in the previous round while East Kilbride knocked out Lothian Thistle Hutchison Vale. But by now they're probably wishing they hadn't. 
I've added a bit to that, as you can tell. Just in case you weren't sure what time kick off was.
Celtic's next game, for those of you, who like me, don't usually realise when we're playing until your mate rings you wondering where you are and if you've got any spare beers,or indeed who we are playing until roughly half time when you finally wake up, will be interested to know that it's Scottish League cup semi final weekend!
At Hampden !
Well, maybe not. but there have been a few improvements to the ground since our last visit, when there were one or two issues with , er, restricted views.
so, the SFA have introduced a new arrangement, right down at the front with absolutely no chance of missing any of the action.
For those at the back, there is improved wi-fi so you can follow the game on twitter, though for those who prefer to watch live, I'm pleased to say there are improvements there as well.
Supporteres will be issued with a state of the art gadget designed to bring the game closerto them, like a sort of hologram, and it will feel as though  they right up there with the action.
Opponents Ross County are not going to be a pushover, as they proved six years ago when they defeated Neil Lennons Celtic in his first  semi final, which pretty much told us how most of his cup runs would end up.
However, could there be some sort of voodoo at work here ?
The Evening Times seems to think so…
Celtic surely won't lost a FIFTH cup tie to a Highland
club…but only if they know and learn from their history
So they've lost four before, three to Inverness , and one to Ross County.
Its actually worse than that.
Not only in both cups, but also in the league, every time Celtic have failed to land the trophy, its been a Scottish club who have taken the honours.
But there could be a solution. According to the times, that is…
……..when you are Celtic in recent times as Mount Florida has proved to be a testing postcode for the club. 
A testing postcode ? Even shakespeare would have struggling to get that phrase into general usage. and there were hardly any words around in his day.
Kilmarnock, Hearts, Caley Thistle and, of course, County came away with unexpected wins.
Let's go back to 2010 when a Celtic team which now looks more than a little odd – Josh Thompson and Morten Rasmussen anyone? – hardly got a kick against a lower league side.
Now it's no huge secret that Ronny Deila and Lennon are not huge fans of one another, but the current manager would do a lot worse than to call his predecessor and ask him about what happened six years ago. 
Not a secret ? Really ?
Lennon would most likely tell the Norwegian to get his players to do exactly the opposite of what his team, in the loosest sense of the word, did in that semi-final which was an awful day for the club, although in the long-term actually turned out not to be the worst thing that happened. 
Astonishing.
This report contains an imaginary conversation between two people who apparently don't talk to each other about a bad result for a team which bears no resemblance to the one playing on Sunday getting beat, which didn't turn out too badly anyway.
Summed up with this bizarre statement;
A case of 'if you know the history' as it were, and if they do, then the present players have to ensure they don't repeat past mistakes. 
The players can't repeat anything they didn't do in the first place.
We asked one of the more established and celebrated writers for his thoughts on this article.
Look, even I sometimes read back what i've typed just to see if it makes sense. Maybe they could try that at the Times.
Although, in their defence, most of what usually goes out is proof read by a PR agency…
If you don't fancy the game, or a trip to Hampden, you could always pop to Philadelphia;
THE third Annual East Coast Celtic Supporters' Féile takes place this weekend January 29-31, 2016 at the club's home, The Plough & Stars at 123 Chestnut Street in the Old City section of Philadelphia. Celtic supporters from all over the world will gather in Philly for the biggest Celtic supporters' weekend this side of the Atlantic. 
This year the club will also be having its first Annual Tommy Burns Supper during the Féile on Saturday, January 30.
The full timetable of Féile 2016 events are as follows:
Friday, January 29
4pm-12am: Gathering of the Celtic Family
5pm: Live Smell the Glove Podcast Radio Show with Dr. John, Chris Long, and Gary 'The Rev' Bodnar
6pm: Live Celtic Dreams show with Gerry 'Big G' McNabb, all the way from Scotland.
7:30pm: Live Music with Derm Farrell all the way from Dublin.
Saturday, January 30
10am: Blessing at the National An Gorta Mór Memorial with Father Brady from Saint Anne's Church.
11am: Liam Kelly book launch and Q&A – Our Songs & Our Stories.
1pm: Live Music with Plough Bhoy Tim McMahon.
2pm: Q&A with John Paul Taylor from Celtic Football Club.
6:30-10pm: Tommy Burns Supper
The venue for the supper will take place in Philadelphia's premier Irish Pub, The Plough & Stars. This will be a very special night as the Celtic family from across North America and further afield will gather for a night of memories, songs and stories in honour of Tommy Burns. The night will feature a three-course carvery dinner with live music from Raymond Coleman all of the way from Ardboe in County Tyrone. Celtic Football Club's Supporter Liason Officer, John Paul Taylor, will be our very special guest for the evening. Following in the finest Celtic family tradition for charity, $5 from the sale of every ticket will be donated to Celtic FC Foundation. Cash Bar. All attendees are asked to proudly wear their Celtic colours.
I'm going to write to the club and see if they're looking for an assistant to john Paul Taylor, who must have one of the most strenuous and difficult jobs in the world, and is surely in need of a wee bit of help.
The Lennon CSC will not be attending, as we had a lot of difficulty in explaining that Philadelphia is a city, as well as a  not a soft and spreadable cheese product.
Which , incidentally, is why we don't go to Dundee any more.
Transfer speculation ?
Okay, James Forrest will stay, mainly because we thought he'd go, and his new wage deal includes some paper money as well as coins.
Theres all sorts of rumours surrounding the loan offer to this seasons "can't get a game for Man City " addition to the squad, and as far as we can make out, its for four months if we qualify for the UCL, but they'll let him stay for longer if we don't. And if he turns out to be any good we're not to play him in any night matches in case its cold, or any daytime fixtures if the sun's out.
Loannees.
They stay a while, charm and seduce you, and then bugger off when they find out you're not paying for their breakfasts.
Lets be honest, we're all more comfortable in a long term relationship with someone who wants to be with us.
A recent loan move involved young Nathan Oduwa spending some time with Scotland snewest club, Second Rangers, and after he returned home to London last week, Ibrox nemesis Phil MacGhiollabhan claimed to have heard a few stories from a colleague that all was not well with the Tottenham man, who apparently pointed out that certain things he would have expected from a big club, were not in place.
Baths (hah, you surprise me) were not always available, food at hotels had to be paid for himself, indeed , one claim stated that he had to move hotels three times.
The gist of MacGhiollabhans article was that the player wasn't treated very well, and he called upon journalists in Scotland to at least ask if the stories were true.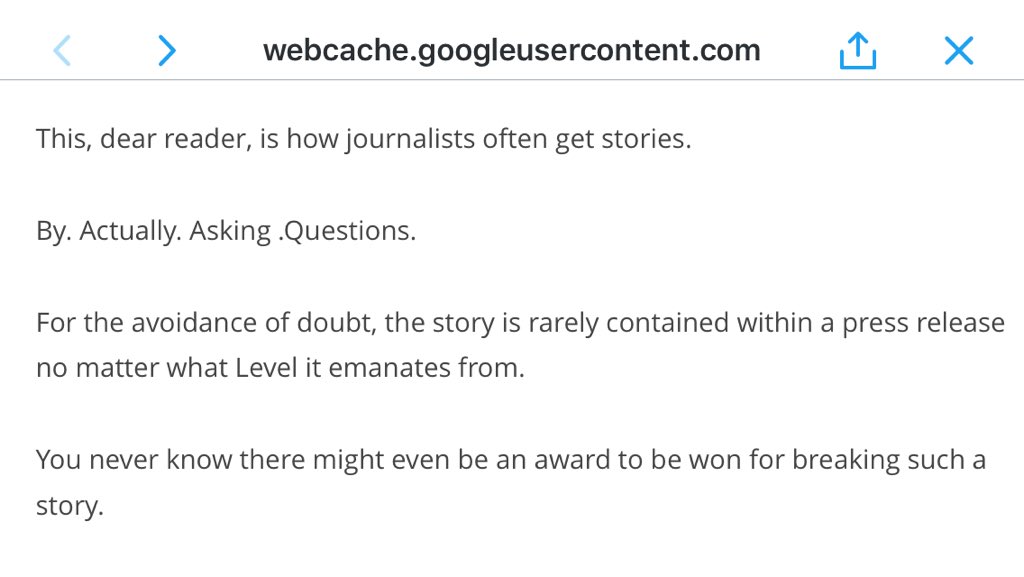 Which prompted a reply from Jonny Mcfarlane, who is the "rangers blogger " at the Daily Record.  ( Yes, I know most of them are Rangers bloggers, but apparently thats his title.)
Honest.
Phil MacGiollabhain telling hacks about journalism is akin to Jimmy Saville lecturing about child safety!

In what sense ? And to compare him to jimmy Saville ? A refence to a child abuser-from a Rangers minded individual ? Surely not ?
I decide to pursue the matter ,
@Jonnyrmcfarlane In what sense? Thats a ridiculous statement. What are you saying? 
@Richiestoke no it's absolutely not. He has a flagrant disregard for every tenant of journalism. He's a disgrace 
Presumably that includes their use of the word tenant in this context.
Bartin Main © Retweeted Jonny McFarlane
It's 'tenet', mate
Then I wondered….
@Jonnyrmcfarlane And the comparison with Saville? 
@Richiestoke I didn't compare Phil with Saville – don't be naughty
@Jonnyrmcfarlane Is this obsession with child abuse axiomatic within supporters of the now defunct Rangers?  
I could have left it there, but ….
Been busy. So what's all this about Nathan Oduwa and the mysterious deleted blog? #oops #developing? 
But Jonny wasn't finished, reverting instead to the default superiority complex inherent in his kind…
@Richiestoke I tried to have a serious conversation and educate you but sadly you seem a bit limited….Tara 
Tara ? Is he talking to someone on plenty of fish ?
Just in case he wasn't, and in fact meant me, I pointed out his limitations… as it seemed only fair.
@Jonnyrmcfarlane Educate me? Dear God save us . You couldn't teach my dog how to jump out of the fire. 
All good fun I suppose.
But someone at the Record, or at least associated with the paper , is criticising someone who suggests that maybe a journalist should ask a few questions, and even gives them a subject to ask about.
I wonder how their sales figures are doing….
I wonder if any of them will be asking why…oh, they don't do questions.
Croatian midfielder Luban Crepula has spoken about his recent trial at Lennoxtown, and he hasn't given up hope of a move to Celtic, even though his club have refused to allow the Hoops to take a longer look at him.
"For me it was a fantastic experience to be part of Celtic, even if it was just five days.
"Oh, naturally (I'd like to join Celtic). Celtic is a big, well-known European club. Therefore going into the ranks of such greats my career would be in another may. But, I say, the details are not allowed to speak publicly.
"Look, I am still a player Slaven Belupo , I remain firmly on the ground. And I will have no problem. I'll be back training at any given time will maximum work, giving my best."  
I have to use this opportunity to thank Jozo Simunovic, who was a real host in Glasgow . He greeted me, I spent the whole club, met with everyone, we hung out every day. He's really a big thank you, he was a real host. "
I think its fair to point out that English is not his first language, which is why his words are perhaps a little disjointed. This quote is not from the Evening Times.
I saw something on twitter last night that may be of interest to any hacks reading this who might fancy earning themselves a few quid… while we are on about the Evening Times…
Hyper specific request klaxon: looking for an academic who might be interested in co-authoring a chapter on intersectional transhumanism RT?  
I'm pretty sure that RT means re-tweet, after that you're on your own.
Trickier caption competiton today, and hopefully susan murphy will have a go, regardless of what other readers think.
You've consistently offered witty comments on the pictures and we'd miss them if they weren't there. Oh, by the way, Dad says can you pick him up a pie on your way home tonight.
Have a go at this one…