Statistics , of course, can be interpreted any way you want them to be. So if we are to take any notice of them, we should at least look to professional statisticians. We should consider who has presented them, and exactly why they have done the research.
Then we should look only at the figures, and decide for ourselves if they are in any sense valid.
In this case, its the International Federation of Football History and Statistics, which may be a more grandoise title than they perhaps deserve, but they certainly take their stuff seriously.
Should we ?
Every year, they compile lists, its what statisticians do, and this years world club rankings are, well, interesting, and maybe even a little surprising.
Before we look at them, let's remind ourselves how they are compiled.
Here are some explanations for the CLUB WORLD RANKING. This ranking is intended to establish among all domestic and continental competitions the strongest team of the year in the World. It is set by the sum of all weighted points in each competition from January to December. This ranking does not give bonuses for exceeding a round or winning a competition. Each competition has its own value, according to the IFFHS rules, fixed by the IFFHS Executive Committee.
| | | | |
| --- | --- | --- | --- |
| CONTINENTAL COMPETITIONSpoints/match | W | D | L |
| UEFA Champions' League | 14 | 7 | 0 |
| UEFA Europa League | 12 | 6 | 0 |
| UEFA Super Cup | 14 | 7 | 0 |
| Copa Libertadores (CONMEBOL) | 14 | 7 | 0 |
| Copa Sudamericana (CONMEBOL) | 12 | 6 | 0 |
| CAF Champions' League | 9 | 4,5 | 0 |
| Confederations Cup (CAF) | 7 | 3,5 | 0 |
| AFC Champions' League | 9 | 4,5 | 0 |
| AFC Cup | 7 | 3,5 | 0 |
| AFC Presidents Cup | 4 | 2 | 0 |
| CONCACAF Champions' League | 9 | 4,5 | 0 |
| OFC Champions' League | 5 | 2,5 | 0 |
| FIFA Club World Cup (final not included) | 14 | 7 | 0 |
| FIFA Club World Cup (final) | 21 | 10,5 | 0 |
 When a match is resolved by penalties, it is considered as drawn match, including finals.
DOMESTIC COMPETITIONS
There are 4 levels, so the strongest leagues are in the top level (level 4). Each country has a number (example:Germany/4, Portugal/3, Austria/2 or Kazakhstan/1), it indicates the level for the league. Each level has different points by match. Each year the ranking for "The Strongest National League of the World" decides the level of each league for the next year.
| | | | |
| --- | --- | --- | --- |
| DOMESTIC LEAGUESpoints/match | W | D | L |
| Level 4 | 4 | 2 | 0 |
| Level 3 | 3 | 1,5 | 0 |
| Level 2 | 2 | 1 | 0 |
| Level 1 | 1 | 0,5 | 0 |
| | | | |
| --- | --- | --- | --- |
| DOMESTIC CUPSpoints/round | W | D | L |
| Level 4 | 12 | 6 | 0 |
| Level 3 | 8 | 4 | 0 |
| Level 2 | 5 | 2,5 | 0 |
| Level 1 | 1,5 | 0,75 | 0 |
Any domestic supercup is considered.
Only there are considered rounds because there are domestic cups with one match by round and domestic cups with two legs for a round. The global result decides. When a round is decided by penalties, it is considered as a drawn match.
Only there are considered the last 4 rounds (1/8, 1/4 semifinals and final) in order to homogenize every domestic cup in the world.
 Scotland is a level 3 league.
So, how did we do ?
Club World Ranking 2015
by IFFHS
(1st January 2015 – 31st December 2015)
Place Club Country/level Points
1 FC Barcelona España/4. 379,00
2 Juventus FC, Torino Italia/4. 286,00
3 SSC Napoli Italia/4. 268,00
4 FC Bayern München Deutschland/4. 263,00
5 Paris Saint-Germain FC France/4. 257,00
6 Real Madrid CF España/4. 241,00
7 Club Independiente Santa Fe CD, Bogotá Colombia/3. 240,00
8 ACF Fiorentina, Firenze Italia/4. 236,00
9 CA River Plate, Buenos Aires Argentina/4. 234,50
10 VfL Wolfsburg Deutschland/4. 232,00
11 BV Borussia 09 Dortmund Deutschland/4. 228,00
12 Sevilla FC España/4. 226,00
13 CA Boca Juniors, Buenos Aires Argentina/4. 220,00
14 Arsenal FC, London England/4. 216,00
15 FC Basel 1893 Schweiz/3. 213,50
16 CF Tigres de la Universidad Autónoma de Nuevo León México/3. 213,00
17 SS Lazio, Roma Italia/4. 212,00
18 SC Internacional, Porto Alegre Brasil/4. 210,00
18 Athletic Club, Bilbao España/4. 210,00
20 AS Monaco FC France/4. 209,00
21 CS Emelec, Guayaquil Ecuador/3. 207,50
22 Club Brugge KV Belgique/3. 207,00
23 Club Atlético de Madrid España/4. 206,00
24 Celtic FC, Glasgow Scotland/3. 202,00
25 SC Corinthians Paulista, São Paulo Brasil/4. 198,00
26 GNK Dinamo Zagreb Hrvatska/3. 195,00
27 Villarreal CF España/4. 194,00
28 Club Guaraní, Asunción Paraguay/3. 193,50
29 Racing Club de Avellaneda Argentina/4. 192,00
30 FC Dynamo Kiiv Ukrayina/3. 189,00   
Molde and Malmo are also on the lists, further down 100 and 146th respectively, which of course could mean the whole list is nonsense, but its not about one off games, its about the performance over the whole year, which shows that Celtic are up seven places overall, so put that in your pipe and smoke it.
None of these stats reflect the wet and windy afternoons sitting in the stand wondering why we bother, but its an interesting view when you consider they take into account things like results, and after all, its a results business with a desire to entertain, but its the results that matter.
Note that the English league, which has performed poorly by its own standards in europe, only has one team in the top forty, and you could certainly argue that the quality has dropped down south of late, as players who play purely for the money dominate the game.
As far as I see it, and you're welcome to disagree, maybe Celtic are on the right path after all.
By the way, you are unlikely to see this report in any of the newspapers.
What you will see is transfer speculation, because its that time of year again. January, when clubs panic buy when the manager realises the players he has put his faith in aren't as good as they appeared on the agents video. And his team are lurching toward another monotonous season with only the cup to look forward to.
 Thats why i was heartened to read that Celtic are now looking at a player who caught their eye when they were looking at someone else.
The old fashioned way of recruiting.
Ljuban Crepulja, pictured below , drew admiring glances from scouts while they were watching Ivan Mocinic, at the Rijeka -Belupo match, and I think I know why he stood out.
He looks not unlike someone else in the game;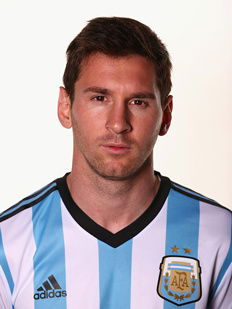 Look closely, and you'll see both players have exactly the same amount of heads, and its the correct number if you want to succeed at the highest level.
I've not really mentioned any of the numerous transfer targets thus far, as they are clearly the result of surfing through agents videos and therefore nothing to get really excited about, but the fact this guy stood out in a game is interesting, and maybe if we do get him in, and he does well, then perhaps it could set a trend.
One other target does deserve a mention, mainly because the signs are he will end up in glasgow this month, and thats Aleksandr Pantic. And where better to turn to than to a Sky sports pundit for a few words on the players capabilities.
Well, normally anywhere would be better to turn to than a sky sports pundit, but Gerry Armstrong, who does Spanish football for the channel, knows a little more about the game than most, and he said;
"Eibar are a good team and Pantic has been part of a solid defence . A centre-half who does well in Spain should be a success in Scotland, because La Liga is a lot more difficult to play in than the Scottish league. That would especially be the case if you are competitive, if you have that edge to your game. And Eibar do have that competitive spirit,"  
Theres no further news on Georgios Samaras making a possible return, but his agent has said that any player returning to Celtic would have to take a pay cut, which we know goes without saying, but its interesting that he is saying it..
Tom Rogic is discussing a new deal at Celtic, but there are whispers he might not want to sign it. but only whispers at this stage.
his agent has been telling him of another offer…
For those of us expecting great things from Wout Weghorst, the striker linked with Celtic after a move to Cardiff didn't materialise, Peter McVitie, a Scoits journalist working in the Netherlands, said;
@ETimsNet @MaleysBhoys don't think he's anything special & don't expect him to reach a high level. Celtic should be capable of aiming higher  
Perhaps our own man in Amsterdam could offer his opinion….
Celtic are still looking closer to home, as RTE report;
Celtic have confirmed their interest in signing St Patrick's Athletic forward Darragh Markey.
The 18-year-old Dubliner is travelling over to Glasgow for a bounce match on Sunday.
Markey is believed to have attracted the interest of several Premier League clubs but Celtic are hoping to steal a march on them and has been given perision by St Pat's to travel.
Markey's agent, Gerry Carlile, said: "He will go over for one day for a game. He will have a look at them and they will have a look at him.
"There are a lot of clubs interested in him. He is still a St Pat's player but we will see what happens."  
Another Irishman, Anthony Stokes, looks certain to leave this month, although you never know quite what goes on in his head sometimes, and his former mentor John hughes, manager at Inverness, has confirmed he wants him up there.
If Celtic feel he has to play football, then what better to come and work with his old gaffer. I know what buttons to press with Stokesy and to get the best out of him.
"I brought him as a young kid from Falkirk and he was a revelation I've heard Leeds are in for him but I keep in touch with him. Maybe I'm ahead of the game.
"All we've done is made an enquiry – it's now in the hands of Stokesy, the agent and what's best for Celtic. I got on great with him.
"He's a loveable rogue. Sometimes he's his own worst enemy but in football terms, it excites me that he could strike up a partnership with Miles."  
Celtic may be reluctant to let him stay in Scotland, but if a clause was inserted to prevent him playing against the hoops, then it would surely be the best move for the player.
That clause is necessary , though, as Stokes would cause havoc amongst our back line if he put his mind to it, and right now, his problems are all in his mind.
Thats the sensible stuff out of the way, now lets get an expert in to talk about transfers, and how you can play the market, you know, like a city trader would…
Some people will question the merits of signing players from Accrington Stanley but I have two words for you: Jamie Vardy.
He got his move to Leicester from Fleetwood after starting his career in the lower reaches of English football and now he is being linked with Chelsea, Man City and Man Utd.
There are gems out there and you have to go looking for them. Mark wouldn't have brought Matt and Josh in if he didn't think they were good enough and couldn't handle the pressure of being at Rangers.
Derek Johnstone spoeaking there in the Ibrox Evening Times, a Glasgow based fanzine edited by Chris "Union 2 Jack, himself no stranger to lalaland.
Yes, there are gems out there if you look for them. And Jamie Vardy is one of them.
Which, in the confused logic of Johnstone implies that Crooks and Windass are the other two.
Still, it beats saying  "Look , we can't afford anyone else and they wouldn.t come anyway. "
Manager Mark Warburton said just a few weeks ago that he wasn't going to bring anyone in this month as it would be disresopectful to the players already there.
Can't we trust anything that comes out of that place ?
Even the supporters group Rangers First are having doubts…
They put a poll in place to ask their memebers if they would contribute towards a £500,000 loan to the club, and assured fans that Dave King would match them pound for pound. They claimed thats what he had told them…
Dave King will match any other investment made every £ from http://www.rangersfirst.org  for shares counts So join now
However, the prospect of using his own money sent him all a quiver.. and when he was asked about it, pointed out a squirrel running across the pitch
Some of the support have received emails regarding the loan, and the.er, repayment plan, as explained by The Ibrox Buzz on twitter…
@
MBSHEEN91
@
RangersFirst
Did you get the email? It will be paid back as shares when we are listed on ISDX/Stock Exchange
Whats wrong with these people ?
Surely they must see a pattern emerging somewhere.
Anyway, the club moved swiftly to deny that King was going to put his own money in, something that wasn't really needed to be clarified, as he never does anyway.
Away from them, and Id like to talk about the good guys again, at least a couple of them.
Darren O'Dea, back from his foreign sojourns has joined Paul Hartley at Dundee, and we'd like to wish both of them all the very best.
Reading between the lines , though, that means that Aiden McGeady will not be rejoining Celtic, as his minder will be living too far away for those nights out…
And congratulations to Doncaster striker Andy Williams , who has just been declared player of the month on sky sports.
All together-He's just too good to be true….
Doo doo doo doo doo doo do do
I'm here all week.
Try the veal.
Caption competition, okay, here we go..
Now, before you reply….
Thousands of people read this every day-i know, it surprises me as well-and they also read the comments.
For me, as i already know whats in the main article, the comments are a source of entertainment, and theres been countless times when a well thought out reply has made me think, and even altered an original viewpoint.
Or I've just enjoyed reading them.
I didn't look at the page yesterday until I got in from work, around eight or thereabouts, and there were around a hundred or so comments to read. I always read all of them, and figured that with some of the stuff in yesterdays diary, there would be some interesting replies in there.
There was, but not much, as the replies column seems now to be a forum for hurling abuse at each other.
It stops as of today.
By all means disagree with each other, the etims team don't even agree with each other, so it would be a little unrealistic to expect readers to.
But when you pen a reply, remember that there are an awful lot of people reading it, and frankly, they don't give a toss about what you think about each other.
And neither do I.
Everyone who replies to this has at some time made an interesting or valid point.
Some of the debate has been outstanding. And entertaining
We're going to return to that, and quite simply, if a reply contains any personal abuse it will be deleted.
And no further discussion of the matter will be undertaken.
Oh, did I wish you Happy New Year already ?
Lets get back to doing what we do best.
Intelligent , thought provoking and witty discussion.