So, another European campaign comes to an end, and we begin to look around for scapegoats, because after all, we are Celtic, the biggest club in the world, and we have a divine right to be on the big stage.
Right ?
Wrong.
The 2-1 defeat to ajax last night, a game which actually saw a wee bit of fight in the players, and not a little talent, ended a campaign which had started fairly brightly, but fell away a bit in the double header against Molde. Well, fell away a lot in the double header against Molde.
With the first team ravaged by injury and suspension, it fell to the fringe lads to make a name for themselves, and when Calum MacGregor, who most of us had forgotten about, was handed a start, a collective groan went around the support, and yet he more than justified his place with a third minute goal that set the nerves jangling.
Surprised ? Yeah, I was.
And when Celtic went more than five minutes after the goal without conceding, I began to think that there was a chance of a win, but Dedryck Boyata decided to stick a lazy  foot out instead of attacking the ball -and player -with his head , and Ajax had equalised.
As the game progressed, however, one or two things became evident.
Manager Ronny Deila had altered his usual formation to a sort of 4-3-3, with Forrest and Mackay Steven flanking Leigh Griffiths. Calum Macgregor was holding back with Tom Rogic, with Stuart Armstrong a little further forward.
Then it was swapped around a bit.
So, the manager does have a plan B, which he isn't afraid to implement during a game.
It nearly worked.
Individual decisions on the park turned out largely to be the wrong ones. Griffiths shooting instead of passing, sometimes the wrong pass to the wrong player. But that is football.
You have a split second to decide what to do with the ball, and if you get it right you are a hero and get a move to Southampton, and if you get it wrong, you are a diddy who probably isn't a Celtic supporter anyway.
On such decisions games are decided.
We got most of them wrong, as it turns out. The benefit of hindsight is no benefit at all, but you can learn from it.
In last nights line up there were several players who looked like they were learning, maybe not quick enough for some, but learning nonetheless.
And by the time the final whistle went, I felt that there was the beginnings of a very good side in there.
You just had to look a wee bit harder to see it.
Man by man, there were more positives than negatives.
Craig Gordon looked a little more assured than of late. his handling, positioning and distribution were of a much better standard, and although it could be argued he could have done better with the dutch sides winner, he was in that horrible no mans land where he had to cover both the near post shot and the square pass across the goal. In the end, it looks like he just sat down and thought "aw fuck it " .
But I can't blame him for the goal, because it was caused by another of those wrong decisions…and perhaps a lack of communication.
Stuart Armstrong has to take a late corner. Everyone is up for it, so ordinarily you'd expect a punt into the box, and hope someone gets a head to it, or a foot to it in a scramble.
However, Scott Allan is unmarked-at this point-on the edge of the box.
Armstrong lays it to him, he takes a moment too long to steady himself, and no-one had made him aware that there was a "man on " .
Ajax break away and score.
No, with hindsight, the decision to play in allan was wrong, but had he got the shot away and scored, Armstrong would have been hailed as a visionary.
Thats football.
So I can't really blame Gordon for failing to stop the winning goal.
At full back we had a man who looks like Mikael Lustig, but isn't playing like him. Too often last night he looked sluggish, and ajax saw him as a weak link. although he was often outnumbered and recieved little cover from Dedryck Boyata. Either he is carrying an injury or he'slost the eye of the tiger.
Which brings me to Boyata. Can't help but think he should have done better for Ajax's first, that timidity we don't want to see in a defender was there again when he failed to challenge for the ball as it looped over Gordon, but apart from that, and a confusing header into touch when there was no-one near him-communication again ?-he looked a lot more composed than of late.
Perhaps that was down to Jozo Simunovic, and don't you wish he and Boyata had been in from the start ? This boy will be  the real deal. If you don't count the occasional pass after a confident run from defence. Still not at his best, but when he settles we will realise what we've got here.
Keiran Tierney was outstanding again. Proof that there is a back up operation in place if we needed one, and we do, because not only are we not going to spend money on big name players for big wages, those players we would like will not come to play in glasgow where it's dark, wet and cold for most of the season when they can get better money elsewhere.
Even Newcastle and Sunderland, paying what they do, can't attract real big names.
So what chance have we ?
When he was replaced by Emilio Izaguirre, he looked knackered, and hopefully Ronny will continue to introduce him to the first team steadily, and keep his feet on the ground. Not only is he an inspiration to other youngsters waiting for their shot, he is showing the old guard what is coming to take their places…
The likes of Tierney are the future. And I'm happy with that.
For a glimpse of what Celtic will be like in two or three years, if they stick with the plan, have a look at the development squad in their European tournament. They made the last 32 last week….
Calum Macgregor, the surprise choice in the side, took just three minutes to do what he does in European games. Break forward and score. He almost had a second when his deflected shot hit the bar in the closing stages, but as i said ealier, he justified his inclusion with a hard working shift, and can be pleased that he has reminded us that he's still here.
Tom Rogic started well in the holding position, then he was moved forward, but never recovered from a nasty blow to his shoulder. He , too, was unlucky not to score when he got on the end of a square ball in the box but saw his effort saved. He looked like he was beginning to have an influence on the game until he took that knock, and after twenty minutes of the second half was replaced by Charlie Mulgrew.
He didn't do too badly either, but lack of match fitness showed, and after ajax scored, he remembered he'd left the kids in the car, and turned and walked off.
Chris Sutton, clearly suffering from amnesia, commented that he wasn't having that, claiming Mulgrew could have "gone up top and made a nuisance of himself " , a bit like he did , i suppose, when he slapped the ball out of the air at Ibrox and got himself sent off.
Bearing that in mind, suttons impassioned rant after the game kind of loses it's edge.
Mulgrew himself, bewildered by claims he had chucked it, posted on instagram, whatever that is;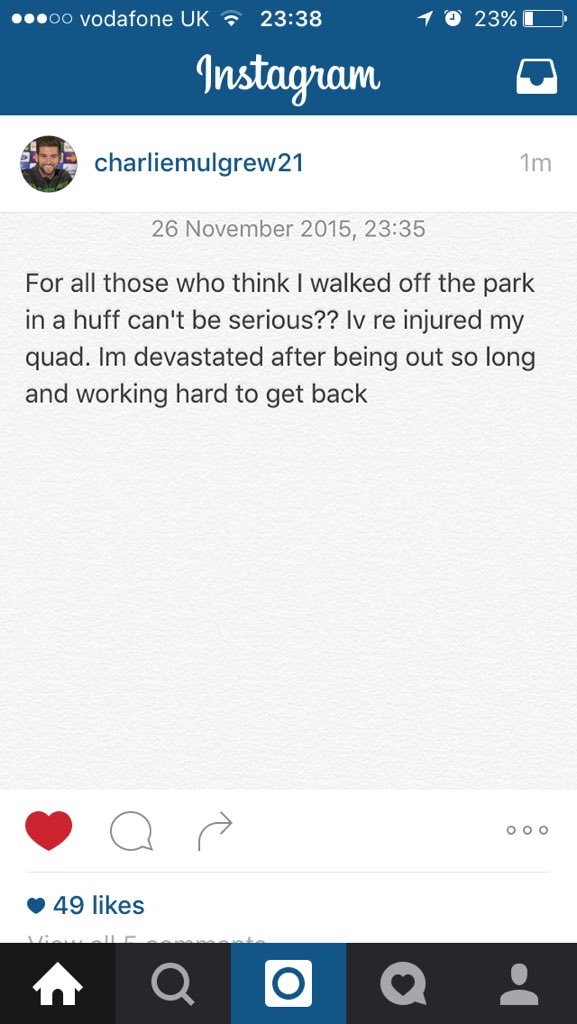 Ronny backed him up, but I'm still unconvinced.
Bertie auld once stayed on with a broken collar bone, so he could repay Nobby Stiles for doing it to him.
I'm not advocating injuring opponents, but thats the kind of spirit we want to see, not "oh no,  my leg is hurting , run me a bath. "
As far as I'm concerned, unless an opponent has ripped your leg off and hit you over the head with it, you stay on that pitch. In fact, if he has ripped your leg off and hit you with it, then pick it up and hit him back.
Stuart Armstrong did his bit in the middle, cannot fault his effort, although he maybe needs to be a wee bit more thoughtful about his game, and perhaps work a little smarter. The ball will always move quicker than the player, and there is a lot to be said about anticipating where it is going, as opposed to just running after it like a dog chasing a bin bag in the street.
He'll learn that, though, and for his first European campaign, he has little to be ashamed of.
Gary Mackay Steven seemed to get a lot of stick for his performance, and yet I can't see why. He, too, ran his socks off. He too, fought for the ball, and he wasnt afraid to take players on. Had Leigh Griffiths spotted his run and squared the ball to him in the second half, he was enough space to finish the move off.
Decisions and communication again….
I hope that Mackay Steven watches a rerun of the game and takes heart from it. Eventually, he tired, and Scott Allan entered the fray.
Again, it's evident theres a player in there somewhere. a very good player, who made one pass to Griffiths that could have made bith players instant legends. Well, maybe not legends , but you get the point.
He split the defence, Griffiths was on it in a flash, and his low, controlled shot, hit the keepers foot and went out for a corner.
If these two can work together in the simplest of ways-Allan passes into space, Griffiths runs into space, then we have solved the creativity problem.
Especially as James Forrest is there to offer another option.
Forrest, for me, was the man of the match last night. Not only for his running and dribbling, but for the way in which he would leap between the opposition player and the ball, with his back to him, and simply take the ball away.
If you think I am talking out of my arse here, wait till you get to the bit about the manager ….
Bizarrely, he , too, got a lot of flak for his contribution lat night, and I'm struggling to see why.
The same goes for Leigh Griffiths.
It just wasn't his night. Thats all.
Sure, he could have scored a couple, a couple that he would normally tuck away without thinking about it, but last night, if i have any criticism of him, it's mild, and it's that he seemed to get a little frustrated and perhaps tried a bit too hard.
With European experience, and mind, this is his first real run in the side at this level, he will become sharper, and his decsion making, not at his best last night, will improve. If you remember, he wasn't included early on because it was felt that Ciftci needed game time.
What we need to remember about Griffiths is that he made space for himself, and got on the end of those chances. If he keeps doing that , then the goals will come.
So, on to the manager..
And I suppose we might as well include the board in this one as well.
Social media was alive last night with claims that the board, the manager, all the coaching staff, the nedical staff and that bloke who sells the paradise windfall tickets but never says thank you should all be sacked.
Oh. please.
Get a grip.
This is where reality comes in to things.
Lets do a wee practical exercise here.
Come on.
Somewhere near you there will be a car showroom that sells Maserati's, Lambhorghinis , Bentley's and so on.
Go into it.
Tell the salesman you want one. and then tell him what you can afford to pay him.
It's not going to happen, is it ?
This car showroom is in a town called Realworld. and it's also where Celtic play their football.
Ronny Deila has been deemed, rightly or wrongly, as the man who will nuruture his own Celtic team, based around a policy of buying in young, promising players, and turning them into Champions League quality.
Thats some task if you look at it. But someone, somewhere is making these players, and as we can't afford to buy the Bentley, we'll have to get the Vauxhall, and customize it a little.
So we get the guy who has a knack for improving players.
And yet there are calls for him to be sacked just as he starts to get that plan into shape.
You may have noticed a lot of our new players, and the best of our others, are now on long term contracts.
I believe that the core of the future Celtic, that is next years team, was on the field at some point or other last night.
It's all very well calling for perennial loser and unemployed again Davie Moyes to take the job, but when you look at it , and look at it properly, he hasn't done a single thing to justify the appointment.
Oh, wait. He got Everton into the champions league once.
Well, send a fucking car to his house and pick him up.
The board too, come under criticism for failing to invest in the team,
Here's another piece of reality.
Players do not want to come to Celtic , we don't pay well enough, and we are not gong to change that anytime soon.
Why ?
Firstly, we haven;'t got the money, and secondly, even if we did spend it, there's no guarantee we'd get value for money.
Far better to make our own, and at least then we will have players who want to play for Celtic, and who won't sod off at the first phone call from Southampton.
Remember, with the possible exception of Joe Ledley, all of the players who have left recently, wanted to go.
I'll say that again.
They wanted to go
So it's a bit harsh to blame the board for selling them, especially as the only reason they came in the first place was to gain European experience and put themselves in the shop window.
All the suits can do is get as much money as possible for them.
After losing the consistency that comes with a team learning and growing together when it's repeatedly broken up as players move south , which has happened a lot over the last few years, maybe the board sat down and thought they've had enough of getting the blame for selling players who, as I said before, were always going to go as soon as someone offered to double their wages and put a nice big signing on fee into their accounts.
There's that reality thing again.
Until there are changes in the way television and European money is filtered into the game, we're stuck with the current model. It might mean taking a step back to take two forward, but when you look at the bigger picture, thats what we have to do.
We need to realise that, and get behind what the manager is working on.
It takes time to build a team, and we have the right man to do that.
It's been said that we are the best supporters in the world.
The time is here for us to prove that.
I believe the phrase you are looking for is "Keep the Faith "