One of our well placed moles informs us, and it should come as no surprise to any right thinking man, that a number of Scottish clubs held a frank and full exchange of views with the powers that be in the game, and have demanded that all trophies "won " the now defunct Rangers during their creative accounting years are stripped from the records.
Thats all trophies, not just titles.
In the past , we have often referred to our moles as pish stained, as we did on twitter last night. so, for the avoidance of doubt, our source is not this man, as cruelly suggested on the social media network.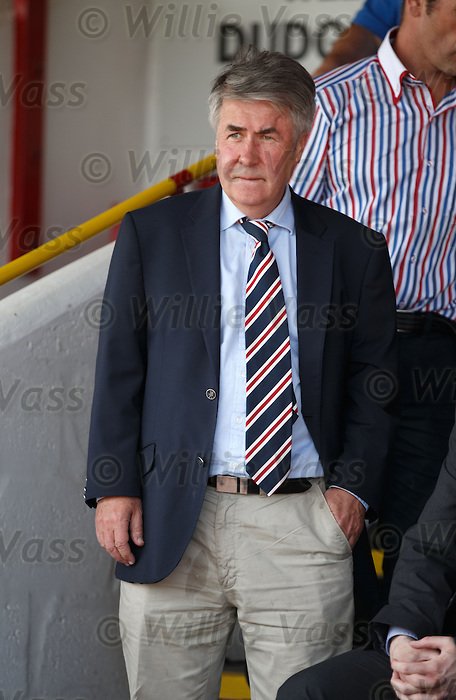 No. Our source is watertight.
The New York times , a serious newspaper, has effectively banned its reporters from using the word "source " in any context, but what we also need to remember is that "sources " don't always want to be named, for fear of repercussions, and so you'll just have to trust us on this one, because although, unlike the NYT, we are not a serious newspaper, we do like to tell it as it is.
It appears there was a lot of blood to be cleaned from the carpet after a number of clubs expressed heartfelt feelings about the now defunct Rangers and their triumphs in the years where they had a credit line with a bank, but not a direct line to HMRC.
In fact, there was a lot of bad blood in the room during the meeting as well.
Representatives of these clubs left the authorities in no doubt what they wanted to see.
Criticism, with the use of industrial language, was hurled at those responsible for the insipid Lord Nimmo Smith enquiry, and they want another , proper, enquiry set up immediately. After all, it's now been confirmed by Law Lords that "sporting advantage " was, in fact gained, making Nimmo smiths conclusions invalid.
And quite possibly, "influenced ".
Thats the first step. The clubs are determined to get their own way on this one. If they don't, then some well known names will resign, and there is little doubt they will say why.
The other thing that has emerged from the meeting is that all trophies, not just titles, won by the Ibrox club, should be annulled from the records.
The clubs are determined to force this through.
Now that it's been confirmed that cheating took place, they cannot be allowed to keep them.
If you cast your mind back to the time when the authorities attempted to shoe horn the new club into the top tier, and then the second tier, you will remember the determination of the clubs to prevent this from happening.
They are even more determined this time as at least four clubs, including, but not neccesarily primarily , Celtic, will not let this drop.
And that makes sense.
They've waited until they have a cast iron case, and are now making their feelings felt.
We should welcome and support this. All supporters of all clubs.
The media are going all out to prevent public opinion swaying toward the removal of trophies. Even, as one columnist today ventured, suggesting the removal of David Murrays knighthood.
When the laptop loyal turn on him in order to try to save the reputation of their club, then you know it's almost game over.
Thats when , as much as we now know, they probably know a little more. But haven't got the balls to say it out loud.
Finally, Scottish football is beginning the clean up after years of being associated with a toxic entity.
Better late than never, but it will be worth the wait.