If there was any truth, and there isn't, in the media stories about Ronny Deila's job being in jeopardy, they were dispelled again yesterday. The second of the so-called three games he needs to win was comfortably dealt with yesterday, and surely now we can all see that he is the man for the job.
For a number of reasons.
Leigh Griffiths is now on sixteen goals for the season. The first Celtic striker to have hit this amount since Henrik Larsson. If only we'd paid ten million pounds for him, and then maybe, just maybe, people would recognise that he is actually quite good at what he does.
And the system of one up front is delivering. Well, more often than not, anyway.
You still don't see many tops at the ground with his name on the back of them. Probably , i suppose, that the police would think you were him and have you in the back of the van.
His header yesterday was probably the goal of the season so far, as the forward hung in the air in exactly the same way Larsson would do before sending the ball beyond the dons keeper.
And he also won the sliding competition as well.
Yet Rony Deila wasn't impressed with him, as such.
"The manager had a dig at me for not passing the ball. But he always does find something to moan at me about. He just wants more goals, he wanted to kill the game off. 
Fair enough, if Ronny keeps moaning, and Leigh keeps scoring…
"I was maybe a wee bit selfish looking for my hat-trick – but if you had offered us a 3-1 win we'd have taken that all day.
"The gaffer just wants me to keep going for the full 90 
minutes. After I get one, he wants me to get two and three.
"But if I play in every game and score one goal, I'll be delighted." 
I think we all will.
I got a bit of stick for suggesting, and betting with a fellow traveller, that Griffiths would score forty goals this season. Funnily enough, no-one mentioned that on the way back.
Though to be fair, apart from a quick, er, refuelling stop in Lockerbie we were all asleep.
Ronny spoke about Leigh;
 "The only thing I was angry with today is that he didn't play in Stuart, instead shooting himself from 19 yards.
"Apart from that, the first goal was high class and the cross from Kieran Tierney was very nice as well.
"Leigh is getting more and more mature. He still can lose concentration a little bit but he smells danger all the time. He sees when things are happening and is a great finisher." 
Which, when you are in the stand, as opposed to watching on tv, is immediately noticable about Grifiths. He thinks about his game, you can see it when he isn't on the ball.
Like Jozo Simunovic, who will be, based on yesterdays perfromance, a more than capable replacement for Denaayer or van Dijk. Whichever you choose. He, too, thinks about the game, and is always on hand to support the player either in possession out of position. In much the same way as Paul Telfer would always be on hand to give Shunsuke Nakamura an outlet.
Something else I noticed yesterday was the amount of pointing and moaning that Stefan Johansen does. Which probably is useful. Somehow.
In his withdrawn position in place of Scott Brown, it appeared that sometimes he was taking his duties a little more seriously than he should, and was neglecting his own game.
Celtic, of course, won the game 3-1, which meant that aberdeen slipped from second to third and now Hearts are the main challengers, which has to be good for the game. Six points adrift, the Edinburgh side have improved considerably over the la couple of years, and will go from strength to strength.
Scott Brown, who has not been playing at one hundred per cent of late, missed the game. Will he be ready for Thursday ?
Ronny Deila;
 "No I don't think so.
"But the injury is not major. You always want Scott Brown in your team but we have players who can do a job here. 
And big Simunovic, who will be vital to Celtics hopes of extracting revenge on the Norwegian group pacesetters , will he play, after limping out of yesterdays game ?
"Jozo hasn't played so many games but has now played three games in nine days. So we hope it is only cramp and he will be ready for Thursday." 
 I think that picture sums up how we should feel about that.
Tell you something else, according to Night of the Living rednecks on KDS, it's a good job we didn't get the train yesterday. Halloween certainly brings them all out.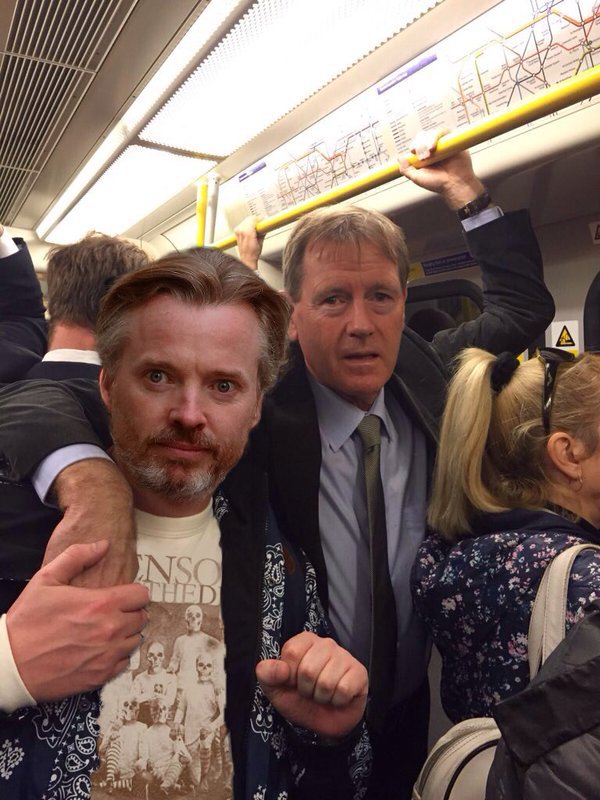 I'm probably going to go back to bed now.
For some reason, I'm a little tired.