Celtic were victors over a difficult Motherwell side yesterday, winning 1-0 thanks to a Nadir ciftci goal in the first half.
The hoops huffed and puffed but were either kicked or crowded out of adding to the tally. Just another day out at Fir Park really.
But there was a little bit of controversy, which wasn't entirely unexpected, as referee Alan Muir has form for this sort of thing.
He was the fourth official at the Cup semi final where he missed a handball from Josh Meekings.
Yesterday , he had the chance to even things out, simply by spotting any offences this time. In and around the penalty box.
His first chance came when Scott Brown was upended after a driving run towards the Motherwell goal;
Described by Graham Stuart of the Times as Kennedy and Brown "tussling " for the ball.
The picture, the best I could find, doesn't show the offence. But it shows Brown, still determined to get past Kennedy, going down. His expression shows he didn't do it deliberately.
Afterwards, Gordon Strachan said ;
"That's as blatant as it gets . Celtic should have won by more goals today but Motherwell's doggedness plus Celtic's inability to convert their chances, plus the officials made it a 1-0 today.
"After those two penalty shouts Motherwell thought 'this could be our day'. It could have been two or three nothing but they got a bit of life.
"Those type of decisions can cause problems, players can get rash and annoyed. I thought that Celtic composed themselves well after that. Sometimes players can get upset, shouting at the referee. I thought that Scott Brown's reaction was first class."

The second one, just eight minutes later saw another example of Muirs inability to understand why the game is called "football " 
Nadir Ciftci, the Celt in the picture, told BT Sport staff as he was substituted;
"That is the clearest handball I has ever seen.". 
He wasn't playing fopr Celtic against Inverness.
We were handed a transcript of the first ever referee class that Alan Muir attended.
"Good morning , gentlemen, welcome to the SFA Football Referee Training module . Just to be clear, football is a game primarily played with the feet, sometimes with the head, but with the exception of the goalkeeper, use of hands is expressly forbidden. Everyone clear on that ? " 
"Sorry, can you run that by me again ? " 
" Outlfield players cannot use their hands " 
"Nope, still not getting it " 
"Never mind , Alan. You can go on the fast track course later. Away and play with the goat for now. "  
Now, we can laugh about it, and re-iterate that we weren't paranoid enough, but there is a serious issue here.
Either Alan Muir is biased, and has an anti-Celtic agenda, or he is incompetent.
Frankly, it doesn't matter which.
He should not be allowed to referee at the top level again. At the very least, he should be kept away from Celtic games.
So, a statement from the club to this effect is in order.
But it should be worded very carefully.
For instance, a letter to the SFa should not read;
" Oi, fuckface , 
                               Keep that cheating orange bastard away from Celtic Park. 
                                     Signed 
                                          Celtic Football Club. " 
That is simply not on. It shows that a lack of respect, dignity and professionalism , and a reluctance to deal with the issue like an adult.
And they wouldn't know which referee we meant , either.
We need, instead, something like;
"Sir, 
          It has come to our attention that Alan Muir, one of your match officials, has been involved in a couple of incidents which have led to his concentration during games being questioned. We would ask you to consider a rest from top matches for a period, to enable him to stay focused and out of the limelight. 
                                           Yours, respectfully, 
                                                Celtic Football Club 
Bringing Muir back to officiate at a Celtic game puts me in mind of the decision to place Oscar Pistorious under house arrest, after his early release from prison.
Not like he could do any damage there, is it ?
Though something does need to be said. We could do without crashing out of a cup competition like last season due to an officials, er, lack of professionalism.
The result , despite the best efforts of the ref, was enough to send Celtic back to the top of the table. It's difficult to see how the club will not be in the same postion when the medals are handed out next May. Referees cannot influence that much for that long.
But they can stop a treble. We saw that last year.
They must not be allowed the opportunity this year.
After the game, Ronny Deila praised captain Scott Brown;
 "I said to the players in the dressing room afterwards that Scott is a role model in hard work. I think he had the ball by himself for the last five minutes.
"His ankle was very swollen on Thursday but he is a leader by performance and he shows what attitude is. There is a difference between pulled muscles and when you get a knock. Then, sometimes you have to get yourself together and go out and be ready for it.
"You are playing for Celtic, you are playing in the Premiership and fighting for titles. It is not sunshine every day – especially not here in Scotland – so you have go through it sometimes and he was a fantastic example."
"I am very happy that we are back where we want to be. Now we just have to keep on winning games, performing and developing and we will have a very good chance of staying there." 
He also revealed that he had a plan b should the midfielders ankle cause him further distress, and took time out during the game to explain to the player how to use the crutches hidden under the gaffers seat;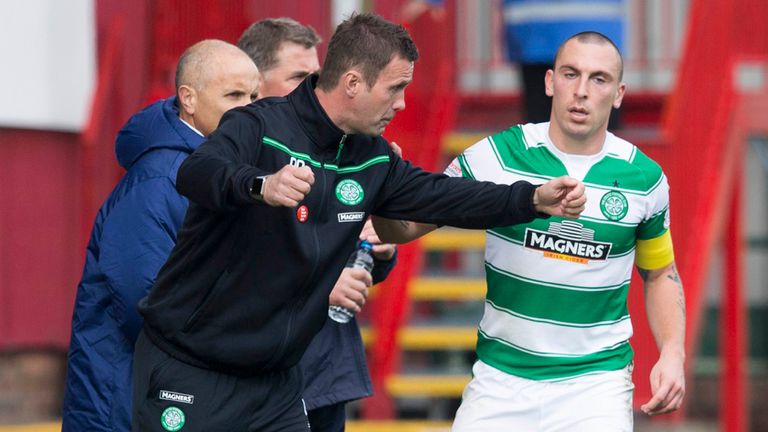 The boss also took time out to praise Nadir Ciftci, now on two goals in two league  games, as well as the improving Dedryck Boyata, who looked a little more composed yesterday. Then again, with Motherwell refusing to come out of their own box unless it was to give Celtic the ball back, he wasn't really tested. Still, it will do his confidence good.
"Nadir has been improving He got a start today and got the goal that gave us three points and that was good for him to build on. Tyler has improved a lot and played very well today. Dedryck is playing consistently well, too. We are starting to get a leader there and we need those on the pitch."  
Tyler Blackett has improved. Let's, er , just say that.
Most difficult picture quiz ever now.
Who are the opponents here, and when was it ?