Its difficult to describe the general mood ahead of Thursdays return Europa game, because when you look at in the cold light of day, Celtic have to go to one of europes most hostile arenas and win. Unless we draw 4-4, which isn't likely.
And yet there is a kind of cautious optimism amongst the support and the players. In fact, its not even cautious in some instances.
Scott Brown, captain and most experienced player led the way;
 We've EVERY chance of grabbing
a golden goal in Milan with Griffiths
and Guidetti on our side
Except Deila won't start with both, but we kind of get what he means.
 "We have got to go over there and think we can do it – especially when you look at the chances we created against them.
"You always have a chance when you have the likes of Leigh Griffiths and John Guidetti .
"John scored a great goal – it was an unbelievable finish – but wee Griff worked his socks off to soften up the Inter defence for him.
"He created chances for others as well. We'll do the same in Milan.
"It could be 5-4, – it would be nice if it was to us!
"Inter are a great side. They have great players, some of them who cost a lot of money. 
But you look around our squad and we have a few guys who know what it's like here and it helps the likes of wee Gary Mackay-Steven and Stuart Armstrong now know what the big European matches at Celtic Park are about when you have 60,000 in there.
"The second half we had a great attitude. We controlled the game and created chances. We need to do that again over there.
"I think we showed them how good we can be in that second half. We controlled the match and pushed to get the equaliser and eventually got the reward. 
"It was a great atmosphere from start to finish. We were disappointed we went 2-0 behind but it showed the fighting spirit in the team.
"We fought back, created a few chances and could maybe have even scored a few more goals.
"The great thing is we managed to create those chances and we are still in the tie.
"We will probably go there and play the same formation, try to press them high up the park again and prey on their mistakes.
"If we do that who knows what can happen." 
Couple of things we can take from that,but first theres a pretty major addition that needs to be made.
The opening twenty minutes are crucial. Celtic need to keep the heid from kick off and not do anything rash. Concentration is paramount, something that didn't seem to be there in the first game when inter capitalised and went two up. At least this time we know about the danger of Shaqiri, but if we assume that the scouts knew about him before the first game, then there needs to be a wee shuffle around at the back to neutralise that particular threat.
Forget about all this rhetoric about creating chances ad scoring goals. Of course that will happen. Its the other end that worries me, because the back four need to be on the ball immediately, otherwise the game becomes a handicap event, and that will be too much for the team.
What we can take from Browns words however, is inspiration. Quite simply, if he believes that the Hoops can be in the next round, the good thing is that he's just the man to convince everyone else when they're out on the pitch. Brown was a little subdued in the first game, as a booking would have meant that he'd miss this weeks game, but we can expect him to be back at his enthusiastic best on Thursday.
Something else he mentioned was the collective fighting spirit, which is up there with any seen from any great side from the past. For a largely inexperienced side at this level, i.e. the post group knockout stages, and one who had floundered earlier in the season over two legs, the fightback from two down should not be understated. It was a fantastic achievement, and showed that not only do the players have the fitness to go the distance, they also have the heart.
The press are doing their bit to help, starting with the story that John Guidetti will be the subject of an £11m bid, with £60,000 a week wages from Olympique Marseille. Happily for the hacks, the wage roughly coincides with the crowd at a full Celtic Park, which allowed the more constructive among them to make the comparison.
However, Sports Witness, has looked into this a little closer, and along with the rest of the French media, has been taken by surprise;
 RMC report on Monday that the claims are highly doubtful because the amounts don't fit in with Marseille's new wage structure. They simply explain it's 'incompatible'. 
Marseille are taking their new wage structure very seriously indeed and no player would be paid anything like £60k per week, whether they came on a free transfer or not. André-Pierre Gignac, the club's star striker, is paid less than that and his contract ends in the summer, he's been asked to take a pay cut and could leave for free in the summer. Similar stances are also being taken with Africa Cup of Nations star Andre Ayew and goalkeeper Steve Mandanda.
The French club are prepared to let players run down their contracts and leave for free rather than see their new structure wobble, so there's no conceivable way they'd give all that up for Guidetti. Gignac, Ayew and Mandanda have all spoken out about the situation and the former two are destined to leave come the summer. 
Fancy that. The Sun gets it wrong.
However, undaunted by the revelation that they have been talking bollocks, the MSM carry on;
Southampton still keen on Celtic defender Virgil van Dijk as Manchester City consider move for Toby Alderweireld 
which, lets be honest , is about the same as me saying I'm keen on Jennifer Aston now that George Clooney has got married.
 Thankfully, the squad will be heading off to Italy soon, and won't have to read this sort of nonsense.
 Meanwhile, back at the ranch, theres good news for Second Rangers, who have had a few problems with their vociferous support.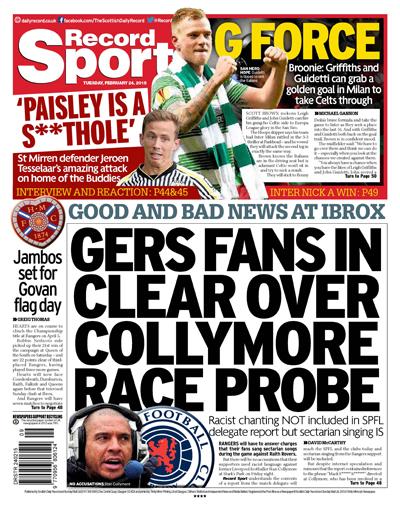 Good news ? That the racist chanting is not included in the report. Oh, thats all right then, carry on chaps.
Mark Guidi, who works on the low brow Radio clyde phone in, was asked by a caller for his thoughts on Stan Collymore being sacked by BT Sports-shortly after Hugh Keevins had given his own, well, they probably weren't his own as he condemned the tv company's action, and Guidi replied that he couldn't comment as he didn't know the facts.
 Well, he wouldn't, as presumably BT sports staff don't talk amongst themselves when one of their number has been dismissed. Guidi, as you know , is a trackside reporter for the company. Perhaps he was afraid of losing his own job ?
 Or perhaps, to invoke the lyrics of an old World War Two, at least hitler had one ball, the Scottish media don't seem to have any.
 A statement this morning seems to suggest that someone has been workoing late at night to remove all the testicles of all those involved in not only writing or broadcasting about this particular issue, but those responsible for dealing with it.
 Its from Neil Doncaster, so don't expect anything too construct
"We hope to have sight of the match delegate report from Friday night's Raith Rovers v Rangers SPFL Championship match within the next 24-48 hours," 
"It remains the SPFL's position that if it can be established that clubs have done everything required in overall management of the event pre-match, during the game and post-match then they have no case to answer.
"But setting that aside, the vast majority of decent fans will share a strong degree of anger and despair that the good name of Scottish football is once again being dragged through the mud by the distasteful, shameful and selfish actions of a mindless minority who seem hell bent on indulging in outdated and offensive behaviour."
 "I know that clubs, players and many others across the game share this frustration.
"While we can't comment further until we review the match delegate report, we will work with our clubs and the police to do everything within our powers to act against those involved in such unacceptable conduct and behaviour.
"However ultimately we also need the supporters to play their part to help stamp out such behaviour." 
He hopes to look at the report in the next couple of days ? How about watching the game and drawing your own conclusions ?
Further down, he says "we will work with our clubs" .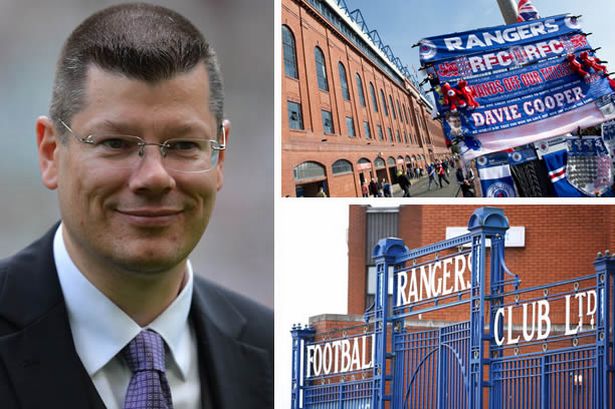 Clubs ? Theres only one club, a club which is a repeat offender, to "work " with.
 If the SPFL does not come down heavily on the offending club, then Doncaster must be removed. This should be made perfectly clear to him by the other clubs, and their support. He talks of dragging the good name of the game into the mud, yet refuses point blank to punish those who do it.
 Its not a minority. Not in the sense that he implies. Its a minority of football supporters, but not a minority of Rangers fans.
 However, at least an equal degree of responsibilty has to be accepted over at Ibrox. As Willie Miller, the biggest name in Scottish football to come out and say it like it is, tweeted yesterday;
Another day & all silent at Ibrox. West Ham are keen to ban anti-Semites. Chelsea are keen to ban racists. WHY won't Rangers #BanTheBigots? 
Thats easy.
The headline in yesterdays teaser reflected the result of a poll taken among Rangers fans ( when there was a Rangers ) to try to determine their outlook on the policy of not signing Catholics. Not surprisingly, they didn't want to.
 Which should be remembered every time they spout about the bigots being a minority. Sure, there are decent Rangers fans, but that core of anti Irishness and anti Catholicism is always just beneath the surface, and they don't see the problem with that.
 And the media don't want to point out what it is, because its a very uncomfortable truth about  society in 21st Century Scotland.
 Away from all that, its back to happier times, and celtic are about to take the field for a match in their run to a European semi final.
 Where is it, who are the opponents, and when was it ?