Good King Wenceslas looked out,
on St. Stephens morning
There wasn't any snow about, 
because of global warming 
After "ruining Christmas " during the last minute shopping trip, you'd have thought it couldn't get any worse.
I opened an unlabelled present under the tree yesterday morning, thinking , as everyone else had opened theirs, any left would be mine. alright, not so much any left, as the one that was left.
Turns out it was a load of clothes for my two year old nephew, who was arriving later, put there by my mother in law.
So, someone who doesn't live in my house left a present for someone else who doesn't live in my house and somehow its my fault I didn't consider that possibility before I opened it.
Which meant I had to go up into the loft, where all the wrapping stuff had been stored away in a big box ready for next year, get the box, and re wrap it in case the wee fellow was traumatised by having had his present opened. My argument that he "was only two , for fucks sake, and won't even remember he was here" seemed to make matters worse.
Anyhoo, up into the loft, and after much cursing I got the box down, nd into the front room, where i discovered that the only wrapping paper in there was roughly the size of a couple of squares of toilet paper. The wrapping paper, was of course, in another box behind the christmas tree, apparently in case "some stupid bastard opened the wrong one "
So, I re wrapped the present, put all the paper away, and put the paper in the box, and took it all back up to the loft.
Then my youngest son, seventeen, came down, saw a present under the tree with no name on it, and presumed it was his.
Then, my wife, who had returned to the kitchen to carry on making the dinner (nine vegetables-nine fucking vegetables. Growing up in the west of Scotland I didn't even know there were nine vegetables ) came back into the room and asked me why I hadn't "wrapped that present yet  you lazy, lazy bastard. "
By the way, she had also cooked three types of potato. Boiled, mashed and roasted.
I know exactly how they felt.
So I went back into the loft…..
It wasn't even ten o'clock by then.
Still, as they say, any port in a storm, and I found a bottle in a cupboard, comforting myself with the thought that somewhere, Peter andre was taking a mouthful of that £2.99 three bird roast from Iceland. Theres always someone worse off than you on Christmas Day, people with young children, for instance.
So, you could say a wee bit of cheer is needed.
Virgil van Dijk tipped to reject Premier League move ! Manager Ronny Deila says;
"He's worth a lot of money. but I am very calm. Virgil is enjoying his football, playing well and when I speak with him he's happy here. That's positive. He is such an important player for us." 
Ronny was trying to re-assure us then, but the opening sentence has alerted one or two people;
Well, just one.
The optimist would say that the big Dutchman is enjoying himself, and theres plenty of time for him to seek out the big money move, whilst the pessimist, or Celtic supporter, is a little more realistic, and knows full bloody well that once that offer is made, he's going to be wrapped up and posted south.
Theres ben little or no movement forward on John Guidetti, the Swedish loannee from Manchester City. Deila simply keeps saying we are making progress, and everyone will be happy if agreement is reached, which loosely translated means we are still at the stage we were lastmonth.
The players  run of form has ended while he considers his options, and there do appear to be a few of them. Again, it will come down to the player, because if he's happy, he will stay.
I'm still a little nervous about the possibility of him joining Southampton, where he would be re-united with Ronald Koeman. And if I'm honest, ronny telling us that he wants to prioritise keeping players rather than buying new ones doesn't fill me with any confidence, and its just another example of him filling pages for sports hacks.
But, if he were to go, Ronny might revert to two up front, which would mean Scepovic and Griffiths, and there does appear to be a partnership there, although thats entirely based on about half an hour at Tannadice.
Why might Ronny go with two up front ? after all, he has said-and players have publicly agreed, that he is sticking with his system, known as the General Douglas Haig formation, which will be adhered to no matter how badly it performs.
But it does look like the manager is going to be flexible, and he has proved that he isn't afraid to drop players if they don't perform, something which the likes of Martin O' Neill and Neil Lennon found it impossible to do.
So, with Ross County in town tomorrow, Saturday, , could we see the 7-0 win thats been predicted by the Diary finally happen ?
If he does drop Guidetti, who doesn't sem entirely happy in his loan role up front, especially as at professional level, defenders soon get wise to your style, and can quickly negate it, and play with two up front, one of whom could actually be the Swede, then sit back and enjoy the show.
Craig Gordon in goal, Darnell Fisher at right back, Emilio on the left, O'connell and van Dijk in the middle of defence, with Nir Bitton protecting them.
Scott Brown and Stefan Johansen could play central, with Anthony Stokes supporting Guidetti and Griffiths, or Scepovic and Griffiths. Any of those combinations would be fine.
If you are out of work, and can prove it, theres a ticket sitting for you at the ground, and all you have to do is call in and get it. Its free, and thats a marvellous gesture by the club, showing that they have an eye on the community, and realise that times are still tough, and theres litttle sign of it getting better.
Oh, and well done to those who gave to the Celtic foundation. £70,000 was raised in their recent appeal, and thats done everyone proud.
In the spirit of the season, can I just take time out to congartulate Scotlands newest club on appointing their new management team ?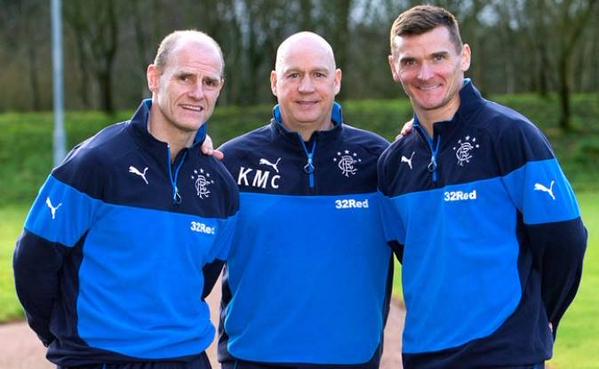 Someone wasn't impressed, but then he knows the shit he's left them in.
Will the new team work together as well as the old one ?
Kenny MacDowell, in charge until they go tits up, clims he can win the first division, despite his side being twelve points adrift
Does he actually know how bad the team is ? And how far off the pace they are ?
More importantly, we hear he has been allowed a glance at the clubs accounts…
And he definitely did not stab Ally McCoist in the back.
Seriously. Lee McCulloch as coach. We won't get the pleasure of seeing McCoist humiliated in February, but McCulloch is probably the last one of their kind left now, so all the oain and hurt will be on his face.
Which has cheered me up no end.
As has the news that despite Ashley apparently in it for the merchandising over at Ibrox, they appear to have missed out on the christmas market, as it appears the support are not spending their money at the  official outlets.
Not a penny did I spend the first time in years usually the Mrs gets me something from the store not a thing did she buy **** the Wigs. 
That comment mirrored the general view of the club and where its at.
So, its only fair we give them something to look forward to, in the spirit of the season.
Oh, meant to say. Bumped into an old pal the other day. He says hello.
Caption competiton-and theres two pictures today. Whats being said in this one…
and whats being said in this one ?
By the way, nice touch from all those players involved in those pictures. It would have made those kids happy.
Which is what its all about.