Celtic will rekindle a couple of better memories when they take on Dukla Prague a bit later today. Dukla, of course, were the side beaten in the European Cup semi final back in 1967, and we all know what happened after that.
Ronny Deila should use this game as a trial run before the season curtain raiser on Tuesday against Icelandic side Reykjavik, and the team that starts today won't be too far away from the one that starts the qualifier.
But we do look a little thin on the ground, surprisingly enough, in midfield. Scott Brown won't be available, Nir Bitton seems to be doubtful, and Beram Kayal isn't the player he used to be.
That leaves Stefan Johansen and probably Charlie Mulgrew in the holding berths, with Kris Commons and Kayal taking up the other two spots, with Teemu Pukki and anyone from three up front.
Thats if Efe Ambrose comes back, and we don't need to use Mulgrew at the back. Dylan Mcgeouch has probably earned a start in centre midfield, but there is a lightweight feel to the squad, and its adding to the sense of nervousness about the game.
We'll also see what sort of formation Deila will use to get a result on Tuesday, and perhaps Celtic tv, who are showing the game, will see a little bit of a surge in subscriptions. Its not too late for them to sell the Dukla game as a one off.
Deila wants a big effort from the team tonight, as he told the Evening Times;
The Rapid Vienna game wasn't at the level I wanted, but on Tuesday I was satisfied. I'm looking forward to the game tonight as I think we are taking steps every day." 
I was happy we kept compact for 90 minutes, and that we looked more comfortable on the ball.
"We didn't lose as many balls as we did in the game before. But still the passing and the movement need to be quicker, and that we have to work on." 
 Sounds like he's taking it seriously.
 The players seem to have responded quite well to the new regime. Emilio Izaguerre, back after his World Cup exploits, was happy enough with what he came back to;
"The football has changed in some ways, but I'm happy about that.
"Every manager has different ideas about training, and all my team-mates tell me this manager has made big differences in the match play and in training. This is good for Celtic." 
Deila also mentioned that he will give Kris Commons a new deal, something that has been at the back of the players mind since the last manager told him he could have one, although he never actually got round to it.
"Of course we want to keep Kris longer.
"He is the kind of guy we want to stay at the club, but of course everything has its price. He is a fantastic player and I hope he can develop further and have a season similar to the last one." 
 "Kris will have a very important impact on the team and in the games that we play." 
 Commons is being tipped by some to take over as captain in the absence of Scott Brown, and whatever decision is made in that respect, perhaps it will pay a little more respect to the position than the rotation policy that Neil Lennon employed last season, where it usually went to whoever was closest to the armband prior to kick off.
Elsewhere, theres good news for another one of the Celtic fans arrested during the Amsterdam "Riots "…
Carljunglebhoy, who has followed the story since it broke, tells us;
John Quigley  – wrongly arrested – 3K compensation awarded 20 June.
Joseph Bollan – acquitted of charges 9 July
A.N Other – Keep your eyes open for another possible acquittal next week
 
The other #DamJustice 5 still awaiting appeal/re-trial . The wheels of justice move very slowly in Holland, but so far, the spin is in the opposite direction from the A'dam Mayor's "drunken Celtic fans caused riot" PR tirade.  
 So far so good, and its nice to be able to pass on some good news for a change.
And theres more…Babs tells us about her succesful climbing expedition last week….
" Well we completed the climb. But at the last minute we had to change the venue. This was due to transport problems so we embarked on all 2,900ft of Ben Arthur or the Cobbler as it is known.. I'll call it the mountain that damn near killed me!
We embarked on our challenge at 10.50am. At 2.30pm we reached the top. What an amazing feeling. After a quick bite to eat we released our balloons for wee Oscar. That was a truly emotional and proud moment. The wee man will never be forgotten. Then we had to begin our descent. That took us 2 hrs approx although for those who were more experienced they had time for a pint by the time we got there.. 🙂 Then it was back for refreshments at the Phoenix where we had a great evening.
I'd like to take this opportunity to thank all 24 Celts who took on this challenge considering most only knew me from a Celtic Group on Facebook, but especially to one man Thomas South. Thomas did the Ben Nevis climb the day before but was straight in to assist us amateurs on our journey the following day. We'll be forever grateful to him. Thanks to Mandy Paton who organised the food etc in the Phoenix and to Martin O'Neill (no not theeee Martin O'Neill) for organising the buses. Also to thank you and the Etims for supporting and highlighting our big day. The total amount raised between Downs & Proud, MacMillan Nurses, Ronald McDonald House and The MS Society is at the moment £3,500!!
July 4th next year is our next climb date and this time Ben Lomond won't know what hit it.. 😉 "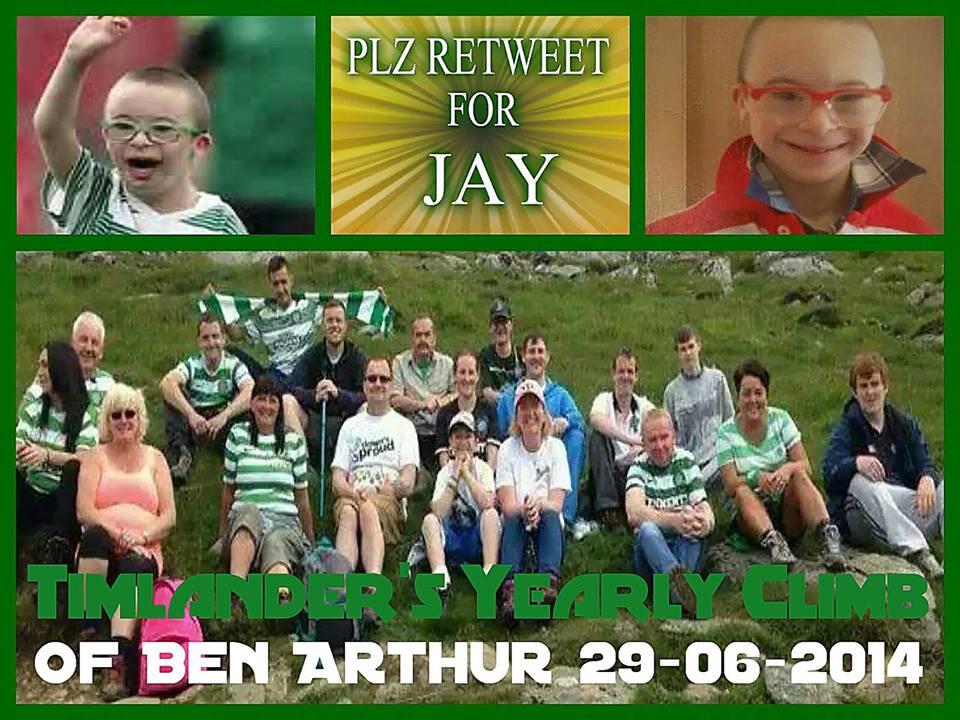 Well done to all involved. superb effort.
And the state aid money is being spent wisely at Celtic Park. The clubs connections with the Glasgow City council, and the ten pounds per year surcharge on all residents-recently uncovered by those diligent bampots over on websites connected to Ibrox, are beginning to pay off as the club has now removed the pitch and should be able to get at the diamonds and gold hidden there by senior Nazi Party members in 1944, as a reward for leaving the floodlights on to help Luftwaffe pilots find the shipyards.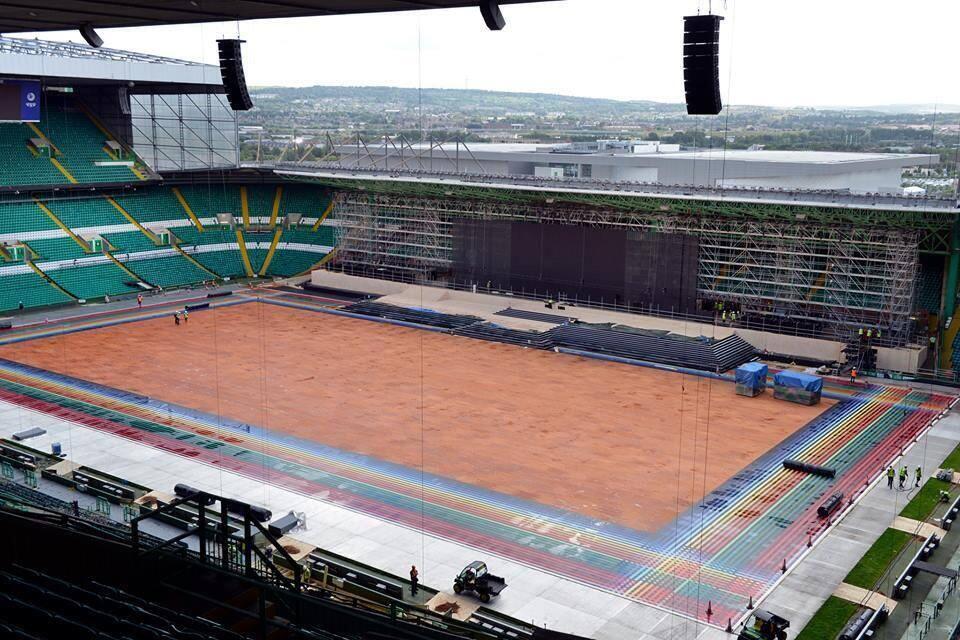 We hear there is a lot to bring up, and the Commonwealth games are actually just a cover while the work takes place, and fair play to those south of the river who spotted it.
 Thankfully, they haven't spotted the work going on at the old Barrowfield training pitch, where even more stolen loot has been hidden.
 Well, if the papers can talk shite, so can I.
 And none more so than Keith Jackson, who has resumed his position firmly between the cheeks of David Murrays arse.
The attempt to to take the  Dodgy out of Dave has begun. Jackson began it yesterday, with this;
Keith Jackson:
Craig Whyte – with his ill-fitting suits and pointy buckled shoes
– was a fraud of a man &
how David Murray could have fallen for him is
incomprehensible
Yeah, because you had his card marked from day one , didn't you Keith ? 
Its incomprehensible how this shite ever made the pages of a national newspaper.
Read it, if you have nothing better to do, such as stare at your feet or put your finger in your ear. Actually, put both your fingers in your ears while you read it. Otherwise, you will clearly hear the screams of the  ghost of sports writers past .
Today, the Record continues its attempt to rewrite the facts, with a picture most of you are already familiar with, and claiming it as their own. Under the subtle headline…
Remember kids, a big boy did it and ran away. And heres the proof !
But, just as the Diary is quick to criticise some of the more pathetic attempts at journalism, seriously Keith, just chuck it now, its embarrassing, then it must also praise the better efforts, and this one, from Graham Spiers, is excellent.
Right, I need to head to the hospital to get twenty seven stitiches removed, and the plan for the next stage of my physical transformation revealed. Hard to believe, I know, but I'm going to be even better looking soon.
Wilfrid Brabell, Harold Steptoe in the classic comedy Steptoe and Son, played the Irish grandad of Paul McCartney in the sixties comedy musical Hard Days Night, and when his character  found himself in a London police  station, he declared himself a soldier of the republic and launched into a chorus of " A Nation Once Again "
When Leigh Griffiths appeared to sing along to a forbidden song, he too, ended up in a police station, but unlike he bold Wilfred, it was the Scottish police he faced, and so he was charged.
The Beatles had a tune or two dedicated to Irish republicanism, Give Ireland Back to the Irish, Sunday, Bloody Sunday being two tunes written individually after the group split by messrs Lennon and McCartney, but perhaps the least known one, Fuck Off, You English Bastards, written by all four, needed a bit of work on the title, and they went with Octopuses Garden instead, a song about the greedy hands of whitehall.
Probably.
Right got to go. Todays answer is " Twenty five years ago, and he's still a bastard. "
Whats the question ?