All of which will teach us not to laugh at Liverpool.
As promised, manager Neil Lennon gave a rare outing to Amido Balde, Derk Boerrigter and Teemu Pukki. Of the three, only Pukki seemed either capable or interested. The other two might as well not have bothered.
Balde looks like he has a long way to go to reach any sort of decent standard, Boerrigter has clearly decided he's away, and although Pukki scored , he seemed more relieved than happy.
Pukki deserves another chance, he is just taking a wee bit of time to settle. Sometimes that happens. The other two, if we are to be honest, well, its just not going to happen.
St. Johnstone set out their stall straight from the kick off when Mike O'Halloran rattled the post, with Zaluska beaten. So it was no surprise when Tim Clancy nipped in front of the Celtic keeper to divert a speculative downward header into the net to open the scoring.
Saints should have been further ahead when Stevie May missed a penalty, Zaluska falling onto a weak effort, but Celtic decided to change things around at the break, Boerrigter and Adam Matthews making way for Kris Commons and Scott Brown, which increased the tempo and suddenly Celtic were serious.
Three goals followed, Commons from the spot-well, next to the spot because there was a big hole in the ground, Pukki and van Dijk which meant Celtic should have been cruising.
But the defence, so reliable this season, went back to sleep, and the Perth side got two late goals in quick succession to tie the game and leave us with no chance of one hundred points.
Which is really upsetting.
You can't blame the players for switching off. We all get our holiday heads on when the time draws near. But more was expected from the fringe players, who disappointed, and that means we will probably have some new fringe players in time for next season.
Neil Lennon sounded as though he was glad the game was over;
We threw away two goals at the end which was disappointing. But we made the changes because we wanted to give players a game and there was a disjointed look about us in the first half. We didn't play well at all.
"We decided to make the changes at half-time and we should have seen the game out. But I think over the piece a draw was a fair result.
"I made my feelings known at half-time. It was miles off the level that we have been at. And I don't just mean the players who have come in. I mean the players who have been playing.
"I was unhappy with the defending for the final two goals. I thought we were lazy. But I can't be too critical of the way we have been playing.
"Since we have won the league we have won five and drawn two. We have really kept our momentum going really well. We have rotated the squad and had a look at some players."
He does have hope for Pukki, who he singled out for praise;
Teemu Pukki was excellent. He was our best player over the 90 minutes and thoroughly deserved his goal.
"He has been looking pretty good in training in the last few weeks. His first touch tonight was excellent as was his workrate. He was the only one who gave us any sort of positive impetus going forward.
"The other bonus was Mikael Lustig having 90 minutes for the first time in four months. He obviously tired towards the end which was understandable. But he will get a real benefit from that.
"He got stronger as the game went on. The majority of the team did. There was a fluency about us in the second half which was obviously missing from the first half."
 Still, theres always Sunday, after which they can all have a rest.
"I am really looking forward to Sunday. The lads haven't had the opportunity to celebrate the title win so to get the trophy at home will be a special day and I want them to finish the season on a high." added the manager, a little unconvincingly.
 The rumour mill will be in overdrive with the news that Norwich have been relegated. Robert Snodgrass has allegedly agreed a deal with Celtic, and his pal Gary Hooper has been tipped to return as well.
 At least we'd know what we're getting with these two, instead of toddling over to Europe and signing someones reserves…
 We're not the only club trying to get  players in who have already done a stint at the club. Oldfirmfacts, on twitter, has somehow got his hands on Kenny Millers phone…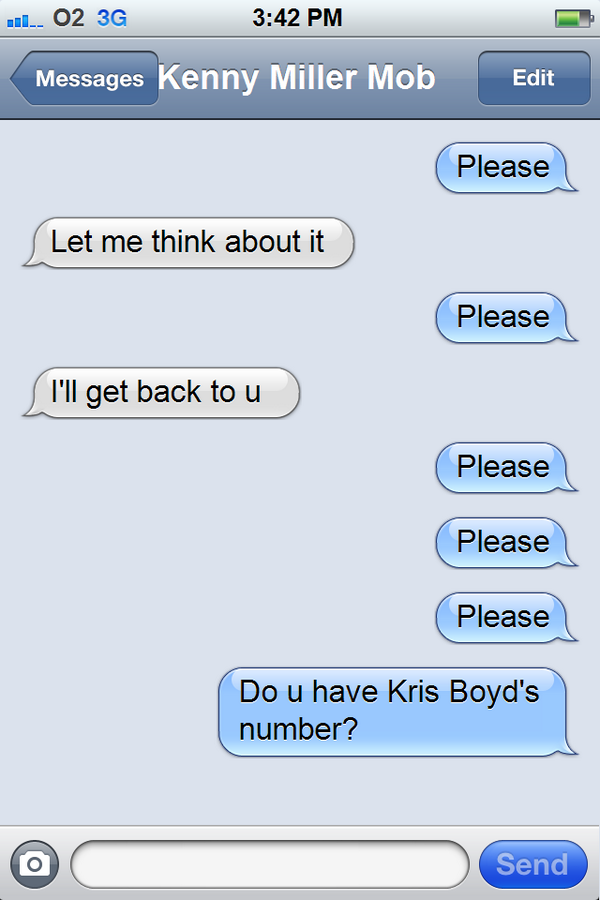 Another little story to emerge yesterday, which might be a wind up, is the new away strip for next season, apparently leaked in China by Nike,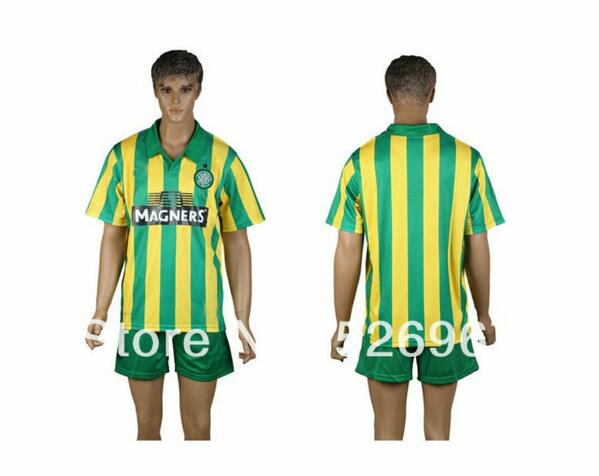 Its the third or fourth image to hit the web in recent weeks, all showing a different strip, and none of us are any the wiser with this one.
Can't we just have gree with white hoops for the home strip, and white with green hoops for the away one ?
Remember when Charles Green told everyone to compare the financial conditions of his new Rangers and say, Celtic after he and his colleagues had weaved their magic ?
 Lets have a look at the relative share prices of the two clubs since the birth of the new lot.
This is Celtic;
And this is Second Rangers;
Perhaps they are hoping for a late surge. We hear that a couple of their directors are going to buy a few shares, to boost confidence, and they probably won't have to look too hard to find someone willing to sell.
We asked a top level city analyst for his views..
Over in France, second division side Clermont Foot have appointed a woman manager, Helena Costa. Or is it French side Helena Costa have appointed Clermont Foot as a coach. You never can be sure.
 Anyway, she used to be a European scout with Celtic, and the club are delighted for her in her new role;
 "We would like to congratulate Helena sincerely on taking up this new role," said a Celtic spokesperson. "She did an excellent job for us and we know she will give her new position the same high level of commitment and dedication which she gave to Celtic." 
We'll keep an eye out for their results.
The BBC have announced that Neil Lennon and former team mate John Hartson will be part of their team to cover the World Cup in Brazil. Lennons easy going and knowledgeable style is ideal for this job, and John Hartson, a veteran of last seasons Dens Park riots, won't be afraid to face the armed Brazilian police or the street gangs and drug dealers.
 Ally McCoist had been considered for this role, but the Ibrox clubs continued refusal to speak to the BBC has ruled him out. The national broadcaster  had originally considered him as he is the only pundit who could make Alan Shearer look as though he knows what he's talking about.
The under 20 side will now play Dundee Utd at Tannadice tomorrow afternoon, 1pm kick off, where they will be going for five in a row.
Coach Stevie Frail is looking forward to it;
"It's great I'm sitting here talking about it as you are thinking back before the St Mirren game last week and we knew what we had to do to – three wins gives us the league," said Frail.
"One goes, we then take care of Rangers and we never thought about Dundee United until the final whistle.
"We are looking forward to it, but Dundee United have really good young players and we know how difficult it will be."
Should be a good game, and if anyone is free tomorrow on Tayside, they could do a lot worse than cheer the lads on.
Anyone passing Ibrox today ? You might be wondering why theres security guards and barriers around the door. So are we ….
Now, we have a confession to make.
I saw this…
ALAN McINALLY
Former Ayr United and Celtic striker McInally joined Bayern Munich from Aston Villa in 1989. He spent three years in Germany, where his battering-ram style proved popular with fans but not always referees. 
and this…
and naturally assumed thats who it was…
but in fact its Mark Hughes, who does Tosh MacKinlay impressions.
Still, it got you talking.
Try this one, which has been verified;
 I'm of to Jersey tomorrow for a couple of days, so the diary might not appear. That gives al of you a chance to read something decent instead.
 It will return on Monday, as indeed will I .
Its time for me to tackle my morbid fear of flying again.