You have to be careful what you say.
For instance, during one of those deep and meaningful discussions with the wife, I told her that if anything ever happened to me, then she could take another man. Of course, i meant something a little more serious than being stuck in traffic on the way home from work, but I can understand the confusion.
Take Dermot Desmond, for instance.
He's been out of the limelight for a while , and then suddenly he's in all the papers. Thats because he's been on Celtic TV, which in fairness, is the best place to say what you want to say about the club. That way, there can be no misinterpretation by the press-every fan can see it for themselves. and judge it for themselves.
Celtics biggest shareholder told Celtic TV:
"If you look at the financial metrics between Celtic and other clubs in the UK, our performance, the balance-sheet performance and the performance on the field, I think, exceeds any other club, recognising that we are shackled by lack of revenues we have from TV and other comparable income that Premier League and Championship clubs get.
Performance on the field ? Its erratic at best, but presumably he reads the match reports in the Celtic View, which has us as a sort of cross between the Brazil of1982 and the Barcelona of the last couple of years. 
"We have got financial stability, good organisational structures as far as scouting, development squad and coaching go. We have a vision of how we want to keep on improving the playing squad.
"If you look at the squads over the past few years, they are getting better and better each year."
Quite simply, no they aren't. We keep selling our top players. Theres a chance that this team, kept together could actually do something in Europe next year, but it won't be kept together.
The Irishman also hailed Neil Lennon as a "first-class manager" and Peter Lawwell as a "wonderful chief executive, as good as you will find in any football club in the world".
He also thinks the food is great, the parking excellent and the new strips a wowser.
When asked for his highlights during his time with the Hoops, he said: "I have too many to mention. I liked the evening we beat Barcelona and I liked when we did the same with Manchester United.
Which were the only games he went to.
"I like any moment at Celtic Park when we have had victories, especially over teams that wear blue."
What the fuck has he got against St. Johnstone ? Or is it the customary nod to the fans about beating  Rangers, who he may not be aware, actually went out of business a couple of years ago ?  If he is hinting that he wants them back, then he truly has put an enormous gulf between himself and the Celtic support.
"Seville (the 2003 UEFA Cup final) was a great highlight but there's many of them there.
"But I think the highlight of the 20 years I have been involved with Celtic is that it's an independent club with wonderful supporters and we have a great future.
As long as they don't sing roll of Honour. Or ask me for money. Or ask me to do anything.
"I see the club getting stronger on the playing field. I see the club being visionary in developing internationally. And I see the Celtic fans and the club having a partnership that will be a model for all other football clubs."
I can't see that, but I can smell something.
Desmond was trying to be optimistic about the future, but his message kind of got mixed up somewhere. But at least he got a message out, which is a start.
Celtic will also play Bayer Leverkusen in a pre season friendly, in Helsinki, Finland, on Saturday August 2. Celtic Park is unavailable that day, and so presumably is every other ground in Western Europe. The new league season starts just a week later, the club will also be involved in Champions League qualifiers, which could be anywhere between Dublin and Beijjing , so perhaps this extra jaunt could be deemed a little unneccessary.
Or completely bloody stupid. which is more likely to be closer to the truth. Still, it'll give us something to moan about in August.
Anthony Stokes will be charged with assault after an incident in Dublin with a man who makes a living impersonating Elvis Presley. Stokes, who makes a living impersonating a top class footballer, somehow got involved with the man in a nightclub last June, and the wheels of justice have fully turned and he will be called to account for his alleged actions.
The striker is reported to be all shook up by the news, and paused briefly while crying in the chapel in the ghetto, to warn those with suspicious minds that he would conduct his defence "my way ", and would be at the heartbreak hotel should anyone wish to help him.
Oh hang on , that last one was the Beatles.
Well, everyone else is doing it. I didn't want to feel left out.
The Irish Examiner gives more detail of the charge;
" The striker was brought before Dublin District Court yesterday afternoon to face a charge under section 3 of the Non-Fatal Offences Against the Persons Act.
Mr Stokes, aged 25, who is from Dublin, is accused of assault causing harm to Elvis impersonator Anthony Bradley, at Buck Whaley's on Leeson St, on June 8 last year.
The striker, who had been in the squad for Wednesday night's international friendly against Serbia, met investigating gardaí by appointment in Dublin yesterday.
He was arrested at 1.47pm and then taken to the Bridewell Garda station in the city centre where the charge was put to him.
From there he was brought to appear before Judge Michael Walsh at Dublin District Court.
Dressed in a grey, hooded jacket, blue jeans, and runners, he sat silently as Garda Noel Gibbons told the court that the footballer "made no reply to caution" after he was charged.
He also agreed with defence solicitor Michael Staines that Mr Stokes had been met by appointment and said "so far, yes", when asked if the footballer had co-operated with the investigation.
Detective Garda Des Rogers, who is also involved in the prosecution, told Judge Walsh that the DPP has directed "summary disposal". This means it has been recommended that the case should stay in the jurisdiction of the district court and not be sent forward to the circuit court, which has tougher sentencing powers.
Det Garda Rogers also told the court that "there is a large amount of disclosure which has been served" and that a lengthy remand was needed.
Mr Staines, who agreed, asked for the case to be put back until May 29 and Judge Walsh granted an adjournment until that date.
Judge Walsh was given a note detailing Mr Stokes' address and he also noted from Det Garda Rogers that bail conditions were not required.
However the judge told Mr Stokes, who lives in  Glasgow, Scotland, that he must appear in court on every occasion until this matter has been disposed of and he added that the 25-year-old must "provide details of your mobile phone number to prosecution authorities".
The DPP has directed that the case is suitable to be dealt with at district court level, which on conviction can impose a sentence of up to 12 months and or a fine for assault causing harm.
However, no evidence in relation to the alleged incident has been given and the Celtic star, who did not address the court during the brief hearing, has not yet indicated how he will plead. "
I'd be a little worried if I was him. This doesn't sound good. If after all this time they think they have enough to prosecute, then they probably have.
Warden threw a party at the county jail, doo dooo
Speaking of jail, I note this morning that Carson Yeung, owner of Birmingham city, has got six years for money laundering . Thankfully, nothing like that could ever happen in Scottish football, as everything is completely transparent and above board here.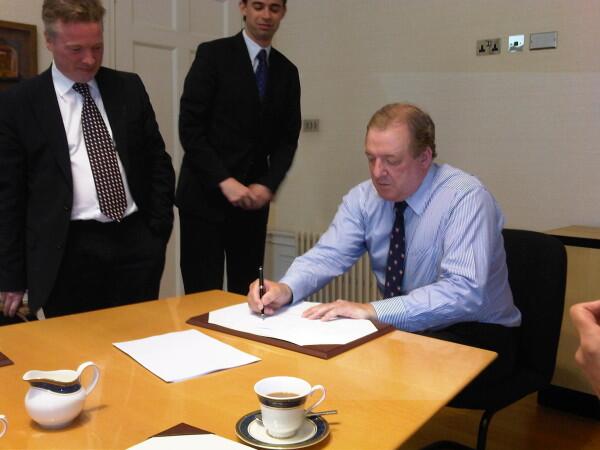 Here is a previously unseen picture -and completely unrelated to any rumours of money laundering or skullduggery-of David Murray selling Rangers to Craig Whyte for a pound.
Lets hope he kept the receipt, as the goods were clearly not fit for the use they were intended for.
Back to football, and after Celtic were linked with Manchester Utds reserve keeper, its only fair that we should be linked with Manchester Citys back up as well.
Celtic could look to sign Manchester City goalkeeper Costel Pantilimon if Fraser Forster leaves the club this summer, it has emerged. 
The 27-year-old has been at the Etihad Stadium since 2012, but has failed to break past Joe Hart into the starting lineup on a regular basis 
Which means he probably hasn't got any arms, so we should really look somewhere else. Anywhere else, in fact.
A wee appeal now, from regular reader and contributor Babs who asks,
 I wonder could you share a link for me. It's for wee Jay Beatty who has been Celtic's mascot a number of times. I am walking the Flora Women's Mini Marathon 10k in June here in Dublin for his charity Downs & Proud. Trying to drum up support.. 🙂
 Babs is also going to climb Ben Lomond-I'm assured its a mountain, and not a person, otherwise she'd be looking at a charge under the delighfully named Non Fatal Offences against the  Persons Act- and when she and her colleagues get to the top, they are going to do a huddle. Well, they'll have to. It'll be freezing up there.
Date: June 29th
Time: departing Glasgow at 10am
Venue: Ben Lomond
She adds;
" I'm hoping to have at least 3 people with First Aid experience with us for the challenge and I have enlisted an experienced hill walker to accompany us also. People can do this for whatever charity is close to their hearts and hopefully we'll have a great day and lots of monies will be raised.  "
 Anybody who does anything for charity that requires First Aid people with them, deserves all the support we can give.
 We'll keep in touch as the event draws nearer, and anyone who wants to get involved leave a comment below, and we'll forward email addresses.
Don't leave your email address in the comments, we can see it anyway. Which is really clever.
So, as the week draws to a close, and Second Rangers look to have avoided administration for a while, Ally McCoist has finally spoken to his peepil-and played down the financial crisis;
"I don't have to pay attention to that. What I pay attention to at the moment is the football team," he said. "Matches, games, results… that's my job as a manager"
And he's doing so well. 
"Everything else will look after itself. I'm not saying it's secondary but everything else will look after itself.
Thats the spirit! Keep your head firmly up your arse while it all crumbles around you.
"Our boys have been doing particularly well in terms of results and what an opportunity we have for a great game on Sunday to get to a semi-final."
He stopped short of thanking his pals at the SFA for the kind and completely unpredictable draw.
"I think Dave King said 'Ally McCoist was doing the right thing by actually talking about the football'.
Because he knows eff all about anything else. Actually his football knowledge is fairly limited as well.
"So is the chief executive and the board. So if all parties are quite happy with me talking about the football, which indeed I am, I think I will continue to talk about the football."
So he's going to talk about the football. You know, how he will set his team out for the game, what tactics he will employ. Where he feels Albion will be dangerous, how he will deal with it, and so on…Well, maybe not. He probably doesn't even know who they're playing.
"The last two years have been what they've been. I don't get frustrated, I just have a job to do and we have a massive, massive game on Sunday which we are looking forward to. It will give us an opportunity to continue the season.
A bit like that secured loan will give you the opportunity to continue the season. Well, some of it anyway.
"But if you are looking for potential stumbling blocks they are certainly there and we will be guarded against that. There will be no level of complacency from us at all.
Or skill, or tactical awareness. Sky are showing the game live, which is great for albion-they missed out on playing the new club in the league, so the money will come in handy. good luck in getting it off the Ibrox board though.
"This game is too important for the team, the club, the fans, and we will not allow that."
Or skill, or tactical awareness….
Still on the toxic club from the other side of the river-This caught my attention on twitter
The minutes of the Rangers plc board meeting of 16/9/99 refer 3 times to remuneration package for Craig Moore via dos ebt. REMUNERATION !!!
Which is fairly damning, and with the UTTT case being heard in Edinburgh, one wonders if they have that information. Or more importantly, if they will use it.
Then there was the admission from the defence QC , contrasted with the official line at the Nimmo smith enquiry, also from twitter;
"No Sporting advantage" – Sandy Bryson @ScottishFA
"Rangers could not afford to put a team on the park without the EBT scheme" Thornhill QC
Theres a story there for someone, surely our press isn't going to keep ignoring it ? In fact, we  hear that action is already being taken in the offices of power..
That was Paddy Crerand and Charlie Gallagher enjoying a kick about in the Gorbals with some kids in yesterdays diary. Today,  a legend shows us a photo of him during his playing days. Who is he -and how many more of those caps did he get ?