International football hogged the headlines last night-and they weren't all good.
Nir Bitton picked up an injury playing for Israel-thought to be a torn groin muscle-and could miss the rest of Celtics season, which is a shame, because for most of us the rest of Celtics season largely revolved around watching the midfield partnership between him and Stefan Johansen develop.
Israel lost 3-1 to Slovakia, which is neither here nor there. Johansen had a bit part in Norways 2-2 draw with the Czech Republic.
Scott Brown celebrated the return of the Home Internationals with a goal in Scotlands 1-0 win over Poland. Brown said his shot could have ended up in Row Z, like they usually do, but this time it found its way into the net, which is presumably around sixty feet high. Charlie Mulgrew was also playing, and was unavailable for comment on browns goal, as he is still in shock.
The game was only available on the Daily Records website, which meant most of us would have given it a miss. The BBC, still smarting over the fact that Scots want independence, relegated the importance of the game to below that of Gibraltar against Estonia, Gibraltar, of course , are happy to remain a British colony, whereas Estonia are desperately trying to avoid becoming a Russian one.
Remember Marc Janko ?
He said this a few years ago…
'if Celtic are looking for a striker to score goals then tell them I would honestly walk to Glasgow from Turkey to join.
'If I was to get the chance to talk with Celtic again, I would be interested.
'I was in Glasgow to meet with Gordan Strachan in 2009 but I always remember meeting with Mr Lennon at the same time in the manager's office. I got on well with him.' 
He scored in Austrias draw with Uruguay last night, and it was a decent finish;
Atalnta, Georgia was host to a 0-0 draw featuring Nigeria and Mexico-70,000 turned up for that one-and Efe Ambrose played the first half.
Ki Seung Yeungs south Korea beat Georgios Samaras' Greece 2-0 in a battle betweeen two former Celts, one who is physically away, and the other who is mentally away.
Finland beat Hungary 2-1 in Gyor, despite going one down, and it was a surreal experience for Teemu Pukki who played for 88 minutes and was then substituted, instead of the other way round. Made no difference. He still didn't score, but at least he didn't have to listen to Anthony Stokes telling him what to do.
Honduras continued their steady build up to the World cup , with Emilio Izaguerre playing in a 2-1 home win over Venezuela, And Tom Rogic was part of the Australian side that went in three up against Ecuador at half time before conceding four in the second half.
The latter game was played at Millwalls ground in London, which must have been a bastard for supporters of both countries when it came to organising bus pick up times.
Adam Matthews wasn't called on for Wales as they beat Iceland 3-1, setting themselves up nicely for the Cardiff Cup final against Farm Foods. Fraser Forster wasn't used by England in their turgid affair with Denmark. And Anthony Stokes sat out the Ireland Serbia game, probably in the bar.
International football is dying. Not a moment to soon, either, as players are sent to all the ends of the Earth for meaningless and pointless kickabouts.
FIFA are making moves to try to make the friendlies more regulated, on a sort of league basis between similarly ranked nations, meaning that theres a sort of point to it all. Well, in their minds at least.
These rankings are also a bit silly. Celtic are currently ranked as fifth best team in Britain, despite losing to Aberdeen every time we play them.
" In the latest statistics released by IFFHS Celtic have remained as the 5th best British club side.The Glasgow club have managed to keep their place in the top 30 but two unexpected defeats in February has meant they have dropped 9 places in the rankings.
The statistics released by IFFHS are made up via a points system in which clubs pick up points for wins or draws in their domestic and continental competitions. The number of points available is judged on how competitive the competitions are that each club has to play in. Celtic won the SPL and the cup last season which has contributed to their total points tally. They currently top of the SPL going into the final stages of the season.
Despite their position they have dropped out of the top 20 this month after two defeats last month and are also counting the cost of not being involved in Europe. At the end of January they were in 19th place but they have now dropped to 28th. Celtic were dumped out of the cup by Aberdeen at the start of the month and were again defeated by the same club in the league. Celtic did manage to put three wins together in the SPL which consolidated their top 30 ranking.
Thats from Sports Witness, and I love that line that says we " did manage to put three wins together in the SPL " ,
Which was presumably typed while the author was licking excrement from his shoe.
Meanwhile, the times they are a-changing, as Glasgow announces  a big Irish festival to celebrate St. Patricks Day, something you would not have seen when I was a lad, despite the massive Irish diaspora in the country. Glasgow has a fair way to go to catch up with Boston or New York-or even Stoke, but its a start. ( Stoke may only have a few of us participating, but we drink at least as much as Boston and New York combined. And there are probably more arrests.
The official Celtic site tells us;
GLASGOW St Patrick's Festival kicks off tonight with a screening of the acclaimed film version of Roddy Doyle's book, The Commitments, which was voted the best Irish film of all-time in a 2005 poll. It's on tonight at Sloans pub in Glasgow (6.30pm).
A lot of thought has gone into this…
The festival runs from March 5-16, and there are a whole host of events and activities on throughout the city.
The Lord Provost of Glasgow, Sadie Docherty, said: "I was born in Glasgow. However my parents and their families are from Donegal and, like many Glaswegians, I am very proud of my Irish lineage.
"Scotland and Ireland share a Gaelic culture. Our histories are intertwined and our heritage is something to be celebrated. This event showcases all that is wonderful about Irish literature, music, dance and sport."
Other events over the next few days include:
Thursday, March 6
Irish Quiz Night
(Bi-lingual quiz)
Malones pub (7.30pm)
55-57 Sauchiehall Lane, Glasgow
Price: £2
Test what you know about Ireland and the Irish. A bi-lingual quiz (all questions are in both Irish and English).

Sunday, March 9
Lecture: Sean O'Casey
Cottiers Theatre (7:30pm)
Price: £5
Author, journalist and playwright Phil Mac Giolla Bháin will give a talk on 'The Dublin of Séan O'Casey'. Phil will explore the social and political realities of the city on the Liffey that cradled and inspired O'Casey and provided him with a rich cast of authentic Dublin characters. The iconic playwright, who has been styled as Ireland's Chekhov, chronicled the revolutionary convulsions at the start of the 20th century that made the modern Irish nation. Almost a century after they first appeared on stage, O'Casey's Dublin characters still speak to us with a power and relevance that can teach us not just about the Rising generation, but also of post-Tiger Ireland
Monday, March 10 – Wednesday, March 12
Play: Juno and the Paycock
Cottiers Theatre (7pm)
Price: £12 / £10 Concessions
One of the great plays of the twentieth century, Juno & the Paycock by Sean O'Casey offers a devastating portrait of wasted potential in a Dublin torn apart by the chaos of the Irish Civil War, 1922. This production is an amateur production by Sweet For Addicts by special arrangement with Samuel French Ltd.

For more information on Glasgow's St Patrick's Festival, go to www.glasgowstpatricksfestival.co.uk 
Well, its a start.
Coatbridge , a small republic on the outskirts of the city, has its own festival. Which includes a Father Ted night. Although the other events look a lot more interesting;
Thursday, March 6
St Patrick's Hall
St John Street, Coatbridge (5.30pm)
'Tea Dance: Ireland's Forgotten'
Admission free by ticket only
Relive the past and dance the evening away to the music of a bygone era thanks to 'The Forgotten Irish' project in Coatbridge, sponsored by Celtic FC Foundation and the St. Patrick's Day Festival Committee.

Friday, March 7
Columba Club
St John Street, Coatbridge (7.30pm)
Father Ted Night (followed by live Irish music from Karl Byrne)
Price: £5
Brush up for the Father Ted quiz (max. of 4 per team) and sit back and laugh as we show two episodes of the popular series and dress up as you favourite character to win a prize: followed by live Irish music from Karl Byrne.

Friday, March 7
St Patrick's Hall
St John Street, Coatbridge (7.30pm)
Irish Ceilli
Price: £3 (children £1)
An evening of traditional Irish music and dance with Coatbridge's St.Patrick's branch of Comhaltas Ceoltóirí éireann.

Saturday, March 8
Dunbeth Park, Kildonan Street, Coatbridge
GAA Youth match (10am)
Annual GAA Challenge match (11.30am)
Admission free
Local primary schools compete in Gaelic Football for the annual Festival Trophy, followed by Senior Gaelic Football teams competing for the annual Festival Challenge Cup.

Sunday, March 9
St Patrick's Hall
St John Street, Coatbridge (7.30pm)
Festival Debate: The Irish in Scotland: Past, Present and Future
Price: £4
Our esteemed panel of guests, Professor Tom Devine, Siobhan McMahon MSP, Catholic Media Spokesperson Peter Kearney, Hugh Henry MSP, Professor Patrick Reilly, Joan McAlpine MSP and BEMIS Parliamentary & Policy Officer Danny Boyle, discuss the current and future position of the ethnic Irish in 21st Century Scotland, particularly in light of the forthcoming referendum. Professor Bob Davis of Glasgow University chairs this important debate.

For more information on Coatbridge's St Patrick's Festival, go tohttp://www.stpatricksdayfestivalcoatbridge.org
 Joking apart its a great idea, and deserves a lot of support. Remembering where you come from doesn't have to be political. It does, however, have to be cultural.
 Who knows, in a few years we might have reached the stage where we can sing Irish songs in public without fear of arrest.  Or put what school we went to on job application forms.
 Meanwhile, the predicted Insolvency Event over at Ibrox didn't happen yesterday. They are all too busy trying to fully empty the coffers before they sink the ship again. All we got was all the major players distracting the press by blaming each other for the mess they are in.
 But, as ever, they did provide some light relief. Lee McCulloch, their captain and star player-stop laughing, held a question and answer session on twitter, and predictably, it was taken over by happy hoops fans, who gleefully helped to remind McCulloch of his standing in life..
 You can read the whole lot by going going to Twitter and searching #askLee , but a few gems do stand out;
Ayr United's striker or the Brechin Hedge. Which one was your most difficult opponent this season? #AskLee
Lee McCulloch Q and A on Twitter.. #AskLee Is it harder to score against joiners or plumbers?
#asklee is it a brass neck picking up 18 grand a week thats killing the tribute act you play for ?
Lee McCulloch on Twitter #AskLee If my dog dies, I get a new dog but call it the same name as the old one, is it still the same dog?
#asklee do you think you would be playing as high as league one if Rangers didn't die?
Keep your questions coming in for @jiggymacc6 using #askLee and he'll answer them this afternoon ahead of #PolvSco
I don't want to #AskLee @LeeRyanMusic anything. Everything that comes out that tosser's mouth is a lie or delusional or both
Seems to me quite a lot of these #asklee questions on Twitter are not being answered! Does anyone think someone's not asking Lee?
#asklee who thought this would be a good idea?
Me. The full page is hilarious.
Lionel Messi became the player he is by listening to Joe McBride -the evidence was in yesterdays picture.
From Celtic Collectibles twitter- where you could spend hours browsing some superb, often rare pictures-comes this. Which two players of yesteryear are having a kickabout with these youngsters ?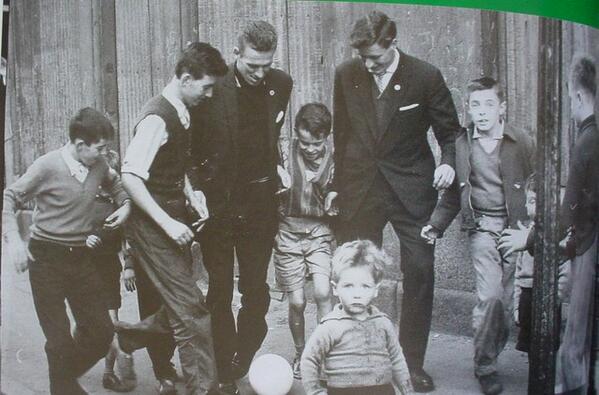 Not really a quiz, but from the same feed, whatever happened to this top ?