Theres a lot in the news today, some of it surprising, some of it not so surprising.
Sixty per cent of US students can't find Ukraine on a map. Thats not so bad, because pretty soon no-one will be able to. And then theres Oscar Pistorious, on trial simply because he misunderstood his girlfriend when she asked him to take her out.
First, we have this picture . Is safe standing about to become a reality at Celtic Park ?
Or has work just began on the new   area for the Green Brigade ?
But nothing was as much of a surprise as the statement from Celtic yesterday, which condemned the offensive behaviour at the football law.
"  Celtic have all along opposed this legislation which has been used to create a general presumption that different laws should apply to football supporters as distinct from society as a whole.
This has inevitably led to a sense of discrimination across Scottish football and has brought the law into disrepute when tested in the criminal courts. It has also acted as a barrier to our own efforts to encourage supporters to behave in a way which is consistent with the club´s proud history and reputation.
We believe the Scottish Government should review, as a matter of urgency, the way in which this unhelpful and counter-productive Act is operating.
Celtic have always valued a positive relationship with the police and we are concerned that they too have now been put in the position of enforcing legislation which is provocative and does not command widespread respect.
The Scottish Government has conceded the need to review the workings of the legislation but we see no need for delay since there is plenty of evidence available, not least from the comments of Sheriffs who have had to deal with cases arising from it.
It would be helpful if the new season could kick off in August with these issues resolved so that everyone could concentrate on promoting the best possible environment for Scottish football and marginalising unwelcome influences which attach themselves to it. "
Well, thats them told.
Credit has to go to the club, who again have shown that they do listen to supporters concerns and criticism. In fact, you could say that they have come out swinging on this one, and the hope is that other clubs follow suit, which would put pressure on the lawmakers to repeal the law, which is clearly nonensical and discriminatory.
When you can be arrested at the football merely for passing comment, it is ludicrous, especially if you made the same comment after, for example, a movie or a concert, its not illegal.
The law is clearly not working, but Roseanna Cunningham, who is an SNP MSP-I tried not to make that sound like an insult-has other ideas.
In so much as any MSP can have any ideas at all, that is.
She said;
"Until August 2014, they haven't got all the information. It's at that point they start to be doing all the analysis of the two full years work.
"We are now a good two years down the line from this being implemented and we're coming close to the end of that two-year review period the Act provided for.
"I just don't really see any great need for that to be changed. I couldn't now step in and ask them to do something differently to what they've been instructed.
"That process, because it's being done independently, because it's being done through Stirling University, is going to give a proper, comprehensive, quality-assured, evidence-based evaluation which will be – I hesitate to say incontrovertible, because nothing is ever incontrovertible – but it will be as solid a piece of work as you could possibly expect."
Asked if anything could happen before the 2015 deadline, such as in interim report, she replied: "No, it would be nonsensical to do something while this review was ongoing when we know the review is going to be published – they're the independent researchers, they're the ones that will be able to tell us something needs to be tweaked or not."
Roseanna, of course, isn't the sort to use one word where ten will do. Or to act swiftly and decisively when there is already more than enough evidence that the law is not working.
She is currently the Minister for Community Safety , ( aye, but who will keep us safe from her ? ) with special responsibility for tackling sectarianism, and earlier in her career was known as Republican Rose, as she is not a fan of the monarchy. Theres a neat kind of irony there, which surprisingly the press hasn't picked up on.
In December 2006 she led an unsuccessful attempt to prevent same-sex couples gaining the right to adopt children, despite having previously been named ScotsGay Parliamentarian of the Year in 1998.She has further stated her opposition to gay rights by announcing she will vote against the Marriage and Civil Partnership (Scotland) Bill.
In August 2007 she voiced her disdain nationally about a video showing pupils from Glenalmond college, a co-educational independent boarding school in Scotland, acting out in a satirical video called "Class Wars" in which students dressed in the stereotypical attire of the Ned  subculture are hunted by pupils dressed as Aristocrats. She is quoted as saying "I suppose this video could be billed as the revenge of Monty Python's upper-class twits, Doubtless it is intended as humour and irony but it comes across as brash, crass and arrogant.". 

She sounds like a right little bundle of fun.
Judging from her long winded response to the clubs statement, she sounds like the sort of first World War general who would continuously send the troops over the top until the health and safety people had a couple of years evidence that perhaps walking slowly and visibly into machine gun fire was not the best possible use of resources.
The trouble with that military tactic is that before long you have no soldiers left, which is a remarkable coincidence, because if the law isn't repealed soon, then there won't be any body going to the games anyway. However, the good news is that Stirling University will then receive further funding so they can figure out what went wrong.
Dr Stuart Waiton is a lecturer in sociology and Criminology at Abertay University, and he offers his tuppence worth;
"The Act is an absolute tragedy as it targets specific people in society. You shouldn't be arrested for singing a song at a matchThis law was only brought in because the SNP wanted to be seen as a politically correct government. They wanted to be seen as the government who stopped bigotry in Scotland. Rather than listen to what people thought about the law, they rushed it through without listening to anyone."
Nowehere, though, can you find commitees or spokesmen made up entirely of those the law affects. The honest football fan.
UEFA secretary Gianni Infantino says that the organisation is open to discussions on anything-showing just why he'll never be an MSP-in response to Fergus McCanns stated desire that Celtic should move to England.
'I don't know what will happen and there are other discussions going on in Scotland at the moment about independence in any case,' said Infantino. 'One part of the country wants independence and another wants to join England.
'There is an experiment, a test, going on in the BeNe League in women's football with Belgium and the Netherlands. This has gone on for a year and we will take a look into that after the second year.
Oh, hang on. Maybe he does want to be an MSP.
There will be discussions going on with all stakeholders. Football is in constant development and we are open to discussing everything.'
Mikael Lustig-remember him?- has spoken of his delight at being back out on the training pitch at Lennoxtown, and says he can't wait to be back training with the rest of the squad. The Swedish defender is on the way back to fitness after an operation to shave bone from his hips, which sounds absolutely horrific, and makes you pander for yesteryear when footballers only had to put up with broken legs, fractured skulls and metatarsil injuries.
Lustig said
"Getting back out on to the field was like a breakthrough day because it's not a lot of fun being in the gym every day on the bike and seeing the players out on the pitch.
"You come to the training ground and see the boys but they then go one way and you go the other.
"The first couple of weeks were okay but then it got tough. You are sitting on a bike and see the boys through the window of the gym out on the field having fun.
"There has been nothing too odd in the rehabilitation, just coming in and doing the same things
"But I knew from the beginning it was going to be four months out and it's always nice when you realise you can do more things week by week.
"I feel as though the problem has been helped and I really hope things are going to be better.
"Sometimes it felt as though I was standing still and not getting better but I can see progress now. It's hard but you do it because you know why and because you love football."
"I've been lucky because I've never really had a long time out before – just a couple of weeks here and there with muscle strains.
"But this was always going to be four months and it gives you time to think. When you have a lot of games constantly you sometimes forget how much you actually love the game and how lucky you are.
"I had Euro 2012 with Sweden after my first few months at Celtic so I just had a couple of weeks off here and there. You can't sit, relax and refocus. Now I've had that chance and feel good about things.
"Sitting on that bike every day you realise what you have as a player at a club such as Celtic.
"You don't think about it when everything is fine. You just push on. But when you sit back and reflect on what you are doing for your life it gives such a great feeling.
"I didn't want to be injured and would have preferred to have qualified for the World Cup finals in the summer with Sweden and still be playing every week with Celtic. But you have to look at the positives and understand these breaks may be good for me in the long term."
You can't but help like him.
Lustig is a genuine class player, and we are lucky to have him.
Former manager Gordon Strachan is looking forward to meeting up with former goalkeeper Artur Boruc when Scotland face Poland this week.
Strachan jokingly slumped his head on the table when asked about Boruc and said: "He helped myself and the players he played with to be very successful at Celtic.
"He was an incredible character. I loved working with him every day. There was never a dull moment."
That sparked laughter from the female interpreter and Strachan continued: "You're laughing as well. You obviously know Artur. I had red hair when I met Artur, now I have white hair.
"In all seriousness, I think at one time he was one of the best goalkeepers in the world. It's fantastic for me to see him back near the top of his profession again starring in the English Premier."
Another member of the Scotland management, Stuart Mccall , spoke highly of new forward Leigh Griffiths;
"He was left out of the squad initially because he'd just made the move to Celtic," he explained, " He hadn't played a lot at Wolves before moving and I think the gaffer was trying to do him a favour and let him settle at Celtic. He's hit the ground running. "
"He scored a barrowload of goals at Hibs but with the amount of chances Celtic create you would imagine he'll go from strength to strength. If he cements a place in the Celtic side, which I'm sure he will, the future looks bright for him with Scotland."
"Playing with Brown, Mulgrew and Forrest – lads who make up part of our squad – will serve him well," continued McCall. "For Scotland, it's good that Leigh has gone to Celtic. There was this debate about whether he'll score goals in the Champions League but that's yet to be seen. He's certainly proved at domestic level that he'll score goals.
"He probably does thrive on pressure but I don't know a great deal about his character. He's been a model pro with us. He's trained hard, played hard and given everything he's got. I'm sure he'll relish being at a club the size of Celtic and getting the chance to get his goal tally up. That catches people's eyes. He had a good season at Wolves. He scored goals in the early part of the season but then he couldn't get back in the team. I suppose it's been a dream for him going to Celtic."
There were concerns from manager Strachan that with Griffiths playing in the English lower leagues, he wouldn't be able to bridge the gap in standards, especially as his name isn't Lee Wallace.
Another former manager , Martin O'Neill, seems a little surprised that Scotland fans want to play the upcoming Eurpoean Championship qualifier between the two nations at Ibrox.
Its a surprise to me , as well. Who would the SFA phone to ask if they could use it ?
O'Neill said;
"Who wants it moving? Scottish fans? Do they?But (Scotland boss) Gordon (Strachan) has also been manager at Celtic so I don't know why they would want to shift it."
Reminded that the home of Celtic has a capacity that is 10,000 greater than the home of Rangers, O'Neill replied: "Exactly. And you know what the Scottish FA are like, same as us. Surely to heavens they would want extra money."
Depends if they can get this off the ground before the game;
By the time the game comes around, Celtic Park will have a capacity of roughly 60,000 more than Ibrox, but there will be more parking available in the Edmiston Drive area;
. 
With the revival of Sashes to Ashes proving so popular yesterday, it would be unfair of me not to thank the Ibrox club for providing us with such happy memories as they hurtle to oblivion. Today is allegedly the day they enter administration, although there is now a story that one of their fans is going to lend them the money that the Laxey Patnership has already done the deal on. anyway, the fans contribution depended largely on whether or not his Giro comes on Friday. And if he can avoid the provvy man until next week.
David Weirs confused trot on the football park was the subject of many musings in yesterdays diary. We tried to contact the former Rangers captain at his Cheshire home yesterday, but he was out.
Fast asleep on the couch.
Today, we have discovered who it was who taught Lionel Messi how to be so lethal in front of goal. Who is it ?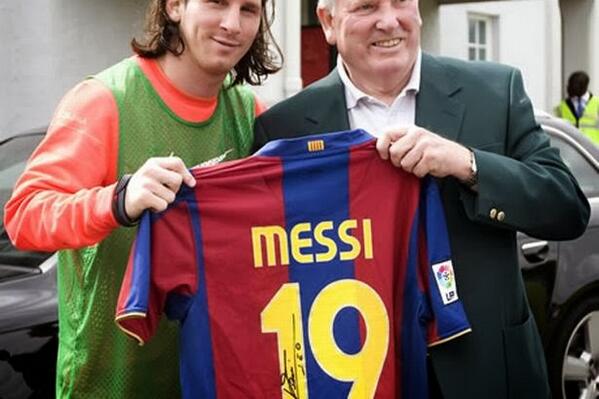 Finally, perhaps Sky Tv know a little bit more about events over at Ibrox than they are letting on. Is history about to repeat itself ?