Celtic Diary Wednesday July 31
Ajax winger Derk Boerrigter is officially a Celtic player. He signed for four years yesterday, and goes straight into tonights squad for the Elfsborg qualifier, where he is expected to score three or four times and conduct the singing at half time.
All this depends on international clearance arriving in time, but in reality, he is unlikely to feature.
Lennon said of the new bhoy;
"He is the type of player we have been looking for, for a while. "He is a very fast, direct, left-footed player who has goals in him with his left and right foot.
"He is also very powerful. He has good experience and he has played at a high level for the last two or three years."
And so to the Elfsborg game. Swdish defender Mikael Lustig, a consistent performer in Europe for Celtic, has had his say;
"We want to show the people we aren't just a one-off after what we did last year in the competition,"
"We want to do it again. For all the boys, it was one of the biggest things they achieved in their career so far and we all want to repeat that.
"Of course, it's always good to go back and play in Sweden and I want to see Swedish teams do well in Europe because it's good for football in the country, but obviously this time I only want Celtic to go through in the tie."
"Elfsborg are a good team with really good footballers who want to play football on the ground,"
"Their pressing is also good and they want to play good football. They also have a very good home record.
"It's really important to get a good first result. We want to get a good clean sheet at Parkhead as we know how important away goals are.
"You don't want to think too much about it but it's our home pitch and we want to go and attack as well."
This time last year it was Helsingborg who faced Celtic, and with the way the Champions League is set up these days, it could well be that the match between the champions of the two countries could become a regular feature.
Hibernian also faced Swedish opposition last week in the Europa League, well, actually they didn't face them, more sort of turned around and looked away as the Swedes inflicted a heavy defeat on the Edinburgh side, and this has sounded warning bells for Celtic not to take Elfsborg lightly.
There shouldn't be any reason to take the Swedish champions lightly, except possibly the fact that they have on loan Celtic misfit Mo Bangura as their main goalscoring threat, but he does appear to be doing a job for them, which is a surprise to most of us. Even more of a surprise is the fact that the job he is doing for them is actually on the pitch. So, predictably, they want him to play. He is eligible, and no-one at Celtic thought of a clause to prevent what is truly an awful situation for the striker.
This was compounded when an SSN reporter asked him a few times for his thoughts. Bangura refused to talk about it, and eventually an aide pushed the reporter away, so obviously the forward is troubled by the scenario.
Some might say that Bangura is not really a threat, as if he was any good then he'd be at Celtic. Whilst its totally different circumstances, There would have been a few Chelsea fans thinking the same had they been forced to line up against a Chris Sutton inspired fporward line had Celtic drawn their club a few years ago.
Bangura shouldn't worry us, but he shouldn't be taken lightly either.
So , what do we know about Elfsborg ?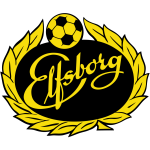 Founded

1904

Address

Ălgårdsvägen 32
506 30
Borås

Country

Sweden