More pictures have emerged of the carnage  caused by Celtic fans at Griffin Park , Brentford on Saturday. According to some reports, drink fuelled supporters went on an orgy of  destruction unparalleled since the Luftwaffe made the English capital their primary target back in 1940. Here, the groundstaff work overtime clearing up the mess caused by travelling fans.
One pub, near the ground, regretted a two for one deal to encourage custom from the Glaswegian hordes
Whilst police were drafted in from all over the Uk and Europe to deal with the chaos.
Or so they would have us believe.
Then there was the man who ran on the pitch to take a goal kick. All in fun, but he clearly broke the rules and shouldn't have been there.
However, shocking as these pictures are, Etims have come across some that are even more disgusting, and only after careful thought have we decided to publish them.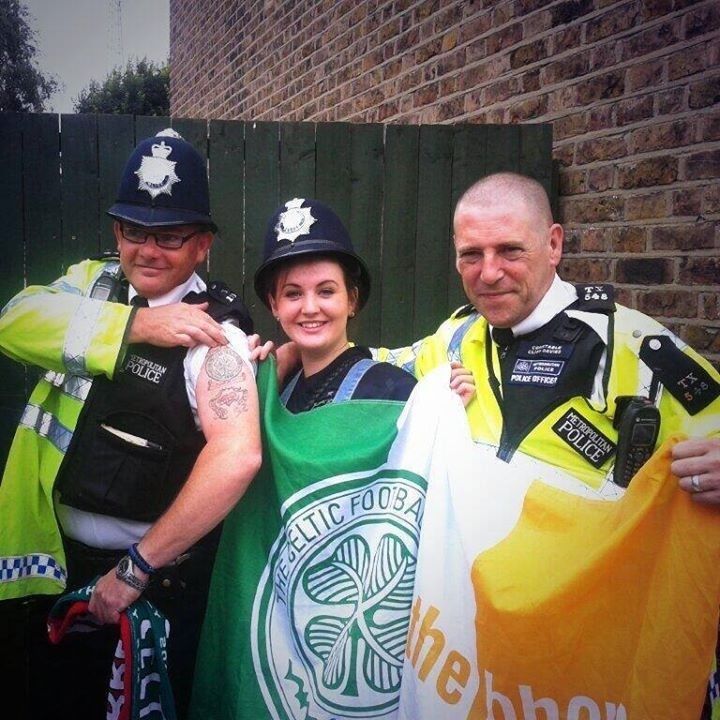 A young lady posing as a police officer after stealing part of a uniform, after cruelly drawing a Celtic badge on his arm.
Actually, supporters were full of praise with the mature and responsible policing at the game. The Met often come in for criticism due to the institutional corruption and racism of a few of its staff, but in Brentford they were helpful, sensible and were probably the main reason everyone had a good time.
Although Strathclyde police have found out where the tattooed officer lives.
Anyway, back to the serious stuff.
Neil Lennon says that its unlikely that Kelvin Wilson will be going to Nottingham after Celtic received a £1.5m bid for the defenders services;
" There was a bid came in on Friday. I haven't had the chance to digest it yet but on the surface its not going to be anywhere near enough. "
Wilson was away for the weekend, in, er, Nottingham, so was unavailable for comment.
The Gary hooper saga is still dragging on. Lennon sighed, and said;
" There has been a bid in, but negotiations are ongoing. We would still like to keep the player. He will be training tomorrow (sunday ) and will be part of the squad against Cliftonville. I don't know if the deal will go through or not. If it doesn't, then I'll be delighted because we will still have a very good player in the squad. "
Perhaps I'm being overly optimistic here, but there is the thought that if he wanted to go, he'd have gone by now. What is he waiting for ?
Celtic also had a game in Cork at the weekend, where a young XI beat the locals 2-0, and an even younger side won the Dennis Law tournament in Aberdeen.
The club seems to be gradually getting back to work, and we can look forward to tomorows game against Cliftonville in a fairly relaxed mood. With a three goal lead and the Parkhead crowd behind the team, it should be a formality.
Then its a tie against Swedish cracks ( copyright Daily Record ) Elfsborg, and on loan Hoops forward Mo Bangura is out for revenge against his parent club. According to chairman Bo Johanssen , at any rate.
" Celtic loaned him out because they do not believe Mohammed is a good enough player. This gives us extra lighter fluid, we will use this to motivate us. "
Lighter fluid ? Surely not, with all the rumours about the Sevco bus burning, the last thing Celtic need is for a former striker to be linked with the crime.
Incidentally, Sevco boss Ally McCoist has spoken publicly, and with his words chosen carefully, the implication is again there that Celtic fans caused the damage to the £500,000 bus.
Thats the value of the vehicle according to the Sunday Mail, which makes you wonder why they left it unattended in a garage. Actually, it doesn't.
Anyone who insures their car with the same company who insures the sevco bus might be wise to start shopping around. You may find an increase in your premium quite soon.
Ach, the bus probably just needs a lick of paint and a bit of a tidy. Jimmy Bell, the liberal minded driver, doesn't seem fazed. After all, this weather, they will save a fortune on air conditioning.
This coach is now completely unfit for purpose and will not be seen at any  games this season as it has outlived its usefulness, but did get all the fans behind the team for a while, and gave the impression that all was well.
In yesterdays diary, a link was posted so that readers could see the Sun report, by Cameron Hay, on the torching of the bus. The story was edited sometime in the morning, so the image of the bus, with added Celtic fans at Brentford to imply the involvement of Celtic fans in the arson attack, was removed. Here is a wee bit of it in case you missed it;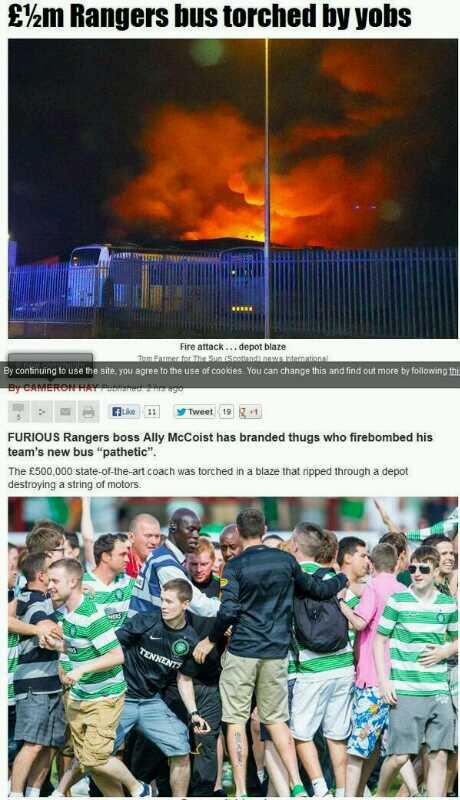 Cameron Hay is the son of Gordon Hay, who works for MacKerron Hay, who get a mention in this e-mail from Charlotte Fakeover;
Phil MacGhiollabhain, author of that cheery wee book Downfall, had another interesting tale to tell in a recent blog. It seems that Neil doncaster and Stewart Regan have applied for another job…
Carlo Ancelotti  was full of praise for Celtic fans after his Milan side beat Celtic 1-0 in extra time back in 2007.
But who was Jock Stein talking to when he told him to "get the cotton wool out of his ears and put it in his mouth." ?