A second string Celtic side registered a first friendly victory of this pre season with a 2-1 win at Griffin Park over Brentford. Goals from Amido Balde and Calum MacGregor sparked scenes of jubilation in west London as the Hoops buried their latest hoodoo with style and aplomb.
Although Brentford took an early lead, Amido quickly cancelled it out when his shot beat the Brentford keeper, and when MacGregor wrapped it up, the cheers were heard as far away as Stoke on Trent. Well, via Radio London, but its still impressive.
Criticism was aimed at the support , however, who in scenes reminiscent of  a Scotland win at Wembley, entered the playing area in search of souvenirs.
In fact, it was so bad that manager Neil Lennon was forced to escort two security guards from the pitch for their own safety.
This came shortly after a number of arrests were made for wearing ridiculous shorts in a public area.
On the whole, it was a fun day out, with people determined to enjoy themselves and have a couple of beers.
Quoted in a London paper, the manager gave his thoughts.
"They were over-exuberant," Lennon said. "Heat, few beers but it was a carnival atmosphere.
"I would like them to maybe leave the flares out of it.
"Hopefully everyone has gone home in a good mood. I'd like to thank Brentford for taking us on in this game."
There was an amusing incident where a supporter took a goal kick, which meant he wouldn't have to worry about finding somewhere to stay overnight, but on the whole, it was all very friendly, with a good time had by all.
Locals on a Brentford website did complain about drunkenness, which as usual, featured prominently amongst the support, but it was hot, and according to Sheryl Crow, bottled water can cause cancer due to the release of dioxin as the bottle melts slightly in the heat, so its obvious the supporters were aware of this, and were forced to drink beer for their own safety.
Chris Graham, who tweets on twitter and is a bit of a -you'll have to help me out here, I was trying to be clever, using alliteration for effect, but cannot think of a word beginning with "tw" to describe him-or a pregnant fish for that matter-sent this out yesterday;
Torching buses ?
This refers to the demise of the new luxurious Sevco coach, which was set on fire on recently while it was in a garage being fumigated. Graham obviously has some evidence that Celtic supporters were involved, and I'm calling him out to present this evidence or shut his fucking mouth.
As a Celtic fan, I'm quite sensitive to this sort of allegation, and would be interested in what he has to say. If one of our number has , indeed, been setting fire to things, then he should face the full force of the law.
So, chris, let us know what you know.
And there wasn't a Mass on the pitch yesterday either, but I can see how Graham  would be offended
This mock up of the home page from the Rangers website raised a giggle, check the news column for the bus story headline; ( Thanks to CelticMinded )
But this article, from the Sun , should be used on the lecture circuit in Universities world wide. It shows how to report a story, and imply , via the medium of  photography, guilt.
Click the link, and go to the story on the bus torching. Incredibly, it has pictures of Celtic fans at Brentford throughout.
You may have missed a wee bit of a row between Cardiff owner Vincent Tan and Celtic.
The Malaysian businessman claims an agreement was reached with the Bhoys for Wanyama, only for the SPL champions to then raise their asking price.
With Cardiff reluctant to up their bid, the Kenya international ended up signing for Southampton.
Lennon, though, claims the Saints were the only side to put a suitable offer on the table and that Cardiff were never serious contenders to secure Wanyama's signature.
He told WalesOnline: "We totally disagree with what he (Tan) is saying publicly.
"There was never a deal agreed with Cardiff, and there was never a price set for Victor.
"Southampton's was the only confirmed offer we had, and it was considerably more than the figure Cardiff were talking about.
"It is frustrating if he is trying to give us a bad name in this deal because we acted as we always do, with the greatest professionalism and dignity towards ourselves and any other club.
"The bottom line was that Cardiff made an offer that was not up to the requirement of what we wanted.
"It was nowhere near the valuation of the player and nowhere near the structure of the deal that suited us. In the end, it was never going to happen."
Something else got my back up this weekend. Have you seen how much a Celtic top is in the superstore ? Its £55 on line, and if you add a name, you get this bill;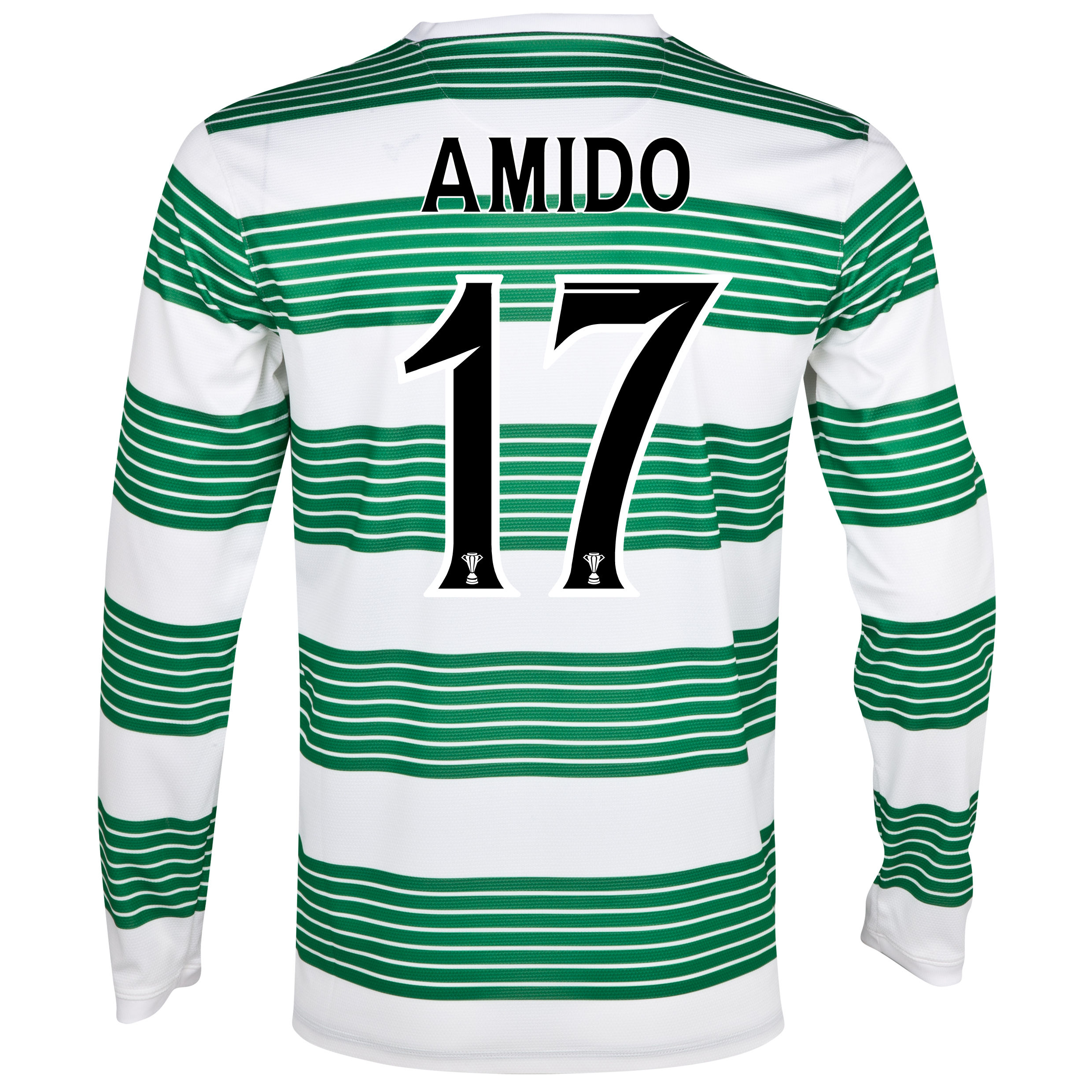 £72.95
 Astonishing, but then again, theres a hundred notes per season book to recover…
Happily, theres a Nike outlet store just up the road from me, which usually sells up to date training tops for about twenty quid.
It was Jan Vennegoor of Hesselink who found understood Celtic better than most, now, in a bit of a change from quotes by ex players, who said this of celtic supporters?
"This was the essence of sport. To hear the Celtic fans singing and chanting after the game was incredible. "