The unprecedented, and probably not to be repeated, era of complete dominance of Scottish football by Celtic is over. Four trebles will not become five.
With the end of this era comes the departure of a few familiar faces, and the introduction of some new. If we can find any that want to come, that is.
The plan, if you can call it that, this year, was to gradually introduce the likes of Soro, Turnbull-who barring injury would have been introduced sooner-and Klimala, who somehow got usurped by Alben Ajeti, who, in the style of Regi Blinker, started well but then fell apart at the thought of doing it every week.
Others , such as Shved-I can't even remember his first name- Mouritz Bauer and an assortment of prospects, including one who played for Ireland before he played for Celtic, faded into the background as the manager , stuck with several who wanted away or were past it, which in turn ultimately left us where we are now.
Edoaurd, Christie, Rogic and MacGregor have all expressed an interest in moving, and Brown can't move like he used to, but was asked to give it a go.
Although the considerable effect of a global pandemic has to be taken into account, which meant no one wanted to buy anyone when the footbal seasons were in doubt, something that is being replicated this month, it is a failure of Lennon not to be able to motivate those who want away into playing to a level of consistency that would get them their lucrative moves when the world opens up again.
Despite accusations of not having a plan, replacements were there for those who would have moved on, and in fairness, Soro and turnbull, whilst being bargain buys, have proved more than adequate.
The mark of a manager, however, is how he manages when things don't go to plan, and the least effective manager will always blame circumstances, in fact, when Lawwell said in his Celtic TV message that the virus had probably affected Celtic more than any other club, Ann Budge at  Hearts had to be held in restraints, as fears grew she would head along the M8, pull Peters arms off and beat him to death with them.
Celtic forced high flying Livingston into a goalless draw yesterday, and kept a clean sheet into the bargain.
Thats one way of looking at it, and no doubt thats how the Celtic View will report it.
Yesterday, I pondered the though that Lawwell should have a plan, and be allowed to put it in place.
Purely becuase its hard to believe that they won't have some idea how to get the train back on track, even if its not a particularly good idea.
I'm even more sure that something will happen, and soon, due to the silence from Celtic, a position they always undertake before announcing something major.
There's a WhatsApp doing the rounds which doesn't seem to have a credible source, but is worth noting …..
Ross Desmond is appointed to the board of directors with immediate effect.
Peter Lawwell will step down from his position at the end of the season.
Neil Lennon will take charge of his final game on Wednesday night, with his resignation tendered post match.
John Kennedy will be moving to a Football Operations role and Gavin Strachan to a role within the U23 set up to the end of the season.
Eddie Howe will be announced first thing on Thursday morning along with his own back room team giving him the best part week to access the squad prior to the next league game against Hamilton at home on Wednesday night.
It's worth noting because we did hear it was Ross Desmond who conducted the review into the club. Which is a bit of a surprise as it's usually Brett Desmond who deals with the football bits of his dads empire.
It won't be Dery Desmond, the less well known of the sons…. after he made an arse of the promotions for his Five Guys restuarants, by using only three.
Brett is married to Andrea Corr, a member of the reasonably popular beat combo The Corrs, a sort of Irish Bangles without the talent, who specialised in murdering Fleetwood Mac classics.
Curently, he's a director of Mountain Province Diamonds, and wallmine, a sort of investment industry who's who website says;
Brett Jeremiah Desmond serves as Director of the Company. Mr. Brett Desmond is a resident of London, England, and is a seasoned investment professional with 20 years of experience in banking, corporate finance, and asset management and his extensive experience in capital markets and private investments adds a unique skill set to the Company's board. In his most recent role, Brett served as SVP of Corporate Development for Daon, a software assurance company, whose clients include the US Government and major US and global banks. Furthermore, he has been involved with a number of successful private and public investments since returning to Europe in 2014. Brett is also the son of the Company's major shareholder, Dermot Desmond. Brett holds a Bachelor of Commerce from University College in Dublin. 
A busy fellow, too busy perhaps..
He also worked on the Shamrock Rovers deal for his father, and maybe he's decided football isn't for him, at least that side of it.
Ross, on the other hand, has been seen at a Celtic AGM before, presumably to tell his dad what they're like.
Ross is the most pragmatic of the three when it comes to business, and if he were to be introduced to the board, with the results of his own review to hand, then it would at least save Dermot the awkward meeting where he has to fire everyone….
As i said, its all gone quiet, and thats when things happen…
Neil Lennon should be gone soon, if he doesn;t realise by now that he's lost the dressing room and the confidence of the support then its clear that another thing he's lost is his sense of self awareness.
It;s not ended for him as we would have liked, but thats no excuse for this sort of abuse from the Glasgow Times, whatever that is….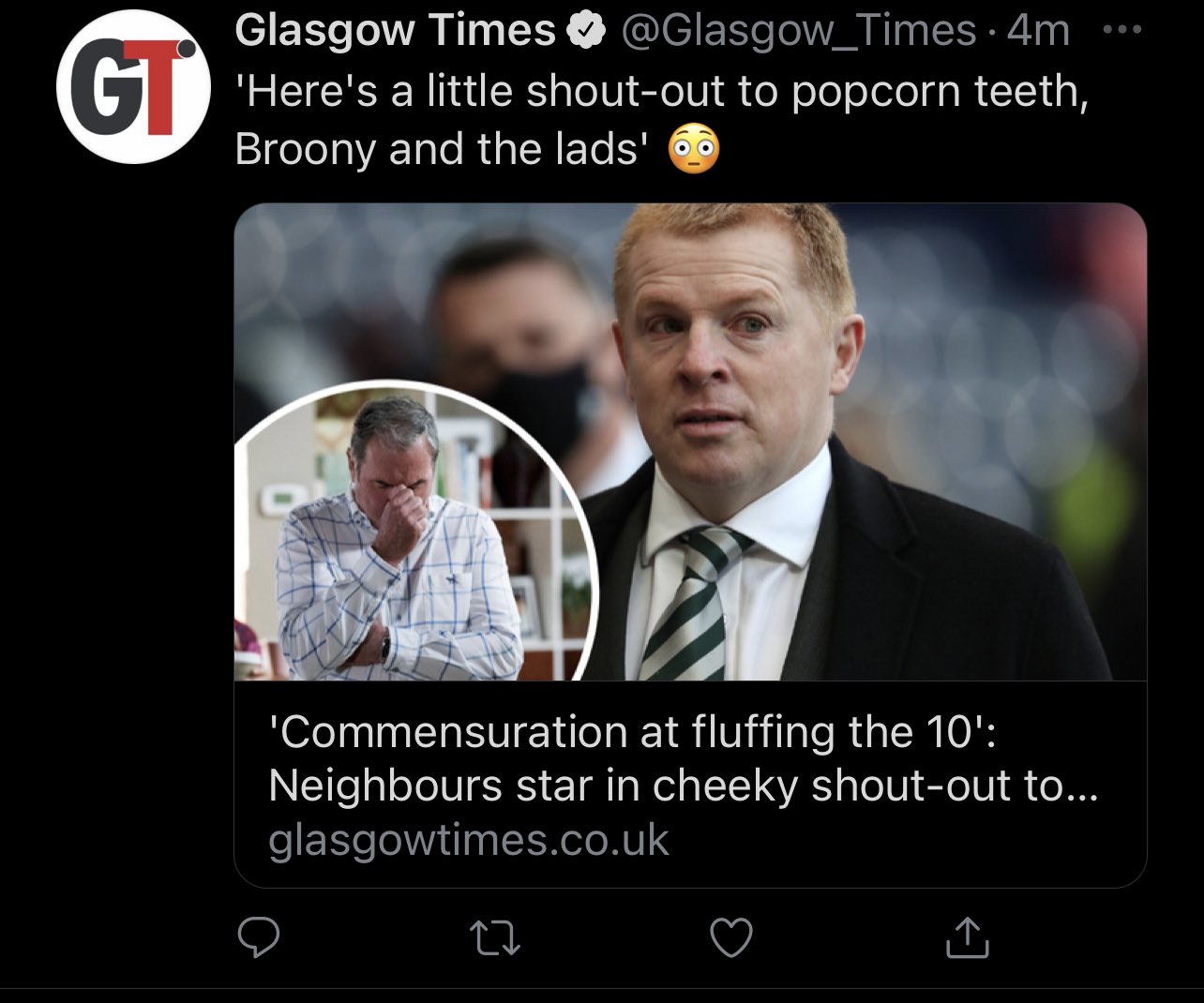 Let them know.
Lennon hasn't lost the ten, you can;t lose what you haven;t got, and lets face it, although he hasn;t helped himself, and it could be argued that his way of doing things is perhaps not the way forward any more, he still deserves respect, admiration and thanls for what he has achieved at Celtic.
Lets leave the bitterness to those for whom bitterness is a part of their identity.
The bookies talk about Eddie Howe, once of Bournemouth , as a replacement.
Howe did fairly well at Bournemouth, not so well at Burnley, citing homesickness, and might be ready to move on to the letter C now.
Mind you, for his savaging of Margaret Thatcher alone, he deserves our support.
(fucks sake-Ed )
The only thing i know about Howe is that he likes his teams to play possession football, which is something we do have the hang of, its someone who can teach us how to get it back and score goals we need…
Don't be surprised of we do end up with O'Neill and Keane, especially if Lawwell is out of here, and no longer able to veto it….
With the second life changing event of this year, Brexit, now in full swing, perhaps we'll have to get a British based manager anyway, with freedom of movement and employment one of the sacrifices voted for by those who really shouldn't be allowed a vote.
Caption competition yesterday…
Caption……..
Hey Shane, it's the first time this season I've seen you relaxed in the box. 
Today….