Suspicions that the football seasons north and south of the border are about to be halted , either temporarily or permanently, refuse to go away, and with hardly anyone buying or selling players during this transfer window, there is a feeling that the clubs are fully aware of this.
Mostly from me, to be fair, but that feeling won't go away.
And you can tell its starting to worry others as well, including Barry Ferguson, who somehow managed to get a full time job writing for a newspaper, despite not being able to construct a meaningful sentence.
Null and void. Those three words ripped right through Scottish football last season as arguments raged over whether Celtic should be crowned champions.
I've heard them muttered again over the last couple of weeks as football and the entire country continues to fight this dreadful virus, which has forced the suspension of all leagues below Championship level.
Well, the only thing that should be null and void is all talk of null and void – even if Neil Doncaster refused to completely rule it out yesterday.  
It's obviously being discussed at some level, and Barry has been tasked to get the hordes onside.
But if it were to be called early, they'd need to do the same as they did last season. And that would mean Rangers winning the title because they are so far in front.
Celtic were 13 points clear, with Rangers having a game in hand last season. This time, even if Celtic win their three games in hand, they'd still be 12 points behind. Anything other than Rangers being awarded the title just wouldn't be right. 
Cleverly, he omits to mention how many games were left last season, and how many are left this season, as it doesn't suit his argument, which is quite simple…
At the top end, though, Rangers are out in front and there really wouldn't be much of an argument for anything other than the Ibrox club being declared champions. 
Well, it's not even Rangers, for a start…..
Neil Doncaster, the supermarionated SPFL boss, is now on record as saying that null and void is a possibility….
You've got to bear in mind over 75 per cent of games had been played in all four divisions of the SPFL when the season was curtailed.
"We certainly hope we will complete 100 per cent of the fixtures in all four divisions this season. It will be for the members to determine what happens in the event they are not.
"In the event the games couldn't be played, then once again the members might have a decision to make.
"I've never ruled out anything. It's up to the members to rule things in or out.  
"We are a members organisation and the members want to retain the power to decide whether the season should be curtailed or not rather than give it to the board.
"The consequences of a void season are much more dramatic, partly because of the commercial contracts which underpin the game but at the moment there is no reason to believe the Premiership and Championship won't be completed."  
Whilst the bit about null and void got all the headlines, the claim that he can see no reason why the season can't be completed is somewhat bizarre, given the daily infection and death toll, which is higher now than it was when last season was curtailed, and that is puzzling.
But then again, that might explain that feeling that something is about to break.
Maybe the season will be suspended, probably quite soon, and then the lie of the land can be considered, so to speak, regarding null and void or whatever.
It's going to be fun, whichever way it goes.
Peter Lawwell has come in for a bit of stick lately, largely due to the perception , rightly or wrongly, that everything is ultimately his fault as Celtic career from calamity to catastrophe on pretty much a daily basis.
Yesterday, the Green Brigade threw in their tuppence with yet more banners….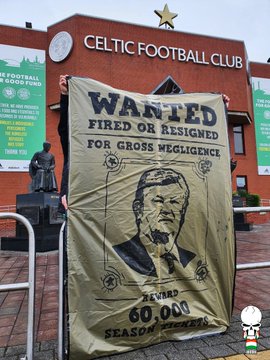 Maybe a wee bit more time on the demand needed there-fired or resigned ? Isn't that the same thing ?
Then the statement …..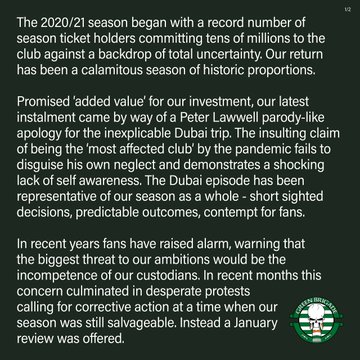 By the way, we hear that review has been done, and not by anyone at the club…..yet.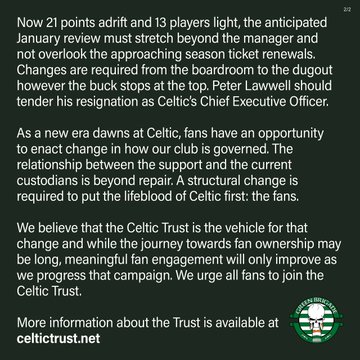 Ah. The Celtic Trust.
And the Green Brigade.
I'm afraid both would need to do a little more than merely point out what we already know, which is that this season has been a disaster.
Burning down a building is all very well, but one tends to find oneself gazing at a pile of ashes afterwards.
I understand that this season hasn't gone to plan, but screaming for everyone's head isn't going to make things better.
Theres no point in having clean bathwater if you've lost the baby.
I suspect Lawwell has a plan, in fact, I'd be disappointed if he hadn't, and we should at least wait until seasons end-or beyond-to give him a chance to implement it.
For example, I think Celtic fans, on the whole, would be fairly pleased to see the season null and voided….and so if I was him, I'd propose that if the season could be struck from the record books, Celtic would be prepared to back a plan which meant that visiting teams could get a percentage of gate receipts from the hosts….on two conditions.
Firstly, that clubs make more tickets available for Celtic when they visit them, and secondly, they back null and void.
Then we can look at maybe going further for the new season, by making changes that benefit the game on the whole, but i'd settle for null and void to start with.
It's not been a great season, and many things have been done badly, but to operate a scorched earth policy is mere hysteria.
We may end up losing a title, but at least we haven't lost a club.
And when you see them crawling out from under the floorboards, flushed with the prospect of their 55th title in just under a decade, you can remind them of that…..
Huns pic.twitter.com/KDkXg9aN1n

— 🏴󠁧󠁢󠁳󠁣󠁴󠁿Rabbit Slippers🏴󠁧󠁢󠁳󠁣󠁴󠁿 (@hoopydays07) January 13, 2021
Elsehwere, Moussa Dembele has moved on loan to Atletico Madrid, and you have to love the introduction he got…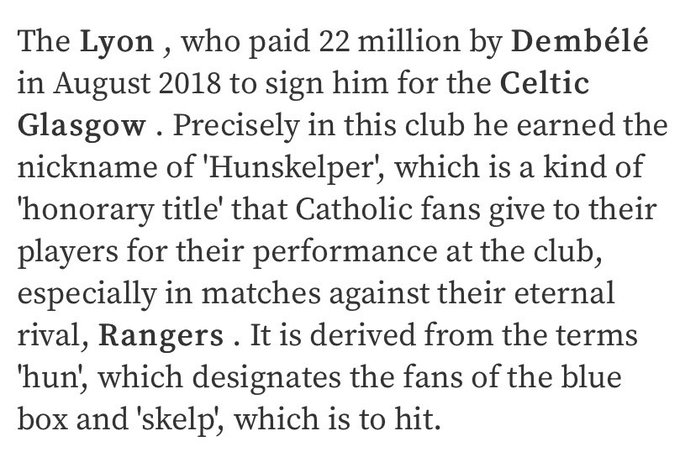 And finally, a caption competition, I know its been a while, and I can't remember when the last one was, so we'll declare everyone a winner and move on to todays…. ( you lazy fat bastard-Ed )