In yet another ludicrous twist to what has been a ludicrous season, Celtic released a statement last night, while "rangers " were on the telly…
Celtic today confirmed that one player has recorded a positive test for covid-19. Clearly the player will receive all our care and full support. All other members of our squad, management team and backroom squad are negative.  
 Prime suspect, according to the word on the street, is Christophe Jullien, who despite being injured, and despite not being available for the next few months, joined the rest of the squad on what was an "intense training and preparation schedule ".
 In fairness, it might have done him some good, as he can now negotiate a flight of stairs wothout the aid of his crutches, as we see here on his return to Glasgow Airport.
 Others mentioned are Vassilis Barkas, who missed training yesterday, and Tom Rogic.
 Barkas catching anything merits a headline in itself, and if Rogic had it, he'd only lose it to someone else within minutes.
 It's also suggested that as many as ten players will be told to self isolate as a result of what will surely see the end of Neil Lennon;s tenure as Celtic manager.
 And questions have to be asked of Peter Lawwell as well, because the overall impression from the club is that they are indeed living in a little bubble, with little or no concern for the thoughts of others.
 The crass decision to go to Dubai in the first place, given the shambolic performances on and off the field this season has resonated among the fan base, and we are at the point where this incident , which may yet lead to the government in Scotland calling a halt to the league season, or mercifully putting us out of our misery, depending on how you look at it.
 That could have severe repercussions for the other clubs, who need the income, but more importantly for Celtic as fans begin to wonder why, when it appears the club don't give a toss, any of them should bother either.
 The disconnect, apparent in such issues as referee incompetence/corruption, Resolution 12 and lack of investment in quality or permanent players, became more of a chasm with the news of the trip and now the probable consequences, and while most of us can't help caring about the club, a considerable number may now elect to watch from afar, and cut down expenditure on merchandise.
 without the income from the support, the club will wither and die. Apathy is the greatest enemy of the board, as we saw when ticket sales dropped and a section of the stand was closed during one of the Ronny Deila seasons.
 That apathy was blamed on a lack of Rangers, when in fact it was actually part of the fall out from the board refusing to challenge the years of cheating by the Ibrox club, and the damage done to the reputation of the league by the tax cheating mavericks on the other side of the river.
 A not inconsiderable number of supporters , having lost the seats they had for years, simply didn't renew.
 The investment in a manager of the calibre of Brendan Rodgers was seen as a sign the club was about to move to the next level , a higher degree of professionalism and ambition, but again, someone on the board misinterpreted that, and figured it was because "rangers " were in the top league again.
 History may yet record that Rodgers was deemed surplus to requirements, and no longer indulged as he had been at first by the CEO, leading to the inevitable fall out which saw the Irishman take up a position at Leicester, where he remains until this day.
 Rodgers is on record as saying he's a little taken aback by what has been said aboiut his departure, and this page was as critical as anyone, largely because he upped sticks and went in a way that could have damaged the push for nine in a row.
 So, instead, we have Neil Lennon, who has contrived to return the club to the level of the big fish in a small pond, with even the Athletic web magazine picking up on the discontent in the dressing room that we've been harping on about for months.
 It's that obvious that something has gone wrong, and we're now seeing the result of Lawwell taking control back from Rodgers.
 The end result being that the players went on a thoroughly undeserved jolly to a rich mans playground while supporters and small shareholders altered their lifestyles accordingly as the economic climate, affected by the pandemic and Brexit, makes our lives a little more uncertain than that of say, a collection of overindulged young millionaires living in a bubble of exclusive unreality.
 Paid for, of course, either directly or indirectly, by supporters money.
  With whoever it is contracting an infection, most likely in Dubai, as this table suggests…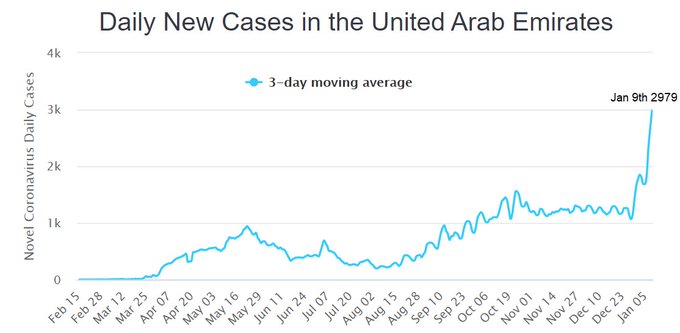 then we have to look at how infection spreads, and most importantly, when the peak time for transmissibility occurs in a patient.
 This somewhat simplified graph, from the New york times should be alarming the Celtic medical staff right now….
Which was explained as follows…
Exposure and Incubation
The time between initial exposure to the virus and the appearance of symptoms is known as the incubation period. This period is typically four to five days, although it can last up to 14 days, or perhaps even longer in rare cases. 
Viral Load
After an initial exposure, the number of virus particles in a person's body, or viral load, takes time to build up as the pathogen infiltrates cells and copies itself repeatedly. Mathematical models indicate that the viral load tends to peak before symptoms appear, if they appear at all, and starts to decline rather quickly in the days following the first signs of illness. 
Experts have said that people are more likely to be contagious when their viral loads are high. If so, the window of peak infectiousness might be only a few days long, beginning a day or two before symptoms appear, and closing within a week thereafter.
In short, travelling on a plane whilst the patient is possibly in the highly contagious stage could have catastrophic consequences for others.
This may seem alarmist, but the whole point of being in a "bubble " is to protect the players, and their families.
Once that bubble is breached, then infections will occur within it, obviously, but  also outwith it, in secondary associates, such as close family, and tertiary and beyond, such as taxi drivers, shop assistants ,,,,,well, that list is endless.
At first, I was angry at these revelations, angry that yet again mismanagment-or is it gross negligence? -on the part of those entrusted with the safety and well being of players health, players who have remained in an exclusive bubble for months, of above average fitness who may not suffer the illness as severely as some, have what seems a blatant disregard for the seriousness of the illness.
Going to Dubai was an error of unimaginable proportions, and whilst what is done is done, the repercussions are only just beginning.
Nicola Sturgeon, it seems, will speak to Celtic about the incident, and with all but elite sportsmen, which i'm not entirely sure encompasses our own squad, forced to self isolate should they travel from Dubai to Scotland, maybe it won't be long before football is stopped, and from the Bolingoli incident all the way through to this one, it's apparent that Celtic simply haven't taken it seriously.
That alone means that heads must roll, Lawwell should now depart, as indeed should the management, the coaching staff and the medical staff, who have all failed in their duties, to varying degrees, since the season started.
If that level of disconnect between fans and club continues to widen, and it will, then apathy will set in.
It;s already gaining a foothold among some supporters, dismayed by years of a lack of ambition, and when the rebirth of the Old Firm brand is factored into the equation, there is a further feeling of distaste at the clubs willingness to ignore the cheating, to ignore the lies and to accept that no matter the cost to integrity, we have to have a Rangers to play alongside, the end of Celtic as we knew and loved it is getting closer.
The club like no other is not that different from the one over the river, when you strip it down to the workings.
There is one theory, however that something big is coming down the line that will distract us from the boards monumental mishandling of the last year or so.
Something that will render all of this rant, if thats what it is, I'm not sure I care enough to rant any more, obselete or meaningless.
I have to say it had better be big.