Having been unable to put this guff together for a few days, I've missed quite a few developments, but that has allowed me to stand back and try to make a little bit of sense of it all.
Except, of course, for the bit about the Strachan family launching its own takeover bid by installing its members into key positions at the club.
That still annoys me immensely and there is no way on earth any of that makes sense, apart from it being a continuation of the Peter Policy that ensures he is surrounded by his own lapdog loyal, a cabal that arguably includes Lennon and Kennedy as well.
Alright, you can leave "arguably " out of that sentence.
Celtic play Lille tonight in the Europa League, and I'm not sure if I'll bother with it. I'm trying not to care what happens, but unfortunately half a century of emotional attachment is quite difficult to wothdraw from in any relationship, no matter how abusive.
Take the St Johnstone game, which offers a kind of explanation. I use the BBC Sounds app at work to listen to the games, and one added bonus is that when I turn it off, it resumes at exactly the point where it was switched off, handy for not missing anything, and it means whilst I'm on the road the game could last around three hours.
Yeah, I know, but it's better than Virgin Radio Anthems, which only has about half a dozen records and multiple adverts for the Chris Evans Breakfast Show.
Anyway, for some reason the app occasionally refreshes and goes live…which means i miss a chunk of the action, and when Celtic scored on Sunday, I gave a little hoorah, thinking it was another late winner.
Then I gave a little hooroo when I realised it wasn't. Well, more of a " for fucks sake Celtic ", but you get the point.
The point being that no matter what is going on off the field, it's what's on the field that matters, and therefore perhaps the protests and petulance from the support is more easily explained.
Especially after the board released that statement the other day…
In light of the ongoing speculation regarding the position of our football manager, Neil Lennon, the Board of Celtic Football Club wishes to make clear its continuing support for Neil and his backroom team.  
The Board recognises and understands the importance of winning the league championship this season and that, as Neil himself has made clear, recent performances and results have been disappointing. The Board is committed to delivering success for Celtic supporters.  
The Board has carefully considered the current circumstances and the challenges that we are faced with, not least the pressure on the management and players to deliver the tenth championship in a row that is so important to us all. Equally important is to continue to operate according to our Club's values. The Board has come to the conclusion that our collective objective is best served by continuing to support Neil and his team as they seek solutions for those challenges. 
Neil has the support of the players and staff at the Club. He understands the pressure and the environment. As his outstanding record as a manager, captain and player demonstrates, he knows what it takes to be successful at Celtic and he has delivered success with many of the current squad of players, who understand his method and approach.  
Whilst it has been suggested that it is time for a change, at this stage in the season the Board believes that Neil and his management team are best placed to turn the team's performances around and lead us on to success. The Board continues to work closely with Neil and his team to support them as they seek to do so and progress will be reviewed in the new year.
The Board wishes to take this opportunity to thank all Celtic supporters for their support during this challenging year. The response of the support to the challenges that we all face together has been magnificent. It is therefore important to make clear that the Board has never, as it has been inaccurately reported, referred to any Celtic supporter as 'entitled'.
The Board recognises the range of views expressed by our supporters and the strength of those opinions. Whilst there may not always be agreement, there is certainly a common goal – the success of Celtic Football Club – and we will continue to work together to seek to achieve that success. 
This statement is merely a padded out version of the message the board really wanted to put out, a copy if which found its way to us here at the new non-capital letter e-Tims…
Tell them to fuck off  
Which led to some fans hanging around Celtic Park looking for people to blame, and demanding change.
One banner in particular raised a few eyebrows….the one in the bottom right..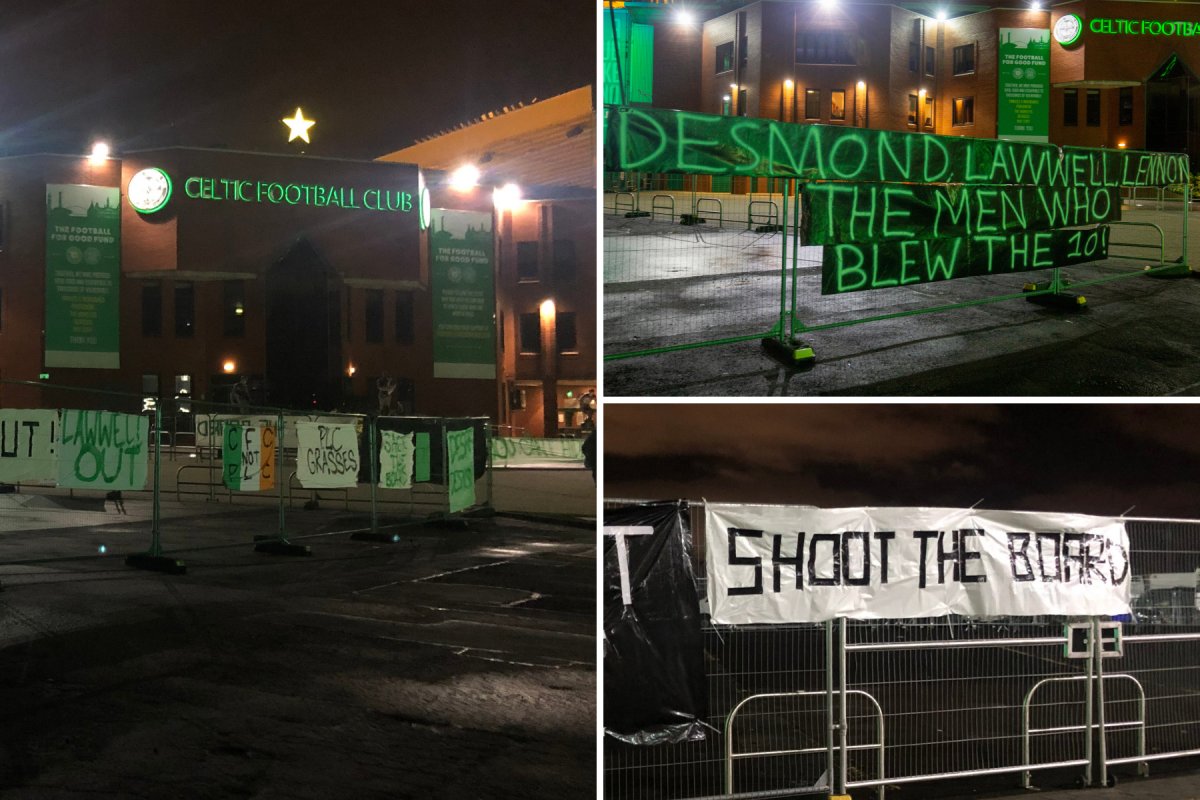 Japanese rock goddess Yoko Ono is considering legal action after she suffered distress this week, largely due to the words "shoot " and "Lennon " appearing in the media on banners as she remembered the fortieth anniversary of her husbands murder.
It's difficult to see the protests as anything other than a knee jerk reaction to try to change the way the club is run, but it's difficult also to formulate any argument for change that goes further than the team is playing shite just now, which is the mangers fault, and he was hired on the cheap by the CEO, so its his fault as well, and Dermot Desmond doesn't give a shit, so he can go as well.
We said at the beginning of the season on this page that should Celtic win a tenth title, it will be with a different team on the pitch on May from the one that started the campaign.
I still stand by that, and we may actually see the start of that change tonight as the manager has said he may well use the "squad!.
If he is guilty of anything then it is being too loyal to some players and perhaps a little over dependent on some who just don;t want to be there any more.
After all, he knew that in the summer -and before-when he signed replacements for them.
The mistake seems to be in keeping players who don't want to stay, and freezing out those who wanted to come.
If that is the case, then he at least should get a shot at putting it right, though doubts remain as to whether he can.
Lennon has not impressed this season, but equally does not deserve the vitriol aimed at him, at whilst accusations of he's only doing it for the pay off remain, and indeed, may have some basis in fact. you have to admire his stubbornness.
All great leaders have that stubbornness, and its only when they fail its a fault.
It can also be described as single minded determination, but again, thats all down to results.
And the results are deplorable.
Celtic have gone from being a team that took the field wondering how many, to a team that wonders if any….
In all the years I've been watching Celtic, I've never seen it so bad…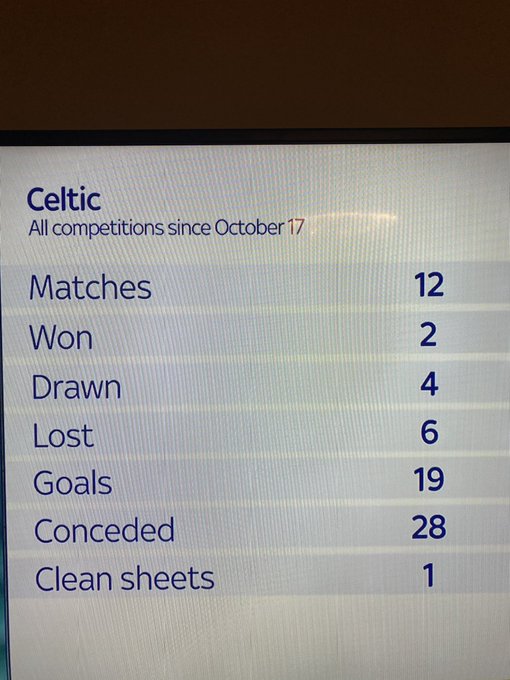 Thats relegation form, right up there with the season after Dalglish left and Danny McGrain and Pat Stanton were injured.
Thats the worst I remember, as only Clydebank failed to beat Celtic that year in the league, and just a couple of years previously Atletico Madrid had cheated , punched and kicked their way to what should have been our place in the European cup final….
Now thats a decline in standards, far and above the current slump. Not to say this decline is acceptable or explicable, but its certainly not the first time.
I have a recollection of looking at the Sunday papers and the league table around them, looking at the first division table to see who we'd be playing next season.
So, what do we do ?
Do we need the upheaval and uncertainty that comes with a change of manager ?
Especially given that Desmond and Lawwell can't agree on who it should be, with each vetoing the others first choice ? thats the way the boardroom works, by the way, decisons have to be unanimous.
And right now, the only thing the board can agree on is that they aren't going outside unless there's a massive police presence.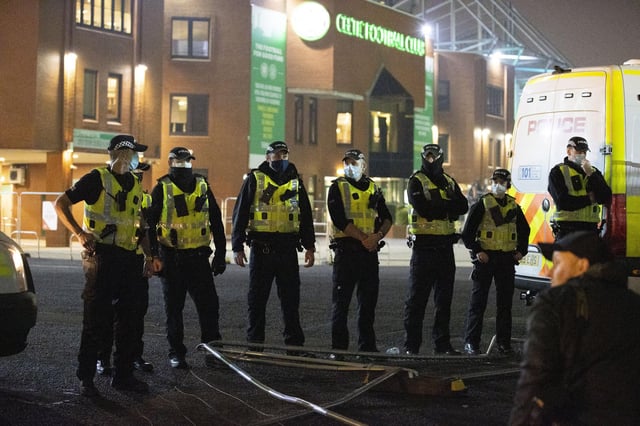 We've seen reports of abuse hurled, missiles thrown and players and staff having to be escorted off the premises.
To what end ?
What do those who protest hope to gain from it ?
All they have done is create a seige mentality within the walls of the stadium.
There can be little doubt that during…its not over just yet….one of the most successful periods in the clubs history the board will be looking at the support and wondering what their problem is.
The supporters are looking at the board and having seen no positive action to halt the current slump before its too late.
But change for the sake of change guarantees nothing.
What manager of any repute is going to take a job where the support is so volatile that a poor run in form that it turns on them with such a degree of hatred ?
And there is no excuse for the manner of the protests.
An explanation can be offered, however, in that with no fans at the ground, there is simply no other way to register the depth of feeling towards those felt to be responsible for "blowng the ten ", even though it hasn't been blown yet.
Maybe we should trust those who do know how to win trophies to win trophies….
Then again, its not entirely a surprise that things have come to this.
On the field, there is no settled side. We don't have a "first team " as such, and whilst injuries and illness have played their part, and you only have to look across the city at what continuity can achieve.
But also across the city is a team that plays in an organised and well drilled way, our lot just sem to turn up and hope someone does something.
With every game that passes that hope diminishes further, and thats why the support are panicking, because they can see that nothing is being done constructively to address the poor run.
The management seems devoid of ideas, and not only that, there's little faith that if one of them did have a Eureka moment, they wouldn't know how to implement it.
Thats why the support is worried.
There are problems, there are solutions needed, but we can see that nothing is being done to address them.
When do you say enough is enough ?
At the moment Celtic are thirteen points behind in the league, with two games in hand. Can anyone say even with optimism that those two games can be won ?
It's time to shake up the team, to bring in those who have the heart for battle.
Those who are taking to the field just now simply don't have it.
Thats where the first changes need to be made.
Off the field, the Celtic Trust want you to contribute a few quid so they can buy shares, and pool them together in order to bring supporters together in a more orderly way to challenge how the club is being run, which on paper at least, sounds like a good idea.
It gives the fans a collective to gather around, and the Trust can then take our concerns directly to the board.
A recent drive has lengthened their membership list, and with the AGM just a few days away, it will be interesting to see how they use that voice.
After all, Resolution 12 is back on the agenda…and the club have been inconsistent in saying what they plan to do about the claims that they sat back and allowed Rangers to cheat their way to a Champions league spot in what seems to be an SFA sponsired attempt to save the original club from liquidation.
Read through this from Phil MacGhiollibhan,
which includes a request for you to do your bit…which is essential if we are to pressurise the borad into either pursuing or dropping the action. The can has been kicked as far as it can bem and now they have to state whether they are genuinely gong to act on behalf of shareholders, or if they were complaint in the scandal of 2011.
Arguably more relevant this year as it seems like they're at it again.
Why wouldn't they ?
They got away with it last time.
And the way this season is going, they're going to get away with it again.
Again, a complaint media is ignoring the financial situation over the river millions of pounds in debt, and no way to pay it back.
Unless they get a few years UCL money….
Some argue that the Old Firm brand is necessary for the survival of Scottish football, despite the actions of one half of it doing its best to destroy it under the Murray regime.
This in itself is a cause for concern, as it intimates that what the supporters of other clubs say, about Celtic and Rangers being two cheeks of the same arse, having some credibility.
I don't want my club, the one constant in my life, associated in any way with tax dodgers, cheats , racists or fraudsters.
I'm guessing you don't either, and there is a suspicion that the board would rather we forgot about that, and hence their overreaction to a few fans having a bit of a moan, which they are perfectly entitled to do , about the shambolic performances on the field.
We have to fight for the kind of club we want, possibly now even more so than when the Kelly's and Whites abused it.
For all the ineptitude on the pitch, that can be fixed.
For the shambes off it, we need to fix that for them.
Starting with the AGM, and asking the questions they dont want to answer.