First Minister Nicola Sturgeon , faced with a resurgence of the Covid virus, has placed the country into lockdown again to try to get the country back to where it was a few months ago.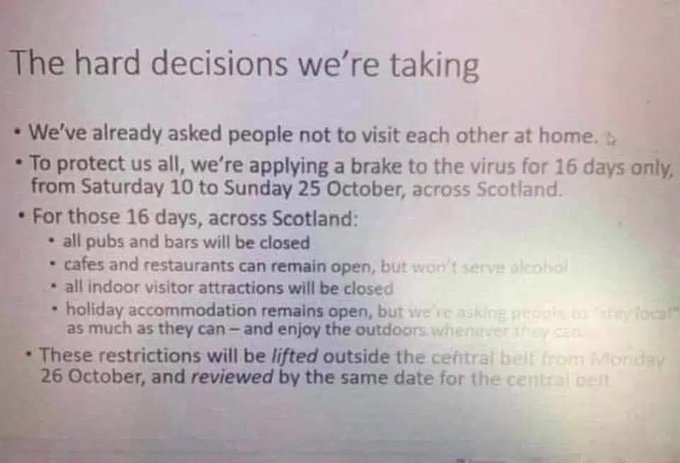 No doubt that will cause friction amongst those who think the virus is real, and those who think it isn't.
Football is largely unaffected, but fans will now have to stay home to watch the next game, the Glasgow derby.
Which is probably a good idea even without global pandemics on the go.
What matters is how people react to it. House parties are largely uncontrolled gatherings and when you add beer and the emotions of a football match with a fair bit at stake, you could have a recipe for disaster. Pubs, at least tried to follow the rules with distancing and sanitisation, and it's difficult not to be sympathetic towards them, well, most of them, but they sell drink, and drink clouds judgement , which lowers self restraint and common sense flies out of the window.
Another aspect of the times we live in are the self isolation policies, and Ryan Christie may well have followed them to the letter, but apparently a game of FIFA on a video console with plague ridden Stuart Armstrong means he now has a fortnight in his room.
The club said;
FOLLOWING today's news regarding Ryan Christie, he has reiterated his adherence to all relevant protocols while on International duty.
In light of this, Celtic confirmed today that it aims to open dialogue with the Scottish Government and other authorities to fully understand the self-isolation procedures for those players who continue to deliver negative test results, as Ryan has.
Ryan said: "I am so disappointed by the events of today and the potential effects this could have on my country and club. As I have operated within these protocols for such a long time now, I am well aware of all the rules and social distancing from team mates has become the norm and something I have observed.
"The situation is very frustrating, particularly as I don't believe I have done anything wrong."
Armstrong never did get his head around the idea of passing anything that anyone else could make use of. As for christie, if he has caught it, and returns to Celtic without quarantining, then it will go through the squad quicker than an MSM reporter running from the Resolution 12 files.
International football involves bringing together people from all over the world to live in a little bubble, and thats kind of the exact opposite of sensible behaviour during a pandemic.
Celtic aren't best pleased with the situation, but there's little they can do as UEFA and FIFA have pretty stringent rules about releasing players for internationals, but whatever the penalties are, it must be worth taking a hit if they are to offer a duty of care to their staff.
The club said;
"The Club will always do everything possible to protect the health and wellbeing of our players, but the release of players for international matches is governed by the FIFA regulations."
Someone needs to grow a pair, and tell them where to put their regulations. Health always comes first.
Let's face it, in any other industry , health and safety would have their personnel demanding action, but football ?
Sometimes it thinks it's above all that.
Then again, as Private Eye reminds us, the rules don;t seem to apply to everyone, let alone the punishments…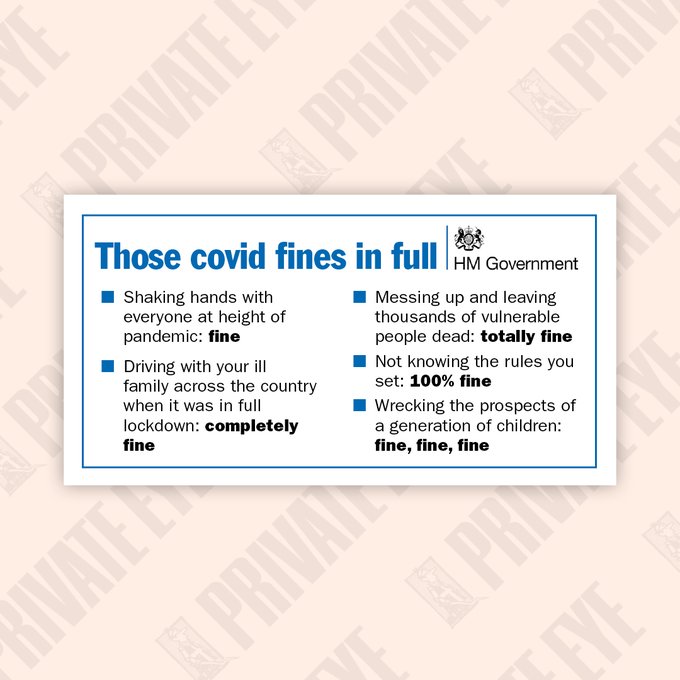 Celtic have a few players on duty for their countries this week.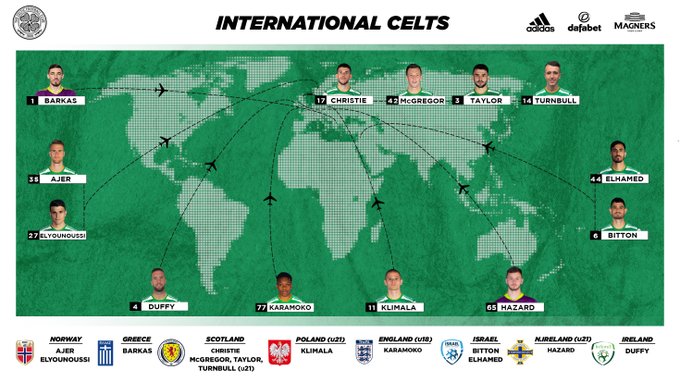 I've got a half a pack of cigarettes and some sunglasses,  and I'm ready to go and pick them up .
A mate's lending me his motor….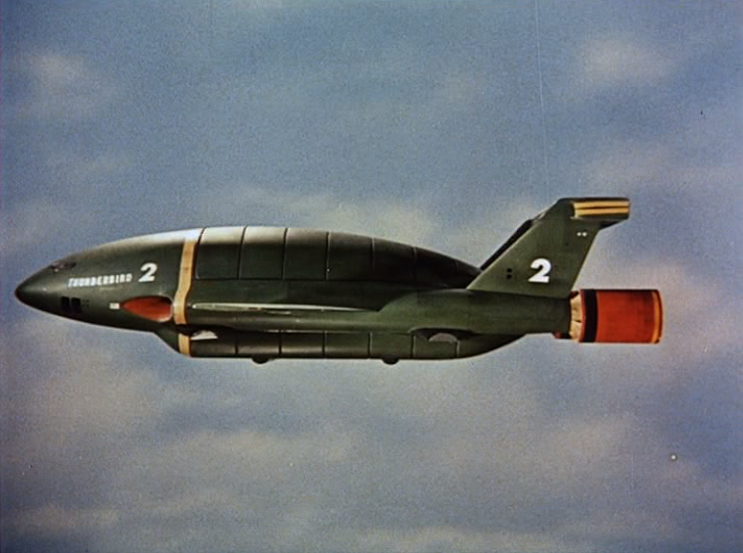 Elsewhere, and very much without any questions from the media, "rangers " have issued another bundle of shares.
The Rangers News website explained… well, tried to.
Rangers have issued new shares worth more than £8m, according to documents submitted to Companies House and highlighted by The Scotsman. 
Which suggests this piece has been produced to counter any queiries from fans and shareholders.
Businesses issue new shares for any number of reasons – including to raise funds, convert loans, secure investor funding or to award bonuses – and the current Gers regime have done this multiple times in the past.   
And, of course, when they are skint, perhaps because they have been unable to offload assets….
The Ibrox club allotted 42.25m shares at 20p a share at the end of last month, an amount that totals £8,450,000. 
Rangers announced similar moves on four separate occasions in 2019, with similar share allotments taking place in June, August, September and November at 20p per share.
The Ibrox club have filed such a notice to Companies House around the same time of the season every season for the past three years as investment into the club and squad has grown.   
The suggestion is that the money has been used to strengthen the squad. in reality, that probably wouldn't stand up to closer examination.
Regarding who purchased the shares, this has not been named by the club but this information should be found in the company's annual return.  
Should…
The last set of accounts was filed with Companies House on 17th December last year and covered the period from 30th June 2019.
At last season's AGM a £10m funding gap was highlighted by outgoing chairman Dave King but this was filled by existing investors who have bankrolled the club's growth into a potentially title-winning unit. 
Again, they are claiming that the money has gone on players, which some has, and it has increased their outgoings even further beyond their incomings.
"The funding gap referred to has already been filled by existing investors," said now-interim chairman Douglas Park [Rangers].
"And all of the potential new investors remain fully engaged. We will be in a position to announce something in the next couple of months."   
The only thing they will be announcing is administration.
They can keep the lights on with European football's tv money, which isnlt a lot but it's better than nothing, and nothing is exactly what they have raised from player sales, which will be a cause of much bowel emptying until they can try again in January.
The media aren't interested in looking into what is increasingly looking like a second insolvency event at ibrox, let alone why it is being allowed to happen again.
All they are promoting is the "title race " and how this season the club, despite signing a couple of players no one else wanted and hanging on to a couple of others no one else wanted, are very much candidates for the title.
Steven Davis , for instance, is getting on a bit.
Compare and contrast the narrative arond Scott Brown, our own warhorse, who is clearly past it according to some, whilst Davis….
Steven Davis' ultimate backing as Rangers star compared to Andres Iniesta
Gabriel Mackay in the Record says….
Rangers midfielder Steven Davis is set to win his 120th cap for Northern Ireland after a stellar career at the top level of the game.
The 35-year-old is still a regular for club and country, and is a key component of Steven Gerrard 's title-chasing side.
His influence cannot be understated but former boss Mauricio Pochettino has paid Rangers hero Davis perhaps the ultimate compliment.
The Argentine, who worked with the midfielder at Southampton, reckons the veteran is up there with Barcelona greats Xavi and Andres Iniesta.
Davis played over 200 games for Saints and clearly left an impression on Pochettino.  
The former Tottenham boss said on Sky Sports: "The talent of him I compare to football people like Xavi and Iniesta. 
"You put him in the same level as this type of player because of this capacity to play football, be a playmaker, the intelligence to read the game, his capacity to run.
"I think to compare Christian Eriksen to this type of player too, they make your team better.
"I think how humble he is, that it is the most you can appreciate in a professional.
"He is a simple guy, a family guy, a good friend and we feel very proud and lucky to have spent time with him. He is a big player and a big person."  
Davis has played for both Ibrox entities, so the fans will regard him as something of a hero, and have conveniently forgotten his words when he TUPE'd out of there when the original club folded.
Odd how he never followed up with
" I haven't come back to Rangers, I've joined Sevco ".
All of this guff is desinged to give reporters something Ibrox themed to write about.
They can't mention the financial problems of the current lot, nor indeed look into the issues surrounding the first edition of the club, as that would involve talking about David Murray, who despite his shennannigans never gets talked about these days, and one can only suspect thats not because of a lack of interest.
Are his friends looking out for him, or has he taken out some sort of injunction ?
If he has, I hope they got the money up front.
Meanwhile, on a cheery note….
Thank you all for your messages of support ! I'm fine and I would come back stronger, Take care of yourself and your family  
 Take all the time you need…
 Yesterday, we had this…
CAPTION: "Where's the pitch gone?" 
By the way, there's a cracking video doing the rounds of the day Scott Bain told Neil McCann to fuck off.
Today we have this for your perusal and comment