Celtic swept Hibernian aside yesterday, though opinion is divided on why.
The 3-0 win was the result of another "freshening up " of the side, with Albien Ajeti confirming he can score goals if not avoid injury, Jeremie Frimpong has a talent far beyond what we originally thought, and Scott Brown isn;t done yet.
Mo Elyannoussi looks better behind the strikers than on the wing, and Calum MacGregor has decided that shooting straight at the keeper wasn't working.
And Nir Biton is our best defender.
All good , then ?
What a difference a good performance makes, but it wasn't all down to Celtic.
The biggest difference to me is that Hibernian didn't sit in and try to stifle the game, which allowed both teams to play, and given that freedom, Celtic proved to be better at it.
Which , since the opposition at Ibrox couldn't overcome the same Hibernian team last week, should put peoples minds at rest.
Add that to the fact that "rangers " know if they sit in they have no chance of winning, and that they can't handle pressure, maybe  the league will return to it's normal shape next month, with Celtic at the top.
Should be a better month for all of us.
Starting on Thursday, with the game against Sarajevo, which we can now approach with a little more confidence.
I had to endure the Ross County -Aberdeen clash on EBT Radio Scotland, as for some reason, the BBC sounds app, with the wider audience, chose to broadcast that game, and deny non Scotland based Celts the chance to listen to the game.
It might not sound like much, but it's just another example of how the station feels towards us.
Still, the updates were better than on Clyde, as the presenters weren't in tears as they announced the goals.
In the earlier game, Bobby Madden had awarded a couple of penalties to help his side to a 5-1 wn over Motherwell, but the real controversy was at the start of the game when he gave the team talk.
Yesterday also saw the news break that an attempted murder investigation has been halted due to lack of evidence…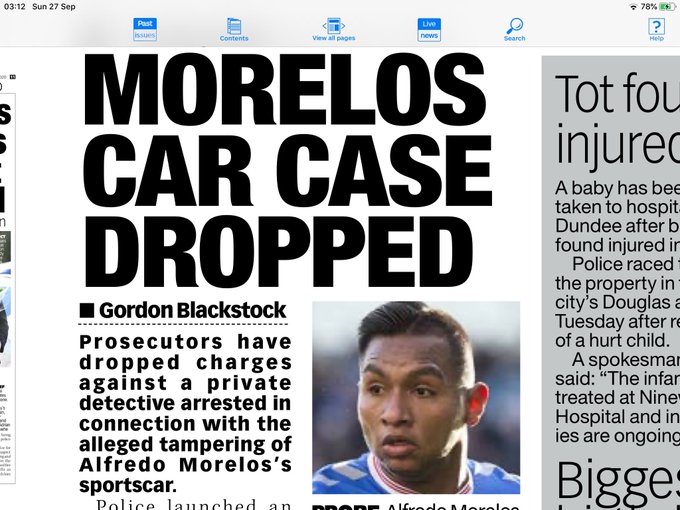 No doubt we'll hear the full story soon, but not in the media….
Another story not in the papers concerns the health and well being of much loved radio pundit Hugh Keevins, who has been blessing us with rambling incoherence of a level associated with drunken tramps at a train station, and concerns that a newspaper may be highlighting his problems and abusing his good nature for their own benefit, a level of cruelty that is equivalent to abuse.
Celtic's Europa League dream is hanging by a thread and Neil Lennon has 3 weeks to define the season – Hugh Keevins
In the article, I won't reproduce it, as its not fair on the genial old soul, Keevins offers the opinion that the "eye catching " results of Steven Gerrard could see him lured away from Ibrox, whilst poor old much decorated Neil Lennon could be forced out at Celtic for not getting results, presumably if you don't count the trophies.
On a serious note, that such blatant "trolling " is masquerading as serious opinion is quite frightening, and shows that either competent commentators want no part of the Scottish media, or the Scottish media doesn't want competent commentary.
Maybe it's just me, but this tweet, from the Ibrox club/company kind of typifies the Scottish sports media just now…
https://twitter.com/i/status/1309247954331590657
He didn't save it.
It's the last week of the revised transfer window , and the absence of Oddsone Edoaurd from the starting line up yesterday prompted speculation that he could be away.
We are aware his agent has pointed out the rewards on offer down south and elsewhere to him, and we know he is unsettled, if you want proof of that have a look at who made the bench yesterday…..
Very little was made of his, and Tom Rogics, return to the bench, but it may mean that there will be no one else coming in this week, and there is a real fear that a few will go.
It all depends on whether or not the English sides reckon its worth spending big money when there is a real risk the seasons will be curtailed.
I'm hoping they won't want to chance it, although Burnley are interested, it seems , in Ryan Christie, who we hear is interested in the move…well, the money, at least.
Lennon gave short shrift to a question about it during his pre match EBT Radio Scotland interview..
"We can't affect that, that's out of our control. There's nothing in the stories again.
"The media create these stories and then ask me about them. I have no answer to them because there is just no foundation to them whatsoever.
"It's the last week of the window, and again I'm disappointed that stories are coming out that are unfounded on the day of an important game.
"We had it last week with Ajer, and we've got it this week with Ryan and Odsonne."
Like you, I'll be glad when the window is closed….
On Saturday, we had this…
Caption – "After the Betty Ford Clinic refused to accept their idea of a long term payment plan, Sevco opted to put the fat Buffalo Bastard through an abstinence program of their own devising."
Today…