Westminster cunningly avoided the word " lockdown " when announcing new rules about what we can and can't do as Cornavirus infections continue to spiral throughout the land.
But thats what is next, with Prime Minister Johnson shifting the blame from his own incompetence to that of you and I, for ignoring the rules . Except that we didn't, at first, he and his own did.
So the less enlightened among us thought that it was fine to ignore the threat, and now we are right back where we started in March.
Except that this time the thinly veiled threat of troops on the streets to keep order was mentioned, as was the fact that we're going to have these restrictions on place until March next year…
A monumental fuck up indeed.
That simply means the best we can hope for is that we all have roughly what we have now when all this is over. Thats everything from friends and relatives to houses and jobs.
Football , however, will continue to wave it's Exemption Certificate for as long as it can, but like every other industry it will have to face up to reality sooner or later.
Probably sooner.
A wee bit of poetry doing the rounds sums it up….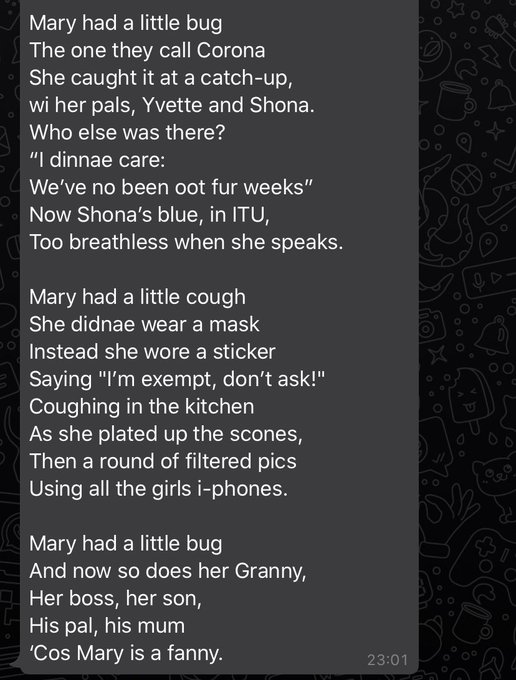 Celtic travelled to Riga yesterday to play their Europa league qualifier against the Latvian champions. If supporters are feeling a sense of pointlessness, then one has to consider the mindset of players and management, who might just be starting to think it's all a waste of time. If there is to be any lollygagging on the pitch out there, then perhaps it's understandable.
Domestically, however, a precedent was set last season when the league was called on a points per game basis, and oif it were to be called tomorrow under the same criteria then Celtic would indeed be crowned champions.
Which is probably why if anything is done it will be a suspension, with maybe the league reduced to half the length to be continued whenever it is deemed safe again, which might yet be around Christmas time, but only if people wake up and realise that we are not living in some sort of movie, and these are dangerous times.
Still, if it were a movie, it's unlikely the ending, where the virus would be defeated by closing the pubs at 10 pm so everyone can grab some cans and head back to a mates house , would be approved by the script editor as realistic.
Frankly, for whatever remains of the season, domestically and internationally, Celtic must play every game as though it's a league decider.
Because thats exactly what it might turn out to be.
Meanwhile, try to be as cheerful as possible, if the pubs are closing at ten, then drink earlier and drink bigger….
If you cant meet friends or relatives , send them a text saying that you'll be in touch when it's safe. Do this with people you don't like and I promise you'll feel fantastic …..
there's a bonus hidden in all the gloom as well….no family rows at Christmas…and for once no one will tell me I've ruined the festivities for everyone, because no one will be coming round to eat all ny food and drink all my beer…
No pointless running around crowded shopping centres, no wasting money on gifts they don't want for people you don't like.
See ?
You're feeling better already.
And you'll feel even better when one or two clubs or companies use the pandemic as an excuse for not paying their bills and folding.
No one is going to buy Alfredo Morelos, in fact the market as a whole might stall completely now…bearing in mind the window closes in less than a fortnight, and with football uncertain to continue, then there's every chance clubs will decide to keep their money where it is, and that will affect clubs and companies who need to sell to survive.
Emergency meetings are being held in boardrooms all over Europe to discuss finances……
LILLE BOARD MEETING:

"…and then we told the Record we were going in with a 'take it or leave it' £18M final bid for the fat Colombian bastard. They've only gone and printed it…" pic.twitter.com/h3LTfk4tac

— Rock Budgers in the 21st Century (@oh_by_Jingo67) September 22, 2020
If you are concerned about the mentality of our players, spare a thought for those now trapped on the other side of the city, where they are becoming increasingly aware that they won;t be remembered as the Men Who Stopped the Ten, but in fact they will be immortalised as the Men Who Won Fuck All.
You could see signs of that in the recent draw with Hibernian….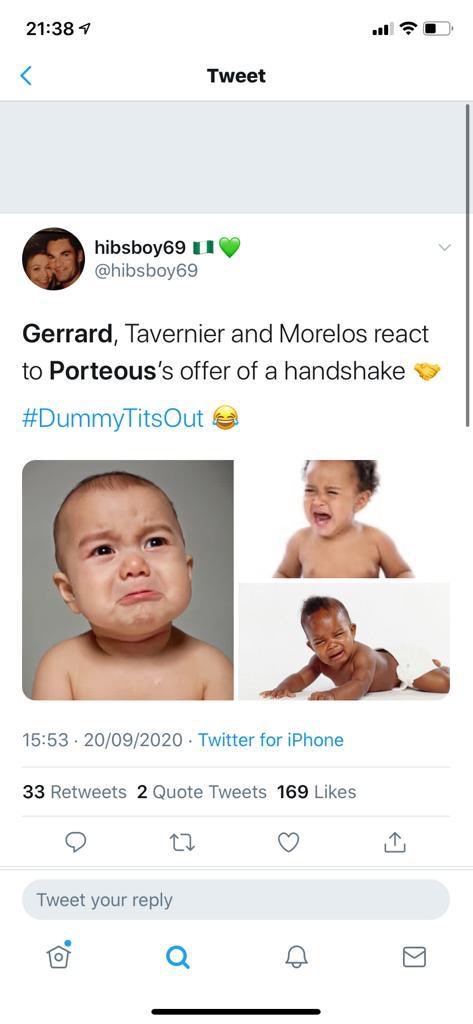 As for our own players leaving, things appear to have changed.
The word is that they are beginning to think leaving now isn't worth the hassle. Relocating during a glbal pandemic, to a country with the worst record in delaing with it is not a good move, and even agents, who view their clients as nothing more than assets, will be advising them to hold on to what they have for a while yet.
If Celtic genuinely don't need the money, they won't force any sales.
And I find it difficult to believe any club will risk huge amounts of money in these uncertain times, as exemplified by Milan now wanting to take Kris Ajer on a try before you buy loan.
Keith Jackson, writing in the Record, declared this morning that….
Scottish football could be weeks away from a "catastrophic" collapse after Boris Johnson revealed fans could be locked out of the game for the next six months.
The grave warning came from one senior top-flight figure as part of a special Record Sport probe into the potentially ruinous ramifications of Tuesday's raft of new coronavirus restrictions rubber-stamped simultaneously in both Westminster and Holyrood.
And we can reveal panic-stricken clubs from all over the country – and across all four divisions – now fear they could be forced to the wall unless they receive an emergency cash bailout from the Scottish government.
Football needs to remember that it's not the only industry thats going to suffer, and it needs to come up with ideas, from the highly paid guys who run it, that are better than simply asking the government for a bail out when people will be losing jobs, homes and even lives over the next few months.
In the meantime, stay safe, stay home unless you really have to go out.
And this will be over sooner than you dared to hope.
On Monday, we had this….
 Today…..